In line with focussing on a country from the AFC universe, we discuss Bangladesh this month and the opportunities it offers to investors.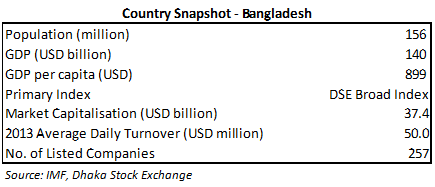 Over the past decade India and China have received a huge amount of attention from global investors but nestled between these two countries lies the tiny nation of Bangladesh. It is a small country relative to India and China but has a sizeable population of 156 million which makes it the eight most populous nation on earth! This number itself warrants more attention, but like many of the countries that the AFC Asia Frontier Fund invests in, Bangladesh has many other factors in its favour. The country's population has a median age of 24 with 55% of its people between the ages of 15-49, making it a young, productive population with improving literacy rates that are similar to its peers in the South Asian region.

This demographic advantage is supported by an improving per capita GDP which was estimated to be USD899 in 2013, a cumulative growth of 8.7% since 2003. In real terms as well, per capita GDP has been growing at a similar range to South Asian peers such as India and Sri Lanka (approximately 2.5% from 2003-2013 in USD terms). Furthermore, Bangladesh's per capita GDP is still much lower than its neighbours and growing income levels from a low base combined with a large population has the ability to provide increasing investment opportunities.
On the macro-economic front, the country has been doing better than its peers. Bangladesh's fiscal deficit has been in control and in fact has been lower than that of Pakistan and Sri Lanka. In addition to fiscal deficits not spinning out of control the country can boast of a current account surplus, something its peers do not have. A stable macro environment has also led to a stable currency which has not depreciated significantly over the past year (unlike the Indian, Pakistani and Sri Lankan rupee). In fact, the Bangladeshi Taka has appreciated!
One of the major reasons Bangladesh has run a current account surplus has been growing exports and remittances. A driver for exports has been the Ready Made Garments (RMG) industry which has seen a significant growth over the past few years as a low cost labour pool has driven outsourcers to shift production from China where wages have been increasing. This is a significant trend which is even evident in countries like Vietnam that are receiving more manufacturing activity at the expense of China. The growth of the low cost RMG industry now provides employment to 4 million Bangladeshis and an employed workforce is good for consumption!
Remittances have also played a significant role in shoring up the current account balance. Overseas Bangladeshi nationals sent home close to USD 14.5 billion in 2013. A combination of increasing exports and remittances is not only supporting the current account balance but is also a supporting driver for income levels and consumption in the country.
RMG Exports account for 80% of Exports. Remittances support consumption and the current account surplus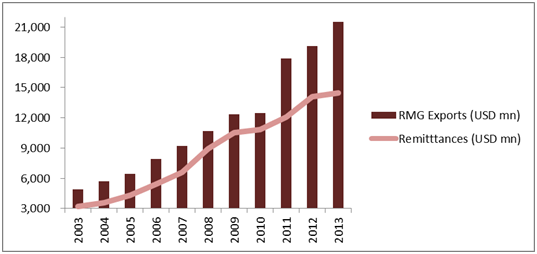 Source: World Bank, Bangladesh Bank, Bangladesh Garment Manufacturers & Exporters Association
In light of these factors, we are very positive on Bangladesh, especially consumer-focused companies because as discussed before, a young population that is getting more educated, empowered, and employed will have a positive impact on future consumption. Consumption will also be complemented by the country becoming a manufacturing destination for the RMG industry as it already employs 4 million workers.
Though there have been concerns over worker safety and wage levels in the country it is important to put things in perspective. The Bangladesh RMG industry consists of approximately 5,600 factories and 80% of exports are accounted for by roughly the top 20% of the manufacturers. What this number suggests is that there are a number of smaller operators where safety conditions and wage levels may not be the best. This is reflected in the financials of the larger players in the industry with respect to wage levels. Though minimum wage has increased from USD 38 to USD 68 per month, the well established companies already have average wage expenses which are higher than the minimum wage level. The larger well established companies are managed professionally with respect to wage levels and worker safety and the AFC Asia Frontier Fund has invested in a few names which can benefit from rising exports going forward.
Bangladesh a Low Cost Option for Garment Manufacturing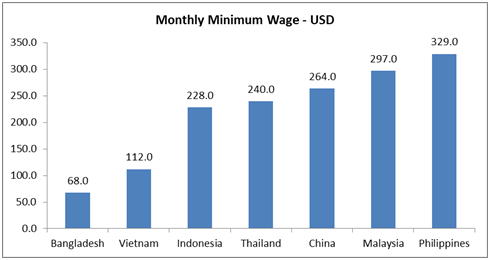 Source: China Labour Bulletin, Deloitte 2013 Global Manufacturing Competitiveness Index, Asia Frontier Capital
Returning to our focus on consumer-companies, the AFC Asia Frontier Fund has researched quite a few consumer names and there are some which stand out in terms of their fundamentals, growth rates and future potential. The fund has invested in these companies and we are positive on their future outlook.
The low cost nature of manufacturing in Bangladesh has also given rise to a growing pharmaceutical industry in the country. Currently most of the pharmaceutical companies supply domestically with exports picking up as manufacturing facilities get certified by various authorities. In fact one of the companies that the fund holds has already begun exports to EU countries like Germany and Austria. Healthcare expenditure per capita in Bangladesh, at USD 27, is amongst the lowest in the region and the world and we believe that increasing income levels should benefit the pharmaceutical industry in Bangladesh.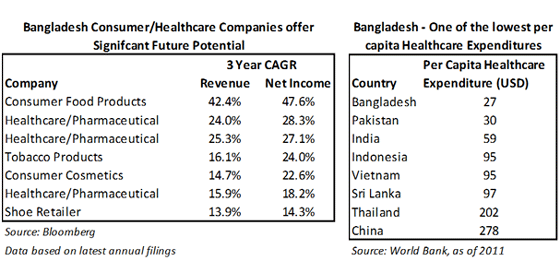 With respect to the stock market, average daily turnover of USD 50 million is comparable to other Asian frontier markets like Pakistan and Vietnam. Another interesting aspect of the stock market in Bangladesh is that most of the participants are local investors as foreign institutional investors are not yet big participants relative to other markets in the region like India, Thailand and Indonesia or even other frontier markets. This is one reason why Bangladesh did not see a heavy outflow of foreign capital when other Asian markets corrected due to worries over Fed tapering plans. Furthermore, lower foreign participation has also led to lower correlations with global markets and this is why the country also provides an attractive diversification strategy in addition to its growing consumption theme. Correlations between the DSE General Index and MSCI World Index are in fact negative on a 5 year monthly return basis!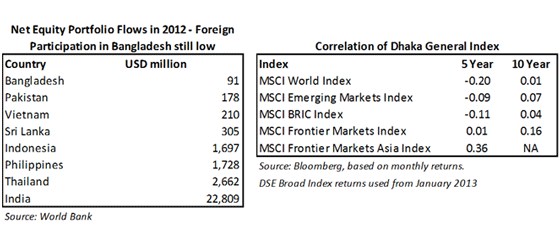 A risk that has played out in Bangladesh in the recent past and could play out in the future is politically motivated violence. Whenever elections are around the corner one of the two major political parties resorts to shutdowns and rallies which also lead to violence and destruction of property. This is a risk not only in Bangladesh but any emerging or frontier market in Asia and the political parties that govern Bangladesh will realise sooner rather than later that there is much to lose economically by resorting to such tactics.
Bangladesh has made good strides with respect to its macro economy and development of its RMG and Consumer/Healthcare industries. With the prospects for a growing economy, increasing income levels, and higher consumption, we remain positive on the long term outlook for the country.