In line with our process of being on the ground in the countries we invest in, Chief Investment Officer of the AFC Vietnam Fund, Andreas Karall and Senior Investment Analyst of the AFC Asia Frontier Fund, Ruchir Desai traveled to Vietnam to attend the Viet Capital Investor Conference held in Ho Chi Minh City.
It is always nice to go back to Ho Chi Minh City (OTCPK:HCMC). The place is bustling, has a good amount of history and enables one to actually feel the potential which Vietnam offers. Similar to my previous trip in August 2013, I flew on the state-owned Vietnam Airlines from Hong Kong. The airline is supposedly looking at an IPO sometime this year as the government looks to pare down its stake in various state owned entities.
Since Vietnam is a pretty big tourist destination in Asia, getting through immigration and getting hold of transport via a private taxi is not an issue and is pretty organised. There are multiple private taxi operators lined up outside the terminal but I prefer to take the Vinasun taxi. They are clean and dependable and easy to get hold of not only at the airport but anywhere in HCMC. The other reason I choose to take Vinasun's taxis is because the company is publicly listed, is part of our portfolio and traveling in their taxis helps in doing some real on-the-ground research!
The airport is not too far from downtown HCMC so getting to my hotel did not take more than 30 minutes but traffic in the city is similar to that of any developing city - chaotic. As usual, lots of two wheelers but also lots of cars too. In HCMC, there are dozens of hotels to choose from besides the five star ones. Vietnam gets more than 7 million tourists a year so getting hold of decent accommodation and places to check out or eat out is not a problem at all. A suggestion for good Vietnamese food is Ngon on Pasteur Street or Pho 2000 right next to the Ben Thanh market which is a bit more local but quick and cheap (and Bill Clinton ate here back in 2000). Walking around District 1 (downtown HCMC) is quite comfortable with walkways shaded by trees and major tourists spots walking distance from one another. (Presidential Palace, War Museum, Notre Dame Cathedral, and Saigon Post Office).
The next morning, getting to the conference in morning rush hour traffic took about 10-15 minutes even though it was very close to where we were staying. Walking would have been better instead but the heat at this time of year in Vietnam is pretty sapping! The investor conference, held at the InterContinental, was a great platform to meet with management teams of various companies and also to hear what people on the ground had to say about the country and its economy. The conference was very well attended by institutional investors and there were a few investors looking at Vietnam for the first time or visiting the first time. Clearly, Vietnam has caught the fancy of investors and this is reflected in the run up of the VN index and investor participation at the conference.
During the conference, we were fortunate to get quite a few small group meetings with company management teams given the heavy participation in the conference. This gave us the chance to ask more questions as compared to being in an open presentation and therefore allowed us to get a better grip on the future prospects of the company. The companies we met with in small group meetings were from diverse industries such as technology, healthcare, transportation, oil & gas and real estate.
Of these meetings, the company which we liked the most was a technology company. It has a leadership position in the Vietnam technology market but it also has over the past few years developed into providing IT outsourcing services to clients, especially in Japan. With Vietnam offering a low cost talent pool with a background in computer engineering/software engineering it would not be surprising to see Vietnam's IT outsourcing exports grow in the coming years.
The other companies of interest were a healthcare company which focused on manufacturing and distribution of herbal and traditional medicines. It has a leading position in the Vietnam market and differentiates itself from the other players due to its product offerings which are not the generic over-the-counter products that other companies offer. In the oil & gas industry we met with a state owned drilling rig operator which has a dominant position in the Vietnam oil drilling market due to its close relationship with the state owned oil company, Petro Vietnam. The real estate company we met with is a leading player in the affordable housing segment and has developed some good projects in HCMC and the transportation company we met was involved in logistics and operating ports but is investing in some unrelated businesses.
What was common across all these meetings was that management teams were quite open in sharing details about their company's business, the market potential, their strategy and future outlook. They were open to taking on uncomfortable questions linked to investing or strategy decisions as well and communication was not much of an issue. At times investors ask us if speaking with company management teams is an issue because not everyone speaks English at the management level. The answer is yes and no. For the above meetings all the management teams spoke English and there was not much of an issue getting ideas across. With smaller companies it could be an issue but there is usually a translator who does a pretty good job. The translator is usually a sell side analyst.
Besides these meetings which we attended, the conference also had various speakers one of whom was the Chairman of McDonald's Vietnam. McDonald's began operations in Vietnam just a few months ago in February 2014 and if reports are true, the chain served 400,000 customers within the first month of operations! The menu has some additions to it in order to cater to Vietnamese tastes such as the "Double McPork" which would cost about USD 3. With average monthly income in Vietnam at USD 150 it is not surprising that so many people are turning up at the counter as eating at McDonald's is a pretty big deal for the average Vietnamese. I remember when McDonald's first came to India in the late nineties there was an equal amount of clamor to get hold of a McDonald's burger! Even today in India, families which are beginning to earn more view eating at McDonald's as a new experience and you will not see too many empty outlets. It will not be surprising to see a similar trend in Vietnam and how good this is for the Vietnamese population's health, time will tell. The two days of meetings and guest speakers' talks at the conference went very well and we wrapped up with a pleasant evening at a location overlooking downtown HCMC.
Night view of Ho Chi Minh City and Ben Thanh Market

Besides attending the conference, we also took a few days out to meet with companies that are part of the portfolio of the AFC Vietnam Fund and the AFC Asia Frontier Fund. Getting out of conference mode also is a good way to get a feel of the country/city instead of sitting in five star hotel conference rooms.
Typical Street View - Ho Chi Minh City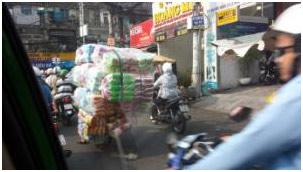 None of the meetings that we attended was in the Central Business District (District 1) and getting into other parts of the city was a good way to check out other parts of the city on the ground. Our first meeting of the day took place at an industrial park about 45 minutes from the central business district. The industrial park has been done up in an organised manner and with good paved roads. Also, whilst traveling to the industrial park we took one of the newer highways that has been built in an around HCMC. The thrust on infrastructure development is evident and there are also plans to develop a metro in the city with construction of the metro already beginning in Hanoi.
Industrial Park in Ho Chi Minh City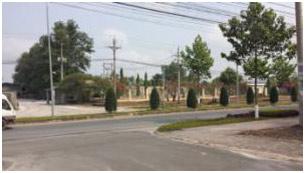 The first company we met was a copper/optic fiber company which supplies cables to the telecom industry and its management team had its head on the ground which is a good sign. The chairman of the company was kind enough to show us around his factory and talk about the future plans for the company. Capacity at the company is expected to increase in the coming year and it would not be surprising to see higher growth rates from this company in the coming few years.
The next two companies we met were both state owned with one of them manufacturing tobacco packaging for the domestic tobacco industry and the other a manufacturer and distributor of consumer electronics. At both these companies, we met with the CFO's and considering that these are smaller companies the level of openness and knowledge of the business was as good as many of the companies we met during the conference. The tobacco company expects to increase capacity in the North of Vietnam and the fact that it is backed by a state owned tobacco producer provides the company stability in terms of recurring business. The consumer electronics company we met was doing a lot of things such as karaoke systems, white goods and audio systems. It would be interesting to see how things pan out for this company given that big consumer players like LG, Sony etc. have already entered the market in Vietnam.
On the last day, we met with two other companies. A taxi operator which was discussed in the earlier part of this report and an agricultural seed producer/distributor. We met with CFO of the taxi operator which currently has close to 50% of the HCMC market and plans to enter in newer cities later this year and in 2015. Going to their offices gave us a chance to look at their customer service operations as well which function through a call centre in the same building. Our last meeting was with the CFO of the agricultural seed producer and distributor whose main products are corn, rice and vegetable seeds. It is a leading supplier in Vietnam and a trusted brand which does research on new products and is planning to expand capacity for one of its product lines.
What was common in these five companies that we met are they are run by good management teams, no flashy offices and businesses that are simple, cash generating and not heavily levered. Additionally these are the companies that are ignored by most institutional investors which allow us to find value. The P/Est of all the five companies we met post conference are less than 10x.
Overall, this was a very fruitful trip as we got the opportunity to meet with both, portfolio companies as well as companies which the fund does not hold but finds interesting at the right valuation. We were satisfied with the progress and future plans of our portfolio companies and more importantly these companies are still trading at a discount to the overall market in spite of their future growth potential! We will continue to track the developments of our companies both on and off the ground and will report back after our next trip to Vietnam!)