In line with our process of being on the ground in the countries we invest in, AFC's Regional Research Analyst, Scott Osheroff, discusses the development of Cambodia and its rural economic growth.
On 19th June 2014 Asia Frontier Capital co-hosted the Vietnam Investment Conference in Ho Chi Minh City Vietnam. Spending roughly nine months per year in Phnom Penh, Cambodia, I always leap at the opportunity to venture into the countryside to assess the rural economy, where the majority of Cambodia's 15 million inhabitants live. So, rather than taking a plane to HCMC I opted for the overland route to see just how quickly Cambodia's provinces are growing.
Travelling on the roads in Cambodia is always an adventure and the first step is clearing Phnom Penh's incredible traffic. During my first trip to the Kingdom in 2012 traffic was hardly noticeable; now the streets are clogged with used Mercedes, Range Rovers and a plethora of other vehicles, providing a clear indication that there is a small, yet burgeoning middle class.
After forty minutes en-route I had cleared the Monivong Bridge on National Road One and was moving into Kandal Province, one of three I passed through to the border. Upon reaching the edge of Phnom Penh the scenery transition was abrupt. Shop houses and small foundries turned to rice paddies of a gorgeous shade of green, the likes of which I have only encountered in Southeast Asia. As the rainy season had set in the flooded fields and beginning of the rice planting season made for a stunning view.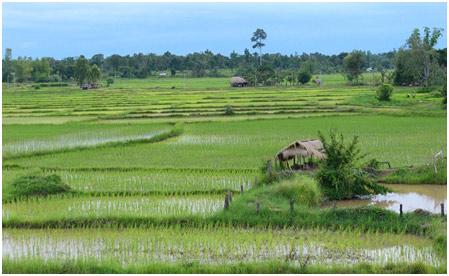 Two hours in, having passed countless farms and the occasional dwelling, we came to an abrupt stop at the Mekong River. Cambodia not well known for boasting modern infrastructure, most of which has fallen into a state of disrepair over the past several decades, there is no bridge spanning the river. Therefore, we proceeded to the ferry to make our journey across.
Waiting in line to board the boat, hawkers of all sorts were peddling their goods. Once on board I took the opportunity to stretch my legs to interact with the locals, hoping this time they would have fried tarantulas on offer. With a dusting of chicken seasoning and a texture like soft shell crab they are an ever-so tasty snack for the road. Though I am sure our 8 legged friends are not everybody's cup of tea I suspect few would be able to identify the origins of the flavoursome treat they were eating if it were presented to them with their eyes closed.
This part of Cambodia will soon be moving faster as the river crossing is about to get sped up with the completion of a USD 131 million world-class bridge being built by the Japanese. It is expected to be completed in 2015. The new bridge will expedite the transportation of goods and people leading to lower transit costs leading to a profound effect on growth as National Road Number One is the main road to Vietnam.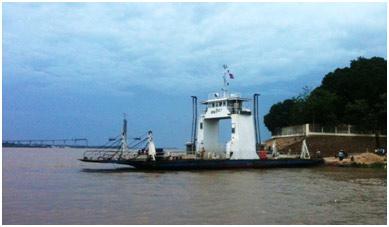 The Ferry and National Road Number One Bridge (behind) to span the lower Mekong
Once across the river we continued onward to Svay Rieng, a province bordering Vietnam. Driving through Svay Rieng has always been an interesting part of the journey for its downtown boasts a small square with farming statues and an eerie stillness which is reminiscent of scenes of small Mexican villages in the movie The Good, the Bad and the Ugly.
As Cambodia's rural economic development continues it is not uncommon to see new buildings pop up. The latest addition was at the far end of the town square where a new Acleda Bank branch had nearly arrived. Acleda is Cambodia's largest commercial bank and last month announced that it would re-invest USD 39 million in corporate profits into branch expansion. The bank was founded to service Cambodians living in the provinces and in Svay Rieng I passed three branches under construction and several others already adding clients in a largely unbanked country. This increased access to credit is expected to aid growth in the region as farmers mechanize and individuals seek modern forms of transit.
The demand for credit was evident as I passed downtown on the final kilometers to Bavet. Bavet is the industrial heartland of the Province, where two SEZ's, the Manhattan and Tai Seng SEZ's sit virtually across the street from one-another. There is an additional two dozen other projects under construction in the vicinity. With relatively inexpensive electricity provided by Vietnam the region is ideal for energy intensive industries which also need access to HCMC's port.
This mini factory boom has not only stimulated the local economy, but has led to a swelling of the local population as regional Cambodians flock to Svay Rieng's factories in search of stable employment. Thus, it made sense to see several real estate projects involving the build out of shop houses, villas and commercial properties on the highway well underway. I was surprised however by just how quickly this construction was occurring for it was non-existent during my last journey on this road, one year prior.
Moving past the SEZ's, we descended on the center of Bavet which is a gritty border town with several casinos with oddly familiar names such as Le Macau Casino and Caesar International Hotel & Casino which cater almost exclusively to a Vietnamese clientele.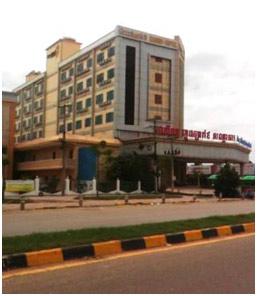 Border Casinos in Bavet
Having grown up in California I have always been enamored with how border towns can exist in stark contrast to one another across an imaginary line. Bavet being no different, on the Cambodian side, driving towards the border I came across bustling casinos, karaoke parlors and a few non-descript, but bustling local coffee shops. And one cannot forget the pothole laden roads which are falling into increasing disrepair. The Vietnamese side however was quite the opposite.
Having cleared immigration we began the home stretch to HCMC. Vietnam is described by some as being ten years more advanced than Cambodia, and every time I take this journey and cross the border it is easy to observe the future of Cambodia's provinces. While at first glance the Vietnamese side doesn't seem much different, a closer look yields larger buildings which are better constructed, newer and nicer cars in the driveways, more grandiose villas, and a relatively pothole-free road with sound infrastructure to mitigate flooding. Smaller items such as the clothes for sale and those being worn by locals are also of a better quality leading to the sense of poverty being less obvious.
Cambodia has a long way to go in its economic upswing and signs of mean reversion between Vietnam's countryside and Phnom Penh are well under way. Previously minimalist countryside dwellings, these are slowly giving way to modern shop houses interspersed with luxurious accommodations. The occasional larger motorcycle speeds by, as does a new car and the quality of life seems to be improving as well, leading to more disposable income and a more stable existence.
Cambodia's rapid economic growth of 7.2% in 2013, reported by the ADB, is expected to continue, leading to greater advancement in Cambodia's provinces and move towards greater equality with the middle class of Phnom Penh.