AFC Travel Report: Mongolia
In line with our process of being on the ground in the countries we invest in, AFC's Regional Research Analyst, Scott Osheroff, travelled to Mongolia during the month of July to cover the country's development for AFC from the ground.
It is easy to forget the role that foreign portfolio investment plays in Mongolia when you first arrive in Ulaanbaatar. If you have your finger on the pulse however you can begin to see the footprint of the stock market around every corner. Looking around you can see cashmere clothing on passersby and evidence of growing consumption which is typical of rapidly growing frontier markets. After peering through the window of a duty free shop in the Ulaanbaatar train station I saw vodka and other products for sale on the way to the night train where I settled into my compartment. As I waited to depart, I contemplated what was happening in the markets that day as the sales of cashmere garments, duty free shop and vodka that I had just passed were all driving revenues of companies listed on the Mongolian stock exchange.
At 20:00 we pulled away from the station, remarkably on time, heading west into the sunset. As the train gained speed we passed the ubiquitous ger districts until we broke through into the Mongolian steppe, on our way to Selenge Aimag (Povince) in northern Mongolia for a Naadam vacation. A ger is the traditional tent-like dwelling of nomads in Mongolia that is made from wood and felt. It is made to be easily collapsed and reassembled and is usually transported by horse, camel or yak. These days a ger will also fit nicely on the top of a small four wheel drive. As I saw the sun beginning to disappear beyond the hills from the train window I headed for my own shelter on the top bunk and tucked in for the night.
Eight hours later a tap on my shoulder from the train staff was followed by some Mongolian which I was able to decipher as "we have arrived in Sukhbaatar", Selenge's central city. More of a farming town than a city, I proceeded to an unmarked taxi and squeezed in with seven others as we began a ninety minute journey to a village, Tsaagan Nor, where I was to meet my friend and his family for the holiday.
Leaving Sukhbaatar at approximately 5am and en route toTsaagan Nor, I witnessed a gorgeous Mongolian sunrise which was a welcoming change to the complete darkness of the steppe. As the sun rose ever higher the darkness gave way to the rolling hills of Selenge and its vast wheat and rapeseed fields. Selenge is regarded as Mongolia's breadbasket and is increasingly being transformed with modern farming practices allowing the country to become a net exporter of grains.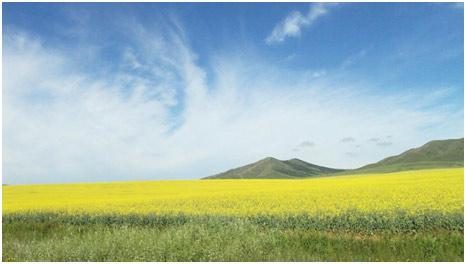 Modern Mongolia: in a field of rapeseed
Having arrived at Tsaagan Nor to meet my friend, I was quickly introduced to his family before partaking in the establishment of a motorcade towards his summer home on an 8,000 hectare farm. Meandering our way through countless fields and occasionally losing our way on the wrong dirt tracks, we finally arrived atop a hill overlooking a 100 hectare produce farm my friend calls home during the summer months. I could quickly see why he spends three months per year here, as we were surrounded by open steppe, rolling hills and the Selenge River.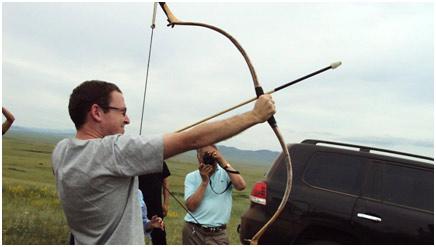 Practicing archery on the steppe
Upon reaching home the Naadam festivities began and a bow and arrow quickly appeared as we took turns shooting, getting better with each arrow. After seeing who had the best shot we proceeded back home and cooked a popular dish, khor khog, which in this case was a sheep whose meat was cooked in the carcass.
For those who live a nomadic lifestyle, this method of cooking is highly practical as one needs no stove, but merely hot, glowing, rocks which are put into the animal with the occasional vegetable. Contrary to what you might think, the cooked meat is fall-off-the-bone tender and could easily be served in a Manhattan restaurant as its flavor is rich and delightful. Ironically, the only seasoning is a pinch or two of salt. After our meal evening activities followed suit and everyone then went to bed.
The next morning, having a short period in Selenge, I departed my friend's home and proceeded to the Mongolian-Russian border town of Altanbulag where a free trade zone had been inaugurated only weeks before. It was quiet arriving on a Saturday at 10am though Mongolian exporters were busy hawking their wares from cashmere products to spare auto parts. Mongolia has an opportunity to increase trade with neighboring Russia and it will be worth watching how Altanbulag develops in the coming months and years as it is only just gaining its proverbial legs.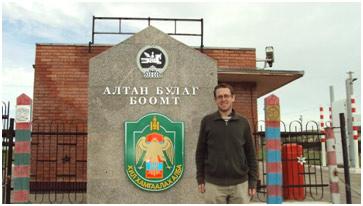 Following Altanbulag, before boarding the train back to Ulaanbaatar, I asked my driver to take me west, down a dirt road on the opposite side of Sukhbaatar, where I would be left to my own devices on a short hike. Arriving at the top of a hill after a twenty minute stroll, I found myself overlooking a very special place called Saikhanii Khutul ("beautiful place between the mountains"). This is where the Selenge and Orkhon Rivers intersect before crossing the Russian border as they progress towards Lake Baikal. It was breathtaking, and I spent the next two hours exploring and reflecting as the scale of Mongolia is to the degree of which a camera often has difficulty capturing its beauty. The photos I was able to capture show but a mere glimpse of this great land.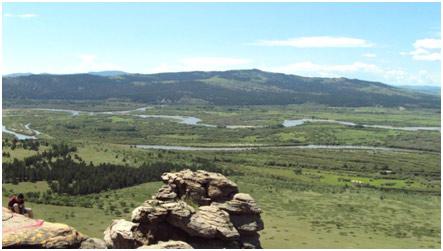 The stereotypical response when a foreigner mentions "Mongolia" being "Chinggis Khan," this elicits visions of an aggressive country and one not worth visiting. On the contrary, spending some time visiting the 18th largest country in the world (also the least densely populated) I wager you will find a romance to it. The kindness of individuals with the warmest hospitality I have ever experienced, coupled with the one-of-a-kind beauty of Mongolia's wide variety of terrain, Mongolia is a hidden gem AFC is proud to be a frequent visitor to, as well as a participant in its phenomenal economic upside