Since being thrust into the international media spotlight in 2011-12 due to sudden political and economic reforms, Myanmar has generated significant buzz among investors and corporations eager to pursue opportunities in the largely untapped former "rice bowl of Asia" that has a population of over 53 million.
But despite the flurry of news and activity, many challenges lie ahead for the country as it slowly repositions itself to build rapprochement with the international community, attract much-needed foreign direct investment (NYSE:FDI) and become more democratic. The reform process has not been without bumps in the road, and the opposition politician Aung San Suu Kyi recently stated at a press conference that the reforms in Myanmar have stalled, with the military still in control of most decision-making and numerous clauses in the constitution yet to be amended.
In spite of the slow pace of reforms, many of the sanctions that long crippled Myanmar's economy have since been repealed, and there has been a dramatic surge in FDI in the country. The Association of Southeast Asian Nations (ASEAN), which has historically had a shaky relationship with Myanmar due to the country's domestic policies and human rights record, has mended ties and this year's ASEAN Chairmanship is held by Myanmar, with the annual ASEAN summit to be held next week in the capital, Naypyidaw. This year marks Myanmar's first tenure as chair, despite having been an ASEAN member since 1997.
A major issue at this year's ASEAN Summit will be the South China Sea disputes, which occurred earlier this year and ruffled feathers between the Philippines, Vietnam, and China. Although Myanmar has no coastline in the immediate vicinity, the country has historically enjoyed cozy relations with China. Beijing was its key ally and strategic trading partner for years while many other nations stayed away due to the US-led sanctions imposed on Burma. But as Myanmar has gradually opened to the West and begun on the path to political and economic reform, it has also reconsidered its relationship with China and started to diversify its geopolitical partnerships to avoid overdependence on Chinese investment and to gradually counter Beijing's growing influence in the region. Of the 36 oil and gas blocks that Myanmar awarded to 47 companies from October 2013 to July of this year, none was given to a Chinese firm. The contracts were instead handed out to US, Norwegian, French, Anglo-Dutch, and Russian oil majors.
China has taken notice of Myanmar's push to develop ties with other nations that are not necessarily close friends of Beijing. Japan has recently invested millions in Myanmar, including in the 2,400 acre Thilawa special economic zone near Yangon. Japan and China are both jockeying for influence in Southeast Asia, and China is not pleased to see Myanmar diversifying its partners. One catalyst for souring relations between Beijing and Naypyidaw came in 2011, when Myanmar's president, Thein Sein, suspended the controversial USD 3.6 billion Myitsone Dam project, citing environmental concerns. The move infuriated Beijing, as the dam was to be a key power generator for China's Yunnan province and was financed primarily by the China Power Investment Corporation.
Although China remains Myanmar's largest source of FDI and its biggest trading partner, Chinese investment has dropped sharply since Myanmar's reestablishment of diplomatic relations with the West. In the fiscal year ended April 2013, China pledged USD 407 million in new investments in Myanmar, a figure roughly 10% of the USD 4.3 billion that China had provided to the country for the previous year. Despite the uncertainty of how relations between the two countries will evolve in the future, Myanmar's strategic location is very appealing to China, particularly as it hunts for energy and minerals for its own enormous population. Myanmar's coastline on the Bay of Bengal and the Andaman Sea looks to be Beijing's ultimate play, as China desperately seeks an alternate shipping corridor in lieu of the Straits of Malacca. Roughly 40% of China's oil imports pass through the Straits of Malacca, creating a massive energy security threat for Beijing and a potentially vulnerable chokepoint for its oil supply. China has already completed a crude oil pipeline through Myanmar, running from the Bay of Bengal to China's Yunnan province. The pipeline is slated to come online later this year and is expected to carry 440,000 barrels of Middle Eastern and African crude per day, while also running alongside a natural gas pipeline. But despite China's plans for a faster and safer trade route, its pipeline and SEZ projects in Myanmar have stirred discontent among many Burmese, who worry that Myanmar is becoming a pawn in Beijing's scramble for resources and that the extraction won't benefit the local population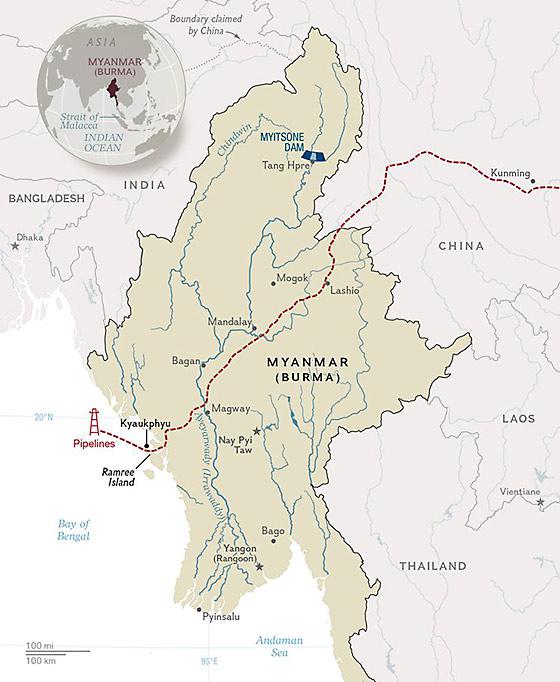 Source: National Geographic
From an investment standpoint, the Myanmar Securities Exchange Centre (MSEC) is currently the country's sole stock exchange and only lists two stocks. The two listed companies are Forest Products Joint Venture Corp (FPJVC) and Myanmar Citizens Bank (NYSE:MCB), both of which are jointly owned by the government and private investors but rarely trade. The illiquidity is primarily because current shareholders in the two listed companies do not want to sell, as the stock prices have only gone up in recent years and there are few attractive investment alternatives.
Plans are in place for the MSEC to be replaced by the Yangon Stock Exchange (YSE), slated to open in October 2015. Daiwa Securities Group and the Tokyo Stock Exchange signed an agreement in May 2012 to develop the stock exchange, and it is expected that a half dozen companies will plan to list in the early stages of the bourse's operations. Myanmar's Finance and Revenue Minister has stated that the first three companies to list will be the Asia Green Development (NYSE:AGD) Bank, First Myanmar Investment Co Ltd (NASDAQ:FMI), and the Myanmar Agribusiness Public Cooperation Limited (MAPCO), established by the Myanmar Rice Federation. It remains to be seen whether local companies will meet the requirements to list on the exchange, as the fledgling stock exchanges recently launched in Cambodia and Laos have not been hugely successful, with far fewer companies ultimately listing than anticipated.
Despite the limited current state of the country's stock market, Myanmar companies have found alternate ways to raise capital. In July, Myanmar Agribusiness Public Corporation (MAPCO) offered shares to the public, raising just over USD 12 million in its second round of fundraising since establishment in 2012. MAPCO's target sector in Myanmar is agribusiness, accessed through both trading agricultural goods and investing in agricultural projects, with a primary focus on rice processing and production. Additionally, the firm holds a 5% stake in the Thilawa Special Economic Zone, a large industrial complex developed in conjunction with Japanese conglomerates that is slated to be commercially operational next year. As MAPCO is not listed on a stock exchange, its shares are only available to Myanmar nationals and local citizens can buy shares directly from the company's headquarters in Yangon. MAPCO shareholders must deal with the company directly, as there is not yet a clearing house or securities exchange commission, raising concerns regarding regulation and financial transparency. But despite the uncertainties, the new fundraising round is an important step to help build the foundation for the country's capital markets, promote the secondary share market, and pave the way for domestic companies and government-linked corporates to expand their shareholder bases and eventually list on the forthcoming Yangon Stock Exchange.
Although Myanmar's lack of an efficiently-functioning stock exchange, recent emergence from decades of sanctions and junta rule, and corruption may spook investors, recent developments have signaled that things are improving and have given investors reason to be cautiously optimistic. In October, two prominent Singapore arbitrators ruled in favour of Myanmar Economic Holdings Limited (MEHL), which has strong ties to the Burmese military, in its dispute with its joint-venture partner, Singapore's Fraser & Neave (F&N), over the future of MEHL's 55% shareholding in Myanmar Brewery Limited. MEHL is on the Special Designated Nationals sanctions list and is linked to the military, but has been transparent and rule-abiding throughout the arbitration process - a tentatively positive sign for foreign investors eyeing Myanmar.
In addition to Myanmar's undeveloped stock market, foreign ownership remains a problem, and the over-the-counter (OTC) trading and share sales that do occur are strictly limited to Myanmar nationals. Under the current Myanmar Companies Act, foreigners are prohibited from investing in local public company shares. It remains to be seen whether this restriction will be also put into place for the Yangon Stock Exchange when it opens next year, but there are discussions with Daiwa Securities Group to allow 30-40% foreign ownership on the Yangon Stock Exchange. The removal of foreign ownership restrictions would certainly help the development of the country's capital markets and drive increased foreign investment and interest in Myanmar.
Despite only two stocks being listed on the MSEC, there are over 100 public companies in Myanmar. Roughly 20 of the OTC traded companies try to match buyers and sellers, with the most liquid company being FMI Co. Ltd., the domestic holding company of Yoma Strategic Holdings, which is listed in Singapore.
For the time being, the best way to access investment opportunities in Myanmar is through companies that are listed on stock exchanges in Singapore and Thailand that have significant operations in Myanmar. We see these "back-door listings" as a good way to access high-potential companies doing business in Myanmar until the YSE is successfully established. We currently maintain holdings in Myanmar stocks focused on the oil, gas and real estate sectors.