AFC Travel Report: Cambodia
In line with our process of being on the ground in the countries we invest in, AFC's Regional Investment Analyst, Scott Osheroff, travelled to Cambodia to explore the local market and keep his finger on the pulse in the region.
My first foray into Cambodia in 2012 started in the dusty and chaotic border town of Poipet on the Thai-Cambodian border. I arrived by bus at dusk along with many other weary travelers after spending some time exploring Thailand travelling overland. Whilst border towns in Southeast Asia all have their own certain charm, in the shape of entrepreneurs looking to squeeze every possible penny out of passing tourists, I decided not to spend the night. Instead I looked to continue my journey to Siem Reap, home of the Angkor temples. This being long before the days of Uber, I had to spend some time haggling with some of the locals offering transport and arranged a taxi for the two hour ride before I could rest my head.
Siem Reap is the must-see attraction in Cambodia, offering more historic temples and Asian architecture than almost anywhere I have been. The infrastructure and services available have been developing steadily over the past few years and you could literally spend weeks looking at dozens of jaw-droppingly massive religious sites - though you may end up with temple fatigue after a few days without the occasional break to sip cocktails by your hotel pool. Whilst the facilities are improving, the health and safety at some of these locations are not quite up to the standards of other tourist hotspots around the world. That being said, there are healthcare services available and of a much higher quality that you would expect in such a poor country. AFC's Marketing Director, Stephen Friel, can attest to this, as he experienced them firsthand in 2011 when he inadvertently slipped on some dusty steps at Angkor Wat and had to have both of his newly broken arms mended at the Royal Angkor International Hospital. The grand total for x-rays, nursing care, medicine, UK-trained Thai doctors fixing two broken bones, and compound fractures in the wrist was roughly USD 1,000 which is a fraction of what you would pay in the West. With medical tourism in Asia becoming big business, perhaps Cambodia could participate in this industry at some stage in the future.


Angkor Wat Temple and Royal Angkor International Hospital.
Source: wikimedia and Asia Frontier Capital
Leaving Siem Reap, I took a bus to the capital city, Phnom Penh, which - at the time - was a city of low density real estate and still had a few unpaved streets. The controlled chaos and infrastructure of other Southeast Asian cities, such as Bangkok and Ho Chi Minh, hadn't yet arrived, making for a peaceful and somewhat rustic experience.
Fast forward to May this year when I revisited Phnom Penh, and the above comparison no longer fits the mold of today's Cambodia. The city is now bustling and congested, with cranes covering the horizon. With paved streets and expats becoming increasing mainstays, Phnom Penh is transitioning into a modern city in every aspect.
The high average GDP growth of 7.7% from 1993 to 2013 has been fueled largely by real estate investment, efficiencies in agricultural production and the relocation of manufacturing, particularly in garments, from China to the greater Mekong Sub-region. This is leading to Cambodia playing a long game of "catch-up" with its neighbors. With over 650,000 Cambodians working in the garment industry, the overall number of locals involved in light and medium industrial manufacturing will continue to expand as Cambodia integrates with its ASEAN sister countries. This will also see logistics improve and high electricity costs subside. A natural home for labour intensive industries with Cambodia's free market economy, the Kingdom is an ideal jurisdiction for such foreign investment.
Riding the wave of this growth, Phnom Penh has been the beneficiary of investment from retail chains, thus providing new options for the growing middle and upper class who previously visited Bangkok, Ho Chi Minh, or Singapore for weekend shopping sprees. KFC having been the first entrant to the country in 2008, over the past several years there has been a surge of new multinationals moving in, including Burger King, Domino's Pizza, Bon Chon Chicken, Yoshinoya, Krispy Kreme, Dairy Queen, Pizza Company, Coffee Bean & Tea Leaf, Ducati, Hugo Boss, and Rolls Royce, to name but a few.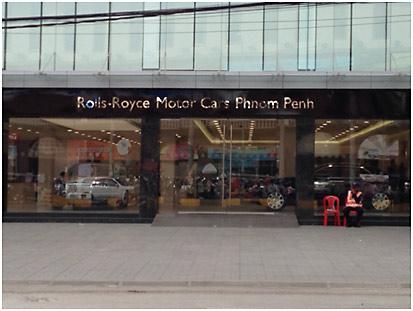 The first Rolls-Royce dealership in Cambodia.
Source: Asia Frontier Capital
Complementing these retail entrants is a construction boom which has led to a transformation of the downtown core and the periphery of the city. Entering a new phase in the real estate industry, Loan-to-Value ratios are increasing and more locals are taking on debt to buy property. Factor in the foreign investment in search of yield and every undeveloped land package seems to be under some stage of construction. On the periphery of the city, satellite towns being financed and constructed by Korean, Chinese, and Indonesian companies are sprouting from the rice paddies. Looking at all of the construction and uncertain demand, there is the potential for a correction in the market at some point, the signs of irrational exuberance remain however as new construction continues uninhibited by the potential saturation of the market.


Apartment buildings under construction in downtown Phnom Penh. Source: Asia Frontier Capital
As my visit came to an end, I left Cambodia on National Road No. 1 toward the Vietnamese border where passing through the town of Baveat I came across a sign perhaps foreshadowing the future of Cambodia-casinos. A gambling haven for Thais and Vietnamese who cannot gamble domestically, Cambodia has increasingly become a regional player in the gaming industry, attracting Chinese, Japanese, and Koreans in the process. Perhaps today the seeds are being laid for the new Macau of Southeast Asia? In Cambodia it seems anything is possible.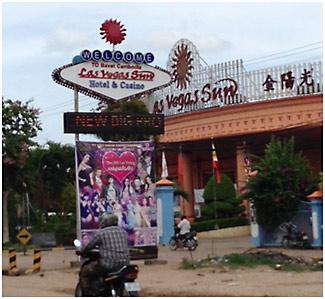 The Las Vegas Sun casino on the Cambodian-Vietnam border.
Source: Asia Frontier Capital
Additional disclosure: The AFC Asia Frontier Fund has a long position in Cambodian equities.