AFC Travel Report: Iran
In line with our process of covering frontier countries from the ground, this month we will focus our travel report on Iran. As someone from our team is usually in one far flung destination or another each month, our travel reports are normally a first-hand account. For Iran, however, this proved to be difficult, as no one from AFC's investment team has been there in decades. As such, we have a guest contributor this month in the form of one of AFC's adventurous investors, Espen Baardsen, who recounts his two week experience driving around the heartland of the former Persian empire at the end of 2014.
There was a vague sense of trepidation as our plane headed towards Tehran. Two weeks of exploring Iran seemed like a fun adventure a few months ago while sitting at home in London. Now, with darkness descending, scenes from the film 'Argo' flashing through my mind, and thoughts turning to the war in next door Iraq, I was less sure. That the crowded Turkish Airlines plane was one of the oldest I've been on didn't help. But then the woman sitting next to my wife started chatting to us, and before long gave us her phone number in case we had any problems in Iran or if we just wanted her to show us around her home town of Yazd. It felt like a good omen for the trip. As the plane descended towards Tehran, my wife and all the women who weren't already wearing the hijab, or headscarf, put theirs on. No turning back now.
Unfortunately a plane full of oil workers from Azerbaijan had landed at the same time as us and most of them decided to jump the long immigration queue. A fight was narrowly avoided at one point. When we got to the front an hour and a half later, the officer looked at our visas for a minute, stamped the passports and we were in. It was a relief considering the convoluted procedure to obtain the visas at the Iranian embassy in Dublin - there is no embassy in London - which amongst other things required us to visit the local police station and be fingerprinted in a holding cell. I suspect it was something to do with me being born in America, and having a passport full of stamps from some of the world's more 'colourful' destinations.
We found Tehran airport to be generally disorganised and badly maintained but I've seen worse. It took another hour to find our luggage, go through customs, find our guide and get into a car. Given that it was 4am by now, the drive into the city was only less than an hour. During the day it would be a couple of hours at least.
Our hotel in Tehran was a 1980s throwback with pink carpets and highly varnished black wooden furniture, topped off with a rock hard mattress. The pink theme extended to the bathroom unfortunately. This would be a recurring thing in Iran - hotels that feel like you're in a time warp, in desperate need of refurbishment (although all had some form of wifi). It's not surprising given that the bulk of their customers are price-sensitive domestic tourists. Foreign tourists were few and far between wherever we went, except for Isfahan. Mostly it was large groups of pensioners from Nordic and Mediterranean countries on package tours, and a few younger couples. We saw just one British couple and no Americans during the trip. The scope for growth in the foreign tourism sector is vast, especially at the higher end.
The next morning, Mohammed, our guide/driver, who was a prisoner of war for eight years in the Iraq/Iran war, took us around Tehran. First impressions were of organised chaos. Most road junctions don't have working traffic lights so it becomes a game of 'chicken' between cars and also pedestrians. You run to cross the road as there are no pedestrian crossings. If you miss your turn-off in a roundabout, just slam the brakes and reverse. No one wears seat belts. That said, we only saw one accident during the three week trip and that was in the desert in the south where drivers tend to drive too long distances and get tired.
With a completely inadequate public transport system, everyone has to drive everywhere. In a badly-planned city of over 8 million, the city is in gridlock for large parts of the day. Our first stop was the former US embassy, now officially renamed The Den of Espionage and used by a militia dedicated to defending the 1979 revolution. Our guide didn't want us spending more than a few minutes there, and advised against my wife even getting out of the car so there was only time for a quick photo.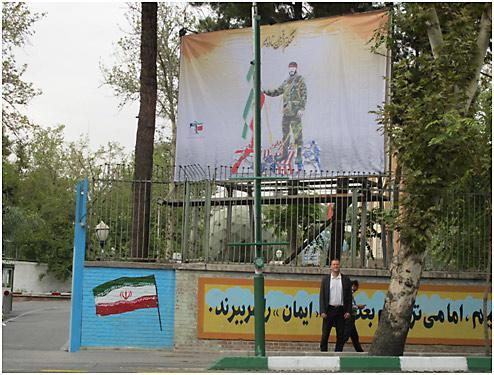 Former US Embassy Tehran, Source: Espen Baardsen
We moved on to the main bazaar in Tehran - a bustling, semi-underground warren of cave-like shops selling everything from carpets to women's underwear to all manner of old and new electronics. I liked the row of shops selling designer labels. No clothes, just clearly counterfeit labels of brands such as Gucci, Armani and Burberry to be sewn into whatever.
Outside stood a group of a few dozen men, loudly debating something, while waving wads of cash around. This was the local currency exchange, where we swapped a few Benjamin Franklins, for a stack of rial and tomans so big that it wouldn't fit into two wallets.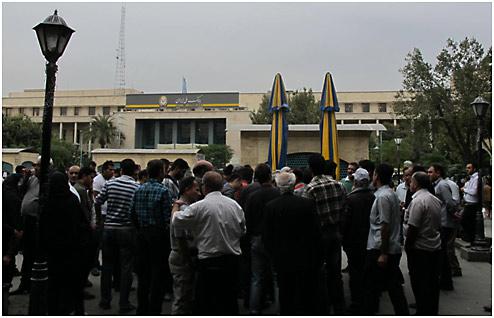 Tehran Public Foreign Exchange Pit, Source: Espen Baardsen
The next day we left for Kashan, a desert oasis town a couple of hours south, famous for its fields of roses. The traditional local houses and mosques are made of a mix of mud and wood, but intricately tiled and decorated inside. Parts of the town look like Luke Skywalker's desert village in the original Star Wars films. En route to buy some of this famed rose oil, we got side-tracked in the bazaar by a shop selling gold coins with Ayatollah Khomeini's profile. I had to get one, especially as the price was in line with the current open market gold price. I can add Iranian gold 'Khomeinis' next to my collection of American Eagles, Canadian Maples and S.A. Krugerands.
Our trip then took us to Yazd, one of the oldest cities in the world, and a key historic hub on the road from Isfahan to Kerman, on the main trading route to Central Asia. The locals were pioneers in air conditioning, using wind towers and piped water to cool their homes, so it has some unique architecture. Today, the city is known for its textiles and confectionery industries.
After a couple of nights in a remote village, visiting nomads and hiking, we were back in civilisation - albeit a very ancient one. A visit to Persepolis is a highlight of any trip to Iran, yet we were pleasantly surprised to find it almost empty. The site is genuinely awe-inspiring, especially considering it was built between ca. 550 and 330 BCE. You can still see the signs of the fire lit by Alexander the Great's army that destroyed the city.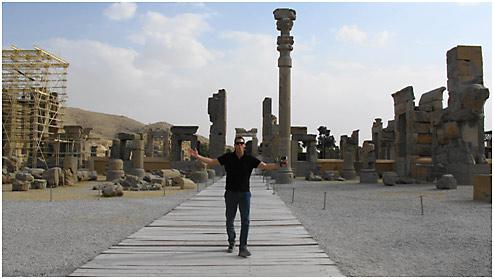 Persepolis which literally translates to "City of Persians", Source: Espen Baardsen
Next up was Shiraz. That might make you think of wine, but of course, Shiraz is a shiraz-free zone as is the rest of Iran. The old vines were all ripped up after the revolution - a tragedy in my opinion. The city looked like a much more pleasant place to live than Tehran. The hotels are much closer to international standards than anywhere else in Iran barring Tehran. Some of the restaurants would not have seemed out of place in central London - with prices to match. Inside there were plenty of young couples, clearly on dates.
In Shiraz we visited Shah Cheragh, containing the tomb of two holy martyrs. A bomb exploded here in the 1980s, killing a mullah, so bags and cameras are banned and foreigners have only been allowed to visit since last year. As it's so holy, women have to wear a 'chador' (meaning 'tent' in Farsi). It's a large piece of usually black fabric that women wrap themselves in, from head to ankles, so that no part of their bodies, or even the vague shape of their bodies can be made out, except the face. Unaccustomed to wearing one, my wife spent the entire time trying and failing to keep her chador together. As not many foreigners make it in here, we had some glances but an English-speaking female guide came to walk my wife through the women-only areas and it all felt very welcoming. The shrine itself was beautiful, with walls entirely covered with tiny mirrors in extraordinary patterns.
The final major stop was Isfahan, hands down Iran's most beautiful city and the biggest draw for tourists. Its mosques, squares, and palaces are some of the finest examples of Islamic and Iranian architecture and it's impossible not to be awed by the artistry involved. We also visited its thriving Armenian quarter and the Orthodox Christian cathedral. The city is full of tourists, with demand for decent hotel rooms far outstripping supply. Our hotel there was both the most expensive and the worst we had in Iran. The good restaurants are packed full. On the plus side, we did have the best coffee of the trip in a coffee shop proudly serving Illy coffee next to the Naghsh-e Jahan square. Unsurprisingly, it was full of Italians.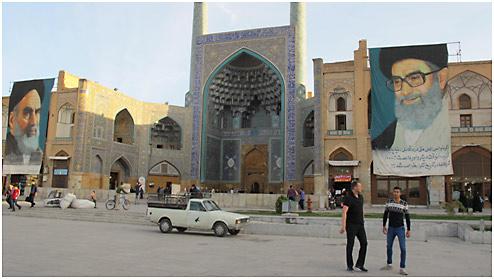 Shah Mosque in Isfahan, Source: Espen Baardsen
Iran gets a certain reputation, obviously, but it's nothing like the image many have of it. We didn't feel unwelcome for one moment. Most people just ignored us and the ones who didn't usually came up and in a curious, friendly way wanted to know where we were from and what we thought of Iran. At a petrol station in the middle of nowhere a big, tough-looking guy came up to me, stuck his hand out to shake, looked me in the eye, and said "CHELSEA!", to which I replied, "TOTTENHAM!", and the guy said, "Yes, Tottenham!", smiled and as that was the extent of his English, walked off.
What's noticeable after a while is the lack of 'Western' influence. There are no foreign films, magazines and very little foreign music even. The only Western book we saw on sale was Alex Ferguson's biography. Nevertheless, most people have at least a bit of English. There's some Turkish television, which they get via satellites that are technically illegal. The local television is very state controlled, although newspapers seem to be slightly freer in what they can write. Unsurprisingly a huge number of websites are blocked, but VPN is widely used to get around this.
Yet the overriding impression I got is that Iran doesn't seem to look to its east or its west. It's a country that mainly looks in on itself and back to a glorious past of Cyrus the Great, Persepolis, the Sahavids and so on. They see themselves as very distinct to the Arabs in the surrounding countries. They are Shia, in a vast area dominated by Sunnis. They are also very proud of their pre-Islamic and Zoroastrian heritage. The country's biggest holiday is Nowruz - Iranian new year - which originated in the Achaemenid Empire. Their patriotism and love of flag is matched only by Americans. Flags are everywhere you go. Hundreds line the motorway as you enter Tehran - an impressive sight. It is as ubiquitous as pictures of Khomeini.
It's a paradoxical place. Their suspicion of the West makes drinking a Coca Cola a potentially disloyal act. They worry that Pepsi might have 'Israeli connections'. Neckties are 'Western' and not worn. Yet at the same time they admire much about Europe and America and seem almost hurt that the West refuses to treat them more like equals when it comes to culture, science, and arts. And it makes sense if seen in historical terms; this part of the world was far in advance of Western Europe - not to mention North America - in terms of civilization and culture for all but the past five centuries or so out of the past five thousand years over which human history can be traced back.
From a foreign investor's perspective I think it is important to remember that biggest beneficiaries of the loosening of sanctions in Iran will be the Iranian consumer and some foreign businesses. Perhaps this is part of the reason that it has taken so long for an agreement on Iran's nuclear program. From a business perspective there will be many losers and surely some of them will be owned or linked to the military which have substantial investments in the economy.
It becomes obvious upon being there that there are many businesses with poor quality products that will struggle against foreign competition. In addition, USD 50 oil and a huge increase in supply coming from neighbouring Iraq will cause the government to tighten the purse strings. Much of the equity market capitalisation is made up of resource or resource-related businesses which I would personally prefer to avoid.
That said, there will surely be some excellent buying opportunities. I would focus on the domestic consumer and also on the tourism sector. Both will get a big boost from the easing of sanctions and a change in perceptions of the country. There are businesses that have spent the previous few decades building brand loyalty with the consumer making them more insulated from foreign competition. Perhaps they also have an advantage by being perceived as 'Iranian'. I would expect those brands to prosper and present good buying opportunities on the stock market. In addition, the hotel and tourism sector has huge potential to grow from a relatively low base.
Lastly, there are many tech and internet businesses that have prospered despite sanctions and finding the 'winners' could be very profitable for those that are willing to spend the time to find them
Disclosure: I/we have no positions in any stocks mentioned, and no plans to initiate any positions within the next 72 hours.