This is the first of three reports by AFC contributing writer John Enos, who recently spent two months traveling by bicycle, train, and bus across Central Asia from Almaty to Ashgabat. Feel free to reach out to him at john.a.enos@gmail.com. Photos are all by John Enos.
I really had no idea what to expect as I boarded my Air Astana flight direct from Bangkok to Almaty. What types of passengers would be taking this flight? Thai oil & gas businessmen? Expat mining executives returning to the steppe from a weekend of debauchery in Pattaya? Russian oligarchs looking to disappear for a while? Well, my flight was only about half full, but it was almost entirely Kazakhs - old retirees, families clad head to toe in "I Love Thailand" regalia, and young honeymooners with their arms weighed down with Gucci and Louis Vuitton shopping bags.
I was immediately struck by the diversity of the passengers carrying the bright blue Kazakhstan passports - there were beautiful women and hardy men with the sculpted Kazakh features of the Steppe, there were passengers who could have passed for Thai, or Iranian, or Chinese, and most surprisingly, there were blonde haired and blue eyed Kazakhs (ethnically Russian, but now Kazakh by passport). Vladimir Putin famously said in a 2005 state of the nation address that "the collapse of the Soviet Union was one of the greatest geopolitical tragedies of the 20th century…tens of millions of our co-citizens and co-patriots found themselves outside Russian territory." I certainly stood out as the sole scruffy, unshaven American with a one-way ticket to Almaty.
Taking a cue from the gruff Kazakh sitting next to me, I ordered a shot of vodka with my lunch at 11 am. This "shot" was in fact a full glass of vodka served neat…no ice, no mixer. Little did I know this would be a strong indicator of what was to come. Vodka is ubiquitous across Central Asia, a remnant of Soviet rule. It is also dirt cheap in every country we visited, and the rates of alcoholism and liver disease are disturbingly high.
As I struggled to finish my Thai-Kazakh lunch of som tam papaya salad, mystery meat sausage sandwich, and unfortunately large glass of vodka, I decided I'd spend a good portion of the remaining 6-hour flight trying to muster the basics of reading the Cyrillic alphabet. As my Dad had pointed out, learning to read Cyrillic (the alphabet used in Russian, Mongolian, and Kazakh, among other languages) is a bit like doing Sudoku or cracking a code, and one can learn most of the basics in a few hours. Cyrillic has 33 letters, and many of the letters are the same as the Latin alphabet which we use in English. The letters A - E - K - M - O - T are pronounced the same in Cyrillic. I picked up the basics and began trying to decode the city destination names on the Air Astana in-flight magazine map. This entertained me for a while, and before I knew it, I was descending into the empty and beautiful steppe on the outskirts of Almaty.
Most people know nothing about Kazakhstan except for the satirical movie Borat, which is supposed to be set there (in fact, it was filmed in a Romanian village and there is nothing Kazakh about it…). Kazakhstan is the 9th largest country in the world (2.7 million km2), but has a population of just under 18 million people. It is incredibly sparsely populated, and in the central and western parts of the country, vast swathes of the steppe and desert stretch for miles with hardly a road or human in sight. The Kazakhs, like many of the people in Central Asia, are fiercely proud of their nomadic history and one still sees evidence of this today. Horse is the preferred meat of choice, yurts dot the green summer pastures, and an old national proverb states simply, "fast horses and fierce eagles are the wings of the Kazakh people". Eagle hunting is still a revered sport (and art) in much of the region.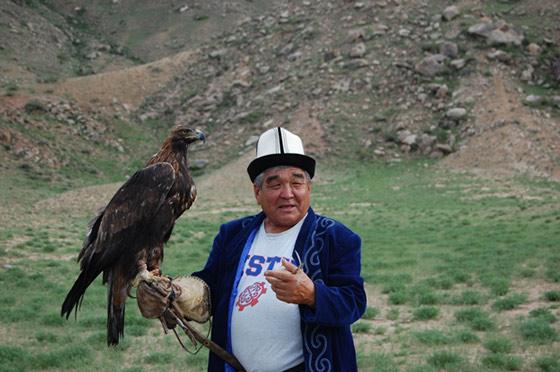 Ishanbek, a renowned Kyrgyz eagle hunter with his beloved bird of prey after a hunt
Despite our guidebook's warnings that Kazakhstan had become a pricy destination due to its oil & gas wealth, we had picked the perfect time to make a trip. The Kazakh tenge was one of the world's worst performing currencies in 2015 and fell nearly 50% against the dollar in less than six months starting from mid-August. In August, the Kazakh central bank had accelerated the currency's freefall by moving to a floating exchange rate due to crashing crude prices and devaluations by neighbouring Russia and China that increased the cost of defending the tenge. Our guidebook, written in 2013, stated the exchange rate as 150 KZT per 1 USD. As I am writing this, the rate is 352 KZT per 1 USD. Even Air Astana's website couldn't keep up to date with the rapidly plunging tenge - when I searched their website for the bicycle luggage fee, it stated the fee was 10,000 KZT or 50 EUR. At the time of publishing it on their website, the two were the same amount. Today, 10,000 KZT is USD 28, and 50 EUR is 56 USD. Plenty of currency arbitrage opportunities exist for those with access to US dollars and bit of imagination!
We found our currency arbitrage to be limited to swanky Georgian restaurants (suddenly cheap!) and Kazakh draft beer of various qualities which seemed to never cost more than $0.60 a pint. Transport, meals, drinks, taxis, admission tickets, rides on the Almaty metro - everything was fabulously affordable.
Almaty was a very pleasant city, and we ended up spending six days there as we waited for my friend's bicycle to arrive - it had been lost in transit on his flight from Uganda to Kazakhstan, much to nobody's surprise. Almaty was my first taste of a former Soviet city, and while some of the city's grey and concrete Stalinist architecture left a lot to be desired, as a whole it is surprisingly cosmopolitan and we had arrived just in time for the warmer summer weather. The coffee roasting baristas and iPhone-carrying Kazakhs dining at sidewalk cafes made Almaty seem very European.
Although Uber just launched in Almaty last month, it wasn't around in May when we visited. What I found far more bizarre was that a city as developed and relatively middle-income as Almaty seemed to have no registered or licensed taxis - everyone relied on gypsy cabs. If you want a ride anywhere in Almaty, you just flag down a random car driving by, give your destination, haggle over price, and jump in. Usually there are several other co-passengers also inside. You can imagine that when you speak zero Russian and zero Kazakh, negotiating and organizing rides with gypsy cabs is comically difficult. Even when we tried to point out our destination on our smartphones, Google maps would switch back and forth from Russian to English and the driver would have no idea where we were trying to go. We spent lots of time cruising around in the backseats of random guys' cars, laughing at the uncertainty of where we would eventually end up.
After six days in Almaty of exploring, eating, drinking, and making the most of the weak tenge, my friend's bicycle showed up on our doorstep and we set off southeast towards the Kazakh-Kyrgyz border and the imposing Tian Shan mountains, one of the largest mountain ranges in the world stretching across China, Kazakhstan, Kyrgyzstan, and Uzbekistan. To make up for the lost time waiting, we hired a van to carry us and our bikes to the ramshackle town of Kegen, Kazakhstan. After a delicious bowl of Korean-style beef noodle soup (there are many second and third generation Koreans across Central Asia), we set off on bicycle to pedal into Kyrgyzstan.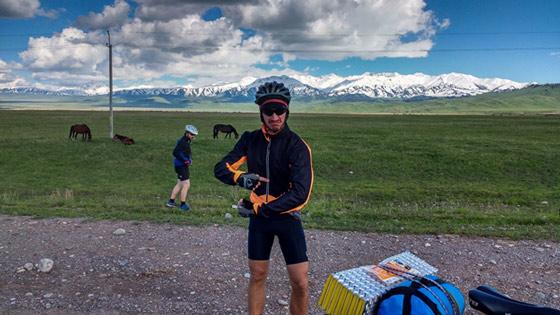 The author attempting his best fierce nomad impression on the open steppe of Kazakhstan
The day's ride was incredible. We crossed stunning green pastures with nothing but yurts and mountains as far as the eye could see. We encountered a pair of suspicious Kazakh border patrolmen towering over us on horseback, who grunted and pointed us towards the border crossing. We saw huge birds of prey, enormous snow-capped mountains, and the dramatic silence of the steppe - it was only every half hour or hour that a car would pass us. The highlight of the ride to the border was being greeted with a hearty "As-Salaam Alaykum" by a fierce but jolly sheep herder who was riding a formidable mustang sans saddle, with a cigarette in one hand and a vicious looking whip in the other that he used to herd his flock.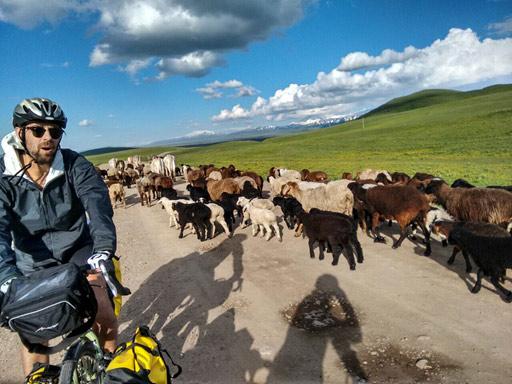 Heavy traffic heading towards the Kyrgyzstan border
We reached the Kazakh-Kyrgyz border crossing in mid-afternoon - certainly the most spectacular and remote border I've ever crossed. The guards on both sides seemed quite amused to encounter three unshaven Americans in spandex biking shorts hauling 20 kilos of gear each. There were no bribes or nuisance - the guards just wanted to know if I had been to Afghanistan and had any drugs. Convinced that I wasn't a mule smuggling heroin out of the Hindu Kush, the guards stamped me out of Kazakhstan and I continued into the most vowel-challenged country on earth, Kyrgyzstan.
Kyrgyzstan has been affectionately dubbed the "Switzerland of Central Asia" due to its Alpine scenery, world-famous chocolate, and banking secrecy. Just kidding about the latter two, but the scenery is stunning and the mountains splendid. To distinguish itself from the notoriously bureaucratic and labyrinthine visa procedures that plague most of the "Stans", Kyrgyzstan has introduced a free 60-day visa on arrival for dozens of countries in an effort to boost tourism.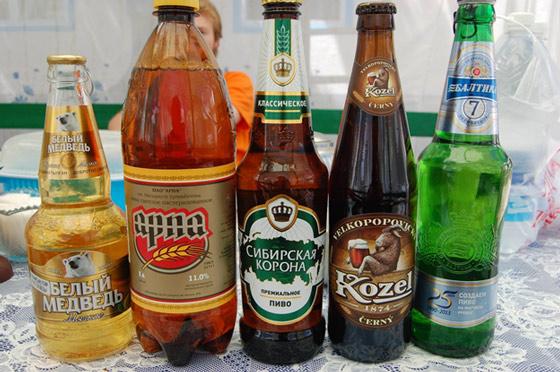 Polar bear beer, 11.0% malt beer, "Siberian Korona", billy goat ale, Baltica - enjoying a day off the bikes!
Perhaps due to its challenging and rugged environment, Kyrgyzstan's population is small (5.7 million) and also quite sparsely populated. We set out on our bikes for the southern shore of Issyk Kul, which is the world's second largest saline lake after the Caspian Sea and the second largest mountain lake in the world after Lake Titicaca. It was also used as a torpedo test site by the Soviet navy, even though today its main draw is its beach resorts for wealthy urbanites coming from Almaty or Bishkek. The southern shore draws some adventurous tourists interested in trekking into the Tian Shan mountains, but apart from the occasional rugged backpacker or climber, we didn't meet many non-Kyrgyz in the small villages we cycled through.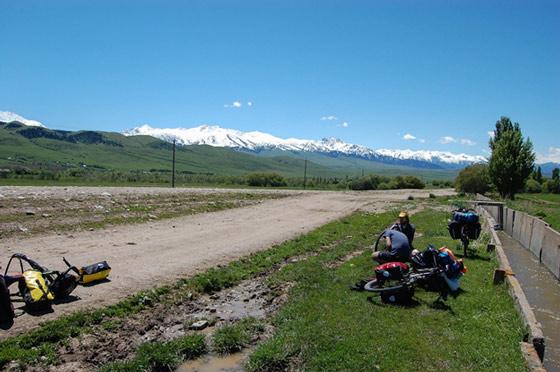 Mending another flat tire on the end of the earth, somewhere in Kyrgyzstan
Our first night in Kyrgyzstan as we headed for the lake's shores was by far our most memorable. Living near the equator, I had forgotten how late it stays light in the northern hemisphere, and at 8:30 pm we found ourselves still cycling through the middle of nowhere, Kyrgyzstan, chasing daylight and realizing that although we had a tent and some food provisions, we had no fuel for our camping stove and the temperature was starting to drop quickly.
After unsuccessfully trying to ask for gasoline using a few Russian/Kazakh/Kyrgyz words from our guidebook, we were getting desperate and cycled up to the closest house we could find. The looks on the faces of the Kyrgyz family we encountered were something I can't describe. We were almost delusional from exhaustion, hunger, and cold, and must have looked a bit insane as we tried to use charades to explain that we would like to use their stove to cook and would also appreciate camping on their living room floor. Devoid of English but full of hospitality, the entire Kyrgyz family welcomed us in and stared in amusement as I pulled out my Leatherman camping knife and began chopping sausage into the pasta we boiled. The whole family came to have a look at us, including the weathered old grandpa who initially seemed annoyed by our presence but warmed to us when he saw our sturdy steel bikes and our appreciation of his family's fine horses, hot tea, and color television.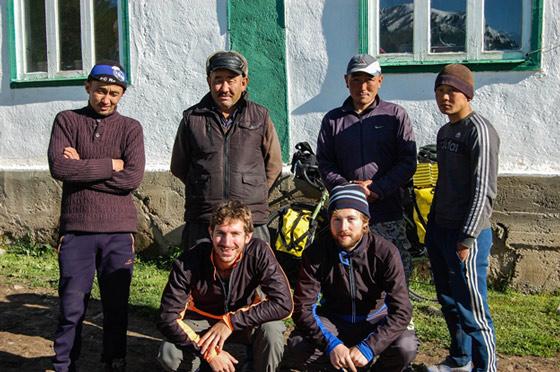 The men of the Kyrgyz family that graciously took us in and offered us their living room
The next week was a beautiful blur of stunning landscapes, flat tires, extremely sore quadriceps, and a few hundred kilometres cycled as we navigated the southern shore of Lake Issyk Kul and finally arrived in Bishkek, the small but cosmopolitan capital of Kyrgyzstan.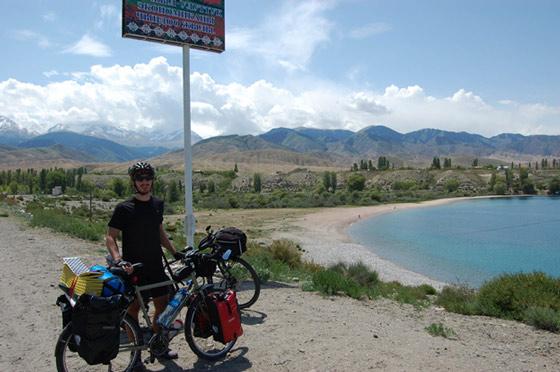 The author and the "Iron Bison" posing on the Kyrgyz Riviera, a former Soviet torpedo test site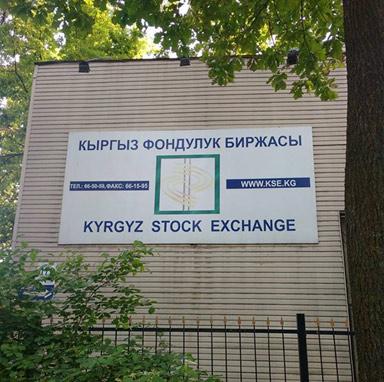 The Kyrgyz Stock Exchange, pictured above, opened in 1995 and celebrated its 20 year anniversary in 2015. Over the life of the exchange, the index has increased from 100 to 428, with a market cap of USD 221 million or 14,906 million Som. It lists equities and bonds. The Exchange is in Bishkek, and more info can be found at www.kse.kg.
To be continued in next month's newsletter…