Summary
RUT 1230/1240C 910/900P expr. 02/19/2016.
46 Day trade that captures 3.5% yield.
Conservative trade because of high Implied Volatility.
2016 is off to an ominous start and this trade generates a modest return with a conservative Iron Condor trade. With Implied Volatility over 20 I was able to sell a 1230/1240 Call at .15 (that's $150 for every $10,000 frozen with broker) and a 910/900 Put at .20 (that's $200 for every $10,000 frozen with broker). What this means is that if RUT doesn't go up 10.77% or down 18.05% in the next 46 days then the 3.50% in premium that I collected up-front will become free and clear. This strategy generates a peristent return in all kinds of markets and performs even better during times of high volatility.
Symbol RUT
Implied Volatility 21.01%
Current Price $1110.44
Analysis Date 01/05/2016
Exp Date 02/19/2016
Days to Exp 46
Trade Info: Strike Price % away from current Delta Value Standard Deviations away
Short Call 1230 10.77% .0291 1.44355146864196
Short Put 910 18.05% .0342 2.42008578433084
Call Condor credit: 0.15
Put Condor Credit: 0.20
Total Credit: 0.35
Total Yield: 3.50%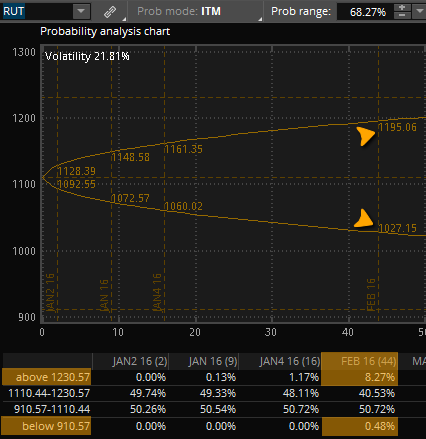 Note that our short strikes are past their 1st Standard Deviations
for more information please see IronCondorCapital.com
This article is tagged with: Income Investing Strategy
Additional disclosure: I placed this trade in my account 1/5/2016