Special Situation - Alexion Pharmaceuticals (NASDAQ: ALXN)
Introduction: Finding a large cap biotech trading at a dirt cheap valuation is not easy to do. Biotechnology is regarded as a growth industry, and as such is expected to trade at a premium relative to other industries and the sectors they belong to. Catalysts are generally spaced few and far between for any given company, which means that the majority of the time, the movement of a large cap biotech company's stock price is influenced more by the strength of the overall market, the sector (healthcare), and the industry (biotechnology) than the strength of the company itself.
It follows that to get strong discounts in biotech, you need a market crash or a sector/industry bear market. The market has not had a correction since 2012, but biotechnology as an industry, using the IBB ETF as a proxy, has gone through 3 bears markets since 2014. It is only in these bear markets where an investor can scoop up virtually any large cap biotech for strong risk-adjusted gains.
2017 has been an interesting year so far, in that the divergence among the large cap space is very heavy. Vertex (NASDAQ:VRTX) is the best performer not only in the large cap bio space, but on the S&P 500. Regeneron (NASDAQ:REGN) and Incyte (NASDAQ:INCY) have had excellent years as well. The rest of the large biotechs have been weak, underperforming not only the NASDAQ but the S&P 500 itself.
In last place is Alexion , a former Wall Street darling which hit levels not seen in nearly 4 years. Is this divergence justified, or is a stellar buying opportunity that should be taken advantage of? I will attempt to address that question in this report. While I will try to keep this as simple and concise as possible, realize that this thesis has a lot of moving parts that will demand some degree of detail.
This report has 5 components:
- Discussion of recent events that lead to ALXN trading where it is right now
- Discussion of the 'threat' from OMS721 from Omeros (NASDAQ:OMER)
- Relative Valuation of ALXN compared to VRTX, INCY, REGN and CELG
- Comments on comparison against VRX, and price gouging
- Conclusion
1. Discussion of recent events: Alexion's problems began in November 2016 when a whistleblower notified the board that improper sales practices were being utilized. An internal audit found that no illegal practise had occurred and that there were no material changes to past earnings reports, but that there was relatively weak corporate governance. The board fired the CEO and CFO, and David Brennan took over as the interim CEO, and Dave Anderson took over as the CFO.
On May 8th, 2017, police in Brazil raided an Alexion office, based on accusations of improper sales practices. It should be noted that no charges have been placed, and that the citizens of Brazil have immense distrust in the residing government. https://www.bloomberg.com/news/articles/2017-05-08/alexion-is-raided-by-brazilian-police-in-sales-practices-probe
On May 23rd, ALXN plummeted to price levels not seen in years as a press release indicated that the CFO was resigning at the end of August, the head of R&D was leaving at the end of the year, and the Chief Commercial Officer and Chief Human Resources Officer were resigning at the end of June. http://news.alexionpharma.com/press-release/company-news/alexion-announces-executive-leadership-changes
It should be noted that as I write this report on June 1, Alexion has announced a new head of R&D, a new Chief Human Resources Officer, as well as a new Chief Compliance offer. This company moves fast. http://news.alexionpharma.com/press-release/company-news/alexion-announces-additions-executive-leadership-team
Regarding the sales raid in Brazil, this could potentially be a ploy by the government to regain confidence among the public. I have very little doubt that sales practices at Alexion are extremely aggressive. This is inevitable when your lead product Soliris (Eculizumab) accounts for 90% of your revenue and is one of the most expensive therapeutics in the world. There is, however, a fine line between aggressive and illegal practices.
It is not uncommon for sales representatives for therapeutics that treat rare and ultra-rare diseases to be more knowledgeable about the disease than physicians. A recent report by Bloomberg indicated that a Brazilian woman who was incorrectly diagnosed was supplied with Soliris, which would obviously do nothing in the case of a misdiagnosis. It is very likely that this is the exception, not the norm. Very few physicians would be so corrupt that they would purposely misdiagnose a patient to be in a biotech company's good graces. Physicians will be the first people to tell you that no one is perfect, mistakes can and do happen. At ~5% of total sales, Brazil was not a critical source of revenue for ALXN, the drop of ~3% on the announcement of the sales raid, discounted for probability, properly captures this.
Let us shift gears now and discuss the executive changes. It is not overly surprising that Hantson, the new CEO (the previous CEO of Baxalta, which he sold to Shire), decided to remove the executives who are responsible for Alexion's weak corporate governance (the CCO and CHRO). It should be noted that he replaced the CCO with Brian Goff, the previous EVP of Hematology for Baxalta.
At first glance, it is bothersome that a respected the CFO would resign after such a short stint (~8.5 months). Anderson was a very well respected CFO who retired from Honeywell in 2014 after a very successful career. At 2014, he would have been ~64 years old. Given that Brennan brought him on to clear up the accounting issues as his primary focus, as well as his age, it is not surprising that his tenure would be short.
The timing of his resignation is a key point. The quarterly report submitted to the SEC, known as the 10-Q, must be signed off by both the CEO and CFO. No previous earning reports need to be restated, and the Q2 ER would be issued in the last week of July. Because the 10-Q must be submitted before 45 days after the end of the fiscal quarter, this would place the deadline for filing in mid-August. The implications should be clear. Despite the issues in Brazil, this well-respected CFO has no problem on signing off on the Q2 10-Q.
Hantson had been pretty vocal about his displeasure with Alexion's pipeline, a sentiment that I reflect. It is not surprising that he would have Mackay resign, and the rapid timing on the new hire is very encouraging. This is important as ALXN's key pipeline product, ALXN1210, is designed to extend their dominance in Paroxysmal Nocturnal Hemoglobinuria (PNH) and atypical Hemolytic-Uremic Syndrome (aHUS) via lower dosing and patents extending beyond 2030. More on that in the next section…
2. Discussion of OMS721 in aHUS: There has been some concern that a biologic from Omeros can steal significant market share/pricing power from Alexion's Soliris. At first glance it is obvious where this hype comes from, based on Phase 2 results: http://www.fiercebiotech.com/biotech/omeros-announces-additional-positive-data-oms721-phase-2-clinical-trial
http://www.businesswire.com/news/home/20170327005389/en/Omeros-Present-Results-Dose-Ranging-Stage-OMS721-Clinical
The data shows a dose-response, so let's examine the mid and high dose results.
In the mid dose:
- 47% increase in mean platelet count, resulting in both patients (n=2) having counts in the normal range
- 5% decrease in the mean levels of LDH, with both levels in both patients remaining slightly above normal range
In the high dose:
- 63% increase in mean platelet count, resulting in the patient (n=1) having a platelet count described as normal
- 43% decrease in LDH, resulting in a level just slightly above normal
Per the investigator, "These data demonstrate a clear dose response with significant and clinically meaningful improvement in aHUS patients treated with OMS721," stated Professor Nowicki. "Not only was platelet count increased with just four weeks of dosing in these patients, renal failure was reversed and dialysis was able to be stopped. Assuming that similar data are seen in the ongoing Phase 3 trial, OMS721 would represent an important and welcome treatment for patients with aHUS."
I find this amusing. Let's look at Soliris' numbers.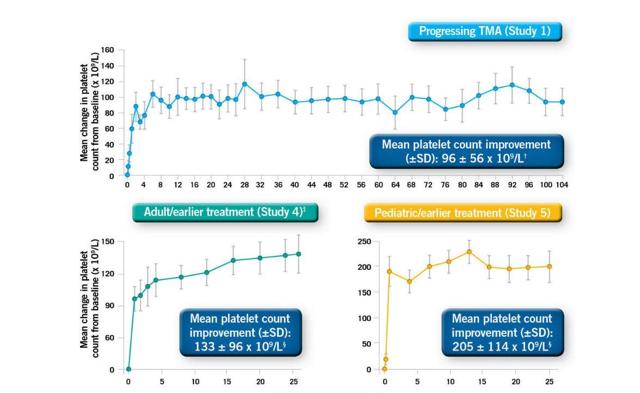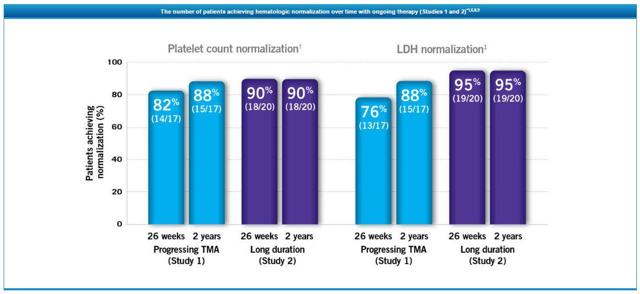 Median Baseline platelet numbers were 118*109/L in Study 1, 125*109/L in Study 4, and 110*109/L in Study 5.
Hematologic Normalization is defined as: normal platelet count (≥150 x 109/L) and lactate dehydrogenase (LDH) levels ≤ upper limit of normal for ≥2 consecutive measurements taken ≥4 weeks apart.
At an n value of 17 in study 1, 41 in study 2, 22 in study 3, there is very little doubt that Soliris is more than capable of normalization platelet counts in the vast majority of patients that take it. In the mid-dose for OMS721, it is clear that OMS721 does not meet the definition of hematologic normalization.
The data for the single patient administered the high dose is a bit more ambiguous, but given the option, would you bet that the high dose for OMS721 led to LDH normalization? With Soliris there is no doubt.
It should also be mentioned that the median increase in platelet numbers for Soliris after one week was 60, 81 and 193*109/L in Studies 1, 4 and 5 respectively, so for OMS721 to show platelet normalization after 4 weeks is not remotely impressive.
Regarding safety, 60% of patients experienced a significant adverse event (SAE) in studies 1 and 2, and 59% in study 5. This is a combined pool of 100 patients. With OMS721, all we know is that there were 5 SAEs. No further details are offered. It's impossible to make any conclusions given the differences in parameters.
Soliris does carry a risk of meningococcal infections, but with the proper precautions and vaccinations this is hardly a weak point. Per section 5.1 of the Soliris label: In clinical studies among non-PNH patients, meningococcal meningitis occurred in one unvaccinated patient. In addition, 3 out of 130 previously vaccinated patients with aHUS developed meningococcal infections while receiving treatment with Soliris.
Section 6.1 of the Soliris label goes on to indicate that only a single patient discontinued Soliris due to meningococcal meningitis. This hardly seems like a significant risk, given the risks of not taking Soliris for anyone unfortunate to be suffering from aHUS.
I find it amusing that Alexion is clear with their trial designs and timelines on ALXN1210 (this is a biologic meant to reduce dosing frequency and extend patent life). https://clinicaltrials.gov/ct2/show/NCT02949128?term=alxn1210&rank=6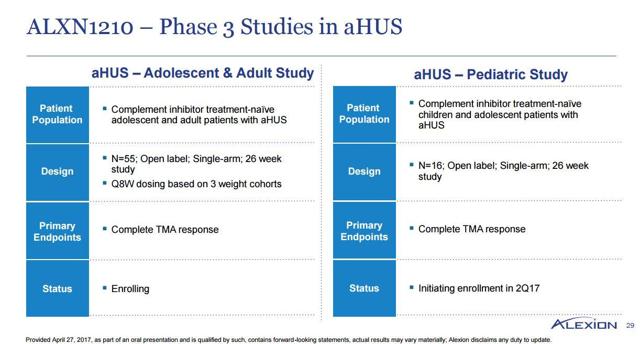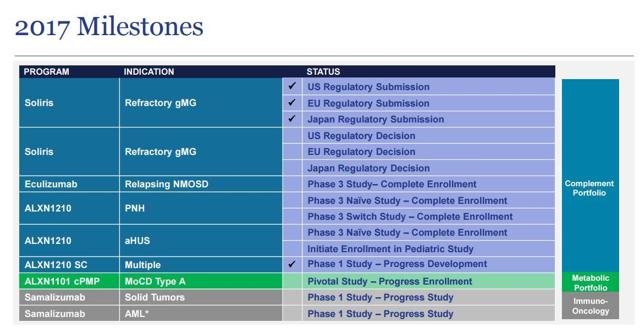 Yet, try as I might, I cannot find a single source indicating the formal trial design of OMS721 in aHUS, or any of the anticipated enrollment milestone.
Besides fully enrolling the study, assuming similar endpoints, the trial for OMS721 would run 26 weeks. Assuming positive data, it would take 3 months to file for approval (that is being very generous, it typically takes longer), 2 months for the FDA to accept the filing, and then another 6-10 months for formal approval/rejection, depending how whether the FDA decides to grant priority review.
If you were to magically assume Omeros completed enrollment today (despite no data on the actual trial design, enrollment locations), finished the study at the end of 2017, filed in 3 months, and got priority review, that still leaves the approval of OMS721 in aHUS to Nov 2018.
I find this laughable. Personally, I would not be surprised if OMS721 in aHUS isn't approved until 2020. An approval in 2018 is almost certainly out of the question.
3. Discussion of valuation vs large-cap peers in biotech:
The group of growth focused large-cap biotech companies on the NASDAQ comprise of 5 companies; Celgene, Regeneron, Vertex, Incyte and Alexion.
Let us first compare revenues of Alexion to Vertex and Incyte
ALXN Quarterly Revenues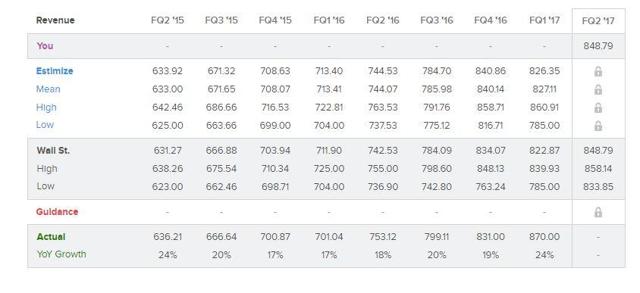 VRTX Quarterly Revenues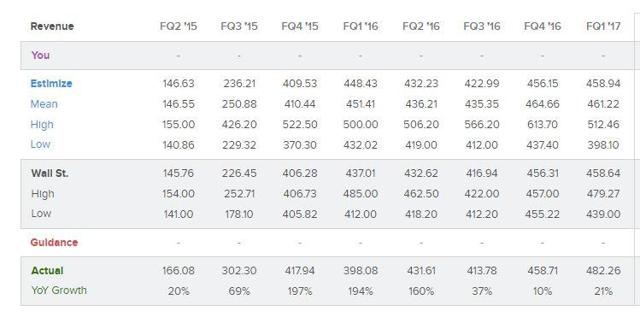 INCY Quarterly Revenues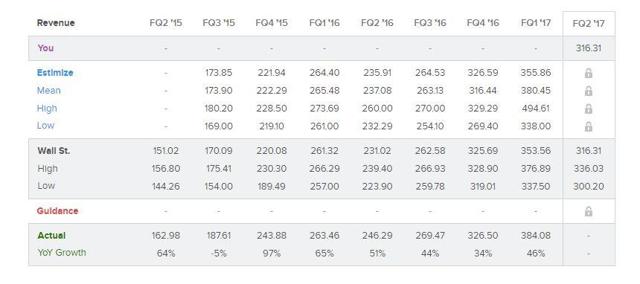 Two key aspects to be noted here: Alexion has much more in sales than either company, and its growth is far more consistent on both a YoY and sequential basis.
Let's look a bit more at key financial metrics:
ALXN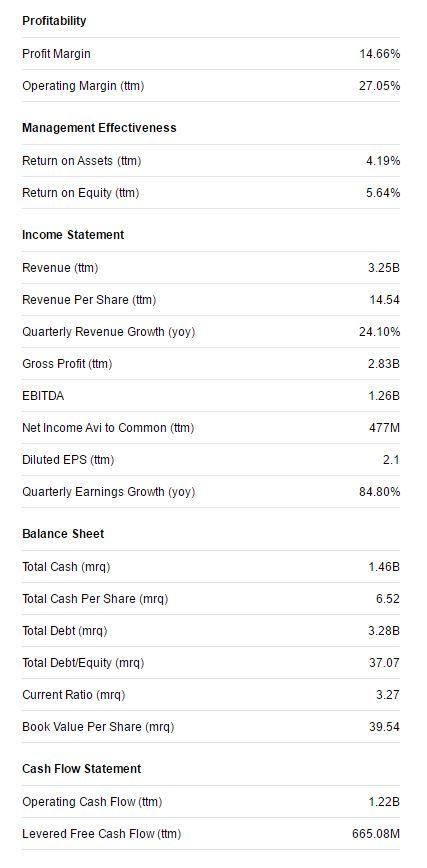 VRTX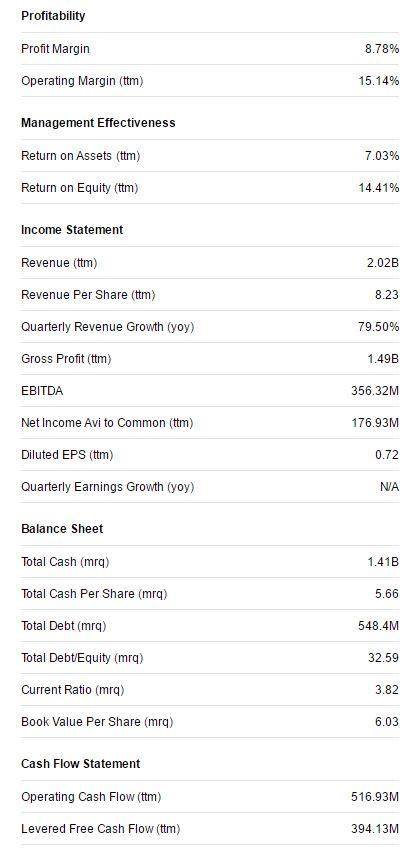 INCY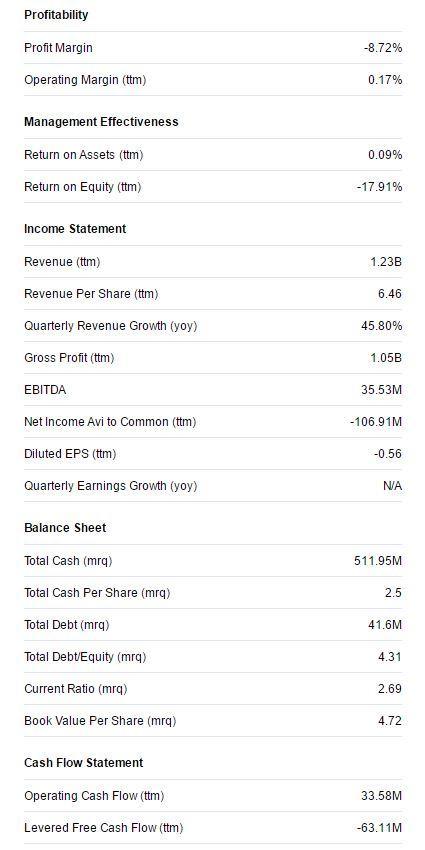 Compared to VRTX, ALXN has better margins and cash flow ability, but weaker growth potential. Bear in mind ALXN's revenue is already 60% higher and GAAP income is 2.7x higher than VRTX.
Compared to INCY, the same applies to an even greater degree.
So why is ALXN trading at a 22.64B market cap when INCY is at 26.24B and VRTX is at 32.52B? Yes, those two companies have much higher growth potential, but ALXN is already at where they want to be, with the proven ability to generate decent margins. Given ALXN's growth history, it's not like they are coming to a halt either.
Let's switch gears a bit and compare to CELG and REGN. I feel this is a good comparison as all 3 rely on a key product (Soliris for ALXN, Revlimid for CELG, and Eylea for REGN) for the majority of their sales over the last few years.
CELG Quarterly Revenues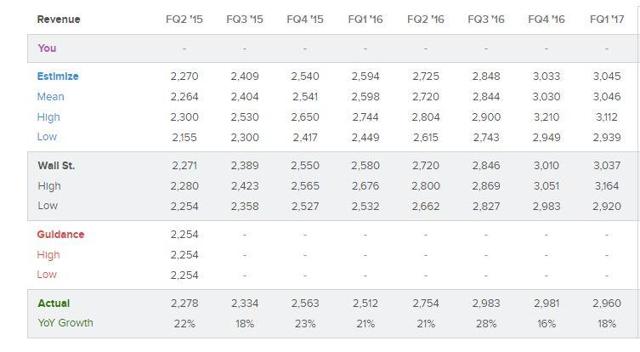 REGN Quarterly Revenues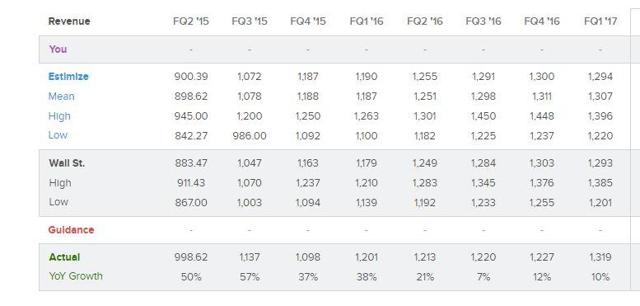 The revenue growth of CELG is quite similar to ALXN, which is quite interesting. The revenue growth of REGN reflects a blockbuster drug in Eylea that is nearing maturity, at this point REGN requires Dupixent and Kevzara to pick up the slack, though that is not in the context of this report.
Comparing valuations here is a weak exercise, as CELG and REGN clearly make far more on the top and bottom line than ALXN do. Let's look at some other metrics, namely the Price/Sales ratio, Operating and Profit margins.
ALXN P/S: 6.94
CELG P/S: 7.78
REGN P/S: 9.90
Fairly neat that ALXN would have the lowest ratio of the 3, despite its top-line growth recently far outweighing its peers. The high relative P/S of REGN reflects the expectations of its recent launches.
ALXN Operating Margins: 27.05%
ALXN Profit Margins: 14.66%
REGN Operating Margins: 28.76%
REGN Profit Margins: 19.34%
CELG Operating Margins: 30.97%
CELG Profit Margins: 18.32%
It's interesting to note that despite ALXN being valued at under half of REGN (and about a quarter of CELG), it has margins that are actually fairly close to its larger peers.
Given Hantson's displeasure with ALXN's expense structure, it would not be surprising to see a restructuring aimed at reducing excess R&D and SG&A costs (which would in turn increase operating and profit margins).
This is all actually quite encouraging. This is a company that had rather competitive margins even before Hantson cleaned house in the executive suite.
While I am bullish all five large cap growth biotechs, I am surprised to see ALXN at a smaller market cap than VRTX and INCY. For years ALXN traded at a higher valuation than VRTX but at a lower valuation than REGN, which fundamentally makes perfect sense. The recent events discussed in the first section have created a situation where ALXN now trades at a lower valuation than any of its peers.
4. Discussion on ALXN being the next Valeant (VRX) and price gouging
Honestly I am surprised I need to even include this as a section, but it is worth noting. There are very notable differences between VRX and ALXN.
- VRX has crippling debt, the interest expenses alone decimate the company's bottom line. To recover it needs to sell business units to reduce debt. Losing key business units would reduce revenues and cash flows to the business. ALXN has no such need.
- VRX has virtually no moat outside of Bausch & Lomb, while ALXN has monopolies in every indication that Soliris, Strensiq and Kanuma serve.
Regarding price-gouging, Soliris is priced appropriately given the incidence and prevalence of the disease. People act like it's the only expensive rare-disease therapeutic out there, it isn't. Brineura, Lumizyme, Alprolix, Naglazyme, Kalydeco, Spinraza, these are all high-cost therapeutics due to the rarity of the diseases they treat. Without high pricing power, how does it make sense for a business to undertake risky R&D in a therapeutic area with few patients?
But don't take my word for it. Let's see ALXN speak for itself here: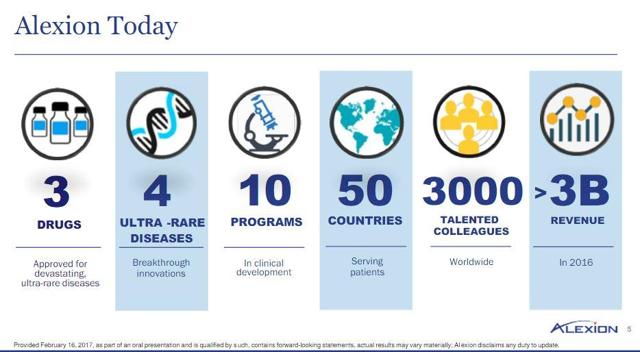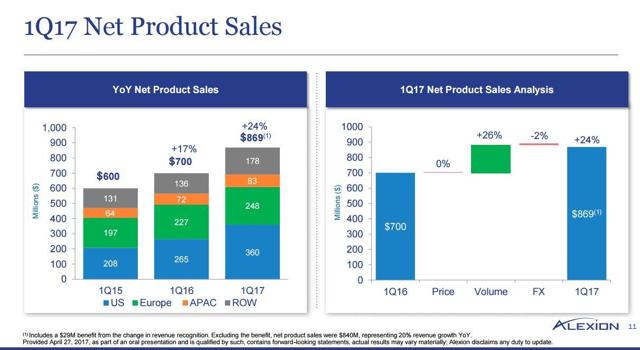 This is just incredible. Despite ALXN demanding extraordinary prices, Soliris is so effective that 50 countries have approved Soliris to treat patients. 60% of sales come from outside of the US, where countries are far more wary of drug pricing. Sales growth is based on volume increase, not prices, i.e. sales are increasing because demand is increasing.
For ALXN to be a target for price-gouging accusations is laughable. Soliris cost the US healthcare system less than 1.5B in 2016. Meanwhile Gilead almost broke the system singlehandedly with Sovaldi & Harvoni, and manufacturers have traditionally raised drug prices far above inflation in massive markets like Rheumatoid Arthritis and Multiple Sclerosis (here's looking at you, Amgen and Biogen).
Frankly I actually feel bad that I had to spend my time on this section, but if I can put this absurdity to rest, so be it.
5. Conclusion
Based on all the aforementioned discussions on the recent events, competition, and valuation, I believe I make a clear case that ALXN is a compelling buy.
Yet it is not for everybody. While I have confidence that ALXN's corporate governance issues have finally hit a turning point with Hantson in control, there are no guarantees. For all we know, he could be far more corrupt than anyone imagined. Maybe Anderson planned on working as CFO until he died and resigned because he was truly that uncomfortable with ALXN's accounting.
In the realm of biotechs, valuation generally is highly correlated with risk, and I don't believe ALXN is much of an exception here. For valuation purposes I consider it lower risk than INCY and VRTX at these price levels, yet overall, REGN and CELG have lower risk than ALXN (but of course much lower upside as well).
ALXN is suitable for investors/traders with a higher tolerance for risk, and are comfortable with 'turnaround' plays.
I strongly believe that ALXN should be valued higher than INCY and VRTX when all factors are considered. I set my first initial price target at 116 and my second price target at 144 (these are the current equivalent valuations of INCY and VRTX respectively). If Hantson executes with streamlined operations and ALXN1210 development, I believe that the fair value of ALXN equity exceeds 160/share.
Final Recommendation: Strong Buy
Warm Regards,
Wilson Cheung
Disclosure: I am/we are long ALXN, REGN, CELG, VRTX.