Isis Pharmaceuticals has changed their name and investors have no reason but to be ecstatic. Hurray! Okay, well maybe not ecstatic, but should expect to see at least 0.51% upside going forward.
Isis Pharmaceuticals is now known as Ionis Pharmaceuticals (NASDAQ:IONS). The pharma company had been called Isis Pharmaceuticals for the past 26 years, with confusion between the terrorist organization and the pharma company truly ramping up just over the past couple years. While Ions didn't explicitly say the change in name was due to concerns of confusion with the terrorist organization, one could argue otherwise.
In June of last year, a WSJ article was put out speculating that a 7% loss over three days was due to confusion with the terrorist organization Islamic State in Iraq and Syria (ISIS) and the pharma firm. With this in mind and my own recollection of the abundance of ISIS media coverage during the year, my own kuriouscity led me to do some digging to see if ISIS terrorist attacks this year truly did move the stock.
According to the New York Times, there were a total of 31 ISIS terrorist attacks between 01/01 - 12/02 that were directly linked with ISIS or that ISIS admitted responsibility for, and also resulted in at least one death. I calculated the returns for ISIS and S&P500 for each of these 31 days to compare mean returns. If these attacks took place during the weekend, I examined the return of the stock and S&P500 the following Monday.
Mean Return ISIS: -0.41%
Mean Return S&P500: 0.19%
ISIS Beta (01/01 - 12/02): 0.72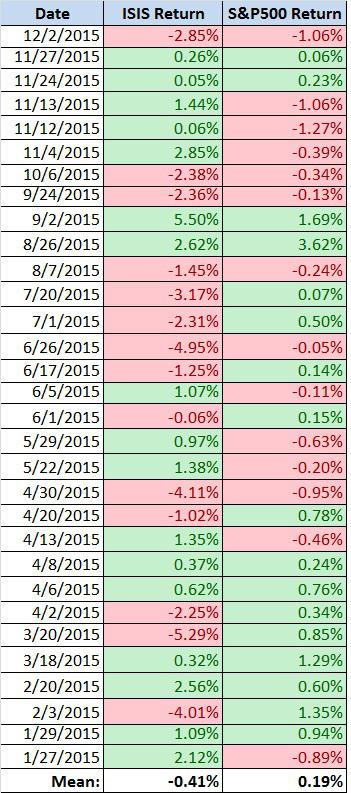 The mean return for ISIS was 60 basis points away from the mean return of the S&P500. If we calculate the beta of ISIS for the period of 01/01 - 12/2 we get 0.72, implying a return of 0.13% for the period. This is far from actual mean return for the period of -0.41%.
If we apply the capital asset pricing model (CAPM) here, we find that the expected risk adjusted return for ISIS over this period should be roughly 0.22%. This is based off of a average risk free rate of return of 0.305% from 1 year treasury over the same period of time. As one can tell, the CAPM return of 0.22% is 63 basis points from ISIS's actual return based off of the 31 data points; also a large difference from actual mean return of -0.41%.
E(r) = 0.305% + .72(0.19%-0.305%)
E(r) = 0.22%
What can we conclude from this? Well, while there is no aboslute guarantee ISIS terrorist attacks had a direct impact on the stock price of Isis Pharmaceuticals, based off of the findings above one can reasonbly assume that ISIS terrorist attacks had negatively impacted Isis Pharma performance for 2015. One can expect to see 0.51% upside, considering the possibility of confusing the terrorist organization with the pharma company is no more.
-Kid Kurious
-----------------------------------------------------------------------------
Sources:
www.nytimes.com/interactive/2015/06/17/w...
blogs.wsj.com/moneybeat/2014/06/13/whats.../
12/2/15 - A married couple shot and killed 14 people in San Bernardino, Calif.The FBI is investigating the shooting as an act of terrorism inspired by ISIS.
11/27/15 -ISIS claimed responsiblity for an attack on a Shiite mosque during evening prayer in which gunmen opened fire on worshipers with machine guns, killing one man and injuring three others.
11/24/15 - ISIS militants attacked a hotel in the northern Sinai Peninsula, killing at least seven people.
11/13/15 -President François Hollande blamed the Islamic State for terrorist attacks across Paris that killed more than 100 people. The Islamic State claimed responsiblity.
11/12/15 - ISIS claimed responsiblity for a double suicide bombing that ripped through a busy shopping district at rush hour, killing at least 43 people.
11/4/15 - ISIS's Sinai affiliate claimed responsiblity for a suicide bombing that killed at least four police officers.
10/6/15 - A series of bombings in Yemen's two largest cities killed at least 25 people
9/24/15 - At least 25 people were killed when two bombs went off outside a mosque during prayers to commemorate Eid al-Adha, a major Muslim holiday.
9/2/15 - Yemen's ISIS affiliate claimed responsibility for two bombings at a mosque that killed at least 20 people.
8/26/15 - The Sinai Province of the Islamic State group claimed responsibility for three gunmen who shot and killed two police officers
8/7/15 - ISIS claimed responsibility for a suicide bombing at a mosque that killed at least 15 people, including 12 members of a Saudi police force.
7/20/15 - A Turkish citizen believed to have had ties to ISIS killed at least 32 people at a cultural center.
7/1/15 - Militants affiliated with the Islamic State killed dozens of soldiers in simultaneous attacks on Egyptian Army checkpoints and other security installations in Egypt's northern Sinai Peninsula.
6/26/15 - At least one gunman disguised as a vacationer attacked a Mediterranean resort, killing at least 38 people at a beachfront hotel - most of them British tourists - before he was shot to death by the security forces.
6/17/15 - An ISIS branch claimed responsibilty for a series of car bombings in Sana, the capital, that killed at least 30 people
6/5/15 -An explosion at a political rally in the predominantly Kurdish city of Diyarbakir killed two
6/1/15 - A suicide bomber from an ISIS affiliate killed at least four Libyan fighters at a checkpoint.
5/29/15 - One week after a similar attack in the same region, a suicide bomber dressed in women's clothing detonated an explosive belt near the entrance to a Shiite mosque, killing three people.
5/22/15 - In what appeared to be ISIS's first official claim of an attack in Saudi Arabia, a suicide bomber detonated an explosive at a Shiite mosque during midday prayer, killing at least 21 and injuring 120.
4/30/15 - One of ISIS's Yemen affiliates released a video showing the killing of 15 Yemeni soldiers
4/20/15 - ISIS released a video of militants from two of its Libya affiliates killing dozens of Ethiopian Christians, some by beheading and others by shooting.
4/13/15 - ISIS militants killed at least 12 people in three separate attacks on Egyptian security forces.
4/8/15 - Gunmen opened fire on a police patrol, killing two officers
4/6/15 - ISIS killed at least four people in an attack on a security checkpoint.
4/2/15 - Sinai's ISIS affiliate killed 13 people with simultaneous car bombs at military checkpoints.
3/20/15 - An ISIS affiliate claimed responsibility for coordinated suicide strikes on Zaydi Shiite mosques
3/18/15 - ISIS claimed responsibility for an attack on a museum that killed 22 people, almost all European tourists.
2/20/15 -ISIS's Derna affiliate claimed responsibility for three car bombs that killed at least 40 people
2/3/15 - ISIS militants were suspected of killing 12 people, including four foreigners, in an attack on an oil field.
1/29/15 - ISIS's Sinai affiliate claimed responsibility for coordinated bombings thatkilled 24 soldiers, six police officers and 14 civilians
1/27/15 - ISIS's Tripoli affiliate claimed credit for an armed assault on a luxury hotel that killed at least eight people. It was the deadliest attack on Western interests in Libya since the assault on the American diplomatic mission in Benghazi.
Disclosure: I/we have no positions in any stocks mentioned, and no plans to initiate any positions within the next 72 hours.