Alpha Deal Group's Buy-Side Intelligence Team's most recent due diligence call with Industry and Infrastructure Sector Focus 100 Candidate: Macquarie Atlas Roads (ASX:MQA) is now available on Alpha Deal Group's Youtube Channel for review.
During our first due diligence call with the Macquarie Atlas Roads, Peter Trent, CEO, and Mary Nicholson, CFO, provide our Analysts on the call with a unique walk through of the company with an informative question and answer session following their presentation.
To listen to the Macquarie Atlas Roads (ASX:MQA) presentation please turn to Alpha Deal Group's Industry and Infrastructure Youtube Channel: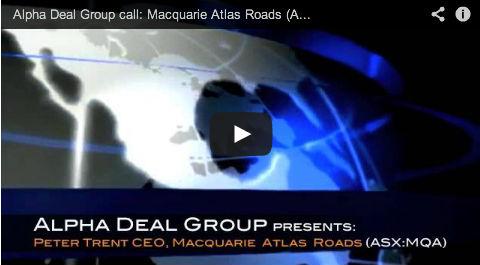 Direct link: http://youtu.be/g9GlRsBAZ3I
Alpha Deal Group's Buy-Side Intelligence Team will present a series of Buy-Side corporate presentations, due diligence calls and CEO profiles in introducing our emerging 100 micro-cap and small-cap company candidates in the leading market sectors we cover in the coming months.
More information on Alpha Deal Group, LLC and the Sector Focus 100 companies can be obtained at the web address: alphadealgroup.com
Contact Us:
Alpha Deal Group, LLC
45 Rockefeller Plaza,
20th Floor,
New York, New York
(212) 332-3290
research@alphadealgroup.com
Disclosure: I have no positions in any stocks mentioned, and no plans to initiate any positions within the next 72 hours.
Additional disclosure: The Alpha Deal Group is an Emerging Markets Intelligence Group, Buy-Side Intelligence Group and Publishing Company and does not engage in investment banking activity. The information presented herein is neither an offer nor a solicitation to buy any of the securities of the companies contained herein.