I believe in the words of legendary investor Peter Lynch: « Invest in what you know ». My father has been a smoker for more than 25 years. He tried to stop more times than I can count (he's currently trying again) but the addiction always got the better of him. My mom smoked for a few years when she was young. I personally smoked socially for about 2 years before successfully stopping 6 months ago. More than half of every young male I know (18-25 years old) have tried smoking at least once.
The product is not complicated to understand. You grow tobacco leaves, dry them, chop them, roll them and sell the proceeds in a pack of 20 for 8$. Pretty simple.
Evidence that tobacco smoking was directly related to lung cancer became widespread knowledge more than 50 years ago, yet more than 1 billion people are still regular smokers to this day. I'm not trying to be pessimist, I just look at the reality. We can't blame ignorance of smokers as a reason for those numbers, it's written on the very pack they're buying.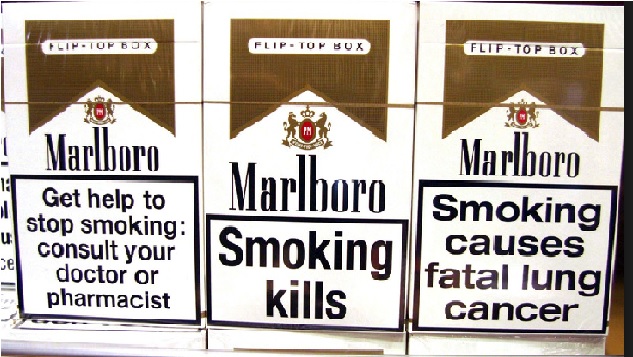 Show me a company where half the visible space on the product is a death warning that still makes 80$ billion in revenues per year and I'll show you one of the best businesses in the world. Yes, rates are declining and have been declining for more than a decade, however it is well known that the decline in smokers in the developed world is partially offset by population growth in developing economies and revenue lost is offset by price increases.
There will always be smokers, the only thing that could make a company like PM go bankrupt is a complete ban on cigarettes, but that won't happen because government would just lose the precious tax revenues to the hand of organized crime.
Company overview
"I'll tell you why I like the cigarette business. It costs a penny to make. Sells for a dollar. It's addictive. And there's fantastic brand loyalty."
Warren Buffett
That's a good quote, but not totally exact in the case of PM. With gross margin at 66%, it should be: It costs 33 cents to make. Sells for a dollar. Still a very good number in my opinion, one of the best in the business.
PM has a 15,7% worldwide market share, or 28,3% if you exclude China, where tobacco is sold by a government-owned corporation.
PM owns the world-leading brand, Marlboro, and it's gaining market share in every region of the world. It also owns seven of the world's 15 leading brands.
It converts a whopping 28,62% of its sales into free cash flow, which can then be used to buy back shares, increase the dividend and generally rewarding shareholders.
Its capex is hovering around only 3-4% of sales for the last few years, showing it can stay profitable without having to spend big money on new assets or R&D.
Valuation
-Dividend
Obviously when looking at a high yield dividend payer like Philip Morris, we need to know the current value of dividend and its sustainability. Given that management has a projected 10-12% currency neutral earnings growth target for the mid to long-term and that the dividend growth is likely to mimic the earnings growth, let's use some numbers for the low-end and high-end of this range.
Let's be very conservative and say PM only grows the dividend 6%/year in the next 5 years, 8%/year for years 6-10 when currency headwinds get a little better and a 5% terminal growth rate. Using a 10% discount, this suggests shares are worth 86,19$, so almost exactly fairly valued.
Let's be optimistic and say PM manages to grow the dividend at 10% for the next 5 years, 12% for the next 5 and again a 5% terminal growth rate. Still with the 10% discount, we get a value of 113,52$ for a single share, a 32,6% premium over today's price.
It basically comes down to this: do you believe PM can match or beat the above numbers in the future? If so, you can expect at least 10% per year compounded returns under the worst possible scenario.
-10x pre-tax earnings
I like using this measure which has been famously used by Warren Buffet as a quick, rough indicator to see if a company is fairly valued. He thinks a reasonable person wouldn't pay much more than a 10x multiple for a business based on pre-tax income. Using 2013 reported 12, 5 billion in pre-tax income and market cap of 131 billion for PM, we get a 10.48 multiple. So fairly valued to very slightly overvalued according to the oracle. Keep in mind this measure is used by Buffett to value private companies, not public ones, therefore a little premium from the market is almost inevitable.
"It's far better to buy a wonderful company at a fair price than a fair company at a wonderful price."
Warren Buffett
The debt situation
Philip Morris has lots of debt. More liabilities than assets, which gives it a negative book value. However, debt is only a problem if it can't be paid back and if interest expenses get too big relative to earnings. Here are the aggregate maturities of long term debt according to the 2013 annual report.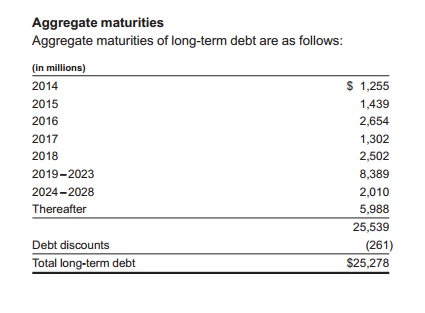 (Source : PM 2013 annual report)
With 13, 5$ billion of operating income in 2013, of which 8, 9$ billion was converted to free cash flow, I don't see any (NYSE:BIG) problems with the debt level as it is. Interest coverage was also very good at 12.36 in 2013. Credit rating agencies Moody's and Standard & Poor's arrive to the same conclusion and grant PM an A credit rating, better than MO,RAI, LO, BTI and ITYBY.
Potential future growth catalysts
Reduced-risk products and e-cigarettes
Management calls this its "greatest growth opportunity". Philip Morris has invested hundreds of millions towards the development and commercialization of reduced-risk products (RRP). Those RRPs consists of 4 different products or "platforms".

(Source: PM 2013 annual report)
Why is it a good thing? The e-cigarette market is expected to grow at a CAGR of 30.56% for the next 5 years. The big winners of this trend will be (and already are) the big tobacco companies. As most companies are just starting to rollout their first products, PM has 4 different products in the books, greatly increasing the chance that at least one of them will be a hit and drive future growth. Whether consumer preference shifts form electronic devices, to heat-not-burn products, or just recently, vaping, Philip Morris seems well positioned to take advantage of every possible future opportunities.
Acquisitions
About a month ago, PM bought Nicocigs Ltd., one of the fastest grower in the e-cig market in the UK, with a 27% market share. This shows that even though the e-cig market is still very competitive, any player that emerges as a leader will eventually be bought out by big tobacco, further increasing its dominance in this new growing opportunity. New companies will also face increasing regulations by the governments, helping PM even more by putting barriers to entry for new players, and letting Philip Morris navigate between all those rules like they're used to.
Conclusion
It's boring. It has been selling basically the same product for 80+ years and will continue to do so in the next 80. Phillip Morris is a slow-growing behemoth. I have no idea if the stock will outperform during the next 12-24 months. In fact, it might very well underperform. What I know with certainty however is that it has a strong chance of being an outstanding investment for the next 15-25 years. Philip Morris was the best performing stock in the period ranging from 1925 to 2003. It was also the best performing stock from 1957 to 2003. However, smoking rates in the U.S. dropped by half during approximately the same period (1965-2006). I'm not saying it will be the best performing stock of the next 50 years, but if you had to bet your money on the next best performing corporation of the future, wouldn't you invest at least a fraction of it in the one company that has done it before? PM is one of the few companies I wouldn't mind owning for a lifetime.
Disclosure: The author is long PM.
The author wrote this article themselves, and it expresses their own opinions. The author is not receiving compensation for it (other than from Seeking Alpha). The author has no business relationship with any company whose stock is mentioned in this article.
Additional disclosure: Adding on dips