The Future of Gilead and Upcoming Competition
This article was written with the assistance of Deniel Mero.
Hepatitis C sustainability1
There are plenty of patients in the market to be treated. This year, any projections made should be less than 10% of diagnosed in the United States which is approximately 170,000. In Europe's big 5 countries only 49,000 have been treated which is only 6% of the 800,000 people diagnosed. Japan, the world's second largest HCV market has only 5% treated of the 745,000 diagnosed. Sovaldi will be the first treatment of ABBV's and Merck's within Japan. ABBV will be submitting approval in Japan in 2015 giving Gilead the leg up in this market where submission will be done mid-2014.
For insurance and healthcare providers, there should be no reason as to not treat everyone. Curing people of infection breaks the cycle of new infections.
A separate treatment of a Ledipasvir/Sufosbuvir fixed dose combination single- tablet was approved for priority review which will be awaiting decision by October 13. This treatment will not require interferon injections which is of significance for patients that cannot tolerate interferon.
Currently on the Market2
Olysio (J&J) not approved for 4 subtypes of Hep C, only for genotype 2, the drug also is not approved for usage with HIV patients that are on antiretroviral therapy (NNRTIs and PIs).
Incevik and Victrelis have side effects that Olysio and Sovaldi don't have, 1 in 7 patients abandon therapy due to this. (life threatening skin rash, severe anemia, serious decrease in blood platelets or neutrophil levels) All these treatments are 24 weeks or longer.
Competition with AbbVie3,4
AbbVie's treatment holds the same level of effectiveness in the form of 4 tablets treating genotype 1 (~70% of Hep C infected). They will be commercializing in the U.S in 2014 and pending approval in Europe early 2015. Pricing will be a factor as healthcare providers will be seeking a cheaper alternative to Solvadi's hefty $84,000 treatment. ABBV currently says they will not be competing on the pricing forefront as they believe their product will have a differentiated position in the market that will be carried by educational initiatives. They also mentioned that gross profit margins will be higher in upcoming periods which I assume the final price point will not be significantly different from Sovaldi. Doctors and healthcare providers will not choose to recommend a different drug without significant difference either in price or effect on the patient. Currently there are no mentions of differences.
Competition with Merck acquiring Idenix
It makes sense that Merck acquired this company and paid a premium. This is due to the large potential market and long term opportunities of Hepatitis C. Clinical/regulatory risk still remains with IDIX "Nucs" as it will take another 2-3 years for their Hep C drug to get to market, assuming it even gets approval
During this time, Sovaldi will continue being market leader.
What to do with cash?
Currently, there are $3 billion worth of buybacks waiting to be completed by September and another in the process of authorization by the board. Acquisitions are always actively sought out after but improving current lines of treatment will be the main focus of Gilead for now.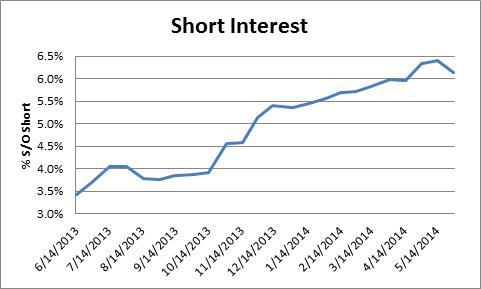 Short interest, though it's not high, has nearly doubled in the last year. This "financial engineering" is meant to benefit shareholders by lowering shares outstanding, thereby raising EPS and scaring off short sellers.
However, is financial engineering necessary at this point? GILD might use the cash to acquire pipeline extensions as a better option.
At current prices, GILD will be able to retire about 35M shares ($3b / $85/share)
Viread vs TAF (Tenofovir) feedback from payers doctors?
Stribild is a single pill treatment for HIV that contains four components; of these four, one of them is Viread which is swapped for Tenofovir, Gilead's new HIV treatment. Currently Viread is treating patients with a median age of 50, levels of toxicity to the kidneys could be detrimental versus TAF. TAF will be dosed at 25mg while Viread is dosed at 300mg. Approximately 1 million people are on Viread in developed countries and 6 million people in low income countries. Due to higher tolerability, the uptake of TAF is expected to be increased.
Nuke Sparing competition?
Nuke sparing regiments should not cause alarm; currently nuke containing regiments are more effective. In addition, TAF has a high enough safety to address toxicity concerns.
HIV regiment cocktails?
Gilead is open to opportunities and research into various HIV treating formulations. It is estimated that TAF will be released by the end of the year and applications for approval will be submitted early next year.
Future
Look out for oncology developments in the next few years as it will be growing. Idelalsib used for treating CLL (Chronic Lymphocytic Leukemia) will be pending approval for August 6th and Idealasib used for treating NHL (Non Hodgkin Lymphoma) will be pending approval for September 11th.
1 www.hivandhepatitis.com/hcv-treatment/ex...
2 aids.about.com/b/2013/12/13/game-changin...
3 https://seekingalpha.com/article/2166213-abbvies-ceo-discusses-q1-2014-results-earnings-call-transcript
4 www.webmd.com/hepatitis/news/20140410/cu...
Disclosure: The author is long GILD.