NQ Mobile: Let me start off this article by saying that I used to be extremely long this stock, right after Muddy Waters October 24th first hit piece, for some of the following reasons:
NQ's management aggressively refuted Muddy Water's claims: "We know no better method than to just completely open up the kimono and say, 'Here's our cash balances by account,'" NQ Mobile co-CEO Omar Khan was quoted as telling Reuters. This was all prior to the release of the details of its bank accounts and the transfer of funds to Standard Chartered Bank
Right after the MW report, the company announced that the Company's board of directors formed an independent special committee to conduct an independent review of the allegations raised. Again, Khan highlighted just how assured that Muddy Water's laid down some bogus claims and how NQ would prove its innocence -- NQ IR
The company was so confident in its accounts/business that it said it will utilize its existing $35M stock buyback after the blackout period following its Q3/2013 earnings release to Buy back its stock and reduce the float -- NQ IR
NQ seemed to be positioned in a high growth industry (mobile security) at an opportune time with an impressive balance sheet comprised of current assets and hardly any debt. Along with rumors that Bidu and Tencent had been looking to acquire the company before the Muddy Waters report was even published -- NQ Buyout Rumor
There seemed to be holes in the overall Muddy Waters report (Sell side firms Oppenheimer, Piper Jeffrey, Canaccord, ect. all seemed to support NQ over Muddy Waters initially, as all three had either a market perform or outperform rating on the stock after the hit piece. Piper Jaffray was quoted as saying: "At least three" claims made in the Muddy Waters report calling NQ Mobile (NQ) a fraud are inconsistent with its own research and work done by a "reputable third-party." Piper said its survey found NQ Mobile's market share in China at 11%, not the 1.5% stated in the report. The firm adds that its channel checks indicate NQ's attach rates in U.S. retail stores are in the 15%-30% range, not the 2%-3% claimed by Muddy Waters. Piper has an Overweight rating on NQ Mobile, but admits the 81-page report from Muddy Waters will take "considerable time to digest." Piper Jaffray Responds
The company issued a convertible bond deal in October for $172.5 million, of which Morgan Stanley and Deutsche Bank Securities Inc bought $22.5million of that offer. NQ Convert Bond Deal
These are just some of the things (along with due diligence reports from different institutional investors that backed NQ as well) that led me to think that NQ's sell-off was overdone and Muddy Water's report lacked merit. When you lack the ability/connections/capital to be on the ground in Asia, you are at the mercy of the words and actions of a respective company's management and larger investors. Don't get me wrong. I made money on NQ, as it ripped from the single digits all the way up to the low $20 pricing point as both the retail community and institutional funds ignored Muddy Water's claims and took NQ at face value (Morgan Stanley, Bank of America and other institutional funds took large equity positions in the company, along with NQ's ability to sign deals with different big name customers, including Sprint and Samsung:
Jan. 15, NQ announced a deal where it would power Sprint Live. Sprint is expected to begin shipping phones with NQ integrated later in 2014 -- Sprint Deal
Feb. 24, NQ announced a deal where it would resell Samsung's KNOX mobile device security solution -- Samsung Deal
Like I said before, the stock ripped to the upside from late October 2013 to March 2014 from numerous positive reports and deals: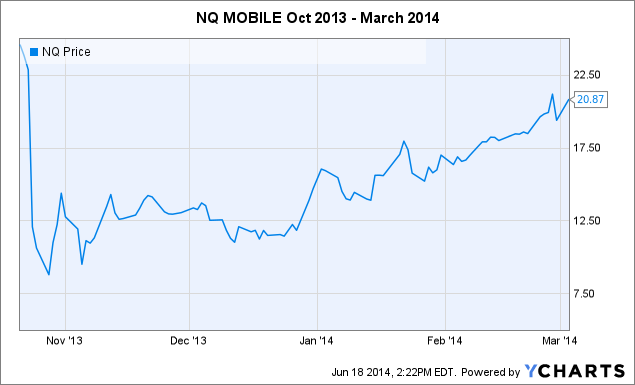 However, since then, the stock has been absolutely trampled on the way down: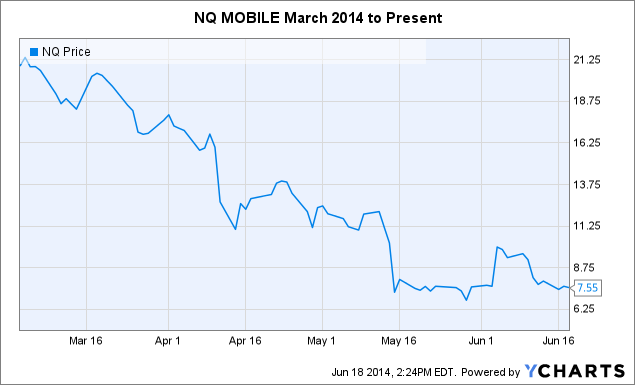 And to be honest, I don't think it will ever regain the full support of the investment community in order to realize the potential market value that investors expect. And it all comes down to one thing: NQ's Management. NQ's management has been dodgy as of late, to put it lightly. The market has come to the point that they don't believe anything that comes out of their mouth, and for good reason. If you look at the stock price over the last four months, it has gone from the low $20 price point to where it is trading today (around $7.50). Why has this happened?
Let's go over some of NQ's Management's dumbfounded blunders over these last 4 months:
Stock Buyback Announcements: NQ has repeatedly put out PR statements that they think that their stock is extremely undervalued and will enact some sort of buyback to reduce the float outstanding:
October 25th 2013: The Company had a $35mn buyback already in place (increased buyback in their Q1 '13 earnings call) and instructed the investment community that they will utilize this after the blackout period following their Q3/2013 earnings release. Matt Mathison (VP of Capital Markets) even went as far to say to Bloomberg that "We have a share buyback in place we're ready to use it aggressively" NQ Buyback News. To this date, still have no idea if this was completed or not
November 12th 2013: NQ Mobile Announces Senior Management Share Purchase Plan: The announcement stated that Senior management intended to use their personal funds to repurchase $3 million worth of the Company's American depositary shares ("ADSs") within a six month period, starting on November 15, 2013. Again, to this date, still have no idea if this was completed or not and it's after their own 6 month deadline. NQ Senior Management Buyback
April 15th 2014: NQ goes on its blog page to tell the investment community that the sell off after their 4th quarter earnings results (stock got pummeled close to 30% in 2 days) was "ridiculous" and "unacceptable". They went on to state the following to address both the Senior Management share repurchase plan along with the initial $35mn "aggressive" buyback plan:
"As for the management share purchase - as stated in our earnings release, during the open window in Q4, we were unable to purchase stock based on applicable securities laws. There were numerous material and significant deals that have since come to light to obviously indicate the possession of material non-public information during this time - among others. We remain committed and look forward to buying stock as soon as we're able to. Additionally, the company did establish a 10b-5 trading plan during the open window in Q4 and was active in the market yesterday according to that pre-determined plan." NQ Buyback Update?
To be fair, the company has stated that they will Buy-Back stock subject to the restrictions of, and consistent with, applicable laws and the Company's securities trading policy. However, I see two issues with all of this. The first is the 10b-5 trading plan. What is it and what is the time horizon? It can be a 10 year stock buyback plan for all we know. Secondly, NQ announced in November of 2013 a $3mn Senior Management buyback program, which was to be completed within a 6 month period. This still has not been completed and management used the excuse that they had material information and had "significant deals", which is why they could not buy stock in the market. When is Senior Management not in the loop on material information? Why didn't they lump this buyback into the 10b-5 trading plan so that they could eliminate any "insider gaming" when it comes to their buyback? Both buyback plans seem extremely vague and unorganized. Leaving the investment community in the dark after deadlines have passed is inexcusable and as you will see, becomes a pattern with management
2. Constant delay in their earnings reports without a valid reason. This has been at the heart of investor's anxiety and has only fueled the power of short sellers.
Let's start with Q4 2013 earnings delay. At the beginning of March, NQ was finally starting to trade like it had put the Muddy Waters investigation in its rear view mirror. The stock was trading at +$20 per share, and the momentum was on the long side. In the past, NQ reported Q4 2011 earnings on 3/5/2012 and reported Q4 2012 earnings on 3/6/2013. It was only reasonable that the investment community expected Q4 2013 earnings around the same time period. However, this period flew by and investors were left wondering why (many investors, including myself, thought they were trying to time it to coincide with their Independent Special Committee findings on it's "lack of fraud". NQ put out the following press release on March 12th on its blog site, as the stock started to slide again:
"We have not yet announced the exact date for our Q4 and year-end 2013 earnings report. We recognize that this has led to many rumors and concerns which we want to address again today. As we have previously said, we will be announcing the date of our earnings report soon. Since late October, we have reported a record Q3, we held an investor meeting where we provided 2014 revenue guidance that exceeded expectations, and we have announced numerous new deals and partnerships with major partners including Sprint, Samsung, Ingram Micro, China Mobile, Ubisoft, Telkomsel, and others. When we report our Q4 and year-end 2013 results, we look forward to continuing the discussion and focus on our business and fundamentals with all of you. Thanks for your understanding." NQ Blog
Investors continued to wait and the stock continued to trade lower. It wasn't until March 25, 2014, that NQ put out another PR announcement to "calm" investors' fears that "it will report its fourth quarter 2013 results before April 15, 2014. A separate announcement with the specific date and conference call dial-in details will be issued by next week" NQ IR. And finally on April 3rd, the company announced that it would release earnings on April 10th NQ IR. Without going too much into detail on their specific quarterly earnings details, the company beat on the top line, EPS missed (mostly from litigation issues), and revenue guidance was increased for 2014. The biggest thing that stood out was no mention of the special investigation committee findings. The independent investigation is supposed to be just that, independent. But then why were earnings delayed for that month? And to give shorts even more fire power over this delay, NQ disclosed an accounting error in their earnings. This error had to do with share based compensation to the tune of $370,000 for the unaudited financial results for the three and nine months ended Sept. 30, 2013. This error went in NQ's favor as it decreased their G&AE expenses for that amount. However, it didn't matter as the stock got slammed afterwards. But again, there was no specific reason given for the delay, and if it had to do with this accounting error, or if there were bigger issues with the special investigation report (like I said before, many investors thought that the earnings delay had to do with the coincident release of the investigation results).
Issuance of the 20-F, Special Investigation Committee Results and Misguided dates: This, in my opinion, is one of the biggest slip ups I have ever witnessed from a CEO. And it all started on the Q4 2013 earnings call. During the Q&A session, analyst Michael Walkley from Cannacord Genuity asked the following question:
"And I guess just last question from me and I'll pass it on, is, any updated timing on just when the 20-F might be filed? Is there a certain date in mind or is there a certain deadline you have to have that filed by just to -- just that'd be helpful. Thank you." (NQ Mobile Inc. (NQ) F4Q 2013 Earnings Conference Call April 10, 2014 transcript)
Omar Khan, the Co-CEO responded by saying, "we are planning on meeting the statutory deadline for the 20-F......The end of the month. The end of April." (NQ Mobile Inc. (NQ) F4Q 2013 Earnings Conference Call April 10, 2014 transcript). Everyone knows the end of this story. The company missed that all important deadline, filed for a 15 day 20-F extension, and then missed that as well and put out the following on May 15th 2013:
"The Company continues to work to file its annual report for the year ended December 31, 2013 as soon as possible. As previously disclosed by the Company in a press release dated April 30, 2014 and in its Form 12b-25 filed with the Securities and Exchange Commission, the Company is unable to file on time its annual report on Form 20-F because it needs additional time to complete it" 20F Filing?
With the company constantly being attacked from the short side, Omar should have never put out a specific date with when the 20-F would have been filed. He should have no idea if everything is independent. This only increased the expectations from both the long and short side, and the stock took the punishment afterwards when NQ missed this deadline. His creditability was tanking like the stock price. To add even more gas to the fire, on June 4th of 2014, NQ finally put out the results of the Special Investigation Committee and to sum it up: "The Investigation Team did not find any evidence that the Company had engaged in the fraudulent conduct alleged by Muddy Waters." NQ Special Investigation Findings. The stock ripped higher on this news (to the tune of close to 30%), only to give it all back over the next week as investors concentrated on the company's 20-F. Why had it still not been filed? When the company put out their April 30th PR on the status of their Special Investigation Committee's findings, they threw in the following: "The Company intends to report the final results of the investigation in connection with the filing of the Company's annual report on Form 20-F." NQ IR. Currently, it is now 2 weeks since the Special Investigation Committee submitted their findings, and we still have yet to see any 20-F filed.
With markets close to all-time highs, NQ is trading close to its 52 week low. Again, you have to ask yourself, why? Is the company a fraud? Highly unlikely based upon the special investigation committee and lack of resignations from Senior Management and PWC. However, how many times can the company misguide investors? If you look at all the press releases on NQ's website over the past 4 months, they have all been extremely positive (deals with new clients, raised revenue guidance for Q1 2014, investor interest in their wholly owned subsidiaries, company awards, ect). However, it seems like it has all been for nothing. Even the results of the 8 month special investigation committee has been taken as "fluff". Why? Because Management has put out expectations within the investment community. Expectations that they have consistently missed or left the investment community in the dark about. And now it comes down to the 20-F. A report that management has speculated would come out with the special investigation. A report that is supposed to clear the name of NQ and put Muddy Water's claims behind it? Wasn't the Special Investigation Committee report partly supposed to do that. Wasn't the Special Investigation Committee's findings and the all clear 20F supposed to be the "One-Two" exoneration knock out punch? Now we are left pondering what is taking this report so long? Again, more fuel to the fire for the short community.
When you wrap it all together, what is going to get this stock moving higher?
20-F: Whether the 20F is filed, whether its qualified or unqualified, the damage has been done in my opinion as this report has been delayed for way too long. Shorts are going to be relentless in continuing to short this stock because of this delay and the impression that even if NQ gets an unqualified opinion, PWC is going to sign off because they have done so the past 2 years. What are they going to find that wasn't found in the past? Especially with the Special Investigations Committee responding with no significant fraud findings
Earnings? Doubt it. With the time it has taken with the investigation, my guess is earnings are going to mirror last quarter's earnings and the perception is that NQ will continuously meet or beat on the top line, but miss on its earnings/cash flows
Take-over/Taken Private: This is the only saving grace in my opinion. But don't expect a 200-300% premium. The firm taking over NQ would inherit all NQ's baggage, and if so, the premium has been crushed
With all this, NQ's management has become the laughing stock on most message boards and blogs. If you take a step back, it seems like they have no idea what is going on at the moment, and totally lack any wisdom on how markets work and how to handle investor expectations. They can rant on about how they are concentrating on their core business. But that is all garbage in my viewpoint. Yes, obviously they need to concentrate on their core business. But at the same time, they have close to 1500 workers. Workers that all have interest in the stock price. They also have clients. Clients that look at there stock price. And at these levels, it appears that NQ is on extremely shaky ground. And this is the exact reason why you should not waste another dime investing on this company. You can have the best products in the world (I am not implying that NQ does), but if you lack leadership and transform into a dodgy persona, then your reputation and perception becomes sorely hampered. I believe this is what NQ has done to themselves. Yes, the industry is thriving (look at QIHU's lastest earnings or the stock price of it's "smaller brother" Cheetah Mobile), but select leadership has the ability to take down even a company with great products
Disclosure: The author is long NQ.
Additional disclosure: I am Long Short dated out of the money call options that are basically worthless. This article is a reflection of my current personal views on the company. All data, charts, calculations, source material presented are accurate to the best of my knowledge but have not been checked, proofread, or independently verified. This article should not be relied upon for any purpose other than for entertainment. I am open to any feedback you may have