With the last Wednesday's presidential debate favoring the challenger and business-friendly Mitt Romney vs. the president, the market ended Thursday's trade with a pretty good rally. Yes, it appears that the Bulls will keep control of this market because U.S. equities are considered a flight to safety, and this is why Wall Street's indexes keep reaching for higher highs.
Yet, this rally is mainly predicated on nothing more but easy money flowing from the Fed through its QE policies. And while there are not enough fundamentals to justify this rally, the ol' Wall Street saw that the "trend is your friend" has even experienced and savvy market strategists holding their noses and jump in. So lets see what the market has to say about that.
As always, the Bull-Trend (NYSEARCA:SPXL), Bear-Trend (NYSEARCA:SPXS) and the (SPX) Large-Cap Troika tells the main story. For as long as the green, red and yellow MA lines of the Bull-Trend remain in their positive configuration, while the Bear-Trend's MA lines configuration keeps digging a deeper hole at the bottom of a deep pit, and the Large-Cap index keeps following the Bull to higher highs, so will the market.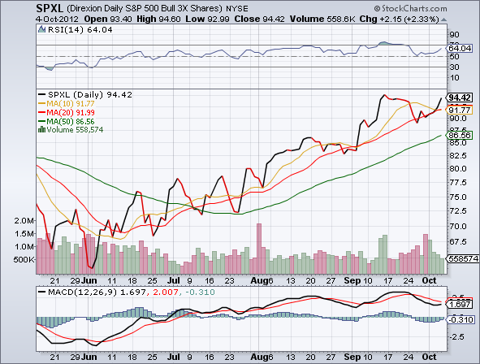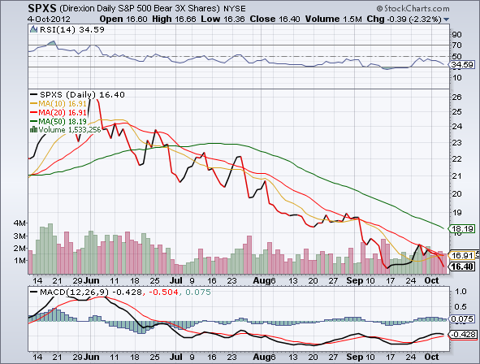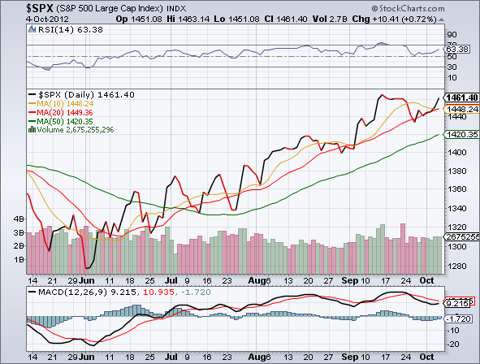 Check the (NYSEARCA:XLY) Consumer-Discretionary index and note that for as long as it shows a similar positive MA line configuration as the Bull-Trend of the Troika, the bias of the market remains to the upside. Also note that the MACD trend momentum index along with the RSI strength indicator are solid in their respective bullish territories, which adds to the upside support of the market.
The bullish or bearish positions of these two indicators and what they stand for applies to all the charts in this blog.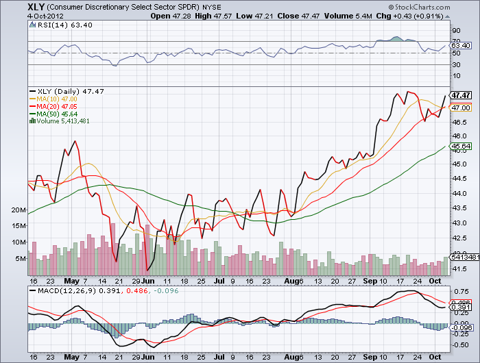 Note that this CRB Commodity-Supply Index (CRB) is moving sideways in a consolidation mode while still being supported by a bullish configuration of its green, red and yellow MA lines. But check the MACD and RSI indicators, both of which have settled on their respective neutral lines which implies that the commodity market is not going to move in either direction anytime soon. But with the Baltic (BDI) Commodity-Demand Index finally getting off the bottom, chances are that the commodity market is forming a base from which to rally. But first, the MA line configuration of this index will have to turn bullish.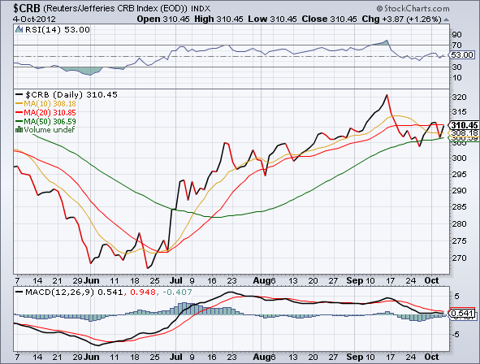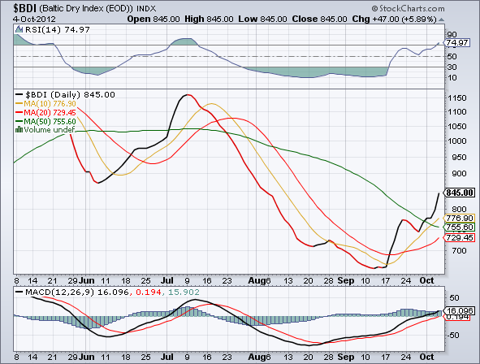 Now check the Gold index (NASDAQ:GOLD) vs. the Greenback (NYSEARCA:USD) and note that the primary reason gold is displaying its recent strength is the weakness in the U.S. dollar. Once the Greenback has its green, red and yellow MA lines turn bullish again, expect the price of the yellow metal to take a steep nosedive, and stay down there.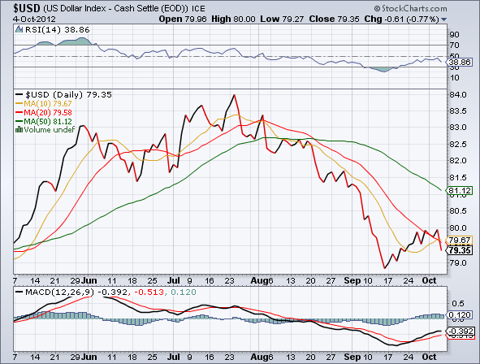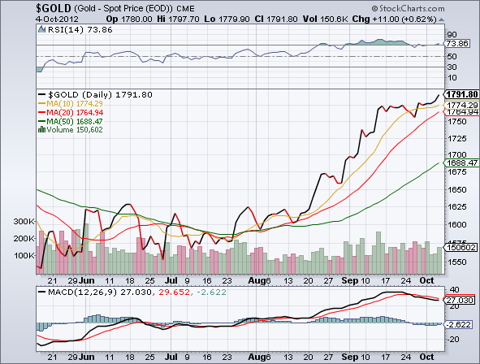 Check the oil chart and note that this (WTIC) index is poised to move either way. It's MA line configuration has hit a wall, and is totally neutral. The next few trading sessions will show if this configuration is going to turn bullish or bearish, and ditto for the price of oil.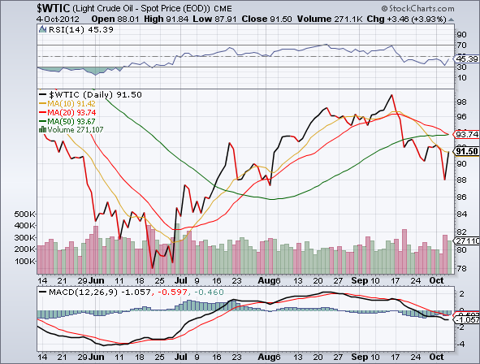 Meanwhile, here are some favoured ETFs for use depending on the market's direction:
Leveraged Bull-ETFs: Developed Markets 3x (NYSEARCA:DZK), Ultra DOW 30 3X(NYSEARCA:UDOW). Midcap 400 3x (NYSEARCA:UMDD), Ultra Financials 2x (NYSEARCA:UYG), Ultra Silver 2x (NYSEARCA:AGQ), Nat-Gas 3x (NYSEARCA:GASL), Silver 3x (NASDAQ:USLV), Tech-Bull 3x(NYSEARCA:TECL), Small-Cap Bull 3x (NYSEARCA:TNA).
Non-Leveraged Long ETFs: Consumer Services - (NYSEARCA:IYC), Retail - (NYSEARCA:XRT), Health Care - (NYSEARCA:RYH), EAFE - IFG, Global Financials - (NYSEARCA:IXG), Consumer Discretionary - (NYSEARCA:VCR), Physical Palladium - (NYSEARCA:PALL), Metals & Mining - (NYSEARCA:XME).
In case the market tanks, here are some favoured leveraged Bear ETFs to consider: Short Semis 3x (NYSEARCA:SOXS), Short NASDAQ 100 3x (SQQQ0, Small-Cap Bear 3X (TZ), Energy Bear 3x EDZ, Tech-Bear 3x (NYSEARCA:TECS). Mid-Cap Bear 3x (NYSEARCA:MIDZ).
Non-Leveraged Short ETFs: NASDAQ 100 -(NYSEARCA:PSQ), Active Bear -(NYSEARCA:HDGE), Russell 2000 - (NYSEARCA:RWM), DB S&P 500 - (NYSEARCA:SH), Ultra DOW 30 -(NYSEARCA:DOG), Ultra Financials - (NYSEARCA:SEF).
GOOD LUCK
1
Disclosure: I have no positions in any stocks mentioned, and no plans to initiate any positions within the next 72 hours.