Wall Street struggles to stay close to nearly five-year highs in the weeks ahead as market participants are increasingly worried about disappointing corporate earnings prospects. The recent downward trajectory of corporate guidance is nearing levels last seen eleven years ago.
This has many market-strategists questioning the justification for why stocks are near all-time highs, especially as the economic and corporate fundamentals remain tepid. As these strategists see it, this trend is unsustainable. Either corporate earnings will have to catch up with the rally in the indexes, or a broad-based correction kicks in.
Also, as these experts have it, the market is ripe for a pullback, and the only question is how deep and for how long. But a flood of monetary stimulus from the Fed and other central banks around the globe have been major catalysts behind this rally, overshadowing worries about earnings, the Eurozone and the global economy.
Still, while these trouble spots have been looming large all year, the market just keeps trading at higher highs, which just shows that this market is making up its own mind. Sure, it is a gut-wrenching zigzag trip to the upside, but it's up - just the same.
So it is no wonder that since March 2009 investors have been yanking cash out of equity funds and keep sitting on this cash by the sidelines, watching the tail-lights of an advancing market growing dimmer in the distance. That is called "risk-off" trade.
By contrast, the risk is definitely on when it comes to trading ETFs. In September alone, market-participants plowed more than $37 billion into U.S. listed ETFs. In the third quarter, inflows totaled nearly $60 billion, just about tripling the $20 billion inflows in the second quarter.
So, does the ETF market know something the Nay-Sayers out there do not? Clearly, the Bulls have been in charge of the Equity's markets which global investors are considering a flight to safety, and that is the foundation on which this bullish market keeps rising.
But whereto from here? Well, lets check the charts.
As always, first and foremost it is the (NYSEARCA:SPXL) Bull-Trend, the (NYSEARCA:SPXS) Bear-Trend and (SPX) large-cap Troika which keeps being spot on as it has been all year correctly projecting if either Bulls or Bears were going to be in charge of the marked.
Since early July the Troika projected that it was the Bulls' time to tango, and that projection has not changed any and will not change for as long as the Bull-Trend's green, red and yellow MA lines keep their positive configuration with the channel guiding up, while the MA lines of the Bear-Trend are in a negative configuration, guiding down.
At the same time the MACD momentum index and RSI strength indicator maintain a bullish stance for the Bulls, and a bearish stance for the Bears. The yellow line shows the contrast or correlation between investors' sentiment, and the Troika's projections.
This third leg of the Troika, the (SPX) Large-Cap index displays a bullish configuration by its MA lines and also a bullish stance by its MACD and RSI indicators. This means that the market is in tune with the Bull-Trend and will follow its guidance to the upside.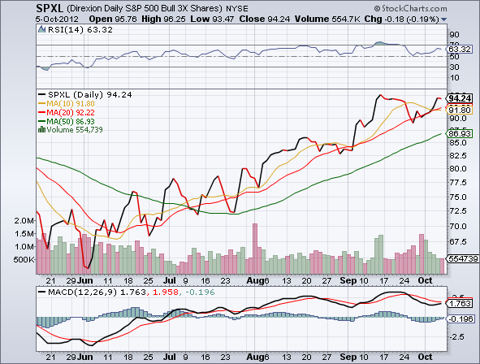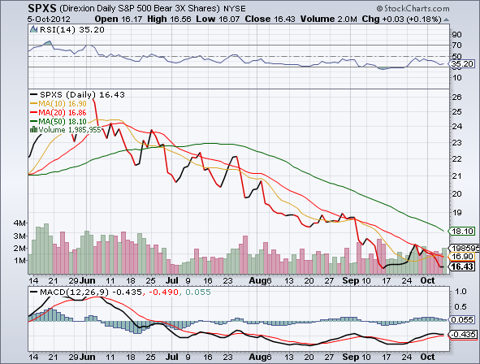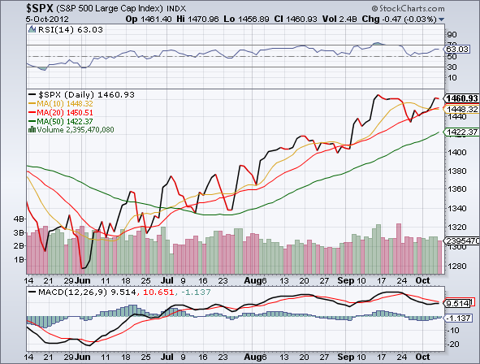 This (NYSEARCA:UVXY) VIX Futures ETF gives a good indication of investors' anxiety level in the market. When this index rises guided higher by a bullish configuration of its MA lines with the green below the red, investors' anxiety is rising as well. But as is the case now, the current negative MA line configuration with the green above the red indicates that the Bears are hibernating, but the Bulls are still too timid to take advantage of it.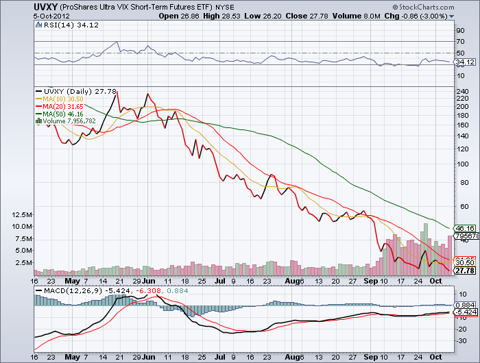 This (NYSEARCA:JNK) Junk-Bond market forecasting Canary has come down from its over-exuberant surge to the upside last month, and that is a good thing for the Bulls.
Now this little bird is catching its breath and consolidates while being well supported by its MA lines bullish configuration. Note that its MACD momentum index along with the RSI strength indicator remain well in their respective bullish territories, and that bodes well for an upside market.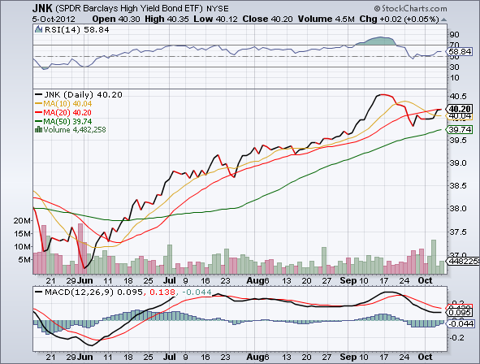 This (CRB) commodity supply index is finally getting the message that its ongoing stock-piling of metals is not doing the prices any good. So now this index is just consolidating, waiting for the demand by the Baltic to pick up. Although the MACD and RSI indicators are in neutral, the MA lines configuration by this index remain positive, and that has bullish implications for the commodity market.
Now check the Baltic (BDI) commodity demand index and note that it finally is getting out of its funk and start moving sharply to the upside again. Problem with this index is that it is doing so without the support of a bullish MA line configuration, and that will cause this rally to falter. Only when the red line moves above the green, can the commodity market shift into a sustained advance.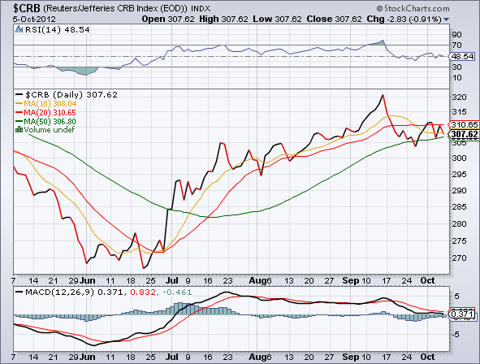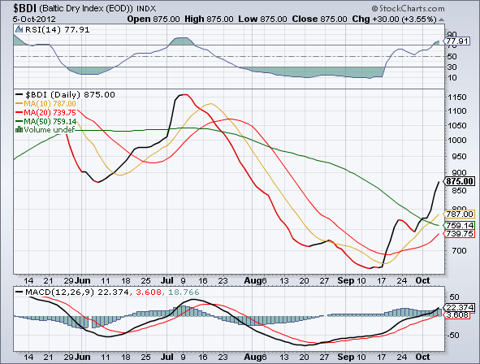 Gold appears to be a roaring Bull With plenty of investors hanging on to its tail, and so far they have been doing quite well. With the (NASDAQ:GOLD) index's MA lines configuration exceedingly bullish, along with the equally bullish MACD and RSI indicators the price of Gold appears to be well positioned to keep moving higher. But this will last only for as long as the U.S. dollar remains bearish.
Check the (NYSEARCA:USD) Greenback index which does everything opposite gold is doing. But sooner or later this will reverse as the U.S. dollar regains its status as the ultimate "safety hedge" in the global financial markets, and it is then that the price of the yellow metal will plummet. So it will pay to keep the juxta position of Gold and Greenback in focus.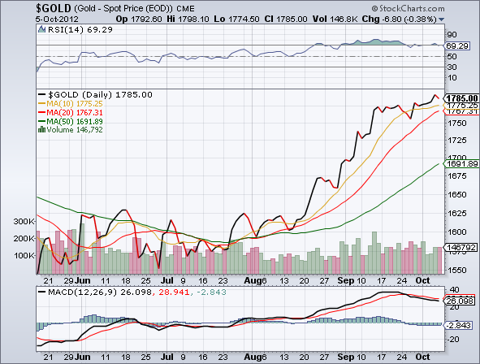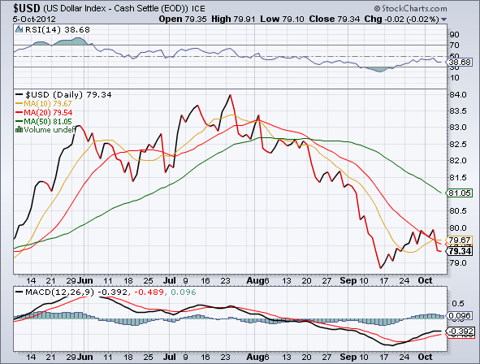 Oil (WTIC) is at the cusp of going one way or the other. If its currently totally neutral MA line configuration turns bullish, oil will rally. But if this configuration turns bearish, the price of oil will come down. Both the MACD momentum index along with the RSI strength indicator are maintaining a bearish stance, and that does not bode well for the bulls in this market.
Anytime the market rallies, here are some favored Bull ETFs to consider, and ditto for some favored Bear ETFs should the market tank. But keep in mind that this primary up-trend favors the Bull-Long ETFs, while the Bears will have a chance to rally only sporadically when the market takes a breather to the downside.
Leveraged Bull ETFs: Silver 3x (NASDAQ:USLV), NASDAQ 100 3x (NASDAQ:TQQQ), Nat-Gas 3x (NYSEARCA:UGAZ), Ultra S&P 500 3x (NYSEARCA:UPRO), Technology Bull 3x(NYSEARCA:TECL), Russell 200 3x (NYSEARCA:URTY), Small-Cap Bull 3x (NYSEARCA:TNA), Ultra DOW 30 3x (NYSEARCA:UDOW), Ultra Financials 2x (NYSEARCA:UYG).
Non-Leveraged Long ETFs: Home Construction (BATS:ITB), Home Builders (NYSEARCA:XHB), Biotech (NYSEARCA:BBH), Physical Silver (NYSE:SIVR), Silver Miners (NYSEARCA:SIL), Emerging Markets (VWD), Mortgage Reits (BATS:REM), Health Care (NYSEARCA:FXH), Healthcare Providers (NYSEARCA:IHF), Dynamic Health Care (NASDAQ:PTH).
Leveraged Bear ETFs: EAFE 2x (NYSEARCA:EFU), Semis 3x (NYSEARCA:SOXS), NASDAQ 100 3x (NASDAQ:SQQQ), Small Cap Bear 3x (NYSEARCA:TZA), Energy Market 3x (NYSEARCA:EDZ), Russell 2000 2x ((NYSEARCA:TWM), DOW 30 (NYSEARCA:SDOW), Financials 2x (NYSEARCA:SKF), Energy Bear 3x (NYSEARCA:ERY).
Non-Leveraged Bear: Short DOW 30 (NYSE:DOG), Short Russell 2000 (NYSEARCA:RWM), Short S&P 500 (NYSEARCA:SH), Active Bear (NYSEARCA:HDGE), Short Financials (SEF), Short NASDAQ 100 (NYSEARCA:PSQ).
GOOD LUCK!
Disclosure: I have no positions in any stocks mentioned, and no plans to initiate any positions within the next 72 hours.