A recent study shows that financial institutions, especially hedge-funds, are having their worst performing year in over a decade, advancing on average just 3 percent so far this year, while the S&P 500 gained 13 percent. Obviously, they should have followed our Troika.
Now that management of these funds begin to realize they had grown simply too bearish over the past months, they are trying different strategies in order to make up for lost time. But here the IMF comes out with a forecast showing the slowest expansion of global economies since the 2009 recession, which implies an even sharper slowdown in the making.
This has these fund managers abandoning their attempts in trying for some winning strategies, as they head for the refuge of U.S. Treasury issues.
So now what?
The IMF notwithstanding, the U.S. economy is getting out of a soft patch it was stuck in for a while, Europe seems to finally getting its act together, emerging markets moving ahead again and China is bouncing back as well.
Still, what is giving Wall Street the jitters is the closeness of the upcoming U.S. election and how to avoid the fiscal cliff. But chances are that these issues will be resolved to the market's satisfaction, and shift into a sustained advance.
Check these Bull-Trend (NYSEARCA:SPXL). Bear-Trend (NYSEARCA:SPXS) and Large Cap (SPX) Troika charts and note that even though the indexes of the Bull-Trend and Large-Caps have entered bearish looking nosedives, their green, red and yellow line configurations remain solidly bullish. Now check the Bear-Trend chart and note that even though the Bear has lifted a bit off the bottom, the negative configuration of its MA lines will keep it well contained down there below. All of this is keeping this Troika bullish, along with the market.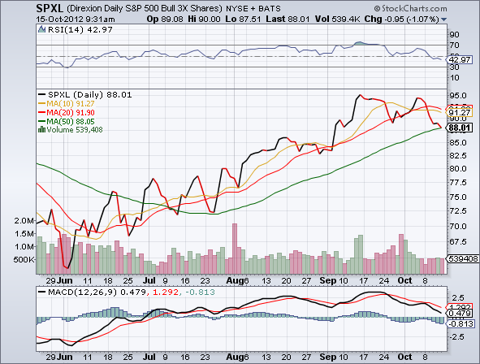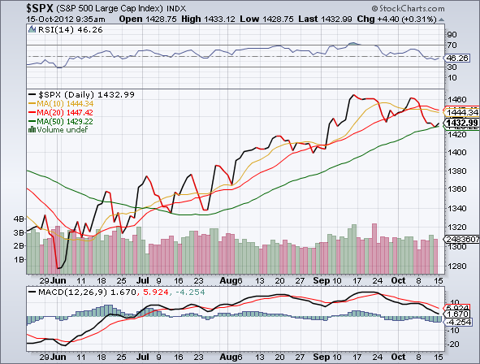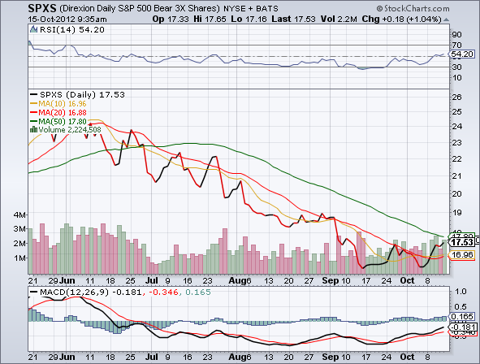 This market forecasting (NYSEARCA:JNK) Junk-Bond Canary is corroborating with the bullish stance of the Troika, by regaining its upside trend while being well supported by the bullish configuration of its MA lines. Also supportive is its MACD momentum index along with its RSI strength indicator, both of which are solidly in their respective bullish territories. This demonstrates that what is missing in this market are the disbelievers and consequently strong upside volumes. But just give them time.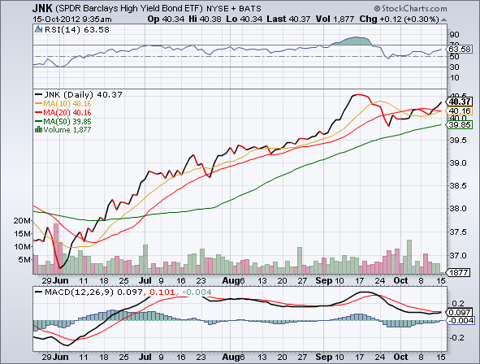 Just like the Bear-Trend of the Troika, this (NYSEARCA:UVXY) VIX ETF remains stuck to the bottom, weight down by the bearish configuration of its green, red and yellow MA lines. Again, a bullish projection for the market.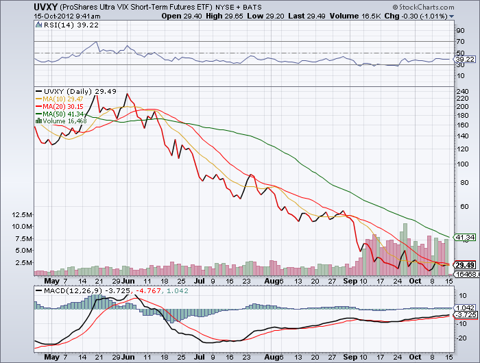 This (CRB) Commodity Supply Index is in a consolidation mode, even though it appears to be losing support of its MA lines configuration. But that could turn out to be a good thing because this index rallied too strongly too fast reflecting the piling up of commodities, especially the metals, while the demand for these things kept fading. So a pullback here could be beneficial for the commodity market. But now check the Baltic (BDI) Commodity Demand Index, and note that it is finally slipping into gear to the upside. That this thing is well supported by a bullish configuration of its MA lines along with a bullish stance by its MACD momentum index and its RSI strength indicator, augurs well for the commodity market.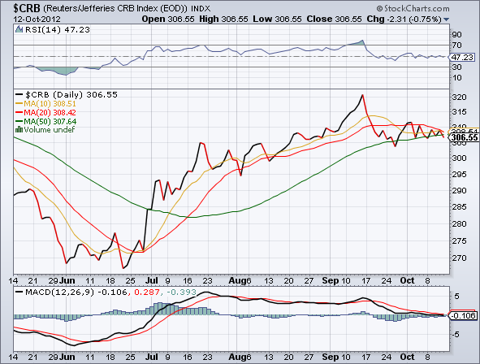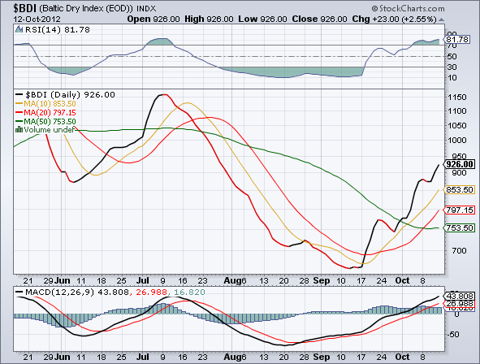 Gold (NASDAQ:GOLD) appears to be topping out, but for as long as its green, red and yellow MA lines maintain a positive configuration along with the bullish stance of its MACD momentum index and ditto for its RSI strength indicator, gold remains a Bull. But this will only be the case for as long as the Greenback (NYSEARCA:USD) remains in a funk while its MA lines maintain their currently bearish configuration. When the configuration of these lines turns bullish, that's when the price of gold heads south.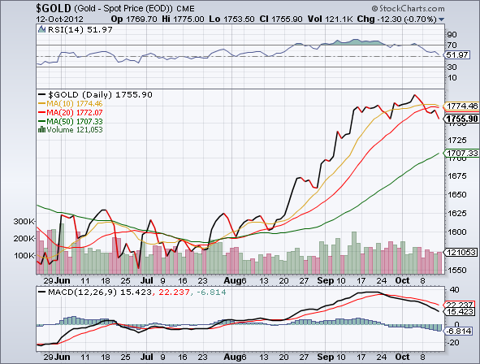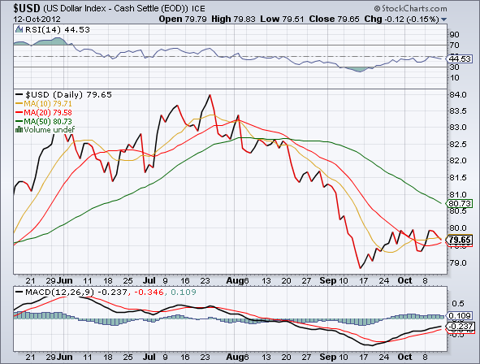 This (WTIC) OIL Index shows the makings of a Bear. Even though the price of oil appears to be consolidating, for as long as its MA lines continue their negative configuration, oil remains poised to the downside. That the MACD momentum index appears to be stuck in negative territory, only ads to oil's bearish stance.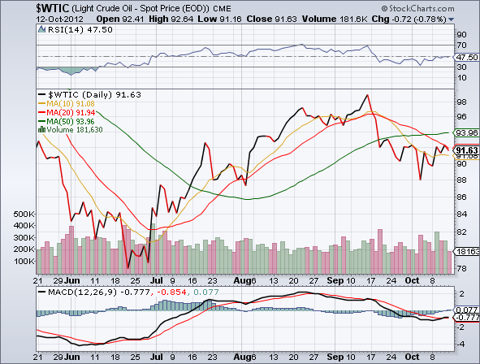 Although this commodity laden (TSX) index had a nice little run-up since last July, with the green above the red, its MA line configuration remains bearish, and that is pulling the TSX back down again.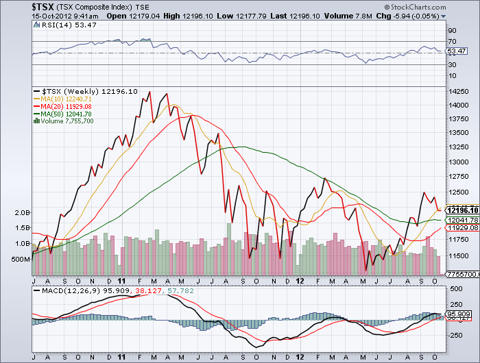 OK, so over the past few trading sessions the market was sagging lower and the Bear ETFs had the upper hand, which made trading some of them a profitable undertaking.
But keep in mind that since early July a bull-trend was established, and that made the long ETFs the primary vehicle to trade in. This has not change for as long as the Troika remains bullish. So use the short ETFs only as downside protection and profit potential anytime the market has declined for a day or two, and take profits anytime it is appropriate.
Just keep in mind that for now it are the Bull-ETFs where the profit potential is the highest.
So in case the market rallies, here are some favoured, leveraged Bull ETFs to consider:
Tech Bull 3x (NYSEARCA:TECL), Ultra S&p 500 3x (NYSEARCA:UPRO), S&P 500 Bull 3x (SPXL), Ultra DOW 30 3x (NYSEARCA:UDOW), Ultra Basic Material 2x (NYSEARCA:UYM), Real Estate Bull (NYSEARCA:DRN), Russell 2000 (NYSEARCA:URTY), Ultra Financials 2x (NYSEARCA:UYG) and Small Cap Bull 3x (NYSEARCA:TNA).
Non-leveraged long ETFs:
Home Construction (BATS:ITB), Home Builders (NYSEARCA:XHB), Biotech (NYSEARCA:BBH), Biotech (NYSEARCA:XBI), Biotech (NASDAQ:IBB), Pharmaceuticals (PJP0.
Should the market continue its downdraft, here are some leveraged Bears to consider: Nat Gas 3x (NYSEARCA:DGAZ), Crude Oil 2x (NYSEARCA:DTO), Financial Bear 3x (NYSEARCA:FAZ), Mid-Cap Bear 3x (NYSEARCA:MIDZ), Short Financials 2x (NYSEARCA:SKF), Short Basic Materials 2x (SMN), Short Semis 3x (NYSEARCA:SOXS), Short Russell 2000 3x (NYSEARCA:SRTY), Short Gold 2x (NYSEARCA:GLL), Inverse Silver 3x (NASDAQ:DSLV).
Non-Leveraged Short ETFs:
EAFE - (NYSEARCA:EFZ), Russell 2000 - (NYSEARCA:RWM), S&P 500 - (NYSEARCA:SH), Active Bear - (NYSEARCA:HDGE), Financials - (SEF) and NASDAQ 100 - (NYSEARCA:PSQ).
GOOD LUCK!
Disclosure: I have no positions in any stocks mentioned, and no plans to initiate any positions within the next 72 hours.