On October 19th, 25 years ago, Wall Street went through the worst one-day plunge in history. This October 19th the DOW went into a 200 point tailspin which had the earmarks of this 1987 collapse. Back then the crash came amid signs of a slowing economy, the threat of higher taxes and concerns among individual investors that the trade was rigged against them
Sounds familiar?
Today's investors have pulled billions of dollars from equity mutual funds since 2008 and sent trading volumes to the lowest levels in over four years. But in spite of all that and during the same time a bull market had shifted into gear.
But some high-profile market strategists out there insist that it was not a Bull, but a Bear-Market that shifted into gear in 1908 and that this Bear is still on the lose. The market stood at the 1440 level as measured by the S&P 500 index before the Bear hit, about the same level as now, which according to these strategists signals the end to this Bear-Market rally which started in 2009.
So which is it? A Bear-Market rally ending, or a Bull-Market still in its infancy?
Check the bull-trend (NYSEARCA:SPXL), bear-trend (NYSEARCA:SPXS) and large-cap (SPX) Troika. Note that while the bull and large-cap indexes are getting a haircut, their respective green, red and yellow MA lines continue their bullish configurations, while the bear-trend chart shows the exact opposite. For as long as this combination persists, the Troika stays bullish and the current bull-market intact.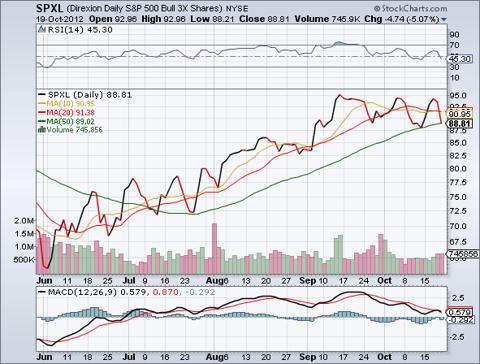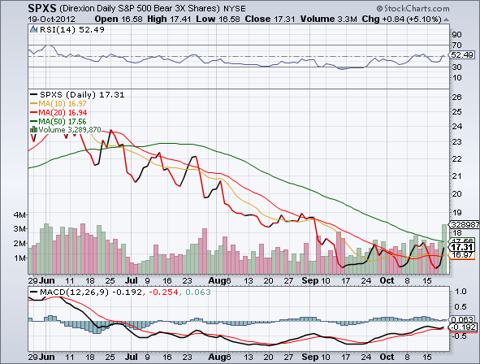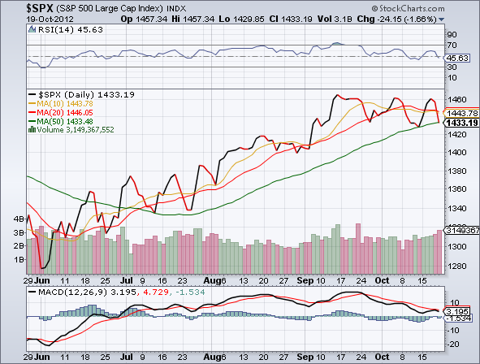 The NASDAQ 100 (NDX) has slipped into bearish mode mainly because its primary technology sector has been the worst performer during the past month. With its MA lines configuration turning bearish along with its MACD momentum index and RSI strength indicator, this index along with its tech stocks is poised to keep heading South.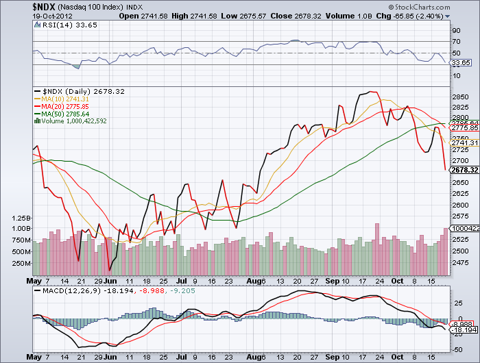 This (CRB) commodity supply index continues to consolidate which is bullish for the commodity market. But with its MA lines configuration totally neutral, along with the MACD momentum index and RSI strength indicator, this index remains poised to snap into either direction.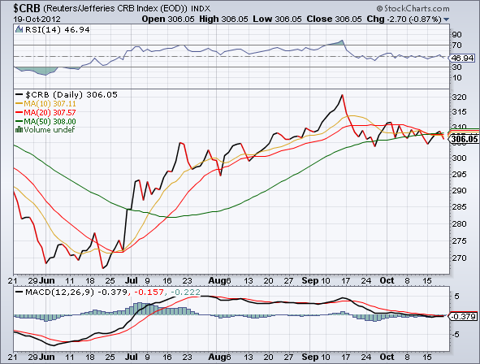 But check this Baltic (BDI) commodity demand index and note that it is in a strong up-trend, while being well supported by its MACD and RSI indicators, which suggests that the commodity market including its technology sector are poised to rally again. We'll see.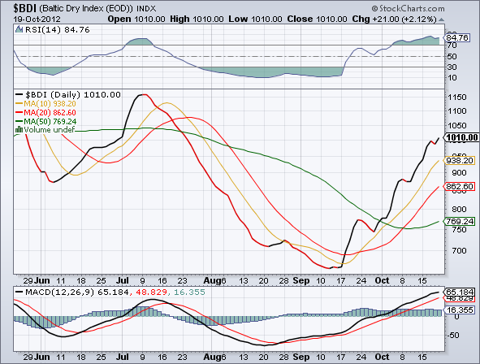 Mirroring the bullish stance of the Baltic, this commodity laden index (TSX) is set to rally. Problem is that its green and red MA lines are still in a bearish configuration and for as long as that is the case, it will stall any rally attempt.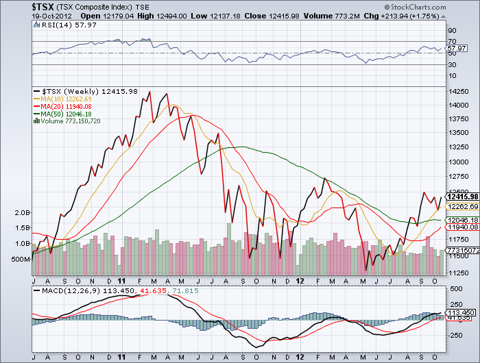 Although this Oil Index (WTIC) appears to be in a consolidation mode, for as long as its MA lines remain in a negative configuration along with the bearish stance of its MACD and RSI indicators, the price of oil is headed lower.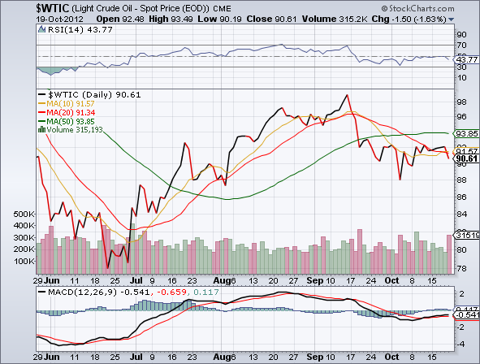 Although the price of gold is headed lower, for as long as the MA lines of this index (NASDAQ:GOLD) remain in their currently bullish configuration, the yellow metal continues to be a bull.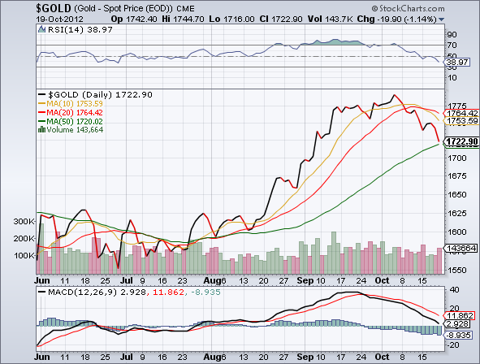 By contrast and even though this U.S. dollar index (NYSEARCA:USD) remains in a consolidation mode, for as long as it MA lines configuration remains bearish along with the negative stance of its MACD momentum index, this Greenback is a bear.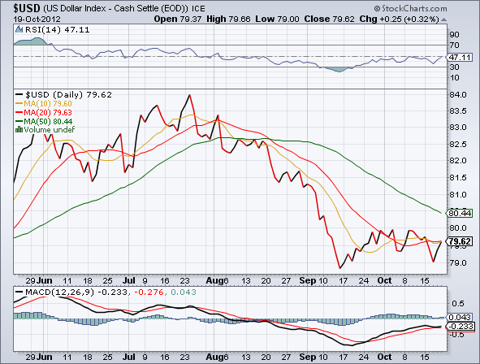 This recent choppy market environment out there greatly benefits the "high-frequency" quant trading fraternity out there who as a group make $ billions on tiny shifts across the market. Their computers are programmed to identify early sparks of an impending trend, and then hit on it.
This magnifies moves in either direction, attracts the public and the chase is on, resulting in wide swings at times. Check this intraday DOW chart and note that this is just what sparked last Friday's selloff. Because these wide swings can result in flash-crashes, financial regulators are trying to curb this trading practice, but without much luck and that suites ETF traders just fine.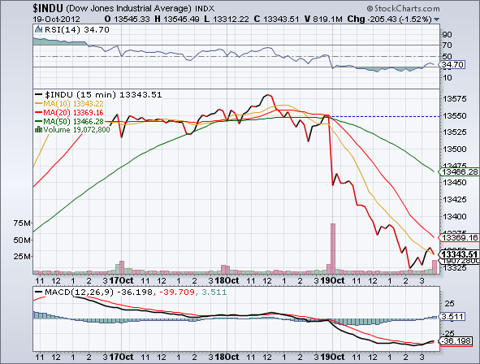 High frequency trading by the quants in the market is benefiting anyone who trades ETFs, especially the double and triple leveraged kinds. Check this intraday chart again and note that this time it were the Bear ETFs which brought home the bacon.
But keep in mind that for as long as the Troika maintains its bullish combination, it will be the long-trade Bull ETFs that have the upper hand in this ongoing bull market.
OK - so here are some of the favoured, leveraged Bull ETFs that can be used anytime the market rallies:
Real Estate Bull 3X (NYSEARCA:DRN), S&P 500 Bull 3x (SPXL), Ultra DOW 30 3x (NYSEARCA:UDOW), DB Agriculture 2x (NYSEARCA:DAG), Ultra S&P 500 2x (NYSEARCA:SSO), Russell 2000 3x (NYSEARCA:URTY), Ultra Financials 2x (NYSEARCA:UYG), Small Cap Bull 3x (NYSEARCA:UMDD), Mid-Cap 400 3x (UMDD), Semis Bull 3x (NYSEARCA:SOXL) and Ultra Basic Materials 2x (NYSEARCA:UYM).
Among non-leveraged long ETFs:
Home Builders - (NYSEARCA:XHB), Home Construction - (BATS:ITB), iPath Grains - (NYSEARCA:JJG), Biotech - (NYSEARCA:XBI), Biotech - (NASDAQ:IBB), Biotech - (NYSEARCA:BBH), Pharmaceuticals - (NYSEARCA:PJP), Banks - (NASDAQ:KBWB) and Health Care - (NYSEARCA:IYH),
In case the market tanks again, here are some favoured leveraged Bear ETFs:
Semi Bear 3x (NYSEARCA:SOXS), Tech Bear 3x (NYSEARCA:TECS), S&P 500 Bear 3x (SPXS}, Energy Bear 3x (NYSEARCA:ERY), Short NASDAQ 100 2x (NYSEARCA:QID), Short NASDAQ 100 3x (NASDAQ:SQQQ), Short Russell 2000 3x (NYSEARCA:SRTY), Short Silver 3x (NASDAQ:DSLV), Short DOW 30, 3x (NYSEARCA:SDOW), Mid-Cap Bear 3x (NYSEARCA:EDZ) and same thing again 3x (NYSEARCA:MIDZ).
Short, non-leveraged ETFs:
NASDAQ 100 - (NYSEARCA:PSQ), Short Russell 2000 - (NYSEARCA:RWM), Short DOW 30 - (NYSEARCA:DOG), Active Bear - (NYSEARCA:HDGE), Short S&P 500 (NYSEARCA:SH) and short gold (NYSEARCA:DGZ)
GOOD LUCK!
For daily updates browse my website.
Disclosure: I have no positions in any stocks mentioned, and no plans to initiate any positions within the next 72 hours.