Disappointing corporate earnings reports took the market down sharply during last Tuesday's trade and together during the previous Friday's decline, Wall Street is stringing together its firs real nosedive since last May. This has professional market watchers convinced that the market's top for the year is in and it's all down-hill from here. According to these experts major technical levels have been broken and therefore any rally which could emerge aught to be sold.
"Risk-off" is the battle cry by most market strategists out there. As they see it, most indexes have declined sharply through their respective 50-day moving averages, which supposedly will trigger the sky to fall, etc; etc.
Yet, these 50-day maneuvers send the wrong signal most of the time. A much more useful market gauge is the bullish or bearish configuration between the 50-day and 20-day Moving-Averages.
Check these two charts and note that the DOW index has sailed decisively through its 50-day moving average, which apparently is a signal that market is in the progress of a major decline. But also note that the 50-day and 20-day MA lines of this index are still in a bullish configuration, which suggests that the current selloff in the equity market is temporary.
Now check the NASDAQ composite chart which shows the same negative composition like the DOW chart except that here the 50-day and 20-day MA lines are forming a bearish configuration which signals a steady decline in the NASDAQ for as long as this configuration continues. We'll see.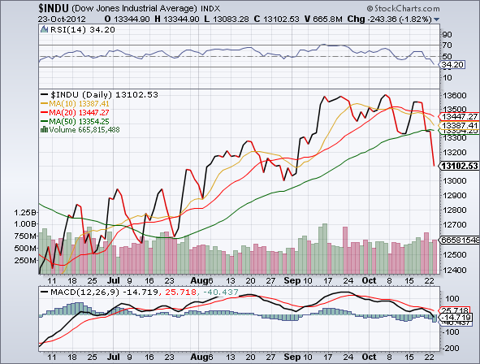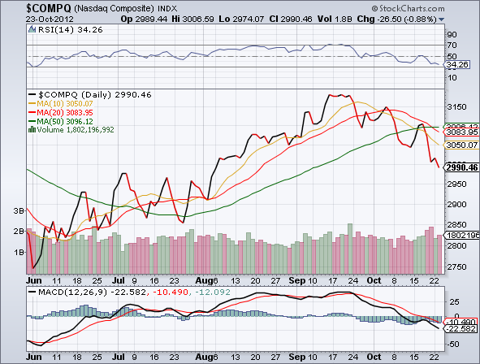 Check these three Troika charts and note that the Bull-Trend (NYSEARCA:SPXL) and the Large-Cap (SPX) indexes are sporting bullish configurations of their MA lines, while the MA line configuration of the Bear-Trend (NYSEARCA:SPXS) remains, well, bearish, the market is set in a bullish mode and poised to the upside. We'll see.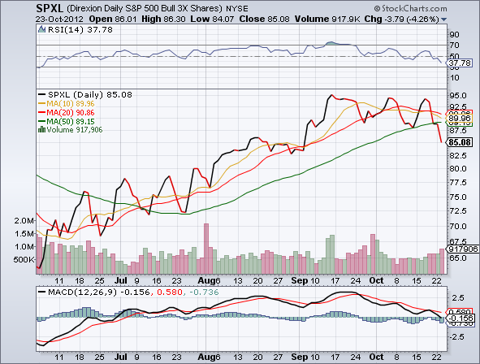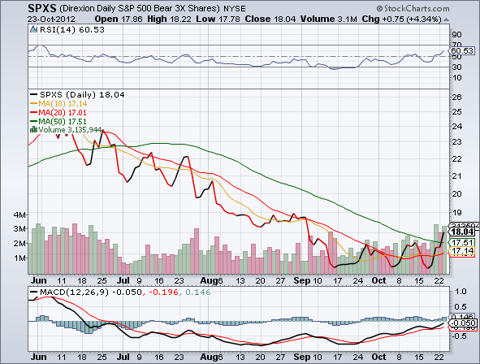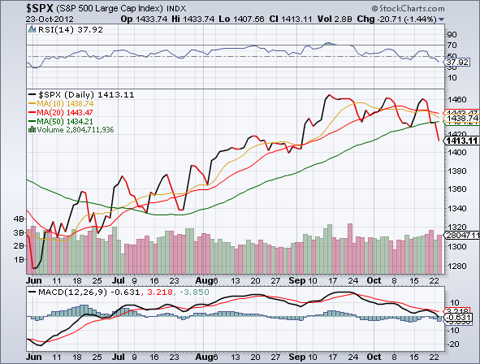 In case the market continues its down-draft, here are some favoured leveraged Bear ETFs to take advantage of such a move:
Developed Markets Bear 3x (NYSEARCA:DPK), Silver Bear 3x (NASDAQ:DSLV), Short Oil 2x (NYSEARCA:DTO), Short DOW 30 2x (NYSEARCA:DXD), Short DOW 30 3x (NYSEARCA:SDOW), Short S&P 500 2x (NYSEARCA:SDS), Short Basic Materials 2x (NYSEARCA:SMN), Short Financials 2x (NYSEARCA:SKF), Short S&P 500 3x (NYSEARCA:SPXU), Short Oil 2x (DTO), Short Gold 2x (NYSEARCA:GLL), Gold Miners Bear 3x (NYSEARCA:DUST).
Among favored non-leveraged short ETFs:
Gold - (NYSEARCA:DGZ), Oil - (NYSEARCA:DNO), DOW 30 - (NYSEARCA:DOG), Short EAFE - (NYSEARCA:EFU), Financials - (NYSEARCA:SEF), S&P 500 - (NYSEARCA:SH).
In case the market rallies, here are some favoured leveraged Bull ETFs:
Nat GAs 2x (NYSEARCA:BOIL), Nat Gas 3x (NYSEARCA:UGAZ), Semis Bull 3x (NYSEARCA:SOXL), Tech Bull 3x (TFCL), Long S&P 500 3x (NYSEARCA:UPRO), Long DOW 30 3x (NYSEARCA:UDOW), Small-Cap Bull 3x (NYSEARCA:TNA).
Among favoured non-leveraged Long ETFs:
Home Construction - (BATS:ITB), Home Builders - (NYSEARCA:XHB), iShares Philippines - (NYSEARCA:EPHE), Pharmaceuticals - (NYSEARCA:PJP), Banks - (NASDAQ:KBWB), High Dividend - (NYSEARCA:HDV).
Browse my website for daily updates, and GOOD LUCK!
Disclosure: I have no positions in any stocks mentioned, and no plans to initiate any positions within the next 72 hours.