A stronger than expected employment number last Friday had the DOW jump up 60 points shortly after the open, only to lose it all and then some, when the DOW had plunged 140 points by the close of the session. Now why would that be when a bunch of economic data came in much better than expected?
Well, first of all the high frequency quant-jockeys were at it again, jumping on am early twitch to the downside and thereby exacerbating the selloff.
But the major catalyst for investors' latest urge to sell at the slightest opportunity is that the U.S. will not only elect a president in a couple of days, but at the same time chose a monetary policy as well. The reason for this is that voters have to chose between two distinctly different Fed policy camps.
If Barack Obama wins then expect the U.S. Fed to continue its easy money policy, no matter what, and the market likes that. But if Mitt Romney takes the helm, then voters can expect an early end to the Fed's monetary stimulus policies, and at present there is not much else for the market to feed on.
It is this uncertainty which is feeding investors' anxiety about what's next for the market.
So lets check these three Troika charts and see what is most likely to happen. Note that the (NYSEARCA:SPXL) Bull-Trend index along with the (SPX) Large-Caps have their green and red MA lines set at dead neutral, with neither a bullish nor bearish configuration. This means that the market is balancing on a very thin edge and can slip either way.
But since both of these two Troika legs have their respective MACD momentum indexes and RSI strength indicators sitting in bearish territory, that is where the bias of the market is presently leaning to.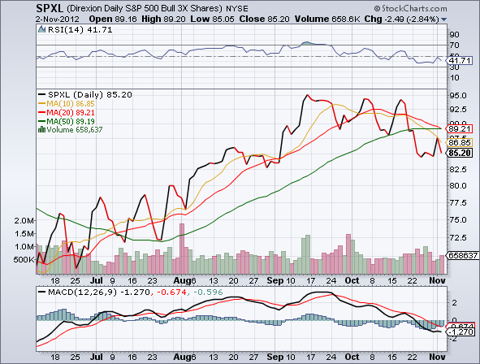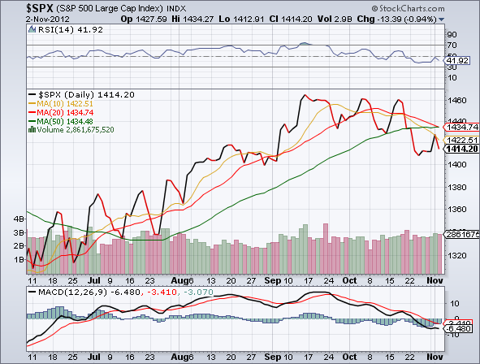 Now check this third Troika leg (NYSEARCA:SPXS) Bear-Trend index and note that while this Bear is trying hard to find some traction to the upside, for as long as its MA lines are displaying their current negative configuration it won't succeed. This means that this Troika will remain bullish - albeit not by much - and for now, so will the market.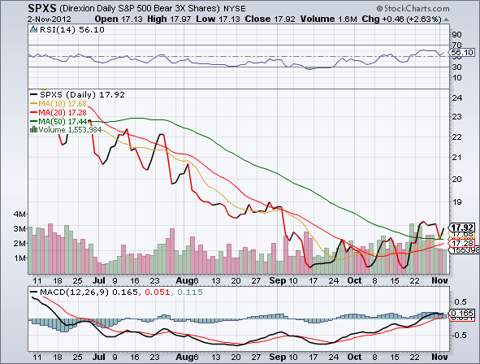 But check these Small-Caps (RUT) and NASDAQ (COMPQ) indexes which are the major indicators for the cyclical, economic sensitive side of the market, and note that they are totally bearish.
Their respective MA lines configurations are negative, their respective MACD momentum indexes and RSI strength indicators are stuck in bearish territories, all of which means that the cyclical side of the market is weakening rapidly.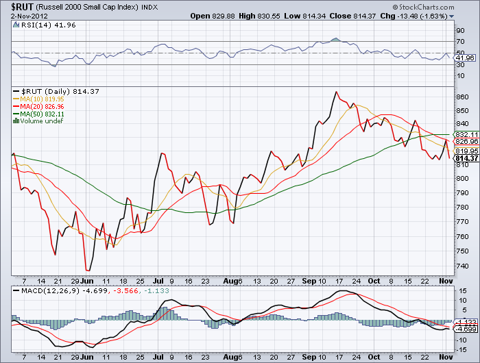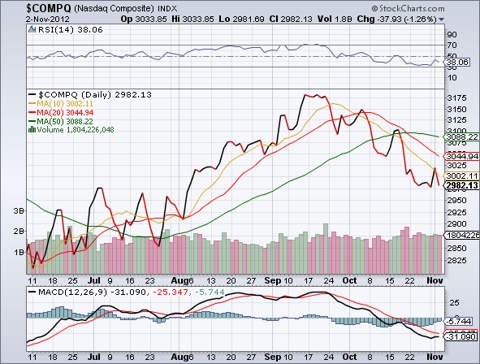 Now have a look at this teeter-totter situation gold (NASDAQ:GOLD) and the U.S. dollar (NYSEARCA:USD) find themselves in. As one goes up, the other one goes down and right now it's the Greenback's turn to be on the upside. But that is not for sure just yet. Note that even though this Greenback's index has soared, its MA lines configuration remains bearish and that makes the U.S. dollar's strength suspect, and could give gold a chance to rally again.
But with the MA lines configuration of the yellow metal turning bearish while its MACD and RSI indicators are sitting deep in their respective negative territories, chances are that gold will continue on its way down, while the greenback keeps going the other way.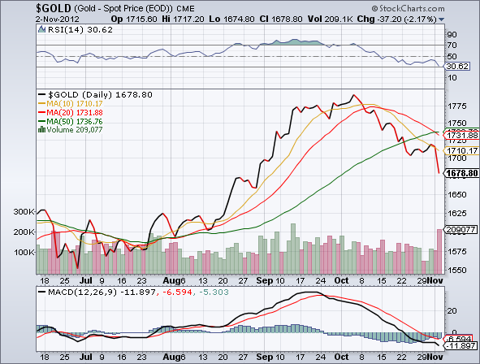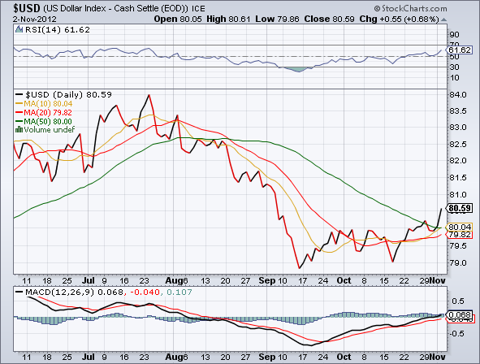 This oil index (WTIC) is about as bearish as bearish can get. Its MA lines configuration is extremely negative, reflecting not only the recent sharp decline in the price of oil, but also the sharp deterioration in the energy market generally. This is also reflected by the MACD momentum index and the RSI strength indicator, both of which are stuck deep in their respective bearish territories.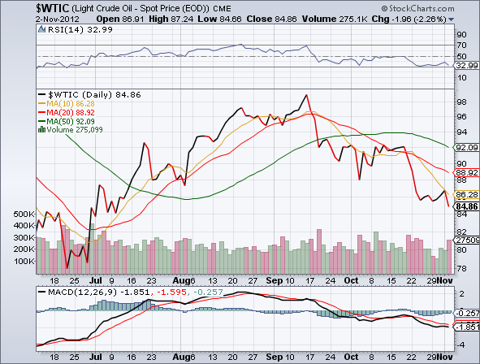 This CRB commodity index (Pending:CRB) shows the sharp deterioration in the internals of the commodity market, especially in the metals as well as in oil and gas. Besides the sharp drop in this index, its MA lines configuration remains extremely bearish, and so is its MACD momentum index and RSI strength indicator.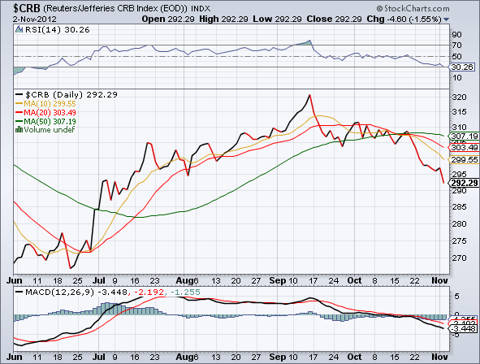 With bearish looking charts like this it is no wonder that at last Friday's session's close all indexes and sectors were displaying a deeply bearish red with the small-caps Russell 2000, S&P Mid-Caps, Energy, Materials and Technology redder than most.
It also explains why Wall Street is able to string together its first real correction since last May. But will it stick?
There is something happening in the market that should give encouragement to the Bulls.
Check this (NYSEARCA:JNK) junk-bond Canary which has an excellent record in forecasting market trends. Now, despite the recent zigzag volatility in this game, this little bird just keeps chirping a bullish tune. It's MA lines remain in a solidly bullish configuration while its MACD momentum index along with the RSI strength indicator manage to stay in their respective bullish territories.
Add to this that the XLP-XLY Achilles-Heel of a market's trend remains solid in a down-draft. Being a contrarian indicator, it means that for as long as this XLP-XLY index goes down, the internals of the market remain poised to rally.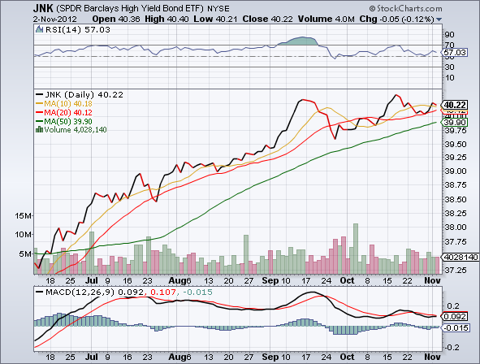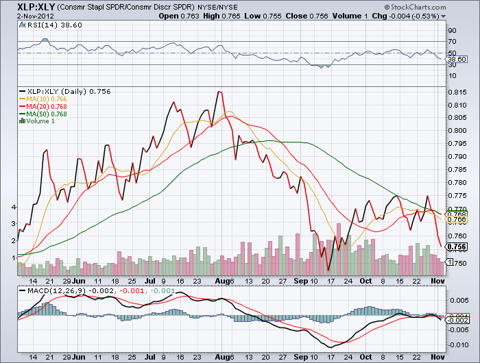 Question is, will the combination of a bullish Canary and a bearish Achilles-Heel of the market be enough to ignite a sustainable rally? As the Bulls have it, you can bet the farm on it.
But for now it's best to stand aside to wait and see what the market has in store after the election.
Here are some favored leveraged Bear ETFs to be used when the market is trending down:
Short Nat GAs 2x (NYSEARCA:KOLD), Short Gold 2x (NYSEARCA:DZZ), Gold Miners Bear 3x (NYSEARCA:DUST), Short Silver 3x (NASDAQ:DSLV), Short OIl 2x (NYSEARCA:DTO), Short Materials 2x (NYSEARCA:SMN), Short Oil & Gas 2x (NYSEARCA:DUG), Short S&P 500 2x (NYSEARCA:SDS), Short DOW 30 3x (NYSEARCA:SDOW), Short Mid Cap 400 3x (NYSEARCA:SMDD), Energy Bear 3x (NYSEARCA:ERY), Semis Bear 3x (NYSEARCA:SOXS), Short NASDAQ 100 3X (NASDAQ:SQQQ).
Among non-leveraged Shorts:
Short Gold - (NYSEARCA:DGZ), Short DOW 30 - (NYSEARCA:DOG), Short Russell 2000 - (NYSEARCA:RWM), Short S&P 500 - (NYSEARCA:SH), Short Financials - (NYSEARCA:SEF), Short NASDAQ 100 - (PSQ, Active Bear - (NYSEARCA:HDGE).
Some leveraged Bull ETFs in case the market trends higher:
Real Estate Bull 3x (NYSEARCA:DRN), S&P 500 Bull (SPXL), Long DOW 30,3x (NYSEARCA:UDOW), Long S&P 500 2x (NYSEARCA:SSO), Russell 2000 3x (NYSEARCA:URTY), Long Financials 2x (NYSEARCA:UYG), Small Cap Bull 3x (NYSEARCA:UMDD), Long DOW 30, 2x (NYSEARCA:DDM), Long Russell 2000 2x (NYSEARCA:UWM), Semis Bull 3x (NYSEARCA:SOXL).
Non leveraged Long ETFs:
Long Home Construction - (NYSEARCA:ITB), Long Home Builders - (NYSEARCA:XHB), Long Pharmaceuticals - (NYSEARCA:PJP), Long Consumers - (LYC), Long Retail - (NYSEARCA:RTH), Long Health Care (NYSEARCA:IYH), long Consumer Discretionary - (NYSEARCA:XLY). Long Large Caps - (NYSEARCA:SPYG).
GOOD LUCK!
Disclosure: I have no positions in any stocks mentioned, and no plans to initiate any positions within the next 72 hours.