This past trading week turned out to be nothing short of a roller coaster ride. The Bulls kicked off the early week's trade with a nice triple-digit rally, when president Obama's re-election opened the gate wide for the Bears to come marching in, and by the end of the week they'd managed to sink the major indexes and sectors into deep-red bearish territories.
Now, as Wall Street has it, between four more years of an Obama's presidency and a divided U.S. Congress the outlook for the economy and the market is the pits, and chances are that the Washington policy makers are in no mood to make concessions which would avoid the U.S. economy from dropping over the proverbial "fiscal-cliff" into a deep and prolonged recession.
This has most market strategists cutting risk-on positions by getting out of equities and into high grade corporate and government bonds.
But surely, unless these Washington politicians are set to deliberately plant a shiv into the back of the U.S. economy, a compromise will be reached. This is why last Friday's market action has shown that this recent selloff has hit bottom and put the market into a consolidation mode, out of which a renewed upside trend can emerge.
After a solid bull-run between last May and September, this Bull-Trend (NYSEARCA:SPXL), Bear-Trend (NYSEARCA:SPXS) and Large-Cap (SPX) Troika appears to have hit bear-market territory. By last Friday's close the Bull-Trend and Large-Cap indexes had themselves a bit of a free-fall, while their green, red and yellow MA lines slipped into bearish configurations. Their MACD momentum indexes and RSI strength indicators are both deep in their respective bearish territories, all of which has the ear-marks of a market that wants to go lower.
Add to this the Bear-Trend index and note that it has rallied strongly out of the hole it had been in since last September, and that its MA line configuration has turned bullish for the Bears.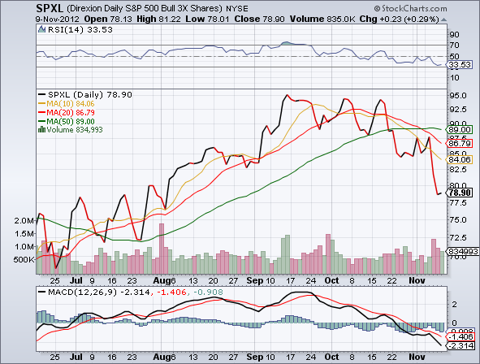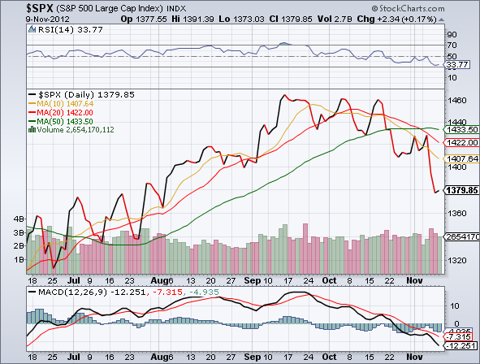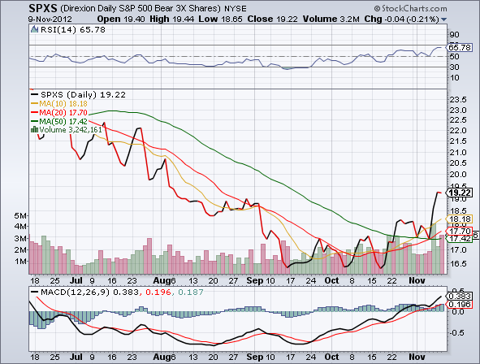 But check the following two charts and note the reason why a bearish Troika at this stage does not a down-trend make.
While last week this Canary(NYSEARCA:JNK) index had its own bit of a nosedive, its MA line configuration remains solidly bullish, which suggests that this latest selling squall is temporary, and that the market is now in a consolidation mode.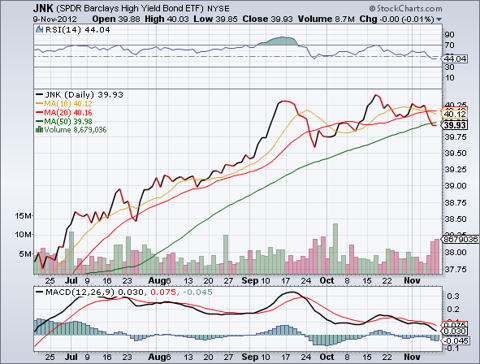 Corroborating the Canary's positive outlook for the market is this VIX (NYSEARCA:UVXY) market anxiety ETF. That this thing is relaxing way down at the bottom instead of being up there going crazy, shows that the gloom and doom proclamations for the economy and the market are way overblown, and that the Bulls are at the gate ready to come marching back in again.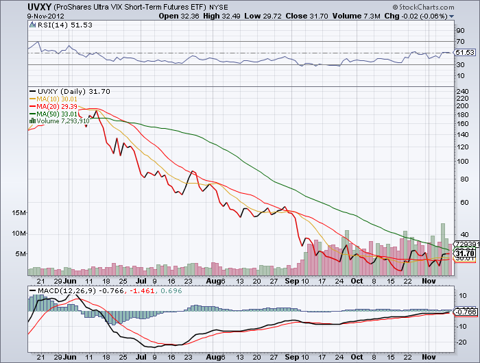 Check these two commodity indices and note that the (CRB) commodity-supply index is reacting negatively to the pullback of the Baltic (BDI) commodity-demand index which is suddenly getting a pretty close haircut, and that is a good thing. It shot up too far too fast and is now back to where it can find some traction again. As soon as the Baltic is back on an uptrend again the CRB will follow suite.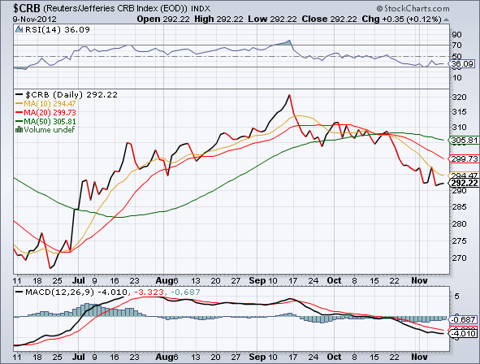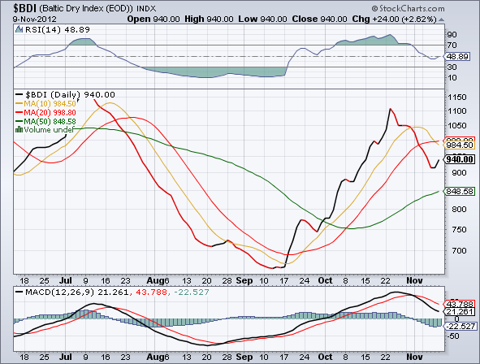 Although (NASDAQ:GOLD) has been advancing lately, it still is a bear and will continue this way for as long as its MA lines configuration remains, well, bearish. By contrast, the Greenback (NYSEARCA:USD) index is finding traction again while its MA lines configuration is turning bullish and is the main reason why gold is still a bear.
Similarly with oil (SWTIC) which with its sharply bearish MA lines configuration suggests that under the pressure of a rising dollar the price of oil has only one way to go - and that is down. Also note that oil's MACD momentum index along with its RSI strength indicator are both in their respective bearish territories, which will only exacerbate its downward drift.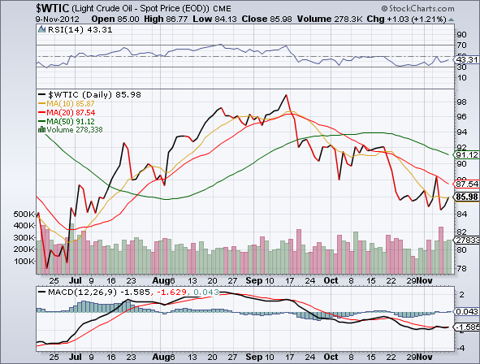 This commodity laden (TSX) index shows that its MA lines configuration is dead neutral, which is the main reason that the TSX is consolidating. This suggests that the internals of the commodity market are consolidating also, and that has bullish implications for commodities.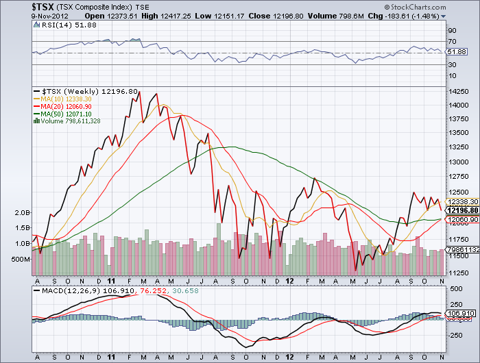 Here it is well to remember that in this era of "high-frequency" trades, rallies and sell-offs are being exacerbated so that when momentum sets in one direction it tends to continue on. Pre-programmed resistance and support levels are taken out, adding to the push behind a rally or selling squall.
But right now there is no incentive for market participants to get back into this market, be they Bulls or Bears. At last Friday's close of trade all indexes and sectors showed a mix of only minor slivers of bullish green and bearish red, a sure sign that this market is at dead neutral, not sure which gear to shift into. Therefore, it is still best to stand aside and just wait to see if a trend develops.
But just in case the market rallies into an intermediate up-trend, here are some proven performance sensitive, leveraged Bull ETFs:
NASDAQ 100 3x (NASDAQ:TQQQ), Tech Bull 3x (NYSEARCA:TECL), S&P 500 3x (NYSEARCA:UPRO), Real Estate Bull 3x (NYSEARCA:DRN), S&P 500 Bull 3x (SPXL), DOW 30 3x (NYSEARCA:UDOW), Russell 2000 3x (NYSEARCA:URTY), ULTRA Financials 2x (NYSEARCA:UYG), Small Cap Bull 3x (NYSEARCA:TNA), Mid Cap 400 3x (NYSEARCA:UMDD), Semi Bull 3x (NYSEARCA:SOXL).
Ditto for the non-leveraged long ETFs:
Home Construction - (BATS:ITB), Home Builders - (NYSEARCA:XHB), Biotech - (NYSEARCA:BBH), Biotech - (NYSEARCA:XBI), Biotech - (NASDAQ:IBB), Pharmaceuticals - (NYSEARCA:PJP), Technology - (NYSEARCA:XLK), NASDAQ 100 - (NASDAQ:QQQ), Health Care - IYH.
In case the market tanks into an intermediate down-trend, here goes for some of the leveraged Bear ETFs:
Short Nat GAs 2x (NYSEARCA:KOLD), Short Gold 2x (NYSEARCA:DZZ), Short Silver (ZSL0, Gold Miners Bear 3x (NYSEARCA:DUST), Short Oil 2x (NYSEARCA:DTO), Short Basic Materials 2x (NYSEARCA:SMN), Short DOW 30, 2x (NYSEARCA:DXD), Short Mid Caps 2x (NYSEARCA:MZZ), Short Russell 2000 2x (NYSEARCA:TWM), Short NASDAQ 100, 2x (NYSEARCA:QID).
Ditto for the non-leveraged short ETFS:
Short Gold - (NYSEARCA:DGZ), Short DOW 30 - (DOG(, Short S&P 500 - (NYSEARCA:SH), Short NASDAQ 100 - (NYSEARCA:PSQ), Short Emerging Markets - (NYSEARCA:EUM), Short EAFE - (NYSEARCA:EFZ) Active Bear - (NYSEARCA:HDGE).
Disclosure: I have no positions in any stocks mentioned, and no plans to initiate any positions within the next 72 hours.