This is the week when a deeply divided and partisan U.S. Congress begins the "fiscal-cliff" negotiations in earnest. If they do not come up with at least a band-aid solution by the end of this year, chances are that the economy could begin a deep slide into recession, accompanied by a market crash.
But if these Washington politicians would be able to kick this fiscal-cliff can into 2013 when it could be resolved in due time, a strong and sustained rally in the market could kick into gear. This is the kind of stuff the market has focused on, and is reflected by these charts.
The sharp runup by the indexes says yes, Washington's policy makers will get their act together and at least partially resolve this problem. But the bearish MA lines configurations by these charts say don't count on it. These politicians could not find a resolve to this cliff before, and they are not going to find one now.
This is why for now, market volatility is the name of the game. There are tons of money sitting on the sidelines looking for something to do. So anytime the market sells off in an appreciable fashion, this money comes rushing off the sidelines because it is under-invested and needs to get back into the game. But then when the market snaps to the upside with a solid rally as it did last week, the funds are taking profits and high-tail it to the sidelines again.
For last week's market action the bear's case can be made that the reason the market rallied was nothing more but that it became severely oversold during the October/November slump which had knocked the market into deep hole at the bottom of a deep pit. So all these late rallies did was to get the market out of the hole, but leaving it stuck at the bottom of the pit.
Only if the MA lines configurations on these charts turn bullish, will the market be able to rally out of the pit and beyond in a sustained fashion.
But a case for the Bulls could also be made if these Washington policy makers can avoid the cliff. The foundations for a strong economy and bullish markets are in place. Already, Treasury papers declined to the point where they pushed the ten-year yield higher for the first time in five weeks, a sign that the risk-on for equities is moving upfront again.
The U.S. economy is on course to some solid growth over the next few years. Consumers are spending again while at the same time reducing household debts to the lowest level in years. Home prices are rising and banks are eager to lend again, even though the unemployment numbers remain stubbornly high.
But the economy and the market may have to get used to that. Corporations will hire again when consumer demand keeps rising. But steadily advancing technologies are improving corporations' productivity and efficiency, and thereby reduce the need for new hire, which improves the bottom line. While this plays havoc with the labor market, the stock market just loves it.
Check this bull-trend (NYSEARCA:SPXL), bear-trend (NYSEARCA:SPXS) and the large cap (SPX) Troika which is vividly displaying the current synergy of the market. Note that while the indexes of the bull-trend and large caps where bouncing out of the hole at the bottom of a deep pit, the bearish configurations of their MA lines show that the market is still in the pit and has a heck of a time getting out of it.
Now note that even though the bear-trend index took a steep dive to the bottom, its MA lines configuration remains decidedly positive, which adds to the bearishness of the Troika, and thereby the market. Also note that the respective MACD momentum indicators are deep in bearish territories which adds to the downside pressure in the market. The respective RSI strength indicators are neutral, and favor neither bulls nor bears.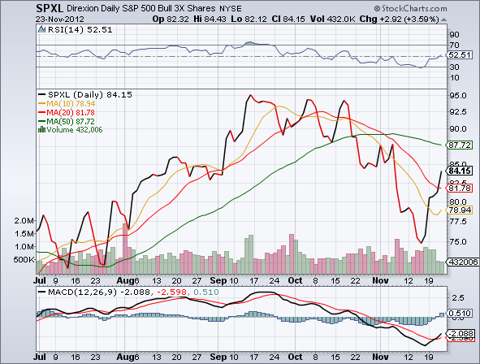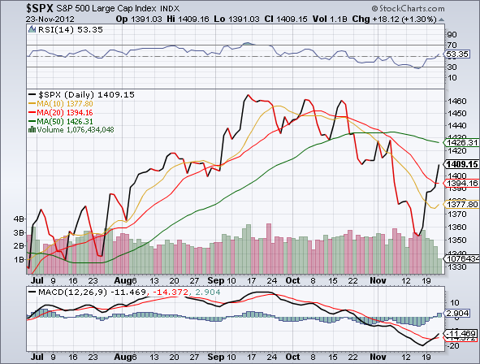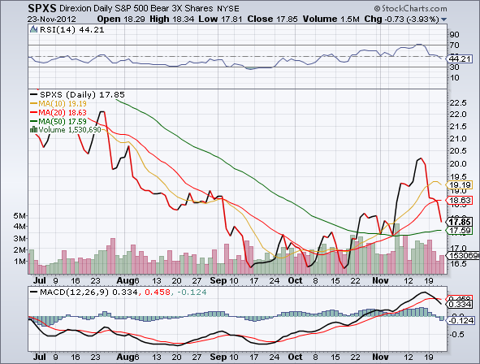 The sharp bounce-back of this junk-bond canary index (NYSEARCA:JNK) does forecast bullish market action ahead, but the beginning of a bearish MA line configuration makes this forecast suspect.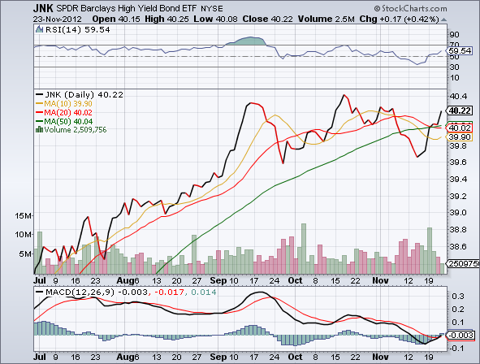 This commodity supply index (CRB) is beginning to turn bullish in spite of its negative MA lines configuration, which is keeping lid on any appreciable rally at this time.
But something positive is happening in the commodity market, and the reason for this is that the Baltic commodity demand index (BDI) shows a solidly bullish MA lines configuration. Also note that its MACD momentum index along with its RSI strength indicator are both deep in their respective bullish territories. The implication here is that global manufacturing and industrial demand is slowly perking up again.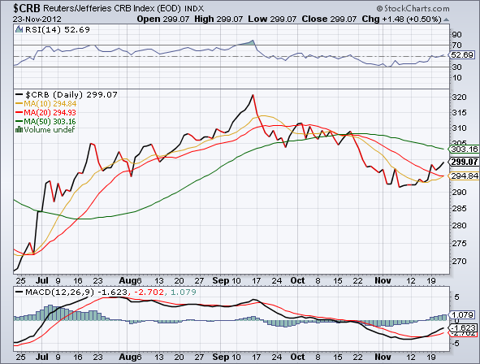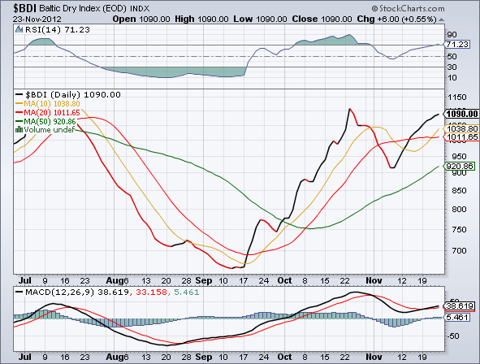 More of the same, as the commodity laden TSX index (TSX) shot out of the hole and is now being pressured by its MA lines bearish configuration. Also note that its MACD momentum index remains stuck deep in bearish territory. Just another view of the convoluted commodity market.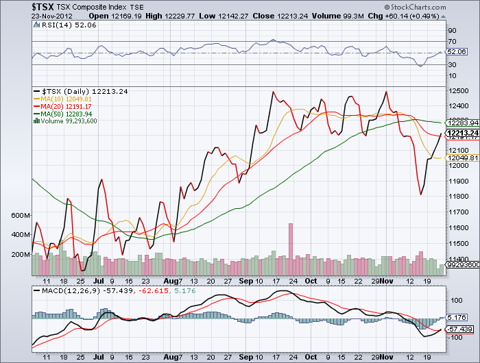 Note that in the next chart the Greenback (NYSEARCA:USD) is doing a deep nosedive, but as its strongly positive MA lines configuration indicates, the U.S. dollar remains a Bull.
By contrast, this gold & silver index (XAU) is only coming out of a deep hole and remains stuck in the pit. For as long as the MA lines configuration of this index remain bearish, along with the bearish MACD and RSI indicators, any rally in gold and silver will only be temporary.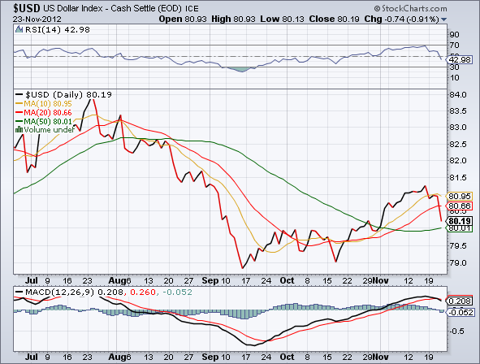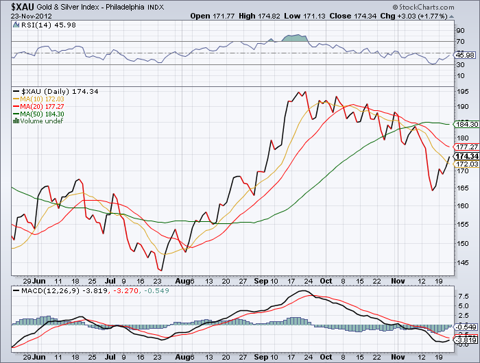 Although this oil index (WTIC) has rallied out of a deep hole as well, for as long as its MA lines configuration remains bearish, the price of crude will remain under pressure and poised to the downside.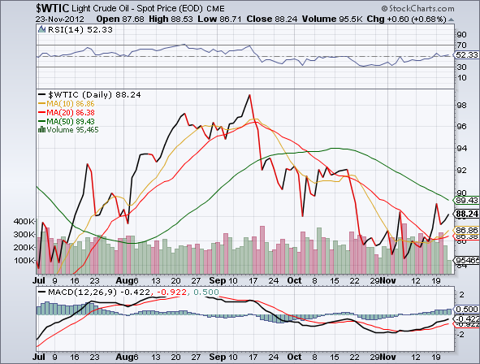 All in all, a case can be made that a bull-market is forming at the horizon. It all depends on the outcome of the fiscal-cliff negotiations that get started this week. So, for the sake of the economy and the market, keep your fingers crossed!
As usual, these ETFs are favorites with proven track records and will continue to perform well under appropriate market conditions in which at least an intermediate trend in either direction can find traction. But under the current political uncertainty it may be best to just stand aside to wait and see how things develop during this week.
In case of an intermediate rally, here are some leveraged bull ETFs to consider:
Biotech 2x (NASDAQ:BIB), DOW 30 2x (NYSEARCA:DDM), Real Estate Bull 3x (NYSEARCA:DRN), Developed Markets Bull 3x (NYSEARCA:DZK), Emerging Markets Bull 3x (NYSEARCA:EDC), Mid Cap Bull 3x (NYSEARCA:MIDU), Mid Cap 400, 2x (NYSEARCA:MVV), NASDAQ 100, 2x (NYSEARCA:QLD), Technology 2x (NYSEARCA:ROM), Semis 3x (NYSEARCA:SOXL), S&P 500 Bull 3x (SPXL), Tech Bull 3x (NYSEARCA:TECL), Russell 2000 Bull 3x (NYSEARCA:TNA), NASDAQ 100, 3x (NASDAQ:TQQQ).
Among non-leveraged long ETFs:
Euro Stoxx 50 - (NYSEARCA:FEZ), China 25 - (NYSEARCA:FXI), Technology - (NYSEARCA:FXL), Russell 2000 - (NYSEARCA:IWM), Financials - (NYSEARCA:IYF), Industrials - (BATS:IYJ), Consumer Goods - (NYSEARCA:IYK), Technology - (NYSEARCA:IYW), Regional Banking - (NYSEARCA:KRE), S&P100 - (NYSEARCA:OEF), Semis - (NASDAQ:SOXX), S&P 500 - (NYSEARCA:SSO), Consumer Discretionary - (NYSEARCA:XLY), Retail - (NYSEARCA:XRT), Healthcare - (NYSEARCA:IXJ).
Leveraged Bear ETFs:
Short Nat Gas 3x (NYSEARCA:DGAZ), Developed Markets Bear 3x (NYSEARCA:DPK), Short Crude 2x (NYSEARCA:DTO), Short DOW 30, 2x (NYSE:DXD), Emerging Markets Bear 3x (NYSEARCA:EDZ), Short EAFE 2X (NYSEARCA:EFU), Financial Bear 3x (NYSEARCA:FAZ), Short NASDAQ 100, 2x (QID), Short DOW 30, 3x (NYSEARCA:SDOW).
Non-leveraged Short ETFs:
Short DOW 30 - (NYSE:DOG), Short Mid Cap 400 - (NYSE:MYY), Short NASDAQ 100 - (NYSEARCA:PSQ), Short Russell 2000 - (NYSEARCA:RWM), Short Financials - (SEF), Short S&P 500 - (NYSEARCA:SH), Active Bear - (NYSEARCA:HDGE).
GOOD LUCK!
Disclosure: I have no positions in any stocks mentioned, and no plans to initiate any positions within the next 72 hours.