Lat Friday's payroll report for November came in better than most economists had expected, as the jobless rate fell to the lowest level since December /08. It means that together with other key-economic indicators it shows that the economy is on track to some solid momentum.
But for as long as the Washington politicians keep playing Russian roulette with the U.S. economy, it can still jump off the track and down the fiscal-cliff into a deep recession.
But a growing number of market strategists and economists are getting more concerned with the looming probability of a "Junk-Bond eruption" than they are with the fiscal-cliff. As they see it, the current Junk-Bond bubble is out of control, and this speculative frenzy is about to blow its top.
Experts in this field are warning that now is a similar situation as was the case in the years leading up to the subprime crisis when yield-hungry investors were taking on more and more risk as they kept chasing the junk-bond market through the roof.
Add to this that the VIX sentiment index is hovering around the lowest level since 2007, right before the credit bubble burst. This indicates that investors are much too complacent to notice the makings of a market crash and deep recession right before their eyes.
Oh, really? Check this (NYSEARCA:JNK) junk-bond chart and note that while this index has shot up too far too fast, it remains well supported by the bullish configuration of its green, red and yellow MA lines. Also lending support are its MACD momentum index and its RSI strength indicator, as both remain well within their respective bullish territories.
But most importantly, note that this junk-bond index let off plenty of speculative steam in September, October and again in November. It has also plenty of room to pull back into, without triggering a selloff in the market and deep recession in the economy.
OK, so this (NYSEARCA:UVXY) VIX futures ETF appears to be hugging the bottom, pressured down by its bearish MA line configuration. But instead of interpreting this as too much complacency by the market's participants, it could be that the market is anticipating at least a temporary bandaid solution to the fiscal cliff.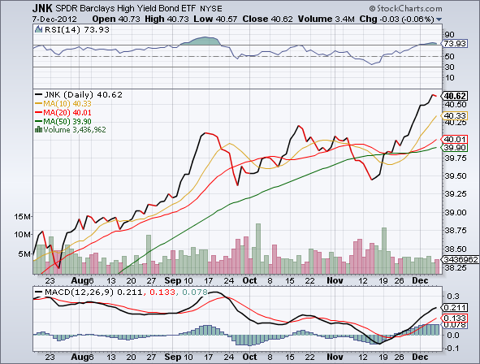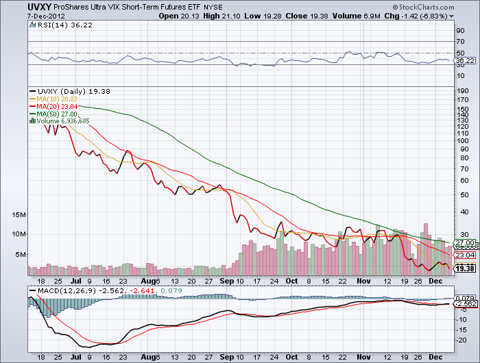 There is reason to believe that the market has already "bungee-jumped" and discounted a good part of the fiscal-cliff, when between October 5 and November 15 the DOW plunged over a thousand points only to jump back 450 points by last Friday.
Still, while the market is out of the deep hole at the bottom of a deep pit it fell into, it is still at the bottom of this pit and needs to get out of it before it can rally in any meaningful fashion.
But this market has been a secular Bull since 2009, and that hasn't changed any. What ends a bull-market is primarily a recession and the U.S. economy is not going into but is coming out of one - big difference. This is why it is the economy, not the fiscal-cliff that matters.
What appears will drive the economy over the coming years is the capital spending needed to upgrade or replace outdated industrial as well as public infrastructures. This is when the economic sensitive cyclical sectors like basic materials and energy will stand out the most.
But for now, the market is still stuck with a split personality as displayed by these Bull-Trend (NYSEARCA:SPXL), Bear-Trend (NYSEARCA:SPXS) and the Large-Cap (SPX) Troika charts. Here we have the Bull-Trend and Large-Cap indexes engaged in a pretty good rally, while both of their MA lines configurations remain solidly bearish. By contrast, the Bear-Trend index remains solidly bearish, while its MA lines configuration maintains a bullish stance.
What all of this means is that the market is not going anywhere anytime fast, and how this whole thing is eventually sorting itself out will be interesting to watch.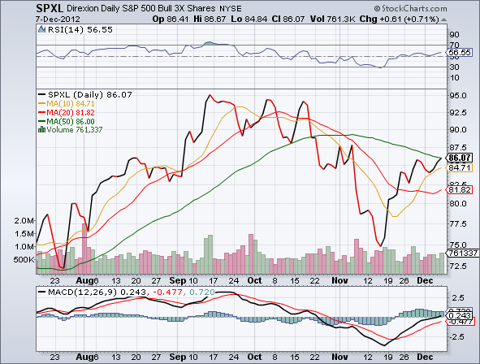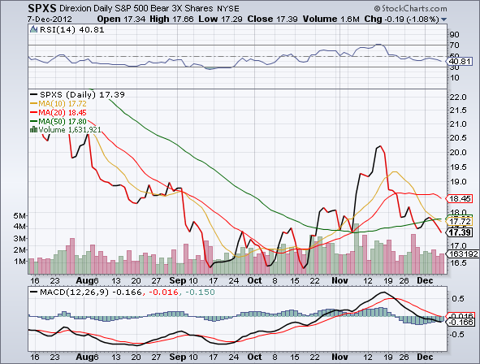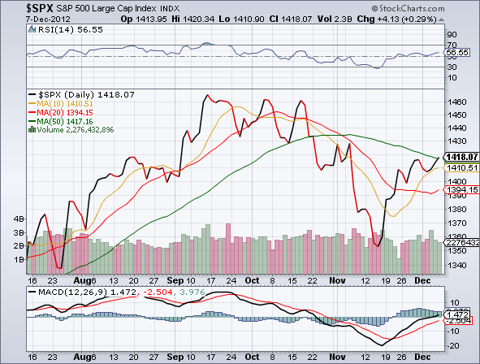 Check this (NYSEARCA:DBC) commodity-tracking index and note that it is still in a consolidation mode, while its MA lines are maintaining a moderately bearish configuration. But all in all, it appears that the commodity market is forming a solid base from which to rally.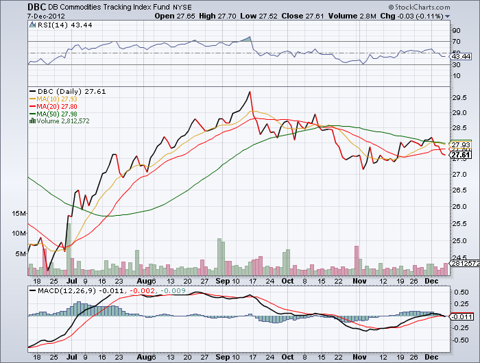 While gold bullion (NASDAQ:GOLD) appears to be in a consolidation mode as well, its MA lines configuration remains bearish, and for as long as that is the case, this yellow metal will have a tough time initiating a meaningful rally.
Meanwhile, the U.S. dollar (NYSEARCA:USD) is also in a consolidation mode while being kept down by the bearish configuration of its MA lines. That both of these indexes are displaying the same characteristics is unusual and begs the question which one of these two will eventually pull away and leave the other one behind.
Gut-feel has it that it will be the greenback's move out front.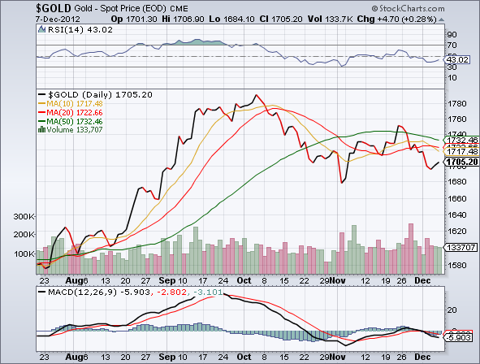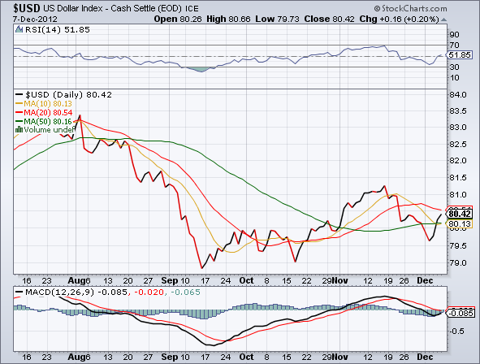 Just like most indexes are maintaining a consolidation mode, oil (WTIC) is no exception. But again, its currently bearish MA line configuration will have to turn bullish to allow oil to kick into a steady rally.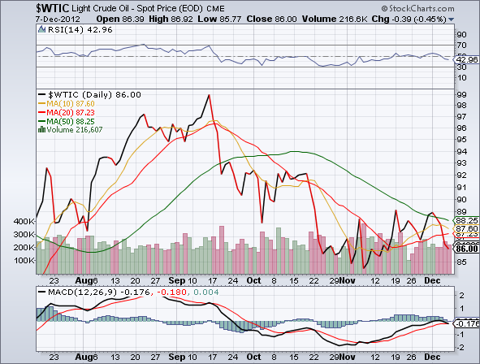 That this commodity laden (TSX) index is beginning to display a bullish MA lines configuration is a good omen for the commodity market, and thereby the economy as a whole.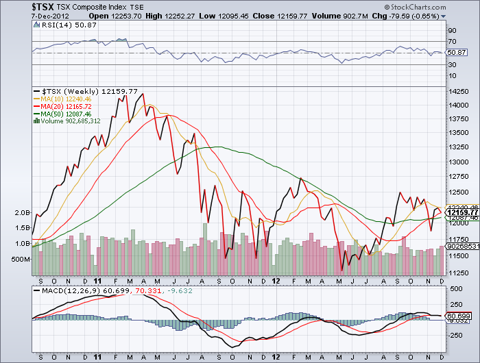 These ETFs are from a list of favorites which are proven performers when an appropriate trend is in place. But right now there is no appreciable trend, so neither Bulls nor Bears have an advantage. So it is still best to just stand aside and watch for a favorable trend in either direction to emerge.
Meanwhile, add to your watch list these ETFs. On the leveraged Bulls side:
Biotech 2x (NASDAQ:BIB), Financials 2x (NYSEARCA:UYG), Emerging Markets 3x (NYSEARCA:EDC), S&P 500 3x (NYSEARCA:UPRO), Real Estate 3x (NYSEARCA:DRN), Mid Caps 3x (NYSEARCA:UMDD), Real Estate 2x (NYSEARCA:URE), DOW 30, 3x (NYSEARCA:UDOW), Russell 2000, 3x (NYSEARCA:URTY), NASDAQ 100, 3x (NASDAQ:TQQQ).
Non-leveraged Long-ETFs:
Home Construction (NYSEARCA:ITB), Home Builders (NYSEARCA:XHB), Global Real Estate (NASDAQ:IFGL), Thailand (NYSEARCA:THD), Basic Materials (NYSEARCA:IYM), Financial Services (NYSEARCA:IYG), Biotech (NYSEARCA:BBH), Biotech (NYSEARCA:FBT), Biotech (NASDAQ:IBB).
In case the market tanks, here are some favoured leveraged Bear ETFs:
Short Crude 2x (NYSEARCA:SCO), Short Gold Miners 3x (NYSEARCA:DUST), Tech Bear 3x (NYSEARCA:TECS), Short NASDAQ 100, 2x (NYSEARCA:QLD), Short Gold (NYSEARCA:GLL), Semis Bear 3x (NYSEARCA:SOXS), Short NASDAQ 100, 3X (NASDAQ:SQQQ), Short Materials 2x (NYSEARCA:SMN), Short DOW 30, 2X (NYSEARCA:DXD).
Non-leveraged Shorts:
Short Gold (NYSEARCA:DGZ), Short EAFE (NYSEARCA:EFZ), Short DOW 30 (NYSEARCA:DOG), Short Russell 2000 (NYSEARCA:RWM), Short S&P 500 (NYSEARCA:SH), Active Bear (NYSEARCA:HDGE), Short Financials (NYSEARCA:SEF), Short NASDAQ 100 (NYSEARCA:PSQ).
GOOD LUCK!
Disclosure: I have no positions in any stocks mentioned, and no plans to initiate any positions within the next 72 hours.