The recent kneejerk reactions by the market to any twists of the financial "cliff hanger" negotiations are being exacerbated by the exceedingly low trading volumes. Considering the incredible childishness displayed by the Washington lawmakers and the adverse effect it is having on the economy and the market, it is no wonder that market-participants are loath to participate in this game.
An outgoing U.S. senator said it best when he explained that the reason the U.S. Congress is deeply divided and dysfunctional, is because Washington politicians are putting the interests of their narrow constituencies, parties and political ideologies before the interest of their country.
If that's the case, then an "over the cliff" thousand-point DOW drop may be the only way to a productive renewal on the other side.
Here, the economy is set to gives the market plenty of reason and opportunities to rally in a strong and sustained fashion. Home sales, home construction and real estate generally are poised to lead an economic expansion. The job market shows steady improvement on a wide front,and business activity is shifting into gear as well.
The Euro-doomsayers are scrapping their 2012 apocalypse predictions because the Euro-markets are responding positively to better than expected manufacturing data, all of which is happening against a renewed economic backdrop in Asia.
While all of this augurs well for the U.S. economy, most important is the fact that despite all this political B.S. coming out of Washington, the U.S. continues to be the ultimate "safe haven" for the global financial markets.
So all it takes is to get this fiscal-cliff-gorilla out of the room, and the U.S. markets will give a stellar performance in 2013.
OK - check these charts and note that most of them have one thing in common. While the indexes are practicing "cliff jumping" without much success, their internal MA lines configurations remain remarkably bullish.
This implies that Washington's policy makers will actually come up with something which could kick-start a 500 point DOW rally in a flash. Of course, if they don't, a 1000 point drop into the abyss is more likely.
Check these bull-trend (NYSEARCA:SPXL), bear-trend (NYSEARCA:SPXS) and large-cap (SPX) Troika charts and note that while these indexes are all favouring the bears, their internal MA configurations remain solidly bullish, and that is what matters. The reason for this is that these MA configurations in the Troika charts combinations are the engines that drive the market one way or another.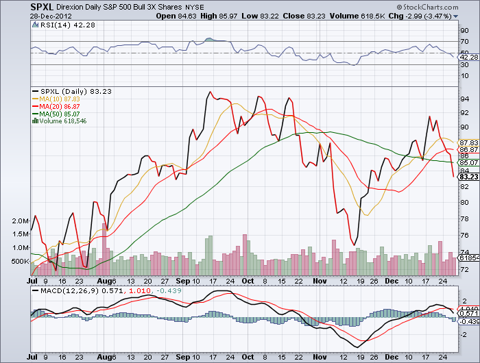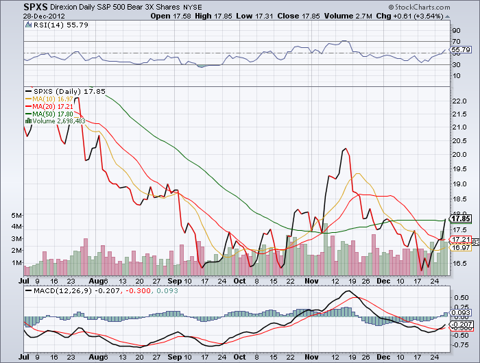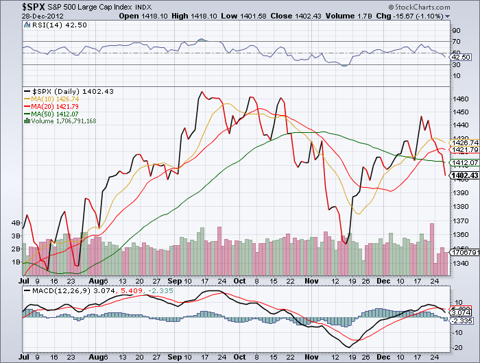 Now check the (NYSEARCA:JNK) junk bond Canary, and note that this little market forecasting bird doesn't seem a bit worried that the market won't continue its rallies to higher highs. While this index is consolidating, its green, red and yellow MA lines remain in a solidly bullish configuration.
Corroborating this positive index position is the MACD momentum index and the RSI strength indicator, both of which remain solidly in their respective bullish territories.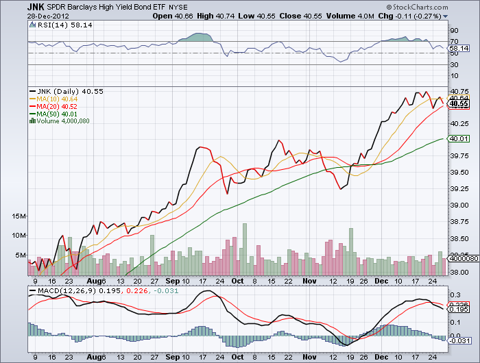 This X:X chart depicts the market's Achilles-Heel and is a contrarian indicator. Exposed to the downside with its negative MA lines configuration as is the case here, it is a bullish indication for the market. But when this index rises along with a positive MA lines configuration, it is bearish for the market.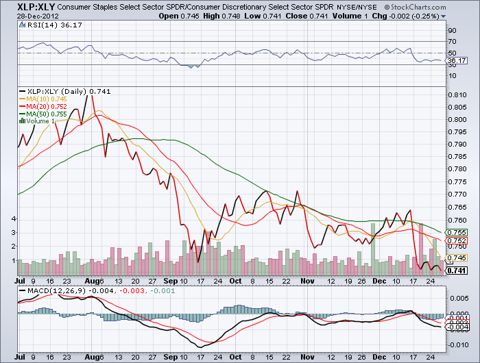 This commodity producers' index (CRB) and the commodity purchasers' index (BDI) show while the commodity market is in a funk. Both of these indexes continue to be pressured down by their respective bearish MA lines configurations, and for as long as this is the case, the commodity market hasn't got a chance to rally in a sustained fashion.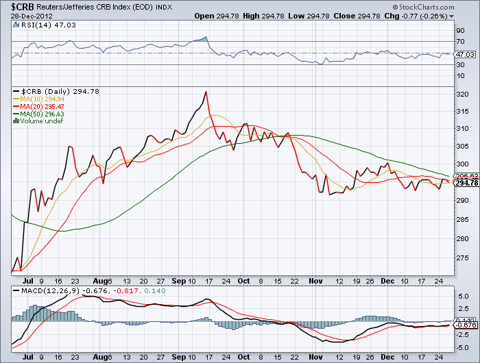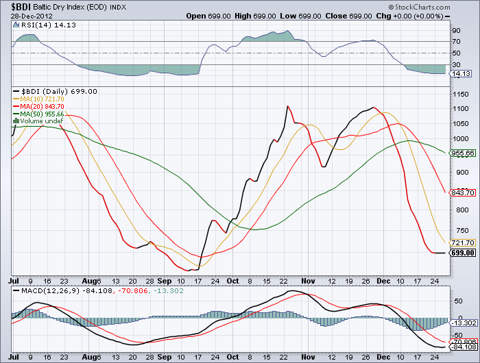 This gold index (NYSE:GOLD) and greenback (NYSEARCA:USD) are both being pressured down by their respective MA lines configurations. That gold and the U.S. dollar are bearish at the same time is unusual, and may reflect the anxiety in the financial markets how the financial cliff will be resolved.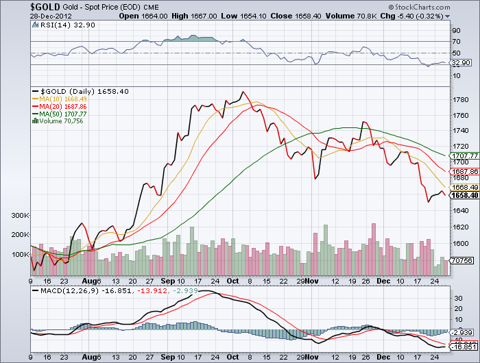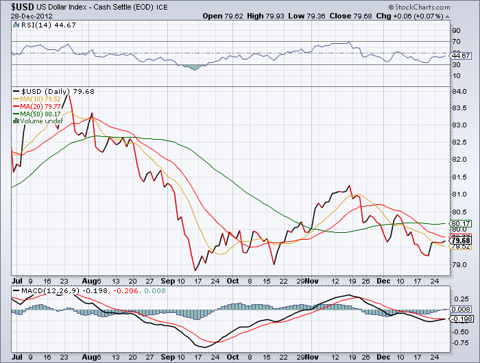 Oil (WTIC) will continue its positive stance for as long as it has the support of its bullish green below the red MA lines configuration.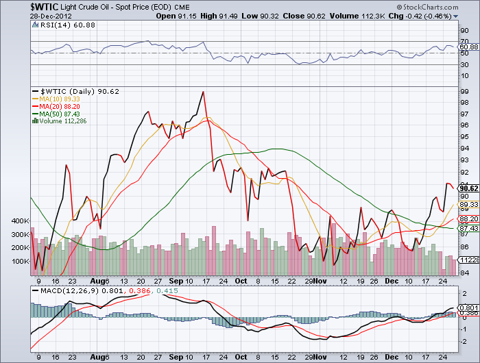 Although the commodity laden (TSX) appears to be topping out, its MA lines bullish configuration suggests that after some consolidation this index will continue to rally. It also suggests that the commodity market is at the beginning of a bottoming process.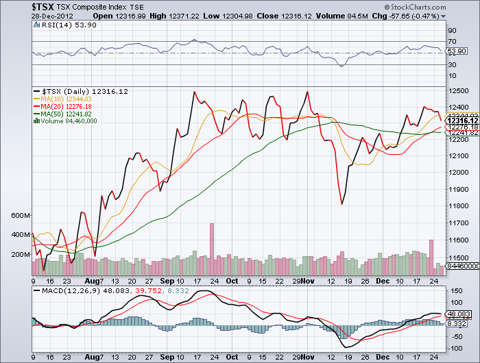 These ETFs are favoured to serve you well in appropriate trend situations.
Leveraged long ETFs when the market rallies:
NASDAQ 100, 3x (NASDAQ:TQQQ), S&P 500, 3x (NYSEARCA:UPRO), DOW 30, 3x (NYSEARCA:UDOW), Russell 2000, 3x (NYSEARCA:URTY), Small-Cap Bull 3x (NYSEARCA:TNA), Semis Bull 3x (NYSEARCA:SOXL)
Non-Leveraged long ETFs when the market rallies:
Home Construction (BATS:ITB), Home Builders (NYSEARCA:XHB)), Biotech (NYSEARCA:XBI), NASDAQ 100 (NASDAQ:QQQ), Biotech (NASDAQ:BBH), Health Care (NYSEARCA:IYH).
Leveraged short ETFs when the market declines:
Short Nat Gas 2x (NYSEARCA:KOLD). Short Basic Materials (NYSEARCA:SMN), Short DOW 30, 2x (NYSEARCA:DXD), Short Mid-Caps (NYSEARCA:MZZ), Short DOW 30, 3x (NYSEARCA:SDOW), Semis Bear 3x (NYSEARCA:SOXS).
Non-Leveraged short ETFs when the market declines:
Short DOW 30 (NYSEARCA:DOG), Short Russell 2000 (NYSEARCA:RWM), Short S&P 500 (NYSEARCA:SH), Short NASDAQ 100 (NYSEARCA:PSQ), Short Financials (NYSEARCA:SEF).
GOOD LUCK in 2013.
Disclosure: I have no positions in any stocks mentioned, and no plans to initiate any positions within the next 72 hours.