Last week the S&P 500 closed at a five-year high, and since early January Wall Street had its biggest one-week dollar surge into U.S. equities since June of 2008. This has the Bulls in this game convinced that the long anticipated rotation out of safe-haven bonds into higher return, risk seeking equities has finally begun.
With a fiscal-cliff fiasco narrowly avoided and the U.S. Fed; continuing pushing its loose money policies, the incentive for investors to move off the sidelines and back into stocks is at hand.
Add to this a record demand for overseas consumer goods in the U.S. while U.S. companies are increasingly benefiting from overseas sales such as high-tech equipment. This shows that trade and production in the U.S. have entered an upside-curve, and also implies that the strongest area of advanced economic growth will be in North-America.
Still, market strategists of the bearish camp insist that this rally since last November is nothing more but a looming repeat of October 2007, when the market hit the top, and investors' euphoria pushed Wall Street over the cliff.
Not only that, but should the Washington politicians succeed in shutting down the U.S. government and turn the United States of America into a banana republic during the upcoming debt-ceiling battles, watch the short "Bear-ETFs" becoming star performers on the way down.
So how does the market see it? In short, the market remains solidly bullish!
Check this Russell 2000 small-cap index (RUT) which last week reached another all-time high. It shows how the smaller, more nimble companies are benefiting from a resurgence in the U.S. economy which will be the growth leader in the developed world.
Note that the index is well supported by its green, red and yellow MA lines which are solid in a bullish configuration. Ditto for its MACD momentum index and its RSI strength indicator, both of which remain strong in their respective bullish territories.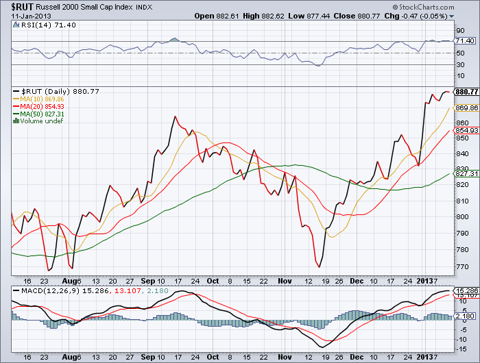 Now check this (NYSEARCA:SPXL) Bull-Trend, (NYSEARCA:SPXS) Bear-Trend and (SPX) Large-Caps Troika and note that for as long as the Bulls and Large-Caps keep reaching for the top while their MA lines configurations remain positive and the Bear remains weight to the down-side with its MA lines configuration negative, this Troika remains bullish, and so will the market.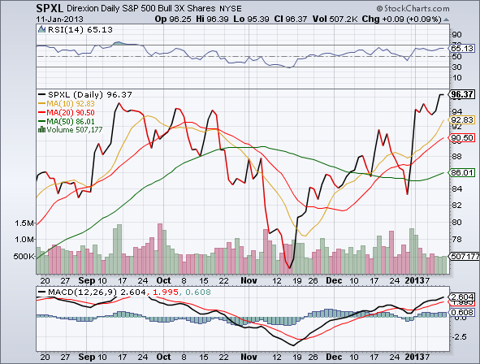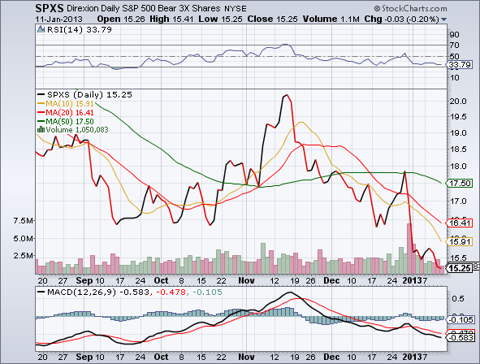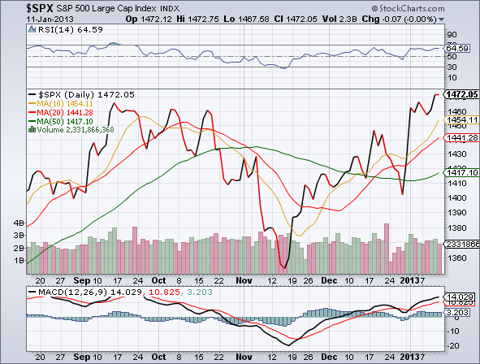 This (NYSEARCA:JNK) market-forecasting Canary just keeps on chirping a bullish tune. It's MA lines configuration remains bullish and so are its MACD momentum index and RSI strength indicator, all of which is a positive omen for this market.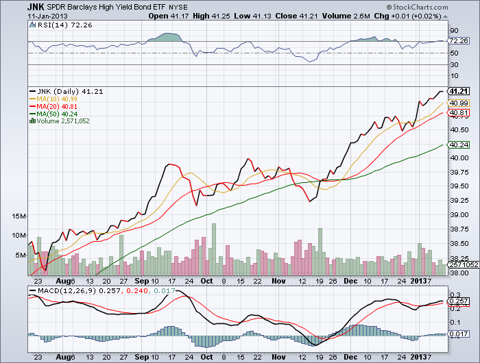 The commodity supply index (CRB) along with the Baltic commodity demand index (BDI) are both in a consolidation process in which the Bears have the upper hand. Unless the MA lines of these indexes change into bullish configurations, the commodity market's bias will remain to the downside.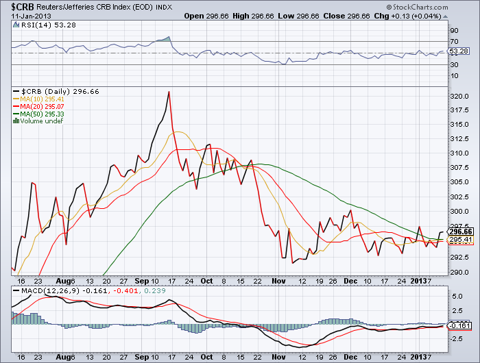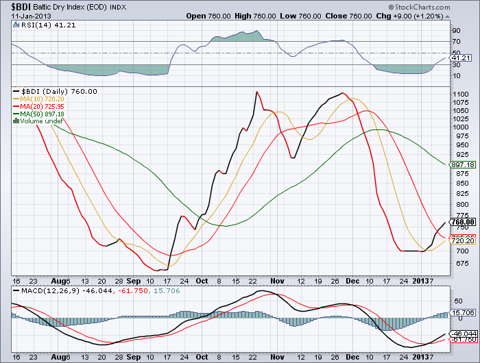 With both the U.S. dollar (NYSEARCA:USD) and gold (NASDAQ:GOLD) showing bearish configurations in their respective MA lines, something is out of whack. Very seldom if ever, do these two indexes move in tandem in either direction. So it will be interesting to see which one will break in what direction.
Oil (WTIC) is a Bull, and for as long as its MA lines maintain their bullish configuration, it will remain that way.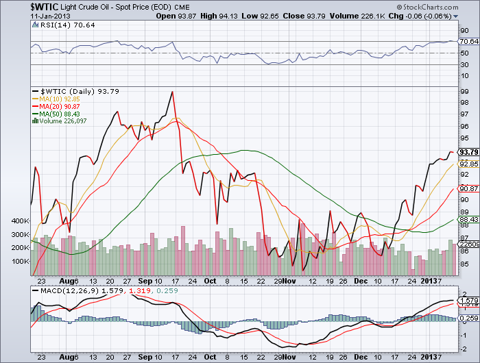 The commodity laden TSX index (TSX) appears to be in a bullish mode on investors expectations that with China's economy regaining traction, metals and energy will boost the TSX to higher highs. The bullish MA lines configuration of this index along with its positive MACD and RSI indicators imply that the TSX is sitting on an upside curve which may last for some time to come.
At current trade, most indexes are showing tiny slivers of bullish green or bearish red, with neither Bulls nor Bears gaining an advantage. Of course, this can and will change in an intraday's trade at any time. So along with appropriate ETFs shown in previous blogs, here is a repeat of favorites should the market swing into either direction.
Leveraged Bull-ETFs should the market rally:
S&P 500 3x (NYSEARCA:UPRO), S&P 500 Bull 3x (SPXL), NASDAQ 100 2x (NYSEARCA:QLD), DOW 30, 3x (NYSEARCA:UDOW), Russell 2000, 3x (NYSEARCA:URTY), Small Cap Bull 3x (NYSEARCA:TNA), Mid-Cap 400, 3x (NYSEARCA:UMDD), Energy Bull 3x (NYSEARCA:ERX), Semis Bull 3x (NYSEARCA:SOXL), Oil & Gas 2x (NYSEARCA:DIG), Nat-Gas 2x (NYSEARCA:BOIL), Nat-Gas 3x (NYSEARCA:UGAZ).
Non-leveraged long ETFs, should the market rally:
Home-Construction - (ITB0, Home-Builders - (NYSEARCA:XHB), Biotech - (NYSEARCA:BBH), Biotech - (NYSEARCA:XBI), Biotech - (NASDAQ:IBB), Pharmaceuticals - (NYSEARCA:PJP), NASDAQ 100 - QQQ, NASDAQ - (NASDAQ:ONEQ), Russell 50 - (NYSEARCA:XLG), Russell 1000 - (NYSEARCA:IWD), S&P 500 - (NYSEARCA:IVV).
Leveraged Bear-ETFs should the market tank:
Short Gold 2x (NYSEARCA:DZZ), Short Silver 2x (NYSEARCA:ZSL), Short Basic-Materials 2x (NYSEARCA:SMN), Short DOW 30, 2x (NYSEARCA:DXD), Short Mid-Caps 2x (NYSEARCA:MZZ), Short S&P 500, 2x (NYSEARCA:SDS).
Non-leveraged Short-ETFs, should the market tank:
Short Gold - (NYSEARCA:DGZ), Short DOW 30 - (NYSEARCA:DOG), Short Russell 2000 - (NYSEARCA:RWM), Short S&P 500 - (NYSEARCA:SH), Short NASDAQ 100 - (NYSEARCA:PSQ), Short Financials - (NYSEARCA:SEF), Active Bear - (NYSEARCA:HDGE).
GODD LUCK!
Disclosure: I have no positions in any stocks mentioned, and no plans to initiate any positions within the next 72 hours.