After the steep nosedive last November and with the major indexes practicing "cliff-jumping" in December, investors janked billions of dollars out of risk-on stocks and shifted into the safety of the bond market. With the "fiscal-cliff" looming the expectations were that Armageddon for the stock market was just around the corner and that it was high time to get out of stocks.
Check this DOW and note that with its MA lines configuration exceedingly bearish during November, this was the correct expectation to keep in mind. The same applied to most major indexes.
Sure enough, in December the market plunged and most market strategists hit the airways with the pronouncement that this was the beginning of a major selloff. But check the DOW chart again and note that it was during this dive that its MA lines configuration turned sharply bullish.
Not only that, the MACD momentum index along with the RSI strength indicator are both solid in their respective bullish territories - which is something to take note of with all the charts - and again, sure enough, the market followed with a strong rally which is still in progress.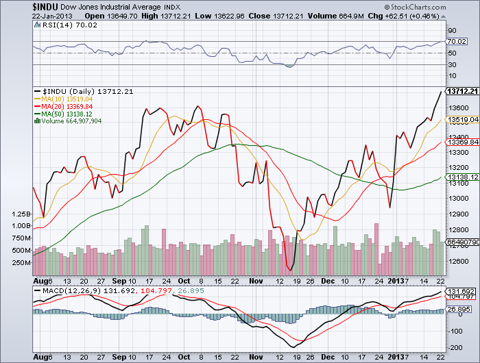 But there are still plenty of expectations among market participants that this is only a temporary bounce because the core fundamentals needed to sustain this rally are simply not in place
Most of all, while the uncertainty of the fiscal cliff has been removed, it has been replaced by the potential fiasco of failed debt-ceiling negotiations by Washington's policy makers. Also, the economy does not appear to find any real traction and the market is beginning to look tired.
But suddenly, investors expectations of future stock market performances is turning bullish, if for no other reason than getting fed up sitting on the sidelines watching the parade of stock-market-gains go by and not being part of it.
So now the reverse-flow of capital out of bonds and back into stocks has started, causing the DOW and S&P 500 to reach their highest levels since December 2007.
O.K. - so this market levitation has less to do with a sharply improved global economy, but mainly with the global monetary easing, especially by the U.S. and China and there are no signs that this is going to end anytime soon. The U.S. Fed chairman Bernanke is on record to keep the Fed's pedal to the metal until the U.S. unemployment level is down to at least 6.5 percent.
Now, this may take a while during which the ongoing easy-money flow has plenty of opportunity to fuel the U.S. economy, as well as the new "risk-on" equity rally.
So, this great rotation out of the bond market and back into stocks is expected to gain momentum, and could well be the beginning of retail investors following suit. But as the Nay-Sayers out there have it, this is just why this rally will fail because history shows that when the crowd rushes into the market, smart money eases out.
Fair enough, but as "crowd-rushes" go, this is still only a low volume trickle with plenty of room for market participants to participate without blowing rally-bubbles that could be in danger of bursting.
Check this bull-trend (NYSEARCA:SPXL), bear-trend (NYSEARCA:SPXS) and large-cap (SPX) Troika and note that for as long a the MA lines configurations for the bull and the large-caps remain bullish, while the same lines for the bears remain bearish, the main trend of the market will be to the upside.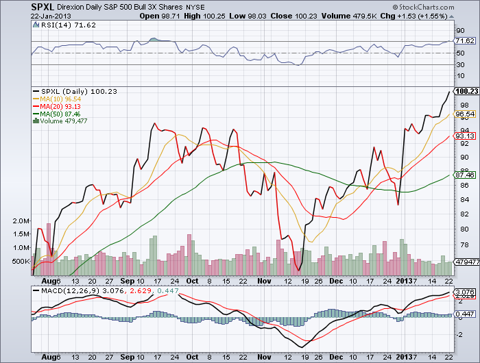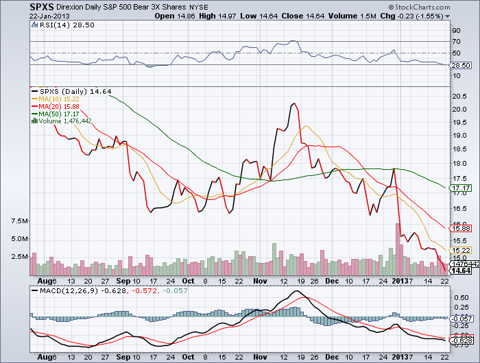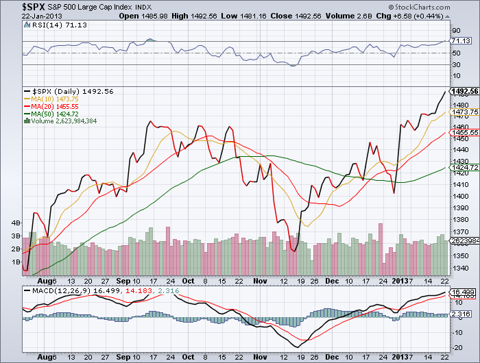 Along with the Troika, two of the more precise market-forecasting tools are these (NYSEARCA:XLP):(NYSEARCA:XLY) and (NYSEARCA:JNK):(NYSEARCA:LQD) indicator charts.
For as long as the XLP-combo keeps reaching for the bottom with its MA lines configuration bearish, and the JNK-combo keeps reaching for the top with its MA lines configuration bullish, the market is on track for rising to higher highs.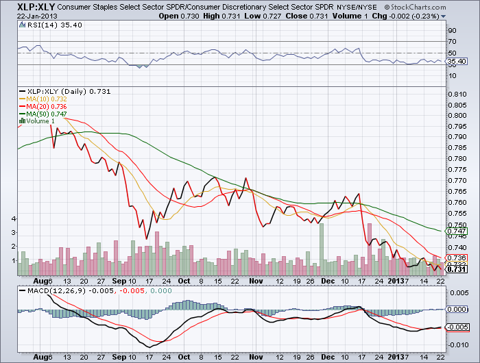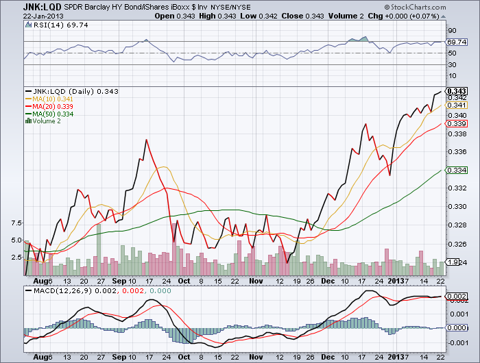 Note that while this (CRB) commodity supply index is trying to find some traction to the upside while supported by its bullish MA lines configuration, the same lines for its counter part the (BDI) commodity demand index have just too bearish a configuration to let it happen. Only when both of these indexes show the same bullish lines configurations, can the commodity market kick into a sustained advance.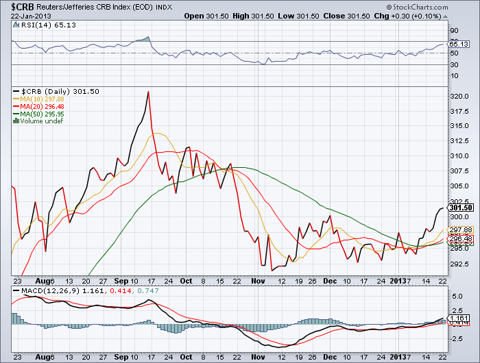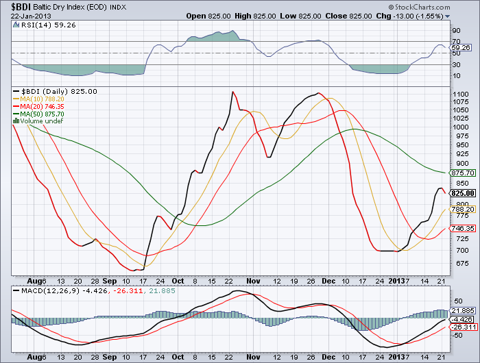 Note that even though this gold index (NASDAQ:GOLD) is trying to get a sustained rally started, it won't succeed for as long as its MA lines configuration remains bearish.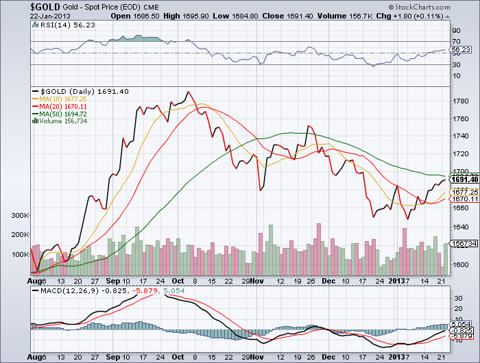 It's a different situation with oil (WTIC), where this index is in gear to the upside while being supported by a sharply bullish MA line configuration.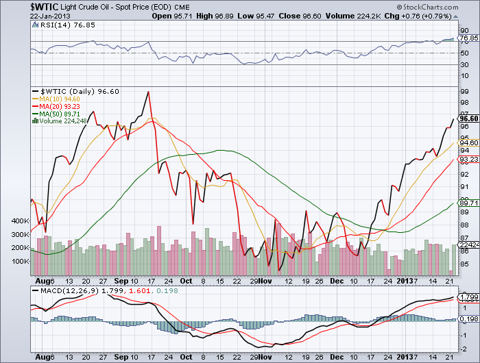 A strongly bullish MA line configuration is keeping the TSX index (TSX) geared to the upside. Being laden with commodity related equities, it receives plenty of support from the commodity equity index (CRX).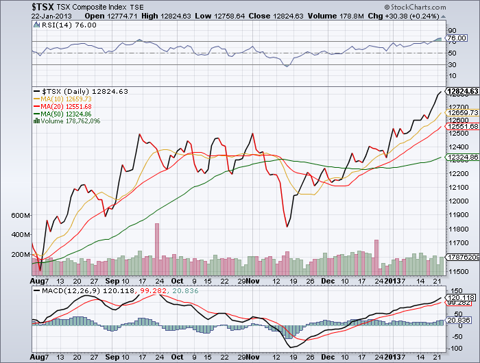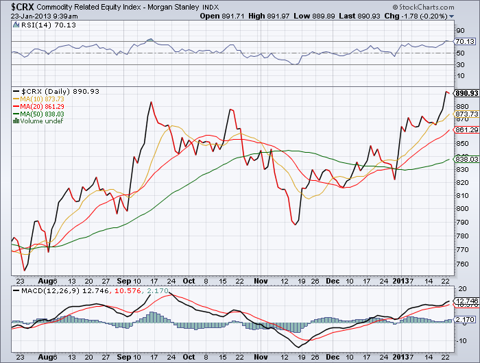 The sharply bearish MA lines configuration by this VIX ETF index (NYSEARCA:UVXY) is one more reason why Wall Street is in a bullish mode. Once this VIX ETF shows a bullish MA line configuration, watch out down below!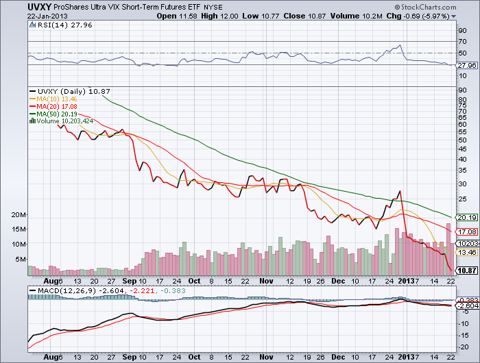 For as long as the market remains in a rally mode, following leveraged Bull-ETFs will continue to show excellent performance:
Energy 3x (NYSEARCA:ERX), Midcaps 3x (NYSEARCA:MIDU), Real Estate 3x (NYSEARCA:DRN), Small-Caps 3x (NYSEARCA:TNA), Nat-Gas 3x (NYSEARCA:GASL), Basic-Materials 2x UYM, DOW 30, 2x (NYSEARCA:DDM), Financials 2x(NYSEARCA:UYG), Mid-Caps 400 2x (NYSEARCA:MVV), Biotech 2x (NASDAQ:BIB).
Ditto for non-leveraged Long-ETFs:
Health Care - (NYSEARCA:FXH), S&P 5oo - (NYSEARCA:SPHB), Energy - (NYSEARCA:XLE), Financials - (NYSEARCA:XLF), Home Builders - (NYSEARCA:XHB), Platinum - (NYSEARCA:PGM), Energy - (NYSEARCA:IYE), Oil & Gas - (BATS:IEO), Oil Services - (NYSEARCA:OIH), Midcaps - (NYSEARCA:IWS), Commodity Equities - (CRX).
In case the market tanks, here are some leveraged Bears ETFs:
Semis 3x (NYSEARCA:SOXS), Emerging Markets 3x (NYSEARCA:EDZ), Gold 2x (NYSEARCA:DZZ), Financials 3x - (NYSEARCA:FAZ), Small-Caps 3x (NYSEARCA:TZA), Technology 3x (NYSEARCA:TECS),
Ditto for non-leveraged Short-ETFs:
DOW 30 - (NYSEARCA:DOG), NASDAQ 100 - (NYSEARCA:PSQ), Russell 2000 - (NYSEARCA:RWM), Equity Bear - (NYSEARCA:HDGE), Financials - (NYSEARCA:SEF), S&P 500 - (NYSEARCA:SH), Short Gold - (NYSEARCA:DGZ).
GOOD LUCK!
Disclosure: I have no positions in any stocks mentioned, and no plans to initiate any positions within the next 72 hours.