For over fives years investors were maintaining a defensive stance in the equity markets, staying on the sidelines seemingly paralyzed by fear of a major melt-down.
This is why during 2011 the investors' fear-indicator, the VIX, was spiking north of 40, a sign that market participants were expecting the sky to fall on the market and crush all the little chickens in Wall Street. By 2012 things had calmed down somewhat, but investors' fear was still palpable with the VIX up past the 25 degree range.
But look at this thing now. Despite all the fiscal-cliff hanging dramatics and the potential failure of the upcoming Washington policy makers debt-ceiling negotiations, the VIX keeps hanging around a very calm 15 level reading.
It appears that this is the new normal when investors are asking "what - me worry?"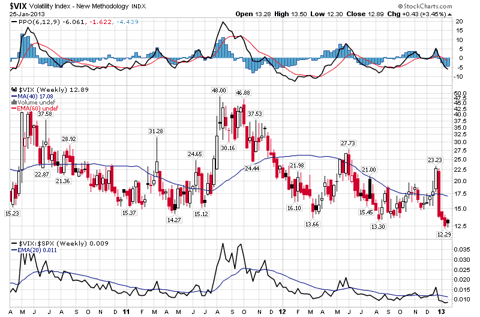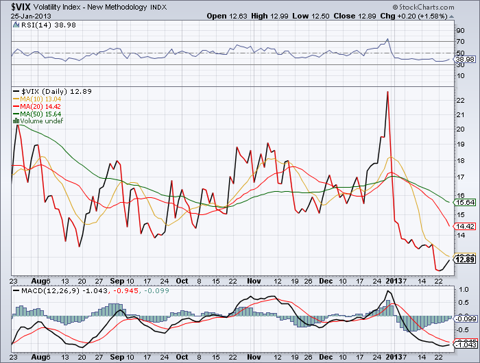 As the bulls in this game have it, the economy is picking up steam, the markets are moving higher step by step without overheating and even Europe and China are showing signs of life again.
Not only that, but there is still a lot of sidelined cash ready to be put to work by investors who are beginning to realize that they are missing the party, and that the market is not coming back to them.
Still, while the market remains geared to the upside, it needs to catch its breath. So some sort of a pullback and consolidation is called for in order to form a new base from which the market can rally further.
But check these charts and see what the market has to say about it.
There is no change in the bullish stance by this bull-trend (NYSEARCA:SPXL), bear-trend (NYSEARCA:SPXS) and (SPX) Troika. Even though it appears that the bull and large-cap indexes have spiked a bit too far too fast, for as long as their respective MA lines configurations remain bullish below the indexes with the green line below the red while the bears' remain bearish above the index with the green line above the red, the market remains poised to the upside, and this applies to all the charts within this blog series.
Also note that these two bulls have the support of a positive MACD momentum index and ditto for the RSI strength indicator. Again, the opposite is the case for the bears, and that is why this Troika is pointing to higher markets.
As mentioned in these blogs at the time, when last December despite the steep drop by the major indexes the MA configurations of this Troika turned bullish, there was no doubt that the market was poised to kick into a major rally. Its going to be interesting to see the projections of this Troika once the bears have their day again.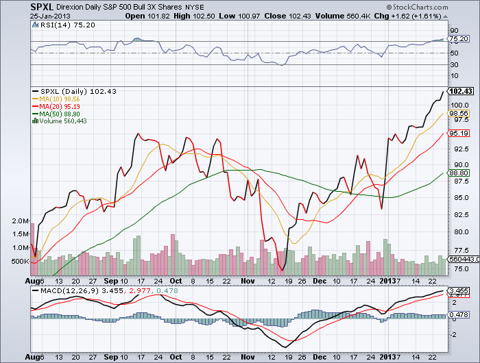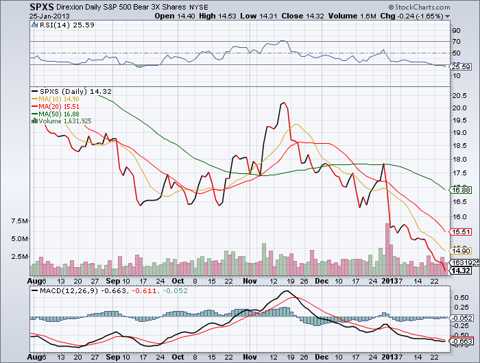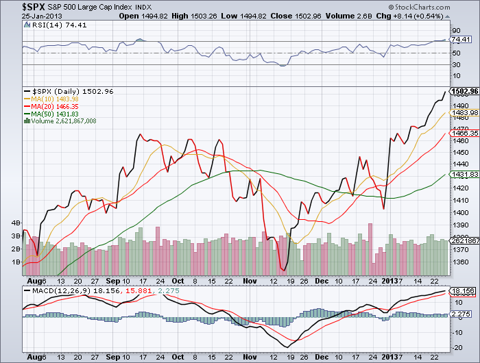 This NASDAQ 100 index (NDX) appears to be in a consolidation mode, weight down by its main component Apple (NASDAQ:AAPL).
Note that Apple's MA line configuration remains exceedingly bearish, and for as long as that is the case NASDAQ will have a tough time reaching higher highs. Still, for as long as its MA lines configuration continue to be bullish, NASDAQ will remain poised to the upside.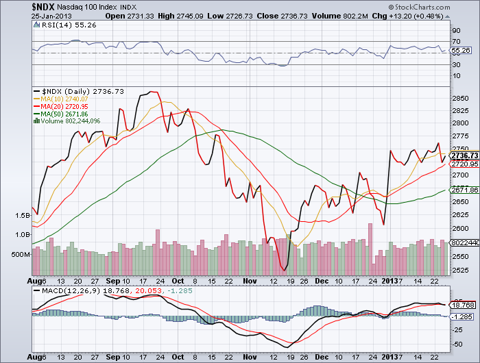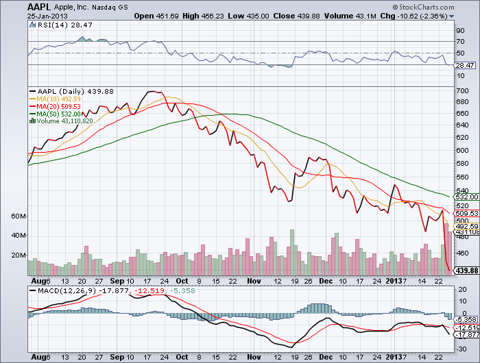 By contrast, note that this market-forecasting junk-bond Canary (NYSEARCA:JNK) just keeps chirping a bullish tune. OK - but even though its MA lines configuration continue to be exceedingly bullish, surely, this little bird is due for a breather, and that could result in a bit of a pullback for the market.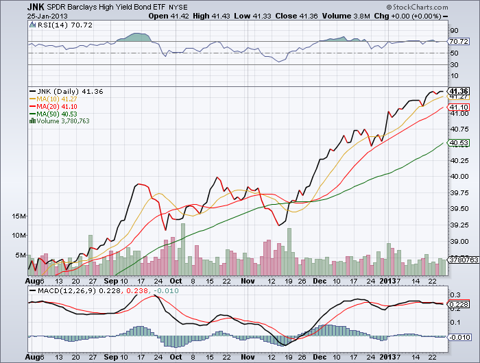 Note that this commodity supply index (CRB) has rallied in spite of the bearish stance of its side-kick the Baltic commodity demand index (BDI).
So while the MA lines configuration for the CRB has turned positive, which is bullish for the commodity market, for as long as the MA lines configuration of the Baltic remain so sharply negative, the commodity market hasn't got a chance to rally.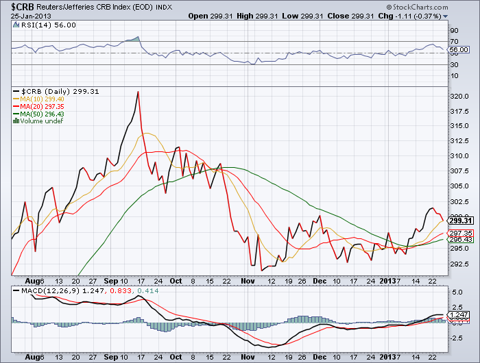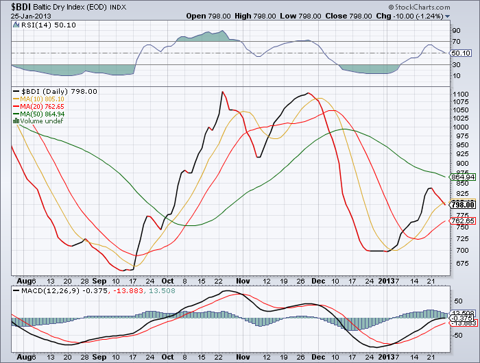 With its MA lines configuration in a seemingly ongoing bearish mode, and ditto for its MACD and RSI indicators, gold (NASDAQ:GOLD) continues on a downside track.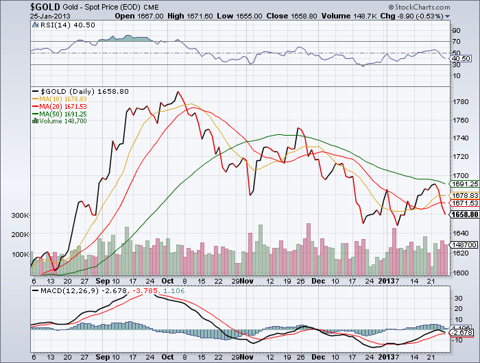 The opposite is the case for oil (WTIC). For as long as its MA lines configuration remains positive, along with its MACD momentum index and RSI strength indicator both of which are solid in their respective bullish territories, the price of oil will continue to rise, or at least stay at the upper end of its range.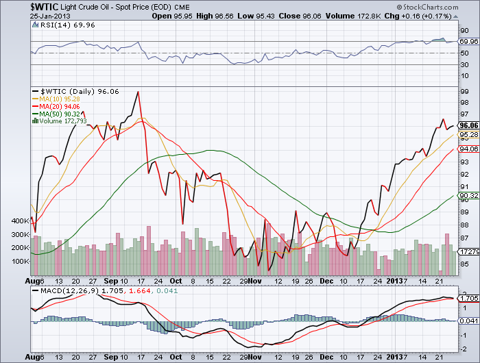 Although this commodity-equity laden index (TSX) appears to be topping out along with the commodity market, for as long as its MA lines configuration remains bullish, so will the TSX.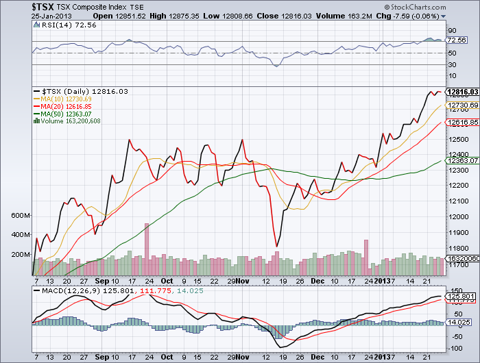 In case of further market rallies, here are some favoured, leveraged Bull-ETFs to consider:
Semis 3x (NYSEARCA:SOXL), Energy 3x (NYSEARCA:ERX), Mid Caps 3x (NYSEARCA:MIDU), Real Estate 3x (NYSEARCA:DRN), Small Caps 3x (NYSEARCA:TNA), Technology 3x (NYSEARCA:TECL), S&P 500 3x (SPXL), S&P 500 3X (NYSEARCA:UPRO), Mid Caps 2x (NYSEARCA:MVV), DOW 30 3X (NYSEARCA:UDOW), NASDAQ 100 3x (NASDAQ:TQQQ), Russell 2000 3x (NYSEARCA:URTY).
Among non-leveraged Long ETFs:
Biotech - (NYSEARCA:FBT), Emerging Markets - (ECDN), Dividend - (NYSEARCA:SDIV), 500 Value - (NYSE:RPV), Semis - (NYSEARCA:SMH), S&P 500 - (NYSE:SPHB), Builders - (NYSE:PKB), S&P 500 - (NYSEARCA:SSO), Real Estate - (NYSEARCA:RWX).
In case the market tanks, here are some favoured, leveraged Bear-ETFs:
Short Gold 2x (NYSEARCA:DZZ), Short Emerging Markets 3x (NYSEARCA:EDZ), Short Financials 3x (NYSEARCA:FAZ), Short Gold-Miners 3 (NYSEARCA:DUST), Short Gold 2x (NYSEARCA:GLL), Short Silver 2x (NYSEARCA:ZSL).
Among non-leveraged Short ETFs:
Short DOW 30 - (NYSE:DOG), Short EAFE - (NYSEARCA:EFZ), Equity Bear - (NYSEARCA:HDGE), Short Midcap 400 - (NYSE:MYY), Short NASDAQ 100 - (NYSEARCA:PSQ), Short Russell 2000 (NYSEARCA:RWM), Short S&P 500 - (NYSEARCA:SH).
GOOD LUCK!
Disclosure: I have no positions in any stocks mentioned, and no plans to initiate any positions within the next 72 hours.