Wall Street took a breather at last Friday's trade as investors were digesting another round of corporate earnings reports, which were mostly OK. but really noting much to crow about. Also, recent economic data is not inspiring enough to boost market participants' confidence quotient.
Add to this a technical glitch snafu, which knocked out important trading tools at the Chicago Board Option Exchange. This is not supposed to happen in this age of highly sophisticated technologies deployed by the major exchanges.
Instantly the DOW dropped sixty points, only to snap back with a gain of twelve points at the close. It just shows that the market is trying to maintain a balance at the edge of a razor, without incurring a deep cut in the process.
These two charts are a good reflection of this balancing act the market is engaged in:
Check this 150R index and note that from last December to early March its bullish MA lines configuration [green line below the red] left no doubt that the market had entered a bullish phase and was in gear to reach for higher highs.
But since these lines converged about the middle of March, there is no configuration at all. This means that the market is triggered to snap into either direction - rally or tank. Lets hope that instead of snapping the market will show a gradually defined MA lines configuration, which will give market participants time adjusting either to the ways of the bulls or the bears.
Mainly concurring with the projections of the 150R index, this Small-Cap index [SML] shows first early signs of a bearish MA lines configuration [green line above the red]. Small Caps are very sensitive to early changes in market direction, so should the spread between these two lines widen, expect a selloff in the making.
But check the MACD momentum index and the RSI strength indicator of the SML and note that both are totally flat-lined. This means that the projections by both of these charts are tentative and could quickly change to either the bulls' or bears' favor. So for now it is best to stay out of this game, stay in cash and wait to see in which direction the market is eventually gaining momentum.
Meanwhile back with the Troika, this SPX, SPXL and SPXS combo hasn't wavered at all from its bullish stance since last December. The Large-Cap index [SPX] component keeps maintaining its bullish MA line configuration [green line below the red] while its MACD momentum index along with the RSI strength indicator remain in their respective bullish territories.
Same applies to the Bull-Trend indicator [SPXL] which in spite of a sharp dip around the middle of April, has never lost its positive mojo as displayed by its bullish MA lines configuration.
Confirming this bullish scenario is this Troika's Bear-Trend [SPXS] indicator. It continues to be stuck in a deep hole at the bottom of a deep pit and will remain down there for as long as its MA lines maintain their currently bearish configuration.
So out on the horizon the market remains bullish. But the short and intermediate momentum space is without direction, and that can cause some volatile market swings.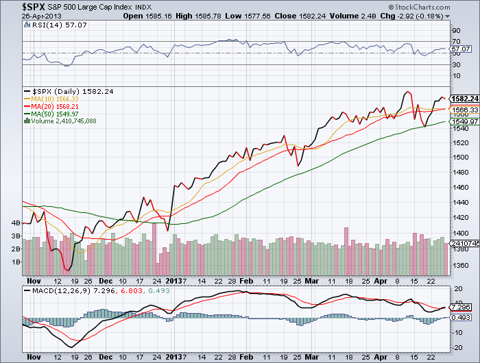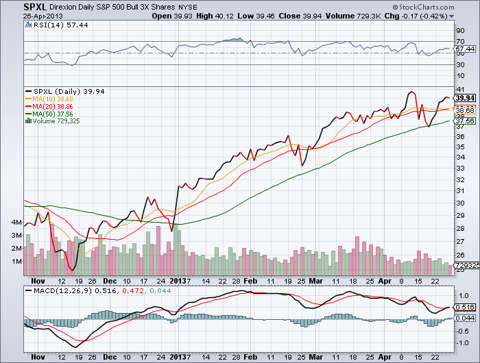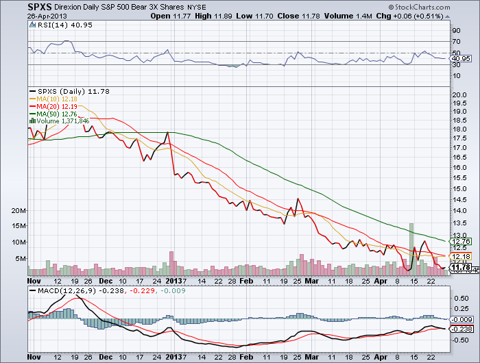 While there are "iffy" aspects to this market, this market's forecasting Canary [JNK] just keeps chirping for a bullish stance. Still, this little bird needs to catch its breath before it and the market run out of oxygen altogether.
But with its MA lines configuration solidly bullish and its MACD momentum index as well as the RSI strength indicator both deep in bullish territory, this market will continue defying gravity and remains geared to the upside, along with a few dips here and there.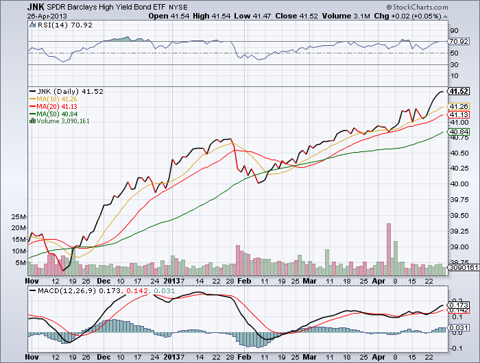 While this NASDAQ 100 index remains subject to some deep downside gyrations, its MA lines configuration continues to be as bullish as it started out last December. Also, its MACD momentum index and RSI strength indicator are well entrenched in their respective bullish territories.
Still, for as long as the commodity CRB index remains in a deep funk, NASDAQ will have a tough time finding solid traction to the upside.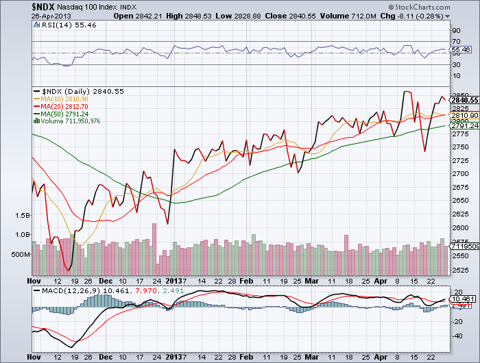 This commodity producer's index [CRB] reflects the deep malaise in the commodity market. There is just too much of that stuff around, especially in the precious as well as base metals and oil, for the currently slow global economies to absorb. Last February it seemed that demand for these commodities was picking up, but that trend did not last very long.
For as long as the CRB index keeps displaying its extraordinarily bearish MA lines configuration [green line on top of red] the commodity market remains geared to the downside. While the MACD momentum index for the CRB remains deeply bearish, its RSI strength indicator is displaying some moxie as it keeps sticking close to the centre line, and that could mean some latent strength is beginning to develop for this market.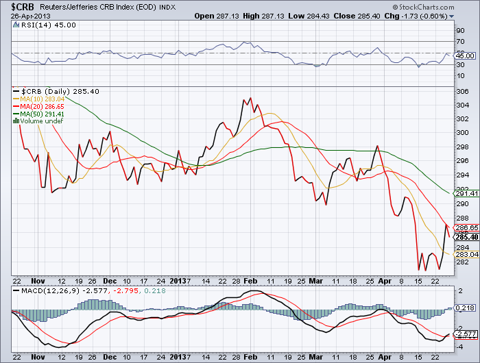 This latest bit of strength indication for the commodity market finds its support in this Baltic [BDI] commodity demand index, which sports a bullish MA lines configuration. That the Baltic's MACD demand index as well as its RSI strength indicator are both flat-lined with a bullish bias, could portent that something positive is happening inside the commodity market. So stay tuned.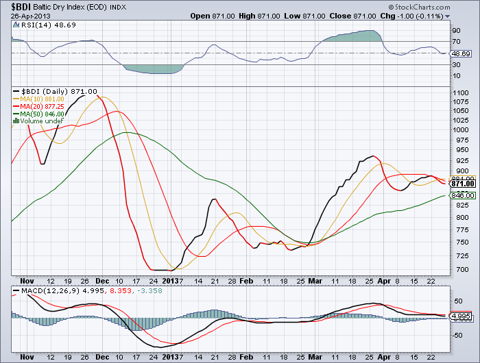 OK, so gold managed to climb out of a deep hole at the bottom of a deep pit and now finds itself stuck in that pit. So now what?
Gold's MA lines configuration remains deeply bearish as it has been since last November, and so is its MACD momentum index. Meanwhile its RSI strength indicator is showing some improvement, but it's still not much to crow about. So all in all, gold remains a short.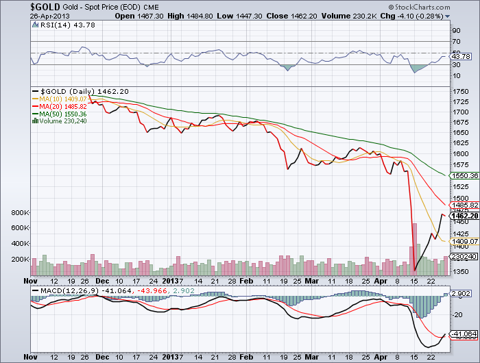 Just like gold, crude oil finds itself stuck in a deep pit. While it's MA lines configuration is still bearish [green line above the red] the gap is not all that severe, so there is a good chance for a oil rally ahead.
While its MACD momentum index is still stuck in bearish territory, the RSI strength indicator for oil is turning bullish and that too could portent an oil rally in the making.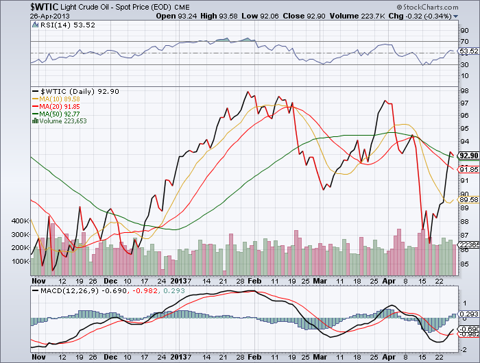 The commodity heavy TSX is having a tough time climbing out of the hole it finds itself in. Its MA lines configuration remains exceedingly bearish and so is its MACD momentum index. While its RSI strength indicator has developed, well, some strength, it doesn't seem to stick.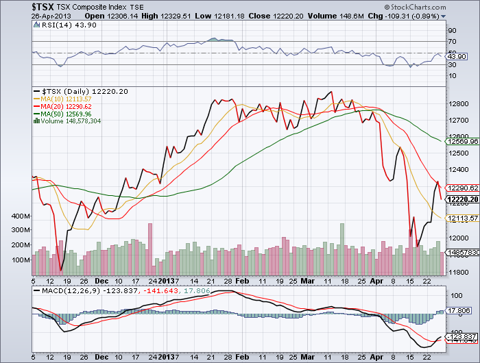 All ETFs, bulls and bears, longs and shorts are trending with the market which means they are going nowhere. Sure, there are some exceptions like these gold and silver bears: (NYSEARCA:DUST), (NASDAQ:DSLV), (NYSEARCA:ZSL), (NYSEARCA:DZZ) and (NYSEARCA:GLL).
Other than these shorts, it is still best to stay in cash and wait for market momentum to develop, one way or the other. But keep the ETFs featured in previous blogs handy for when the appropriate market momentum returns. These ETFs have performed well in past sessions. They will do so again in the sessions ahead.
GOOD LUCK!
Disclosure: I have no positions in any stocks mentioned, and no plans to initiate any positions within the next 72 hours.