The DOW broke 15000 for the first time during last Friday's intraday trade, and market strategists of the bearish persuasion call it as nothing more but the proverbial dead cat's bounce. According to that ilk, this is a liquidity driven rally without real substance.
Yet, the market is at an opportune juncture of the game. Last Friday's job number was strong enough to show that the economy is steadily improving, but not strong enough for the Fed to cease its easy money [liquidity] driven policies.
That is what the market has rallied on and will continue to rally on in the believe that given more time, the economy will respond and find the traction needed to expand without the need for more monetary stimulus by the Fed. The market always focuses on the probabilities that lie ahead, not on the data of the past.
The technology sector was one of the market's weakest group, but was the market's leader during the recent rallies. This resurgence in tech is indicative of capital's rotation out of the defensive sectors which have ruled Wall Street so far this year, and back to the growth oriented cyclicals that are poised to put the economy back on track to steady expansion, and the market on track to one of its greatest "bull runs" on record.
But did the market rally too far too fast?
Not even close!
Retail investors are still mostly undecided and are either staying or quickly retreating back to the sidelines. That's why there is no conviction in this rally, and the trading volume is the pits. But as they see the tail-lights of the gravy train growing dimmer in the distance and with the cyclical sectors of the market asserting their leadership again, the scramble will soon be on to get back in the market.
Still, there are caveats. Copper is a proxy for economic activity, especially in the industrial sector. While copper managed to climb out of a deep hole, it continues to be pressured by a very bearish MA lines configuration [green line above the red]. Also bearish is the RSI strength indicator staying neutral while the MACD momentum index remains deep down in bearish territory.
But with the tech sector rallying, copper won't stay long behind.
This R 150 index shows that even though the market rallied strongly last week, it still keeps sliding sideways on a "razor's edge." This means that the market is still undecided which side to favor and can surprise with triple digit gains or losses at any time.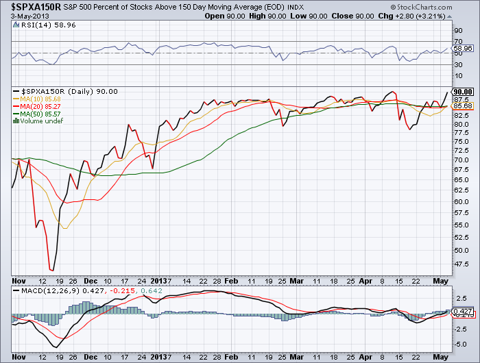 Copper is a good proxy for industrial activity and thereby the cyclical growth oriented sectors of the market. While being in a slump since last February, it suddenly jumped back to life last week. While this helped to fuel last Friday's rally, this copper index shows that much still needs to be done to confirm this rally.
Note copper's MA lines configuration [green line above the red] remains exceedingly bearish. Unless this configuration turns bullish [green below the red] copper's rally will fail, and so will the industrial sector of the economy. Also note that while the RSI strength indicator for copper is neutral, its MACD momentum index remains exceedingly weak. This indicator needs to climb back up into bullish territory to show that industrial activity has hit bottom, and is ready to rally from here.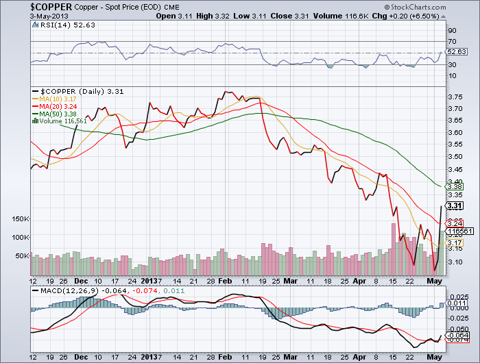 Although the technology sector stumbled in April, its MA lines held steady in a bullish configuration, and that triggered a snap to the upside. Sure, this snap appears to be reaching too high too soon, but with the MA configuration widening in a bullish mode, a pullback by the tech sector would actually be beneficial
For this rally to be steady and strong it must be led by the small-caps, and here the situation is still iffy. Check this index [SML] and note that while it came out of the hole admirably, its MA lines configuration remains totally neutral, with neither bulls nor bears having an advantage. Should this configuration turn bullish [green line below the red] this rally is full steam ahead. But should it turn bearish [green above the red] watch out down below.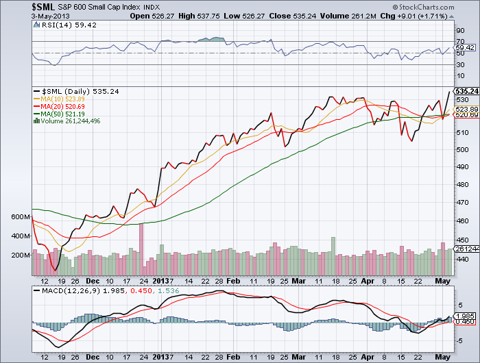 But on to the Troika-Combo which continues to project a bullish market [liquidity driven or otherwise] as it has since last December. For as long as the bullish MA lines configuration [green line below the red] keeps supporting the [SPX] and [SPXL] components of this Troika, while the bearish MA configuration [green above the red] of the [SPXS] component keeps this indicator on the bottom of a deep hole at the bottom of a deep pit, this market will just keep on marching higher.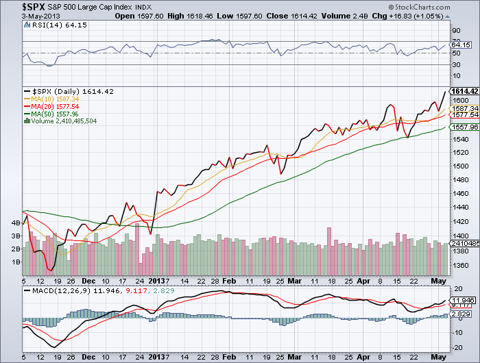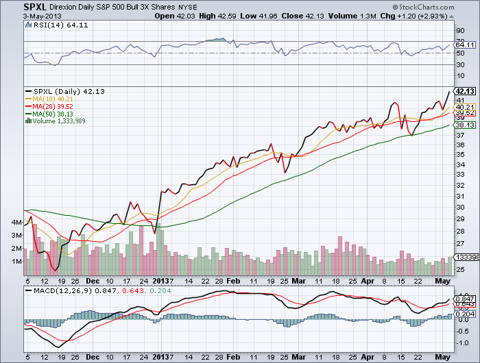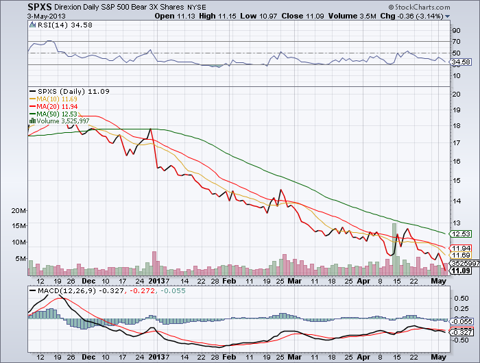 This Troika's sidekick, the market's forecasting canary [JNK], is going nuts to the upside and together with the Troika is reflecting the makings of one of the market's greatest bull-runs. The fundamentals are in place for the U.S. economy as well as the U.S. markets to stay well ahead of the international pack, and therefore offer global money better traction on Wall Street than anywhere else in the years ahead. But hey, doesn't this canary know that bearish buzzards are circling up there?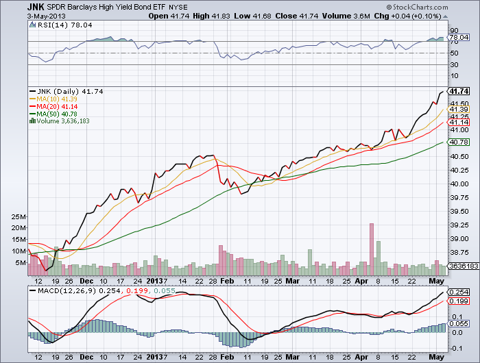 Not to be outdone, this NASDAQ composite with its bullish MA lines configuration keeps following the Troika in a steady rally since last December. But this index may have pushed too high too fast and is poised for a pull-back, which would be a good thing.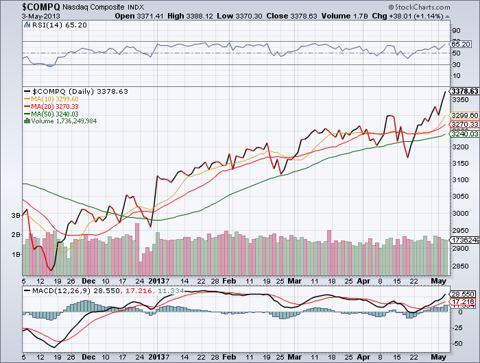 Insiders of markets and the economy were in an "iffy" mood between March and April. But during that time the MA lines configuration of this index remained bullish, even though it did hit the razor's edge for a few sessions. But this configuration is now off the edge and bullish. Ditto for the "insiders sentiment," which is an important ingredient to any rally.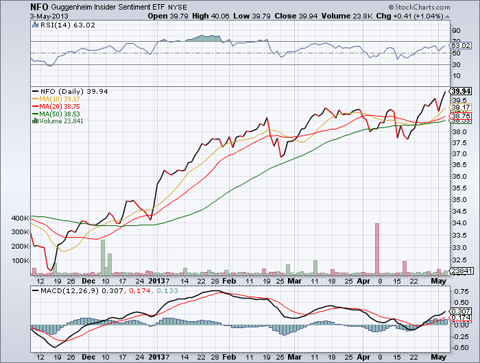 While commodities generally jumped out of the hole during last Friday's rally, they are still in pretty bad shape. That is why this commodity index's MA lines configuration remains exceedingly bearish. Even though the RSI strength indicator managed to break even, the MACD momentum index remains stuck deep in bearish territory and for as long as that is the case, a commodity rally won't succeed.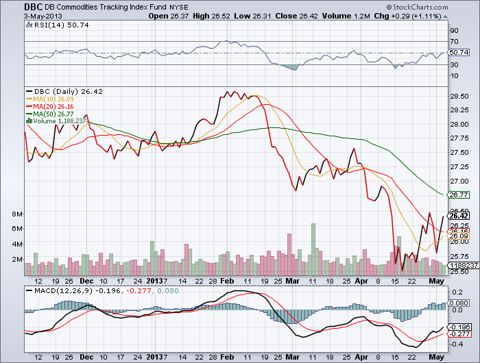 Gold had itself a pretty good rally out of a deep hole at the bottom of a deep pit. But the yellow metal is still at the bottom of the pit and will remain stuck down there for as long as its MA lines configuration continues to be so bearish.
Note that gold's MACD momentum index and RSI strength indicator are also still stuck in their respective bearish territories also.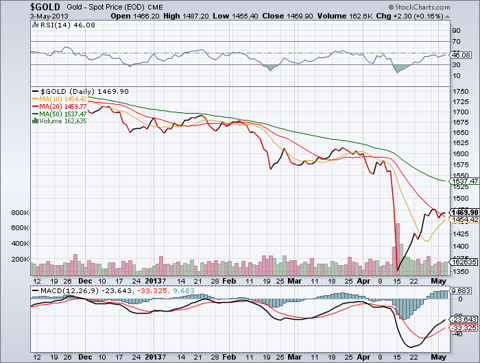 While [OIL] had itself a tremendous rally out of the hole it was in, it remains susceptible to the downside for as long as its MA lines continue their bearish configuration. But with its MACD momentum index and RSI strength indicator both in bullish territory, oil has a good chance to consolidate at present levels. But any rally remains suspect.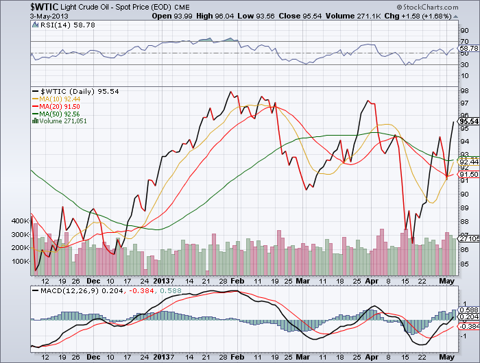 Here are some favoured ETFs for each occasion. But before jumping in, give the market a chance to develop some momentum in the direction you want to trade in.
Leveraged Bull-ETFs:
Semis 3x (NYSEARCA:SOXL), Health Care 3x (NYSEARCA:CURE), Energy 3x (NYSEARCA:ERX), Financials 3x (NYSEARCA:FAS), Mid-Caps 3x (NYSEARCA:MIDU), Small-Caps 3x (NYSEARCA:TNA), Technology 3x (NYSEARCA:TECL), Nat-Gas 3x(NYSEARCA:GASL), S&P500 3x (NYSEARCA:UPRO), Basic Materials 2x (NYSEARCA:UYM), DOW 30, 2x (NYSEARCA:DDM), Emerging Markets 2x (NYSEARCA:EET), Financials 2x (NYSEARCA:UYG), Oil & Gas 2x (NYSEARCA:DIG), NASDAQ 100, 2x (NYSEARCA:QLD), Biotech 2x (NASDAQ:BIB).
Non-Leveraged Long ETFs:
Materials (NYSEARCA:FXZ), Mid-Caps (NASDAQ:FNX), Biotech (NYSEARCA:FBT), Alerian (NYSEARCA:AMJ), S&P 500 (NYSEARCA:RPV), Biotech (NYSEARCA:BBH), Oil-Services (NYSEARCA:OIH), Semis (NYSEARCA:SMH), Energy (NASDAQ:PXI), Small-Caps (NASDAQ:DWAS), Cons. Discretionary (NYSEARCA:XLY), Energy (NYSEARCA:XLF), Health Care (NYSEARCA:XLV), Materials (NYSEARCA:XLB), Retail (NYSEARCA:XRT), Semis (NYSEARCA:XSD), Technology (NYSEARCA:XLK), NASDAQ 100 (NASDAQ:QQQ).
Leveraged Bear-ETFs:
Oil 2x (NYSEARCA:DTO), Semis 3x (NYSEARCA:SOXS), Energy 2x (NYSEARCA:ERY), Financials 3x (NYSEARCA:FAZ), Technology 3x (NYSEARCA:TECS), Russell 3x (NYSEARCA:SRTY), S&P 500 3x (NYSEARCA:SPXS), S&P 500 3x (NYSEARCA:SPXU), DOW 30, 2x (NYSEARCA:DXD), Gold 2x (NYSEARCA:GLL), Oil&GAs 2x (NYSEARCA:DUG), Russell 2000, 2x (NYSEARCA:TWM), S&P 500, 2x (NYSEARCA:SDS).
Non-Leveraged Short ETFs:
DOW 30, (NYSEARCA:DOG), Financials (NYSEARCA:SEF), Mid-Caps 400 (NYSEARCA:MYY), Oil&Gas (NYSEARCA:DDG), Russell 2000 (NYSEARCA:RWM), S&P500 (NYSEARCA:SH), Small-Caps (NYSEARCA:SBB), Equity Bear (NYSEARCA:HDGE).
GOOD LUCK!
Disclosure: I have no positions in any stocks mentioned, and no plans to initiate any positions within the next 72 hours.