While this market has been steadily moving higher during the last four years, most investors have been and continue to be suspicious of this rally. As they see it, shut down the flood of liquidity the Fed; keeps flushing into the system, and the market would collapse like a house of cards.
Besides, those investors who had the deep pockets and ironclad stomachs to ride the market down during the great selloff from October 2007 to March 2009 and then stuck with the rally all the way up to last Friday's close, would have gained the paltry total of roughly six percent on their investments. Surely, not much to show for the hair raising six years in the market.
Memories are made of this, and most market participants have not forgotten and are apprehensive that this part of history is about to repeat itself. This is why trading volume and investors' participation remain surprisingly low, considering the broad scope of this rally.
But on the way down between 2007 and 2009 the "Troika Combos" featured in these blogs showed extremely bearish MA lines configurations, signaling free sailing and high profit margins for the bear/short ETFs.
Conversely, these same configurations turned exceedingly bullish at the reversal of March/09 and the ensuing rally, signaling free sailing, interspersed with much needed pit-stops on the way up. This time it meant high profit margins for the bull/long ETFs, and the market participants who sold in 2007 only to switch and keep buying on the way up, must be doing very well indeed.
Yet, to many investors this is still a "not-believable" rally. So they keep waiting on the sidelines for a sizable pull-back as an entry point into the market, but are not getting it. So for now, with the lackluster volume levels and relatively low participation rate these sidelines will remain crowded.
But at this stage of the game this is a good thing, because it shows that the market is still in the process of forming a takeoff plateau, while gaining firepower for the advance that lies ahead.
Check these three Troika charts and note that the [SPX] and [SPXL] bull components surged too far too fast and are in need for some consolidation. Meanwhile, their MA lines configurations remain as bullish [green lines below the red] as they have been for quite a while now. At the same time, their MACD momentum indexes and RSI strength indicators remain deep in their respective bullish territories.
All of this means that the market is set to move higher but hungry for more volume and investors' participation.
Corroborating this bullish scenario is the bear component [SPXS] of this Troika which keeps hibernating in a deep hole at the bottom of a deep pit. The bear's MA lines configuration remains thoroughly negative [green line above the red] and so is the MACD momentum index along with the RSI strength indicator, both of which are way down in their respective bearish territories.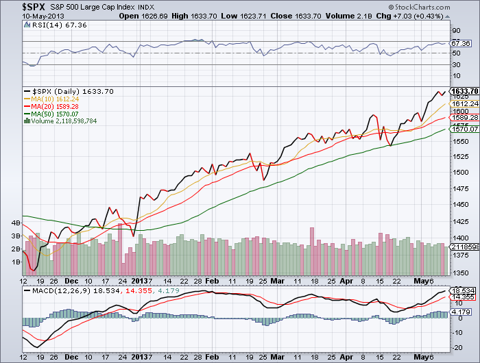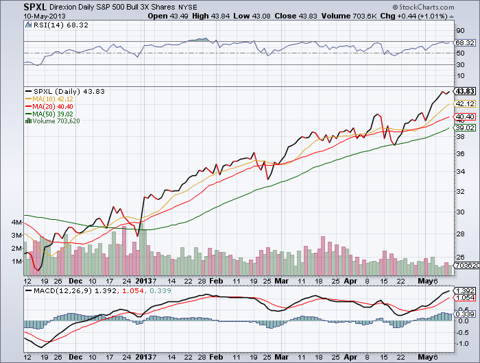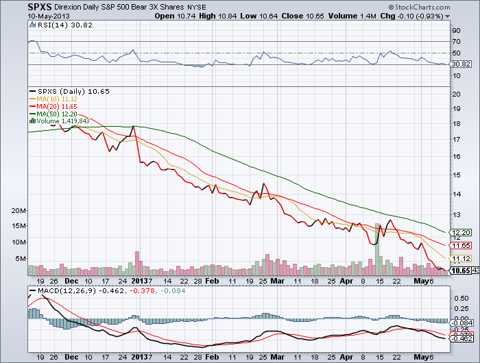 Finally - the market forecasting junk-bond canary [JNK] did the right thing and pull back from the dizzying heights it had reached. But there is still plenty of room for this index to consolidate further at a lower level. Its MA lines configuration remains in a strongly bullish mode, and so is the MACD momentum index along with the RSI strength indicator.
All in all, a very bullish forecast for the stock market.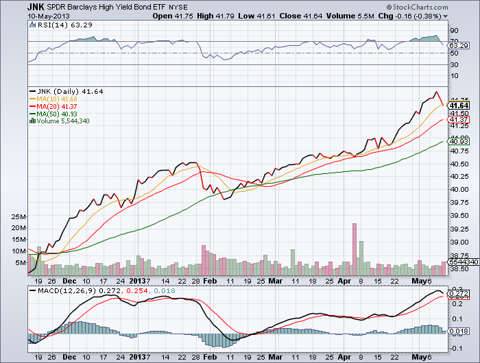 This [CYC] cyclical index shows that the aggressive cyclical sectors are again taking over the leadership in the market. This is needed for the rally to gather strength. But for now, this sector is still vulnerable to the downside. Only when the MA lines configuration turns solidly bullish [green line below the red] can the growth oriented cyclical sectors maintain their surge to the upside.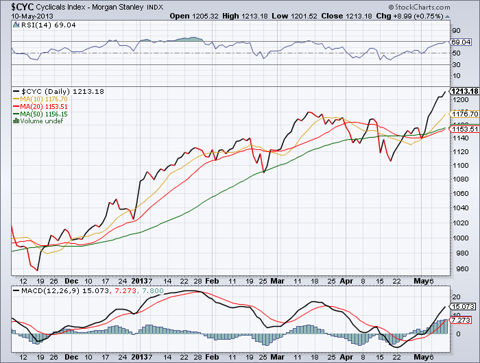 What lies in the bulls' favor is that since last December the consumer [CMR] has strongly supported the economy and thereby this rally. Note this sharply bullish MA lines configuration and the bullish MACD momentum index and ditto for the RSI strength indicator. All show the strong potential that the consumer will continue to lead the economic recovery in the months ahead.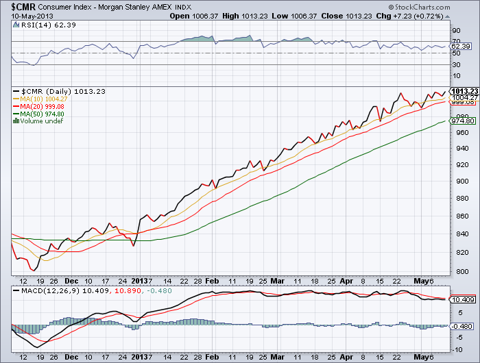 Although the commodity sectors [DBC] did come out of a deep hole at the bottom of a deep pit and appear to be consolidating, they are still in the pit. This means that for as long as the MA lines configuration of this index remain so bearish, the commodity market hasn't got a chance nor the strength to rally.
Now that is the "ace in the hole" for the bears, because without a strong foundation supplied by the commodities, the equity markets will lose strength as well.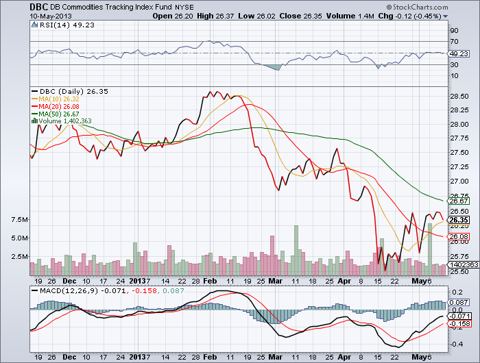 Although the commodity issues laden TSX index had itself a pretty good rally in recent weeks, unless its sharply bearish MA lines configuration [green line above the red] will soon turn bullish [green below the red] the TSX will face a steep pullback.
Gold too came out of a deep hole but remains stuck in a pit. For as long as its MA lines configurations continue to be so bearish, the price of the yellow metal will stay down there.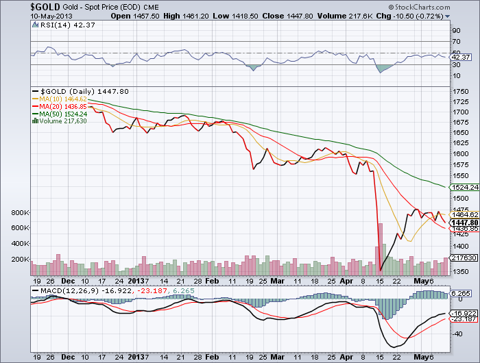 Oil had itself a surprisingly good rally in recent weeks, but unless its bearish MA lines configuration turn bullish, oil will stage a repeat performance of last April's steep nosedive.
A special market to keep track of is Japan. As these two indexes [EWJ] and 2x leveraged ETF [EZJ] show, the rallies there are pretty strong, but still in their early stages. Japan's central bank is engaged is some aggressive monetary easing and fiscal stimulus in order to stamp out deflation, and thereby spark renewed economic growth. That is the catalyst which will keep the Japanese stock market in an uptrend for months to come.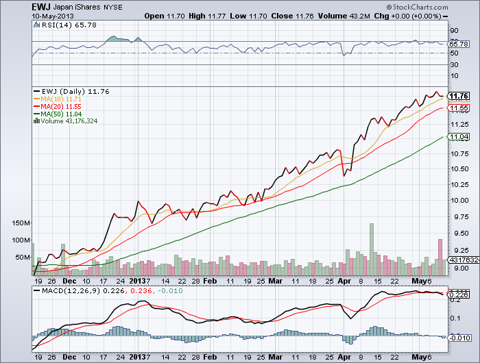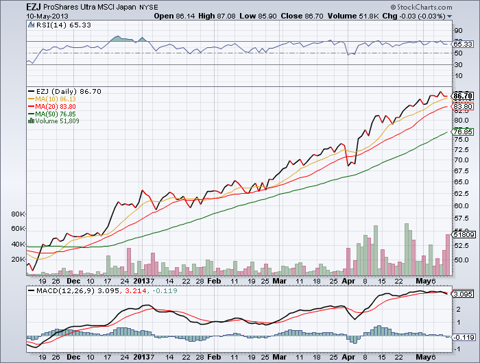 Here are some favorite ETFs for various market conditions.
Leveraged BULL-ETFs when momentum is to the upside:
Semis 3x (NYSEARCA:SOXL), Health Care 3x (NYSEARCA:CURE), Mid-Caps 3x (MLDU), Small-Caps 3x (NYSEARCA:TNA), Real Estate 3x (NYSEARCA:DRN), Technology 3x (NYSEARCA:TECL), S&P 500 3x (NYSEARCA:SPXL), Financials 3x (NYSEARCA:FAS), Biotech 2x (NASDAQ:BIB), NASDAQ 100 2x (NYSEARCA:QLD), Russell 2000 2x (NYSEARCA:UKK), Nat-Gas 3x (NYSEARCA:GASL), S&P 500 3x (NYSEARCA:UPRO), DOW 30, 2x (NYSEARCA:DDM), Russell 2000, 2x (NYSEARCA:UWM), NASDAQ 100, 3x (NASDAQ:TQQQ) Japan 2x (NYSEARCA:EZJ).
Ditto for non-leveraged Long-ETFs:
Biotech (NYSEARCA:FBT), Biotech (NYSEARCA:BBH), Cons. Discretionary (NYSEARCA:XLY), Homebuilders (NYSEARCA:XHB), Retail (NYSEARCA:XRT), Semis (NYSEARCA:XSD), Health Care (NYSEARCA:VHT), Japan ETF (NYSEARCA:EWJ)
Leveraged Bear-ETFs when momentum is to the downside:
Emerging Markets 3x (NYSEARCA:EDZ), Energy 3x (NYSEARCA:ERY), Gold Miners 3x (NYSEARCA:DUST) Gold 2x (NYSEARCA:GLL), Nat-Gas 2x (NYSEARCA:KOLD), Nat-Gas 3x (NYSEARCA:DGAZ), Gold 3x (NASDAQ:DGLD).
Ditto for non-leveraged Short-ETFs:
Commodity (NYSEARCA:DDP), DOW 30 (NYSEARCA:DOG), Gold (NYSEARCA:DGZ), Equity Bear (NYSEARCA:HDGE) NASDAQ 100 (NYSEARCA:PSQ), Russell 2000 (NYSEARCA:RWM), S&P 500 (NYSEARCA:SH).
Yes - there will be plenty of caveats and pit-stops along the way when trading these ETFs, but the primary trend of the market remains poised to the upside, and so are these bull and long ETFs.
GOOD LUCK!
Disclosure: I have no positions in any stocks mentioned, and no plans to initiate any positions within the next 72 hours.