During last week's trade [May13/17] the market took a breather a couple of times, which had the bears guessing that the market was tired, topping out and ready to keel over. As they see it, the market is advancing against some petty stiff head-winds of a still very fragile global economic environment.
Europe is still basically in recession, the Asian economies are slowing down and the U.S. economy is still struggling. The demand for U.S. exports are down and its manufacturing sector has been hit hard by the "sequester" induced belt-tightening in Washington.
Yet, the U.S. dollar has become the world's strongest currency because the U.S. economy is still the strongest among the developed markets. This is why global investment money keeps flowing into Wall Street. In the U.S. consumer confidence is at the highest level in almost six years, as they are enjoying lower prices at the pump, a big rally in the stock market, a solid recovery in home sales, a drop in the number of unemployment claims and leading economic indicators that keep on rising further than economists had forecast.
OK, so last week's rally surges to higher highs in Wall Street, was due in part to an ongoing short-squeeze. This ongoing short-selling is especially synchronized among large hedge-funds which were heavily betting that the market would tank, instead of rally. But as usual, the market made up its own mind and went the other way. So as some funds were forced to cover their short positions others followed suite, and the rest is history.
So it seems they were not following the "Troika" featured in these blogs, which keeps projecting this rally ever since last December.
Check these three Troika charts and note that the bull components [SPX] and [SPXL] have not wavered from their bullish projections since last December and it appears that they are not about to give up now. Sure, both indexes could use a breather, consolidate and digest their gains for a while. But for as long as their respective MA lines configurations [green lines below the red lines] remain bullish, the market will just keep on reaching for higher highs.
Adding to the bullish makeup of the market are the respective MACD momentum indexes and RSI strength indicators, both of which remain solidly in their bullish territories.
Note that the [SPXS] bear component of this Troika remains stuck in a deep hole at the bottom of a deep pit, pressured down by its bearish MA lines configuration [green line above the red.] The bear's MACD momentum index along with its RSI strength indicator remain deep in their respective bearish territories, all of which gives the bulls a green light to keep reaching for higher highs.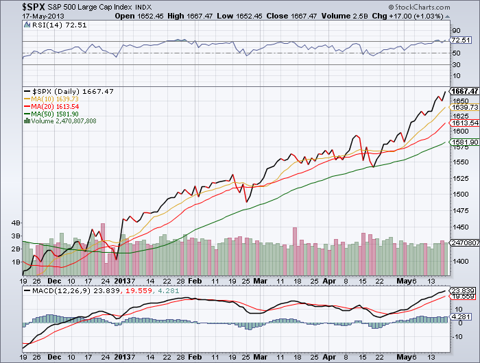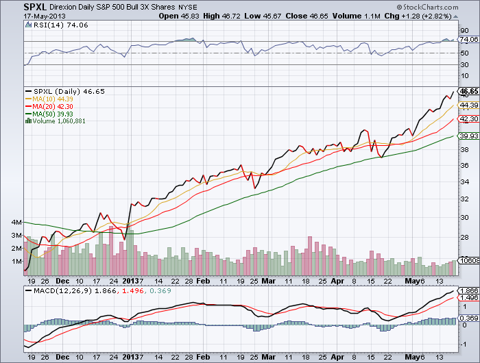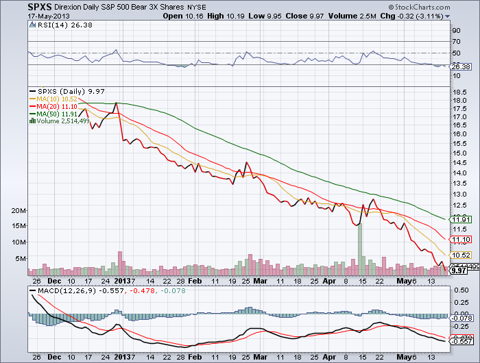 The Troika's market-forecasting satellite [JNK] junk-bond canary, took a well deserved breather by pulling back and consolidate at a lower level. But for as long as its MA lines configuration remains bullish, so will its bullish forecasts of the market.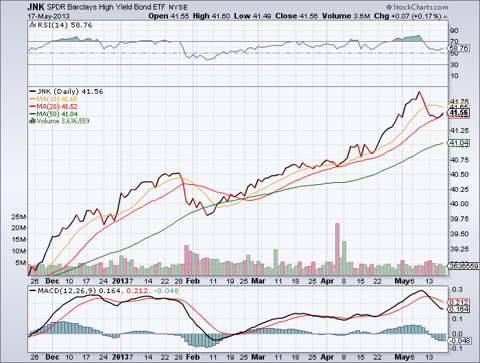 What puts the market in such a bullish mode is the cyclical and economic sensitive sector [CYC] which reflects the resurgence of the cyclical stocks. Note that the MA lines configuration of this index are once again bullish, and for as long as that is the case, the cyclicals are in their rightful place of leading the parade.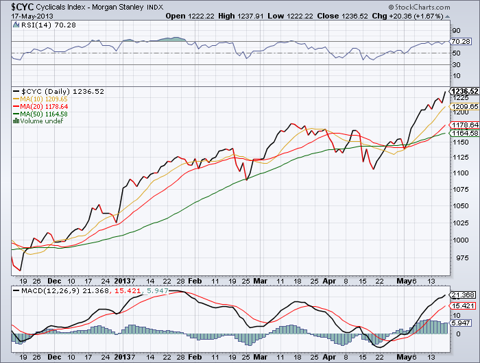 Reacting to the strong performance of the cyclical sector, especially the techs, NASDAQ [COMPQ] has come back to life. But with this index surging too high too fast, a consolidating pullback has to be expected. The MA lines configuration remains firmly bullish as it has been since last December, and that will lead NASDAQ to higher highs.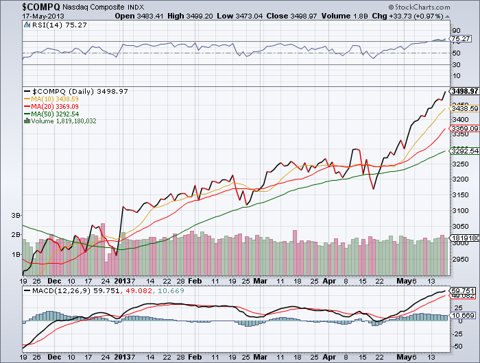 Check these three indexes [JPN] [EWJ] and [EZJ] and note that the hottest trade on the planet right now is Japan, whose stock market is rallying on steroids and yet, it is a rally just in its early stages.
Unprecedented and aggressive monetary easing by its central bank as well as fiscal stimulus and pro-growth policies by the Japanese government have already triggered a rapid economic expansion since the start of this year, and are expected to positively influence the global economies as well.
So it is to no surprise that the MA lines configurations on these charts are so bullish, and that Japanese ETFs will be star-performers in the months ahead.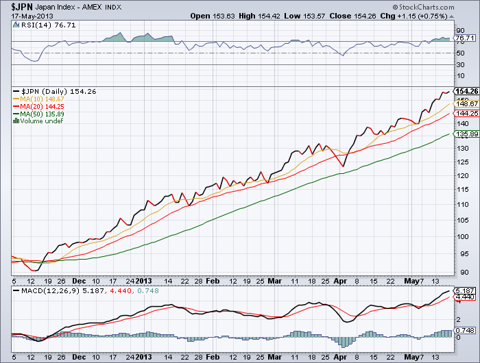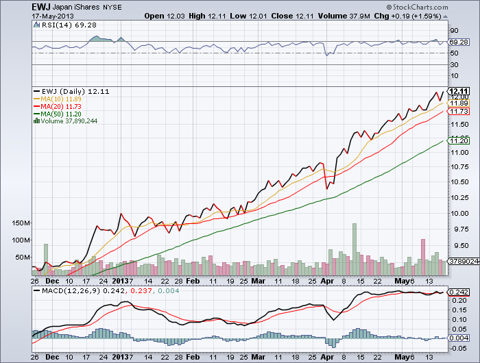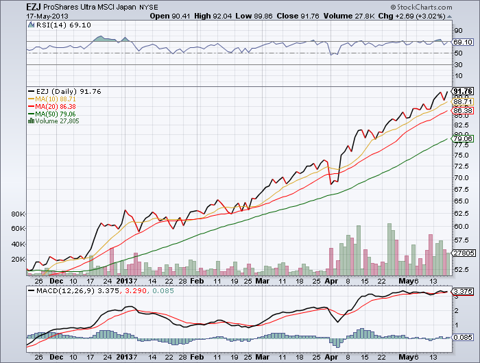 The following two charts show the adverse impact the surging U.S. dollar has on the commodity market. Note that the [CRB] commodity supply index continues to be pressured down by the bearish configuration of its Moving Average lines [green above red].
The [BDI] commodity demand index had pretty good support by the bullish configuration of its MA lines [green below red] from early March to early May. This gave hope that the commodity market had a chance for a turnaround. But no such luck, as the MA lines configuration of this index is turning bearish.
What this means is that this terrific rally since last December is indeed predicated mainly by the Fed's monetary easing. If it were for a relatively strong economy, then the MA lines configurations by these two indexes would be bullish.
OK, for now this will cause the Fed to keep the petal to the metal of monetary easing. But before too long, the CRB and BDI will have to rally along with the stock market in order to show that the market can do it on its own, without the Fed's QEs pushing it along.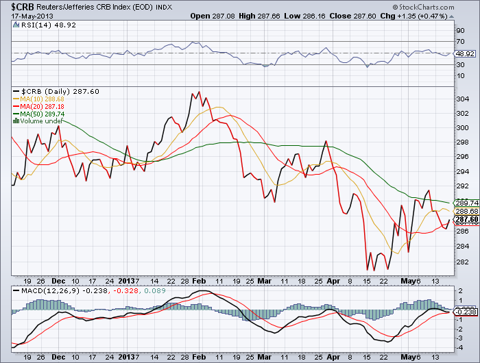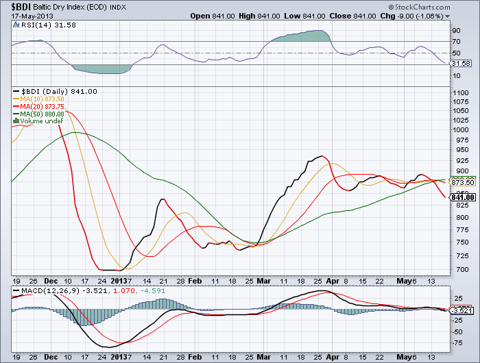 After a feeble attempt to rally, gold is again digging a deep hole at the bottom of deep pit. The main reason is the growing strength of the U.S. dollar to which the yellow metal is negatively correlated. This is causing gold's MA lines configuration to stay exceedingly bearish, and so are its MACD momentum index along with the RSI strength indicator.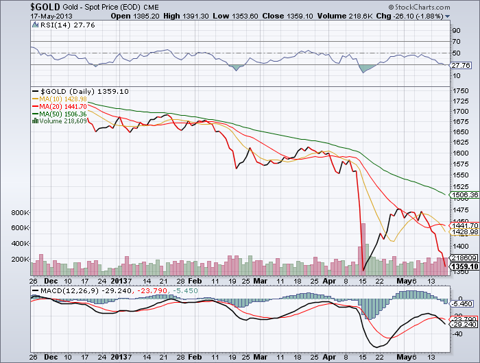 Note that the U.S. dollar index [USD] soared way too high too fast and needs to pull back for some consolidation. But its MA lines configuration is just turning bullish again, which suggests that the greenback's rally is here to stay. Corroborating this bullish outlook for the U.S. dollar are its MACD momentum index and RSI strength indicator, both of which are deep in their respective bullish territories.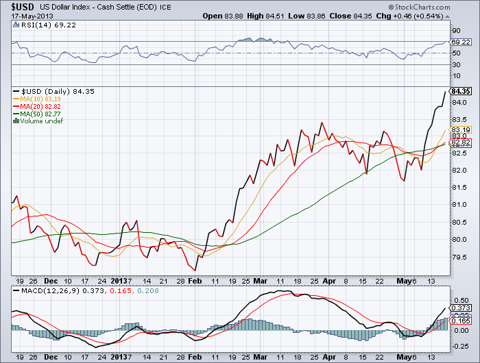 The zig-zagging up-down oil index [WTIC] is finally getting some support from its bullish MA lines configuration. This will cause the bias of the oil index and thereby the energy sector to remain poised to the upside.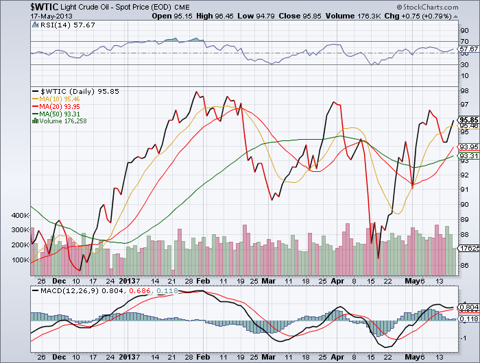 Here are some favoured ETFs that have performed well in either bull or bear rallies.
Leveraged bull ETFs:
Semis 3x (NYSEARCA:SOXL), Health Care 3x (NYSEARCA:CURE), Financials 3x (NYSEARCA:FAS), Biotech 2x (NASDAQ:BIB), Mid Caps 3x (NYSEARCA:MIDU), Small Caps 3x (NYSEARCA:TNA), Nat Gas 3x (NYSEARCA:GASL), S&P 500, 3x (NYSEARCA:SPXL), S&P 500 3x (NYSEARCA:UPRO), Basic Materials 2x (NYSEARCA:UYM), Mid Caps 3x (NYSEARCA:UMDD), Russell 2000 3x (NYSEARCA:URTY), Ultra Japan 2x (NYSEARCA:EZJ), Energy 3x (NYSEARCA:ERX), Real Estate 3x (NYSEARCA:DRN), Technology 3x (NYSEARCA:TECL), DOW 30, 2x (NYSEARCA:DDM), Oil&Gas 2x (NYSEARCA:DIG), NASDAQ 100 2x (NYSEARCA:QLD), Real Estate 2x (NYSEARCA:URE), S&P500 2x (NYSEARCA:SSO), Nat Gas 2x (NYSEARCA:BOIL), DOW 30, 3x (NYSEARCA:UDOW), Financials 3x (NYSEARCA:FINU), NASDAQ 100, 3x (NASDAQ:TQQQ), Financials 2x (NYSEARCA:UYG), Russell 2000 2x (NYSEARCA:UWM), Nat Gas 2x (NYSEARCA:UGAZ).
Non leveraged long ETFs:
Biotech (NYSEARCA:FBT), Biotech (NYSEARCA:BBH), Cons Discretionary (NYSEARCA:XLY), Homebuilders (NYSEARCA:XHB), Retail (NYSEARCA:XRT), Semis (NYSEARCA:XSD), Health Care (NYSEARCA:VHT), Japan ETFs (NYSEARCA:DXJ) and (NYSEARCA:EWJ), Mid Caps (NYSEARCA:IJH), Small Caps (NYSEARCA:IJR), Health Care (NYSEARCA:FXH), Pharma (NYSEARCA:XPH), Russell 1000 (NYSEARCA:IWD), Energy (NYSE:XLG), OIl Equipment (NYSEARCA:XES), Energy (NYSE:PXE).
Leveraged bear ETFs:
Emerging markets 3x (NYSEARCA:EDZ), Energy 3x (NYSEARCA:ERY), Gold Miners 3x (NYSEARCA:DUST), Gold 2x (NYSEARCA:GLL), Nat Gas 2x (NYSEARCA:KOLD), Nat Gas 3x (NYSEARCA:DGAZ), Gold 3x (NASDAQ:DGLD), Semis 3x (NYSEARCA:SOXS), Emerging Markets 3x (EDZ), Financials 3x (NYSEARCA:FAZ).
Non leveraged short ETFs:
Commodity (NYSEARCA:DDP), DOW 30 (NYSE:DOG), Gold (NYSEARCA:DGZ), Equity Bear (NYSEARCA:HDGE), NASDAQ 100 (NYSEARCA:PSQ), Russell 2000 (NYSEARCA:RWM), S&P500 (NYSEARCA:SH).
Check out this chart below, and if you are a bull in the market then this has to be a beautiful sight. Also, when you check back these blogs you'll find that the "Troika" has been consistently on the right side of the market with the right ETFs right from last year on, and chances are that it will continue to do so.
But a note of caution, don't switch from bull or bear ETFs at the first ticks in the opposite direction. Get into cash and wait for some definitive momentum to develop. It means to let someone else be the first in a trade.
Check this blog for direction in the market, then check back for appropriate ETFs featured in previous blogs and trade with the ones that show the largest advances. If they have done it before, they'll do it again.
GOOD LUCK!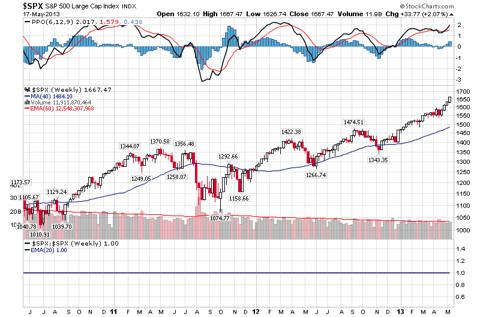 Disclosure: I have no positions in any stocks mentioned, and no plans to initiate any positions within the next 72 hours.