Last week, a couple of big-guns in the investment industry came out with some dire predictions. As Merrill Lynch has it, there will be a sharp "melt-up" in the market this summer, only to be followed by a deep "melt-down" correction in the fall.
How did they come to this conclusion? Fact is that nobody knows what the market will do tomorrow, leave alone a few months from now and that includes Merrill Lynch. Sure, with enough practice and some insights one can take an educated guess one way or the other, and that how the market's bulls and bears are being created. Meanwhile, the market has this nasty habit of doing nothing or just do the opposite of what is expected of it.
Then there is BlackRock, the world's largest asset manager proclaiming that leverage bull and bear ETFs are set to blow up the ETF industry. Are they saying that the tail will wag the dog?
ETFs are nothing more but the shadows of the underlying indexes. Get the direction of the index right, and the appropriate ETF will follow. Sure, with leveraged bull and bear ETFs these shadows can stretch too far too fast in either direction, and this is why the greedy in this game get hammered. Refusing to take profits because more of the same appears to lie ahead, is the biggest and most frequent mistake an ETF trader can make.
Traders like that fear that if they are not in the market they'll miss the next leg up. Yet, not to be in the market but to just watch and wait for the right "setup" to show up, is often the best strategy to use. The key to successful ETF trading is ability to recognize a high-probability setup by the market and specific index, and then to pull the trigger and go all out.
While 2013 was mostly a banner year for ETF trades, so far 2014 has been a whipsaw market best to stay out of and let someone else risk dollars in order to gain pennies. But things appear to be changing in favor of the bulls and the long wait for the right market-setup during the first half of this year could soon be over and happy "trigger-time" here again.
Check the S&P benchmark index [SPX] and note that at the beginning of May its Moving-Average configuration was totally neutral with the red and green lines clinging together. This is the kind of situation where the market can slip either way, and slip violently. Sure, the market did slip but then snapped back while the SPX was forming a double bottom, which is a bullish signal most of the time. The MA lines configuration also turned bullish with the green line below the red, while the RSI strength indicator and MACD momentum bars remained in their respective bullish territories.
So at first glance, trigger-time has arrived although it may take another week or two for the market to confirm it.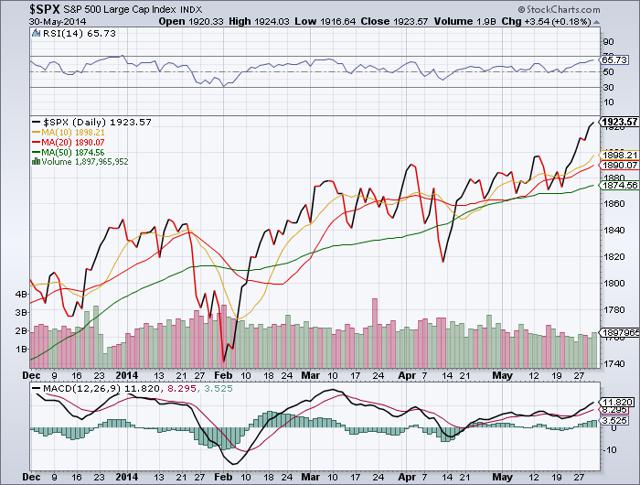 Despite a steep nosedive in March and April, NASDAQ [NDX] did not lose its bullish MA lines configuration [green line below the red] the result of which is the strong rally so far this month. But with its MACD momentum bars in bearish territory below the demarcation line, this rally is suspect. But it appears that these bars are about to rise above this line, which would make the day for the bulls. Also, that the RSI strength indicator is solid in its bullish territory is a plus for the market.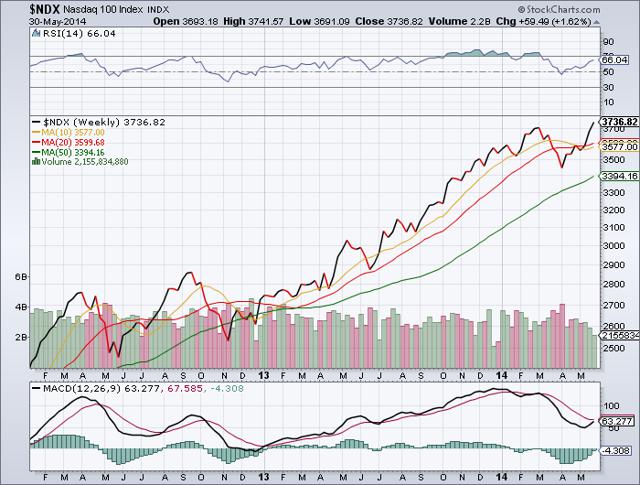 According to this [CRB] index the commodity market is balancing on a razor's edge. Its MA lines [green and red] configuration is totally neutral, without any bias to go either way. The same is the case with the MACD momentum bars while the RSI strength indicator has slipped into bearish territory. All of this means nail-biting time for the commodity market.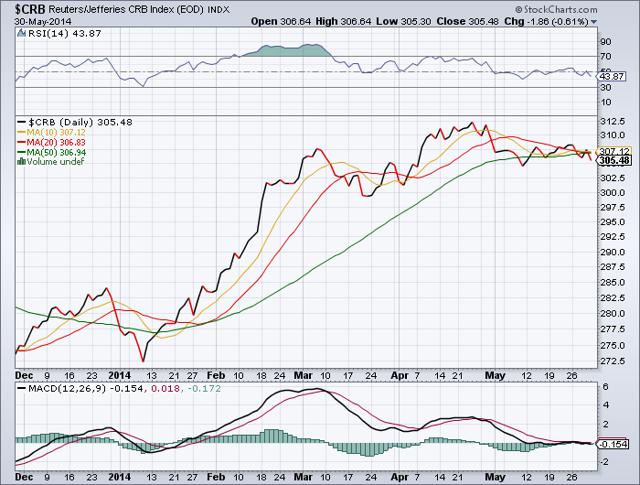 Even though this small-cap index [RUT] has snapped off the bottom, for as long as its MACD momentum bars keep hanging deep in bearish territory below the demarcation line, small-caps won't have a chance to rally in any meaningful way. The RSI strength indicator shows little inclination to move one way or the other, and so it keeps sitting at dead neutral.
Yet, for this market's rally to kick back into gear, the small-caps need to be out front. To this end, a good omen is the bullish configuration of its MA lines [green line below the red] which could give the small-caps the moxie to lead the next leg of this rally.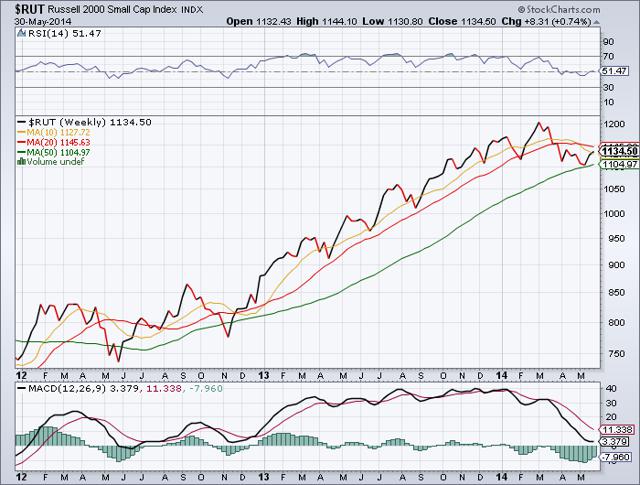 These tree Troika charts RSP, SPXL and SPXS reflect the bullish bias of this market. After some volatile zigzag sideways moves since early March, the two bull-components of this Troika [RSP] and [SPXL] finally got their act together in early May. Until then, it looked as if the market was losing its grip and plunge to the nether regions. But then, the respective MA lines configurations of these two indexes turned bullish again with the green line below the red, and that caused the market to regain its footing to the upside. Both the respective MACD momentum bars and RSI strength indicators turned bullish as well, and that is providing the lift for a continuous rally.
Not wanting to spoil this bullish outlook for the market, the bear [SPXS] crawled back into its deep hole at the bottom of a deep pit, and it is anyone's guess how much longer it will remain in hibernation.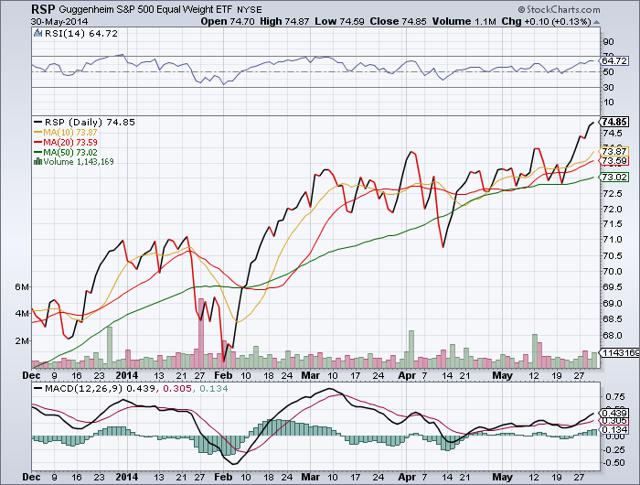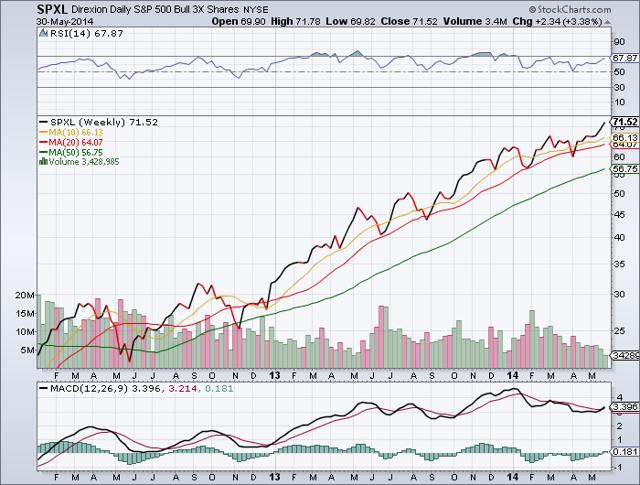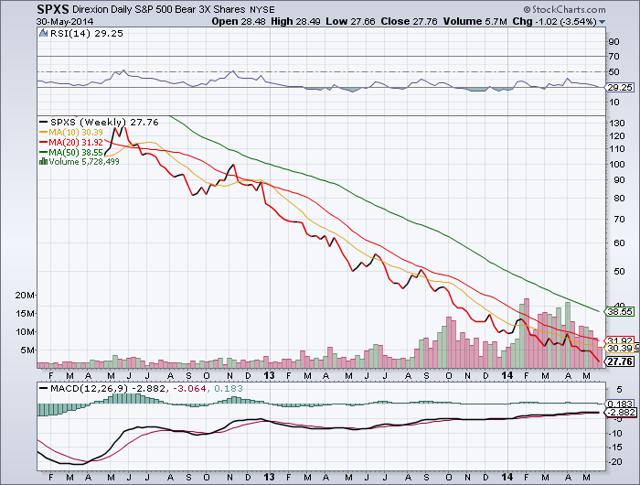 Then there is this VIX bull, which is the inverse of the VIX fear index. There isn't any, and that has quite few savvy market strategists nervous as they see that as the calm before the storm. It just doesn't feel right and begs the question how come with investors' fear seemingly all gone there is no euphoria, not even investors' enthusiasm for the market?
Now here could be one of those rare occasions where a sharp selloff could clear the air and be bullish for the bulls.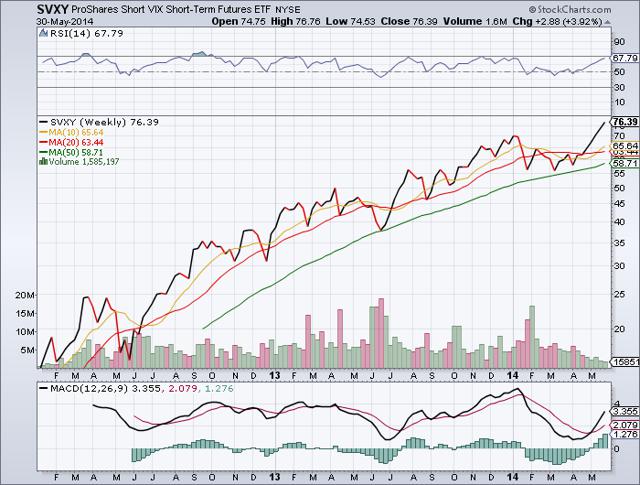 This market forecasting junk-bond canary [JNK] just doesn't appear to get tired of whistling a bullish tune about the market. This index continues to be well supported by its bullish MA lines configuration [green line below the red] and a RSI strength indicator that is sitting right at the top of its bullish territory. Yet, its MACD momentum bars continue to be bearish below the demarcation line as they have been since early March, and that is a concern for the market. It means that something is out of whack with the market that is not apparent right now.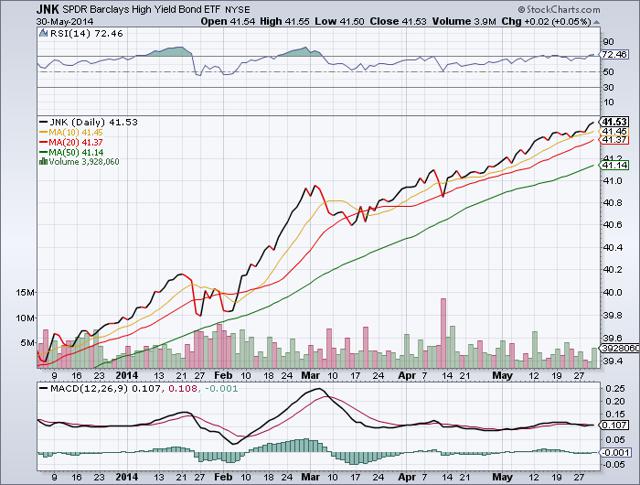 The yellow metal [GOLD] remains a basket case, except for the shorts and bear ETFs. Here are a few of them:
(NASDAQ:DSLV), (NYSEARCA:ZSL), (NYSEARCA:DUST), (NYSEARCA:GLL), (JDST.)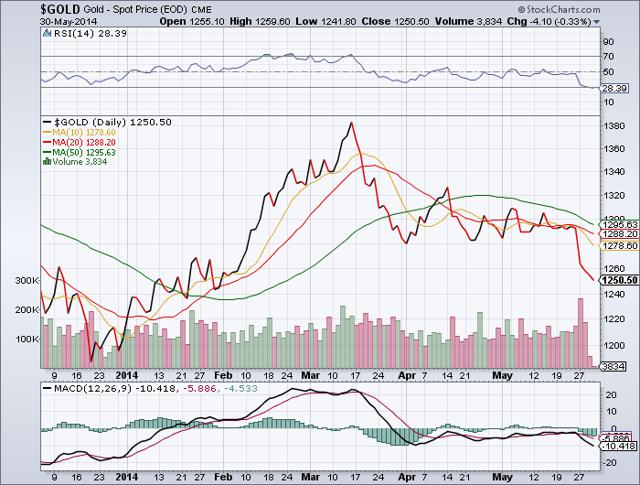 OIL [WTIC] is stuck between a bull and a bear. Its MA lines configuration is totally neutral as the red and green MA lines keep sticking together. The MACD momentum bars show no momentum to either side while the RSI strength indicator is sitting close to its neutral line as well. So which way from here for the price of oil is anyone's guess.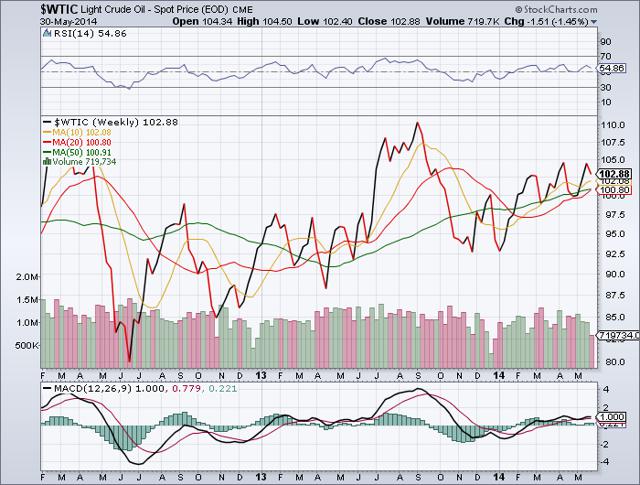 Records show that sideways moving markets during the firs half of the year have the pleasant habit of breaking upside records during the second half. So here is something to look forward to.
Just keep in mind that the key to successful ETF trading is ability to wait for and then recognize a high-probability market setup when it appears.
It looks as if such a setup is close at hand. Just give the market another week or two to confirm it.
Here are some favored ETFs for when that time comes.
Leveraged Bull-ETFs:
DOW 30, 2x (NYSEARCA:DDM), S&P 500, 3x (NYSEARCA:SPXL), Mid-Caps 2x (NYSEARCA:MVV), Mid-Caps 3x (NYSEARCA:MIDU), S&P 500, 2x (NYSEARCA:SSO), Financials 3x (NYSEARCA:FAS), S&P 500, 3x (NYSEARCA:UPRO), Small-Caps 3x (NYSEARCA:TNA), Dow 30, 3x (NYSEARCA:UDOW), Russell 2000, 2x (NYSEARCA:UWM), Russell 2000, 3x (NYSEARCA:URTY), NASDAQ 2x (NYSEARCA:QLD), NASDAQ 3x (NASDAQ:TQQQ), Biotech 2x (NASDAQ:BIB), Regional Banking 2x (NYSEARCA:KRU), Technology 2x (NYSEARCA:ROM), Semis 3x (NYSEARCA:SOXL), Health-Care 3x (NYSEARCA:DRN).
Non-Leveraged Long ETFs:
EAFE (NYSEARCA:EFA), Info Tech (NYSEARCA:VGT), NASDAQ 100 (NASDAQ:QQQ), Semis (NYSEARCA:XSD), Transports (BATS:IYT), Pharma (NYSEARCA:PJP), Small-Caps (NYSEARCA:DFE), Russell 2000 (NASDAQ:VTWV), Materials (NYSEARCA:IYM), Semis (NYSEARCA:SMH), Technology (NASDAQ:QTEC), Industrials (BATS:IYJ).
Leveraged Bear-ETFs:
DOW 30, 2x (NYSEARCA:DXD), Emerging Markets 3x (NYSEARCA:EDZ), Financials 3x (NYSEARCA:FAZ), NASDAQ 2x (NYSEARCA:QID), S&P 500, 2x (NYSEARCA:SDS), DOW 30, 3x (NYSEARCA:SDOW), NASDAQ 3x (NASDAQ:SQQQ), Russell 2000, 3x (NYSEARCA:SRTY), Financials 3x (FAZ), Russell 2000, 3x (NYSEARCA:TZA).
Non-Leveraged Short ETFs:
Small-Caps (NYSEARCA:SBB). Emerging Markets (NYSEARCA:EUM), Financials (NYSEARCA:SEF), DOW (NYSEARCA:DOG), Russell 2000 (NYSEARCA:RWM), S&P 500 (NYSEARCA:SH), Mid-Caps (NYSEARCA:MYY), NASDAQ (NYSEARCA:PSQ), Active Bear (NYSEARCA:HDGE).
GOOD LUCK!