When equities continue to rally while breadth and volume wane and the MACD momentum bars remain south of their demarcation line, it's best to stay out of this game and let someone else be the hero and chase tiny gains in a sideways-moving market.
There is a lack of enthusiasm for this rally out there, which shows that market participants don't trust this thing which is being fuelled by the tail-end of the Fed's efforts to taper its easy-money QE programs. All of which makes for a bad entry point to buy this market at the current price. At least that is the way the Nay-Sayers out there see it.
They point to ETF and mutual funds which saw over a billion dollars worth in outflows this quarter, while bonds received over 30 billion dollars in new money. Over the past couple of months there has been an increase of money-flows out of stocks and back into bonds, as skepticism toward U.S. equities has extended from individuals to institutions. Global money managers raised their cash-holdings to a two-year high which caused the trading volume in the S&P 500 sectors to sink to the lowest level since before this bull market began in March 2009.
Wall Street has been floating along in an uneasy calm near zero momentum to either side, which an increasing number of market strategist perceive as a looming threat to a volatile selloff.
But since this market is set to spring either way, how about a looming surge to the upside?
When you check this [SPX] weekly chart you'll note that yes, this index advanced ever since the beginning of last year, while being well supported by its exceedingly bullish Moving-Average configuration [green line below the red line] and a positive RSI strength indicator which spent most of that time in its bullish territory.
But then note that since the beginning of this year the MACD momentum bars were hanging from their demarcation line into bearish territory, and that spells doom for any seemingly sustained market advance. But there is hope!
Did you notice that the last entry of a MACD momentum bar is at the top of the demarcation line? If more bars follow, expect this rally to gain strength for reaching higher highs in the months ahead.
Meanwhile, slow and steady is making headway for this market.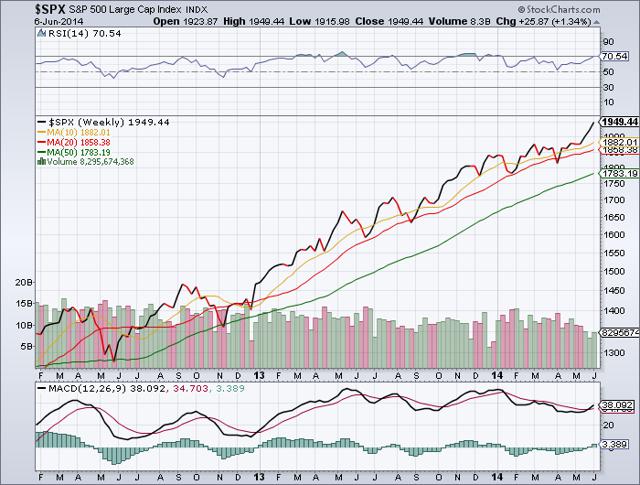 NASDAQ [NDX] and the small-caps [SML] are signaling that the bulls are on the way back and ready to put the market on track to higher highs for the sixth year in a row. Relative weakness in these two indexes between February and May has held the overall market back from gaining any meaningful momentum to the upside. But that is about to change.
Note that while both indexes were rallying with the support of their respective MA lines configurations [green line below the red] and RSI strength indicators in bullish territories, the MACD momentum bars remained stuck in their respective bearish territories and are still causing a drag on the overall market. But now these bars are poised to rise back above the demarcation line, which will spark renewed upside momentum which has been lagging lately.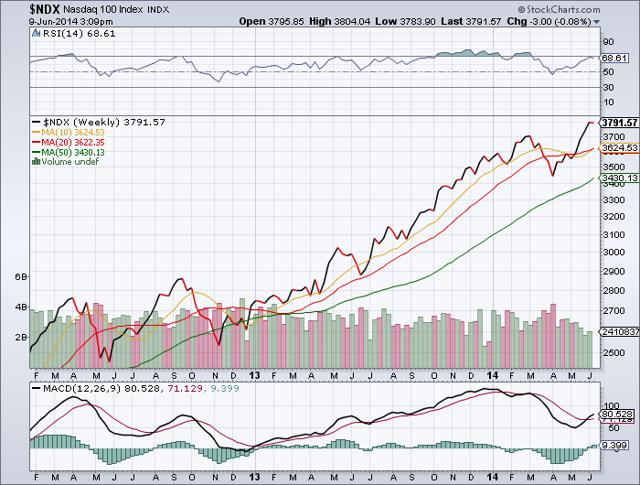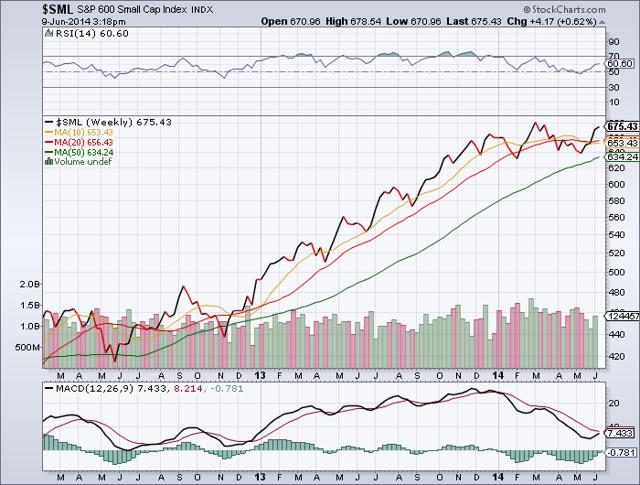 Since last May the commodity market [DBC] has been consolidating and now that at long last its MA lines configuration has turned bullish again [green line below the red] expect commodities generally to join this market's rally.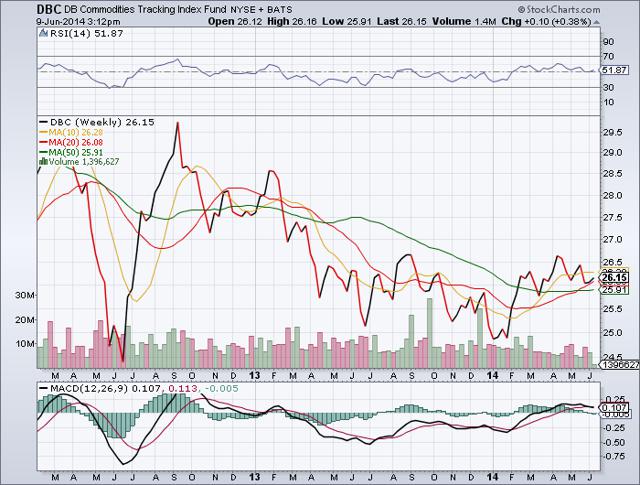 When you check these Troika charts, you'll note that the two bull components [RSP] and [SPXL] show no letup in their bullish romp to higher highs. In fact, have reached bubble territory and are in need of an urgent pullback and some consolidation. That would put the market on track for further rallies down the road.
Meanwhile, the bear component of this Troika [SPXS] remains totally comatose with its MA lines configuration sharply negative. For as long as that is the case, the bear has no chance to bring this market down in a meaningful correction.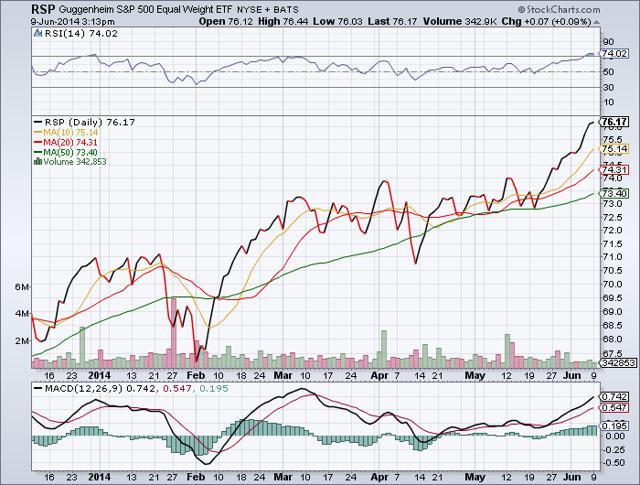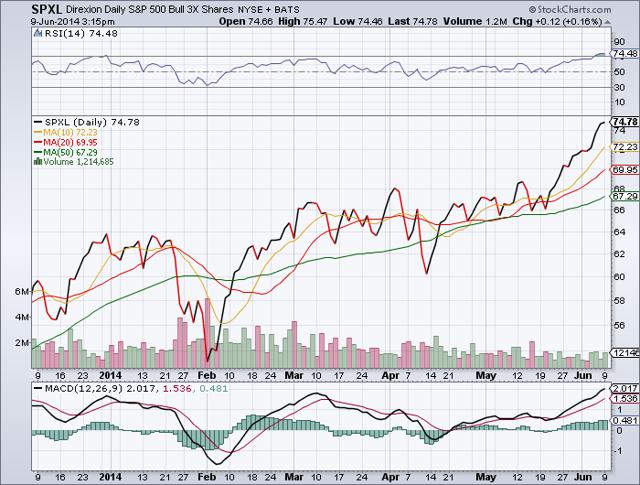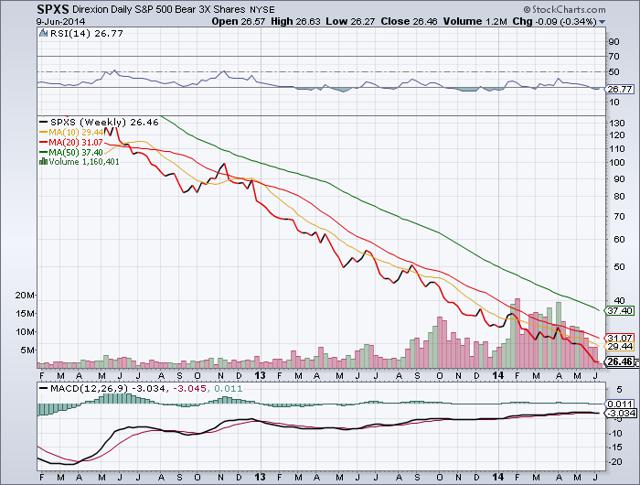 Stuck at the bottom of a deep pit, [GOLD] continues to struggle to see daylight again.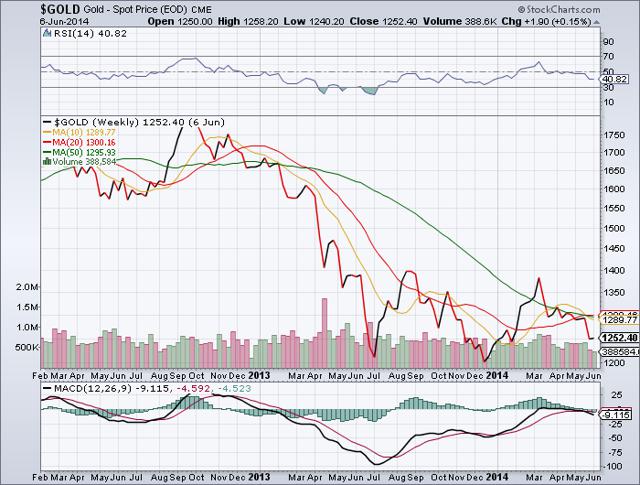 Oil [WTIC] remains in a consolidation mode. With its MA configuration totally neutral as the green and red lines are stuck together, oil is in no condition to move decisively into the bull's or bear's camp.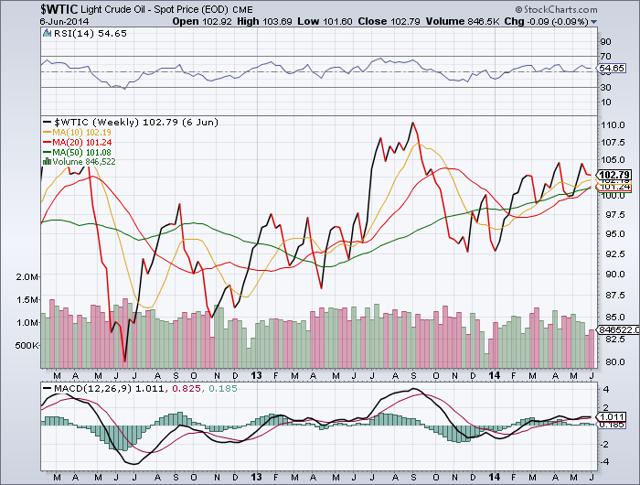 Here are some favored ETFs to keep at the ready for when the market comes your way.
Leveraged Bull-ETFs:
NASDAQ 100, 2x (NYSEARCA:QLD), EAFE 2x (NYSEARCA:EFO), DOW 30, 2x (NYSEARCA:DDM), Developed Markets 3x (NYSEARCA:DZK), S&P 500, 3x (NYSEARCA:UPRO), DOW 30, 3x (UPRO), NASDAQ 100, 3x (NASDAQ:TQQQ), S&P 500, 2x (NYSEARCA:SSO), Financials 2x (NYSEARCA:UYG), S&P 500, 3x (NYSEARCA:SPXL), Regional Banks 2x (NYSEARCA:KRU), Energy 3x (NYSEARCA:ERX), Biotech 2x (NASDAQ:BIB), Russell 2000, 3x (NYSEARCA:URTY), Small-Caps 3x (NYSEARCA:TNA), Mid-Caps 3x (NYSEARCA:MIDU), Semis 3x (NYSEARCA:SOXL), India 3x (NYSEARCA:INDL), Retail 3x (NYSEARCA:RETL), Industrials 2x (NYSEARCA:UXI), Health-Care 2x (NYSEARCA:RXL), Emerging Markets 2x (NYSEARCA:EET), Small-Caps 2x (NYSEARCA:SAA), Consumer Services 2x (NYSEARCA:UCC).
Non-Leveraged Long ETFs:
Mid-Caps (NYSEARCA:IWP), EAFE (NYSEARCA:EFA), NASDAQ (QQQQ), Industrials (TYJ), Discretionary (NYSEARCA:XLY), Oil-Services (NYSEARCA:OIH), Biotech (NYSEARCA:XBI), S&P 500 (NYSEARCA:IVV), Home-Construction (BATS:ITB), India (NYSEARCA:SCIF), Small-Caps (NYSEARCA:RZG), Materials (NYSEARCA:XLB), Energy (NYSEARCA:XLE), Semis (S0XX), Russell 2000 (NASDAQ:VTWO), India (BATS:INDA), Transports (NYSEARCA:XTN), Financials (NYSEARCA:IYF), Health-Care (TH),
Leveraged-Bear ETFs:
Mid-Caps 3x (NYSEARCA:MIDZ), Semis 3x (NYSEARCA:SOXS), Oil 2x (NYSEARCA:SCO), Technology 3x (NYSEARCA:TECS), Small-Caps 3x (NYSEARCA:TZA), Energy 2x (NYSEARCA:DUG), Financials 3x (NYSEARCA:FAZ), S&P100, 3x (NASDAQ:SQQQ), Materials 2x (NYSEARCA:SMN), Industrials 2x (NYSEARCA:SIJ), S&P 500, 3x (NYSEARCA:SPXU).
Non-Leveraged Short ETFs:
Emerging Markets (NYSEARCA:EUM), Russell 2000 (NYSEARCA:RWM), Financials (NYSEARCA:SEF), S&P 500 (NYSEARCA:SH), Small-Caps (NYSEARCA:SBB), DOW 30, (NYSEARCA:DOG), Equity-Bear (HDGF), S&P 100 (NYSEARCA:PSQ), Oil & Gas (NYSEARCA:DDG).
GOOD LUCK!