Although the market is still grinding higher on nothing more but the fumes of its empty momentum gas tank, the steadily improving economic outlook has market participants feeling at ease buying the market any time it pulls back a bit. A strong breakout by the small-cap sectors could mean that investors' risk appetite is returning, and that could put some upside momentum back into this rally.
Also, neither troubles in Iraq and Ukraine nor a whiff of inflationary pressures seem to be able to derail this bull-walk, even though it has slowed to a crawl. But now that the economic sensitive small caps are showing some moxie again, this rally is bound to pick up some steam as well.
Check this weekly small-cap chart [IJR] and note that after a downdraft between March and May, this index is again in a rally mode while being well supported by a continued and strongly bullish Moving Average configuration [green line below the red line.]
While the RSI strength indicator is also well within its bullish territory, the MACD momentum bars still remain at dead neutral, after being exceedingly bearish below the demarcation line ever since last January. Only when these bars rise above the D-line, will the market be able to rally strongly.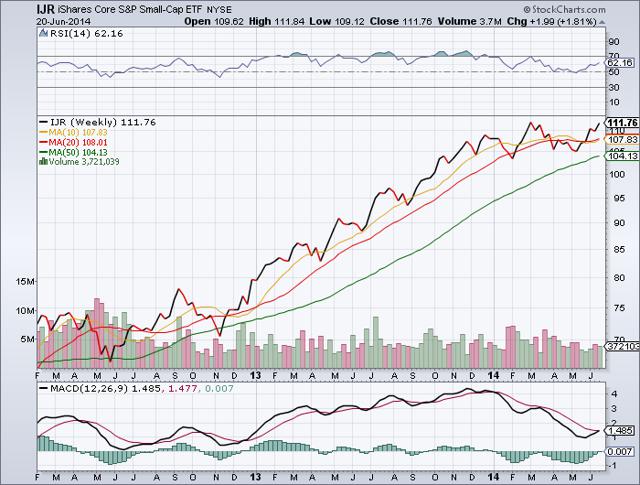 Everything about this daily small-cap chart [RUT] is bullish, especially with the MA lines configuration positive again [green line below the red.]
These two indexes show that the small-caps are regaining the leadership in this game, and that bodes well for the market in the weeks and month ahead.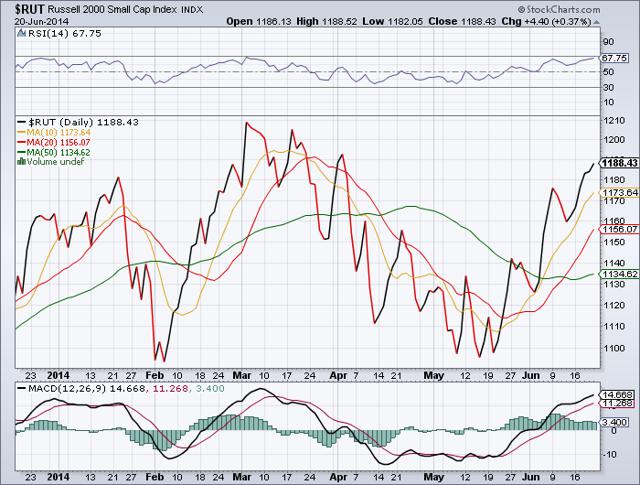 When you check the Troika charts you'll note that the two bull components [RSP] and [SPXL] had themselves a pretty good rally ever since early 2013, while being strongly supported by their respective bullish MA lines configurations [green lines below the red.]
But what fuelled this rally was not resurgence in economic strength, but monetary manipulations by the Fed. This is why the MACD momentum bars of these two indexes were mostly negative since last June. But now that these bars are rising above their respective demarcation lines again, we can expect renewed strength and upside momentum for this rally. But this time the rally will be supported by an increasing strength in the economy and less by the Fed's manipulations, which are in the process of being phased out anyway.
Meanwhile, it's more of the same with the bear component of the Troika. This bear remains stuck in a deep hole at the bottom of a deep pit, held down by the strongly negative for the bear MA lines configuration [green line above the red.] MACD momentum and RSI strength are nowhere to be found and for as long as that is the case, the bear is unable to inflict any real harm to the bull for weeks, and maybe even months ahead.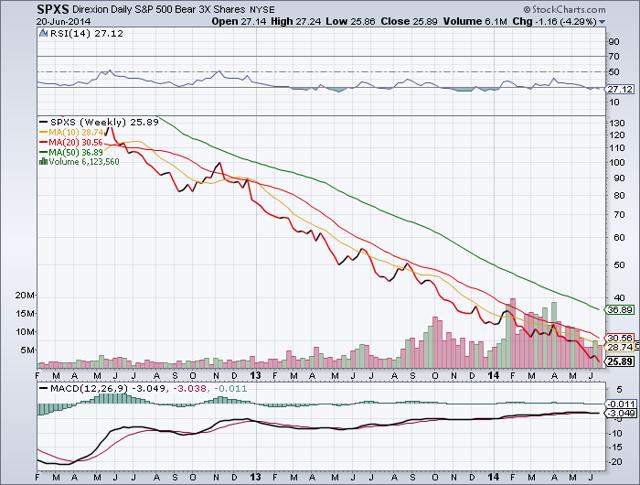 Last week, the commodity index [CRB] closed at its highest level so far this year and appears to be gaining upside momentum. The reason is energy prices spiking higher on increased tension in Iraq and Ukraine. For the same reason gold and silver rose sharply as well. At the same time the U.S. consumer price index jumped to its highest level in a year, while the Fed announced that they will keep rates lower longer than the market had anticipated, all of which sparked a pretty good rally in the commodity indexes. But unless the MACD momentum bars start sliding into bullish territory above the D-line, this rally won't last.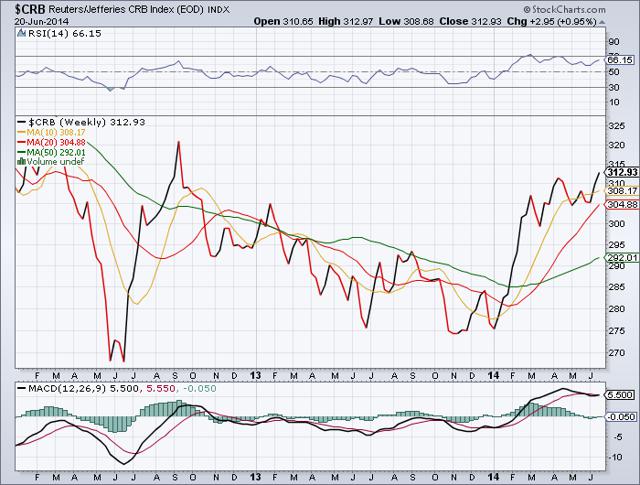 O.K., so where is the physical demand for all that commodity stuff? According to this CRB's twin the [BDI] commodity demand index, nobody needs it. Its MA lines configuration [green line above the red] is strongly negative. The RSI strength indicator remains stuck inside its bearish territory and so are the MACD momentum bars. Sure, global economies are expanding, but not at the rate needed to make a decent dent on the commodity stockpiles.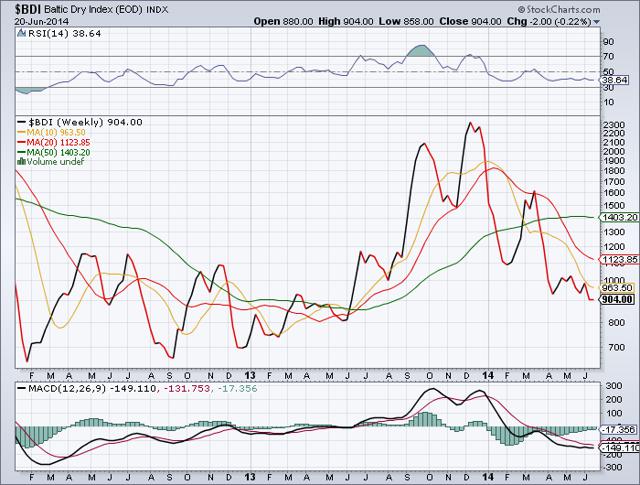 Last week, gold had its best performance in a month as traders rushed to cover their piles of short positions in the yellow metal. Expecting the Fed to announce the beginning of rate-hikes which would pressure the price of gold, the Fed went the other way and is keeping interest rates lower for longer, and up shot the price of gold. But does this rally have legs?
At this point it's hard to tell because gold is at an inflection point. Note that the green and red moving-average lines for gold have totally merged, and it all depends how these two lines will "unmerge" that will point to the direction of the gold price. If the green line rises back above the red line, gold will stay down or sink even lower. But if the green line slides below the red it will signal support for gold and the rally will continue, especially if the MACD momentum bars rise above the demarcation line.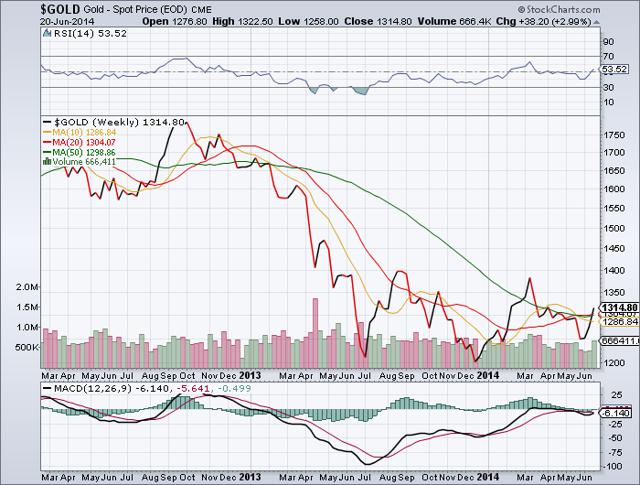 With its MA lines configuration turning bullish [green line below the red] the price of oil [WTIC] remains biased to the upside.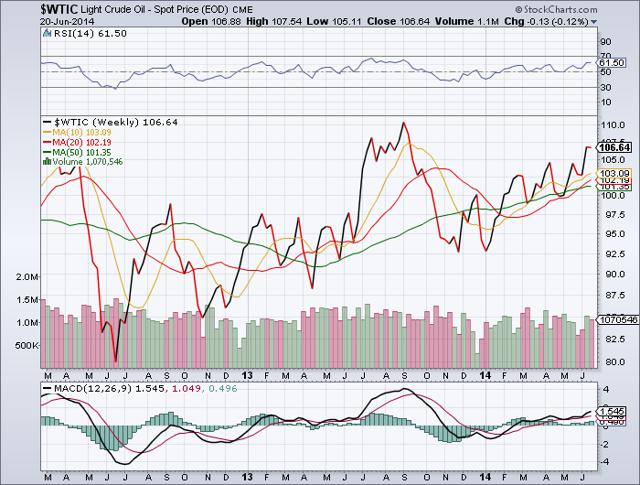 For the first time since last January this NASDAQ 100 index [NDX] has its MACD momentum bars rising above the demarcation line, and that is bullish. Combine that with the strong support of its MA lines configuration [bullish with the green line below the red] and its RSI strength indicator solid in its bullish territory, all of which puts the NASDAQ in pretty good shape to keep rallying from here.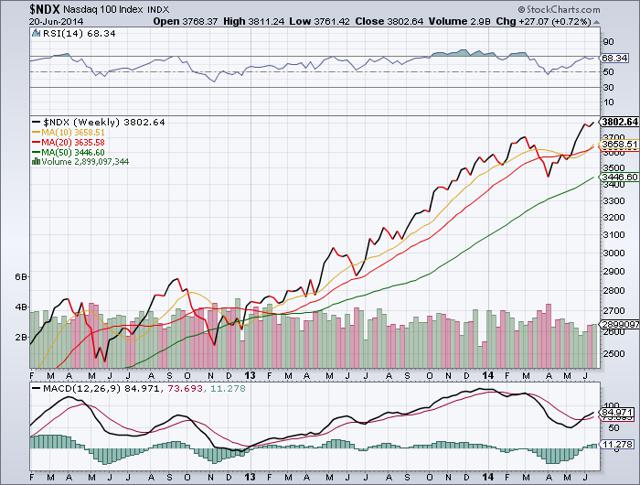 This market-forecasting junk-bond canary [JNK] is suffering from a split personality. While this rising index remains strongly supported by its bullish MACD lines configuration [green line below the red] its MACD momentum bars are sitting totally neutral on the demarcation line, and that is bearish. Also, if the bubble on top of the RSI Channel deflates slowly - no problem. But should this bubble keep blowing larger and burst, expect NASDAQ to take a steep nosedive, along with the rest of the market.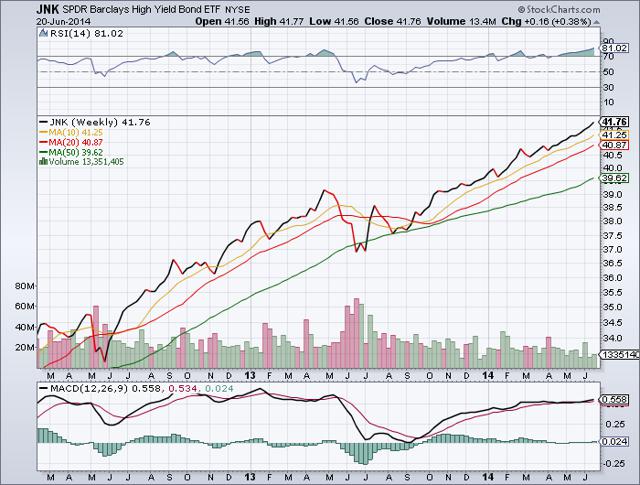 As this index [KNOW] on the next chart indicates, the insiders in this game who supposedly know which way the wind blows marketwise, are sure in a bullish frame of mind. This rising index is well supported by a very positive MA lines configuration [green line underneath the red] and ditto by an equally strong RSI strength indicator. Also, for the first time since last January the MACD momentum bars for this index are back in bullish territory above the demarcation line. So, as these insiders have it, this market will keep on reaching for higher highs. We'll see.
Put all of that stuff together and you're looking at a market that is certainly bullish, but still lags the momentum to match its bullishness, although this is slowly beginning to make its presence felt. Another week or two should tell the story.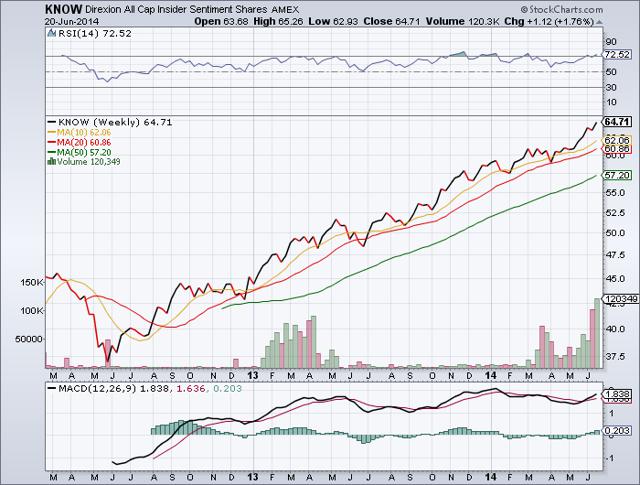 Meanwhile, keep track of these favored ETFs that show a steady price appreciation over time.
Favored sectors:
Small-Caps, Mid-Caps, Energy, Healthcare, Materials, Biotech, Transports, Financials.
Favored ETFs, Leveraged Bulls:
Small-Caps 2x (NYSEARCA:SAA), Healthcare 2x (NYSEARCA:RXL), Energy 3x (NYSEARCA:ERX), Semis 3x (NYSEARCA:SOXL), Russell 2x (NYSEARCA:UWM), Small-Caps 3x (NYSEARCA:TNA), Oil & Gas 2x (NYSEARCA:DIG), Materials 2x (NYSEARCA:UYM), Nat-Gas 3x (NYSEARCA:GASL), Mid-Caps 2x (NYSEARCA:MVV), S&P 500, 3x (NYSEARCA:SPXL), Financials 3x (NYSEARCA:FAS), DOW 30, 3x (NYSEARCA:UDOW), NASDAQ 2x (NYSEARCA:QLD).
Non-Leveraged Long ETFs:
India (NYSEARCA:SCIN), Solar-Energy (NYSEARCA:TAN), Nat. Gas (NYSEARCA:FCG), Oil/Gas Expl. (NYSEARCA:XOP), Energy Infrastructure (NYSEARCA:MLPX), Semis (NYSEARCA:XSD), India (NYSEARCA:INP), Pharma (NYSEARCA:XPH), Semis (NASDAQ:SOXX), Biotech (NYSEARCA:PBE), Transports (NYSEARCA:IYT), Mid-Caps (NYSEARCA:IWR), Small-Caps (NASDAQ:DWAS), S&P 500 (NYSEARCA:IVE).
Leveraged Bear ETFs:
DOW 30, 3x (NYSEARCA:SDOW), Technology 3x (NYSEARCA:TECS), Gold 2x (NYSEARCA:GLL), Silver 3x (NASDAQ:DSLV), Oil 2x (NYSEARCA:SCO), Financials 3x (NYSEARCA:FAZ), Healthcare 2x (NYSEARCA:RXD), Semis 2x (NYSEARCA:SSG), S&P 500, 3x (NYSEARCA:SPXS), DOW 3O, 2x (NYSEARCA:DXD), S&P 500, 2x (NYSEARCA:SDS),
Non-Leveraged Short ETFs:
S&P 500 (NYSEARCA:SH), Equity Bear (NYSEARCA:HDGE), DOW 30 (NYSEARCA:DOG), NASDAQ (NYSEARCA:PSQ), Russell 2000 (NYSEARCA:RWM), Mid-Caps (NYSEARCA:MYY), Gold (NYSEARCA:DGZ), Emerging Markets (IUM).
GOOD LUCK!