A worsening of the Ukraine/Russia crisis put pressure on Wall Street during last Friday's August 15 session. After being higher at the open, a report came out claiming that Russian military vehicles had crossed into Ukraine during the night and that the Ukraine armies had destroyed most of them. Russia denies the whole thing and says that no Russian military vehicle had crossed the Ukraine border, and that was it.
But Wall Street had pressed the panic button and the DOW took a 200 point round trip. It just proves that the Russian/Ukraine conflict remains the focal point on Wall Street and for as long as that is the case, anything market-wise can and probably will happen. So fasten your seatbelts, the volatility from here on out could become hectic.
Note that the Moving-Average configuration of the DOW had turned bearish [green line on top of the red line] and that could spell troubles ahead for the market.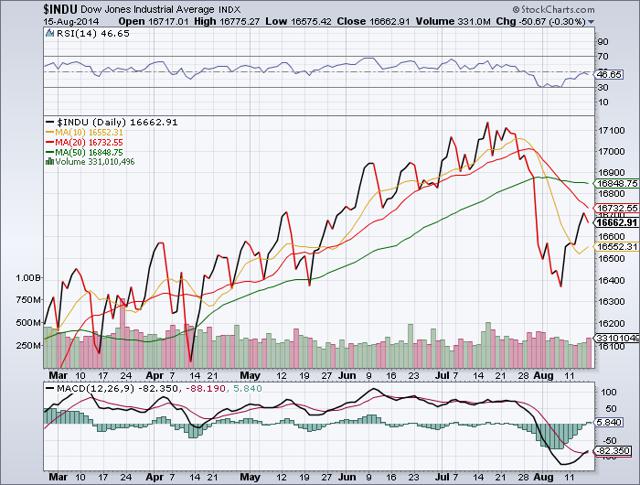 Yet, a recent survey of individual investors shows that the bears in this game are in retreat, and only 27 percent of those surveyed figured that the market would drop over the next six months, and that gives the bulls in this game the upper hand. As they see it any pullback in Wall Street will be short-lived, soon to be followed by new record highs. The market is ultimately driven by conventional fundamentals like earnings, interest rates and economic growth. Geopolitics that do not direct impact on the U.S. economy, do not set the pace for Wall Street very long.
Once investors realize that economic fundamentals remain unaffected by the current troubles out there [after all, it's their troubles, not ours] sentiment usually improves pretty quickly, and it's off to the races again.
But if this is the case, how come the S&P 500 bullish percent index [BPXPX] is stuck in the mud at the bottom of a deep hole? Its Moving Average lines configuration [green line above the red] is as bearish as bearish can get, the RSI strength indicator is blowing a big bubble below the bottom of its trading range, and the MACD momentum index has given up the ghost.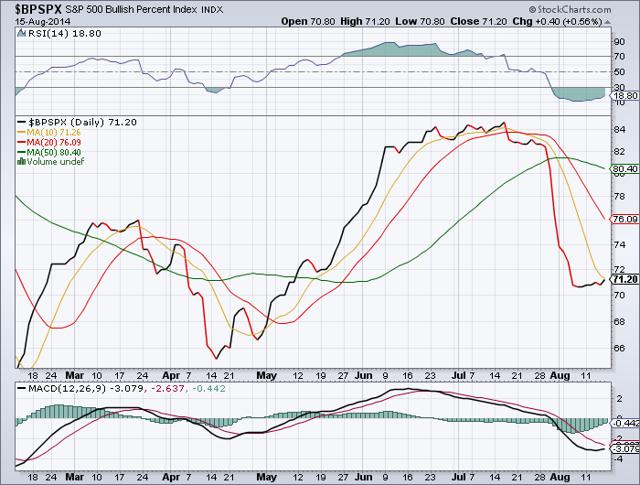 Conflicting chart projections, which what volatility is made of and there will be plenty of it in the weeks and months ahead. Note this [XLP: XLY] index which shows the exact opposite of what the bullish percent indicator projects. It is a contrarian indicator where the bearish MA lines configuration [green line above the red] is a very bullish signal for the market. We'll see.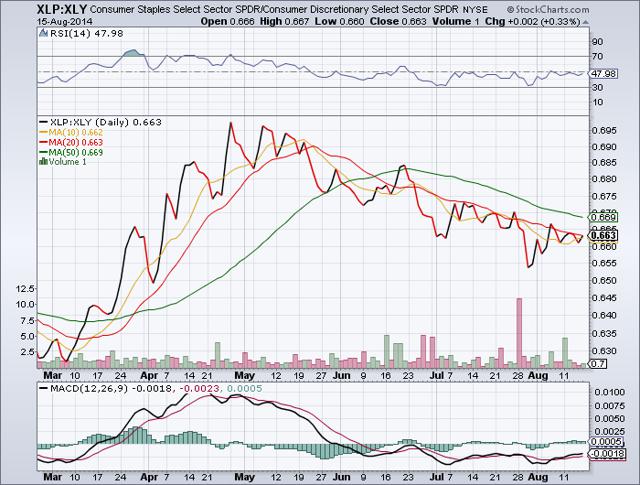 Check the Troika and note that its two bull components [RSP] and [SPXL] had themselves a pretty nice rally out of the holes they found themselves in. But now these two bull rallies are topping out and have to take a breather. The reasons for this is that the respective MA lines configurations [green lines above the red] have turned bearish and that will have to be resolved. So expect a bit of a temporary pullback.
Note that the respective MACD momentum bars appear to be climbing back above the demarcation line again, which means that the market's fuel tanks are being refilled and that has the bulls sensing upside momentum is coming back into the game.
Check the [SPXS] bear component of this Troika which had the bears feeling pretty spunky a couple of weeks ago, but is now back into the hole again. But with its MA lines configuration totally neutral, the bear hasn't't got a clue if it should be moving up, down or sideways. So there is a standoff which could lead to heightened volatility. Oh yes, the sidelines are still looking good from this standpoint.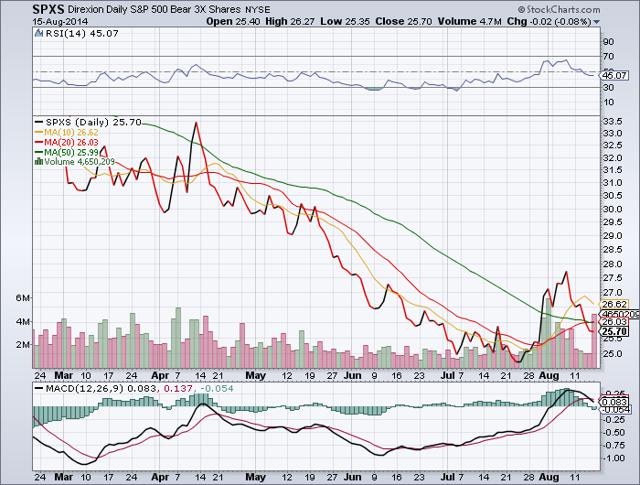 The Nasdaq100 [NDX] appears to be one of the few indexes that fire on all cylinders. The concern here is that after its steep nosedive last month, it bounced back too high too fast and may have to retrace some of it before advancing further. Still, its MA lines configuration [green line below the red] remains strongly bullish and so is its RSI strength indicator which remains solid in bullish territory. Even the MACD momentum bars appear to be finally climbing above the demarcation line, something that is needed for this NDX rally to continue.
The renewed strength in the NDX could be the reason that biotech, technology and materials are finding a renewed leadership again.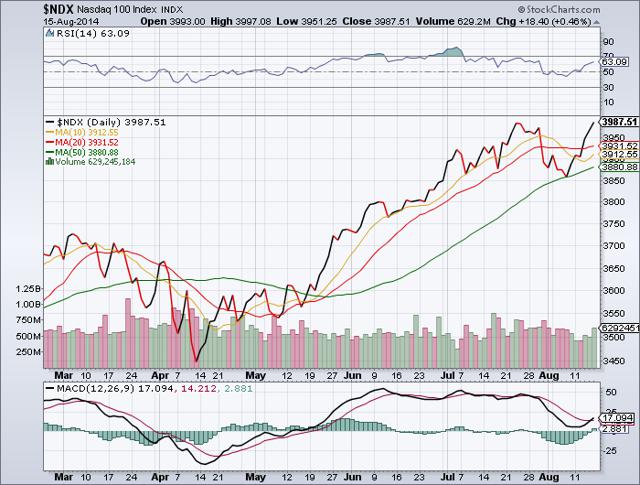 The commodity index [DBC] just can't make it off the floor. The MA lines configuration [green line above the red] continues to be extremely bearish and so is the MACD momentum index and RSI strength indicators both of which remain deep in their respective bearish territories.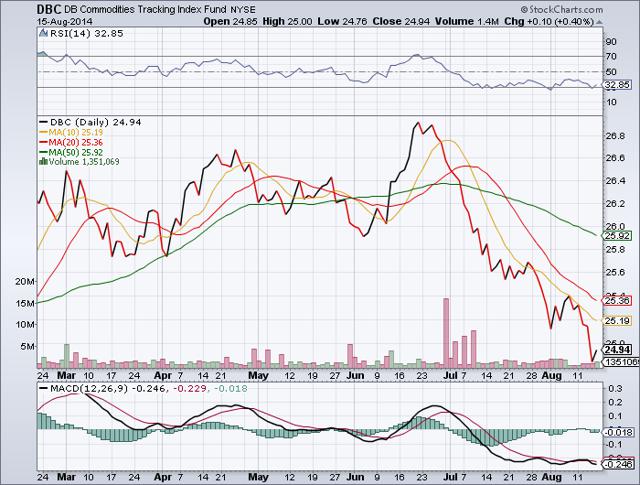 For as long as the small-cap index [RUT] continues to display such a lousy MA lines configuration [green line above the red] the stock market as a whole will have a tough time finding traction to the upside and it needs the power of the small caps to do that.
The good thing here is that the MACD momentum bars and RSI strength indicator are back in their respective positive territories, and that is a bullish combination for the small-caps.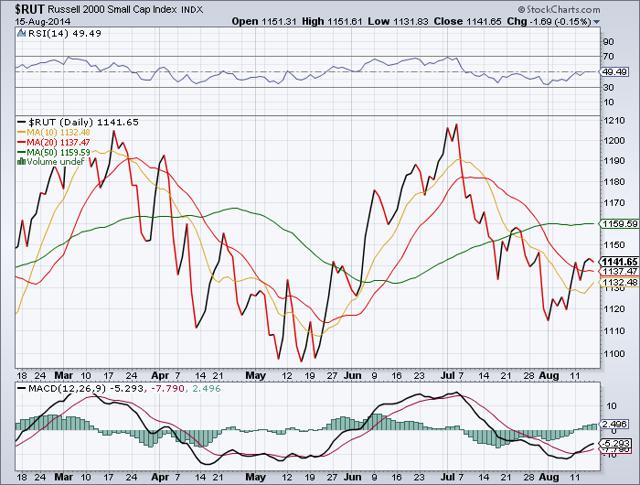 The yellow metal [GOLD] appears to be consolidating while its MA lines configuration is totally neutral, meaning that the bias for gold is evenly split. The MACD momentum and RSI strength indicators are set at dead-neutral as well, which suggests that gold is doing nothing and go nowhere fast.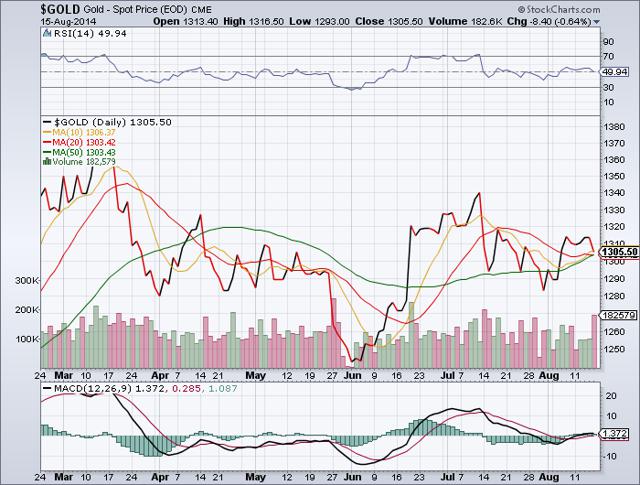 Oil [WTIC] has joint a long line of commodities that appear to be headed for the trash-can. Nobody wants that stuff and this is why the MA lines configuration for oil is so intensely bearish [green line above the red] and both the MACD momentum index and RSI strength indicator continue to hide in their respective bearish territories.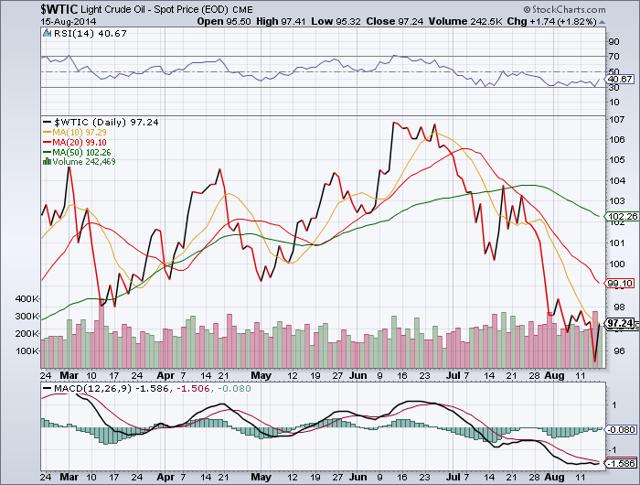 All in all, the recent snap-back rallies had the earmarks of lazy summer-day affairs. No conviction to either side, volume levels well below average. So which way from here for the market is anyone's guess. That is as good a reason as any to stay at the sidelines a bit longer and wait for the market to make up its mind.
Meanwhile here are some cyclical ETF sectors that could fit into a trader's quiver.
Health-care, biotech, technology, materials, semis.
Leveraged Bull ETFs:
Biotech 2x (NASDAQ:BIB), Health-Care 3x (NYSEARCA:CURE), Financials 3x (NYSEARCA:FAS). Midcaps 3x (NYSEARCA:UMDD) Nasdaq100, 3x (NASDAQ:TQQQ), S&P 500, 3x (NYSEARCA:SPXL), Semis 3x (NYSEARCA:SOXL), Materials 2x (NYSEARCA:UYM), Jr. Gold-Miners 3x (NYSEARCA:JNUG),
Non-leveraged long ETFs:
Biotech (NYSEARCA:BBH), Banks (NYSEARCA:KBE), S&P 500 (NYSE:RPV), Financials (NYSEARCA:IYG), Health-Provider (NYSEARCA:IHF).
Leveraged Bear ETF:
Nat-Gas 3x (NYSEARCA:DGAZ), Gold 3x (NASDAQ:DGLD) Developed Markets 3x (NYSEARCA:DPK), DOW 30, 2x (NYSE:DXD), Emerging Markets 3x (NYSEARCA:EDZ), Financials 3x (NYSEARCA:FAZ), Mid-Caps 3x (NYSEARCA:MIDZ), NASDAQ 2x (QID), DOW 30, 3x (NYSEARCA:SDOW), Materials 2x (SMN), Semis 3x (NYSEARCA:SOXS).
Non-Leveraged Short ETFs:
Gold (NYSEARCA:DGZ), Dow 30 (NYSE:DOG), NASDAQ (NYSEARCA:PSQ), Equity Bears (NYSEARCA:HDGE), Russell 2000 (NYSEARCA:SRTY), Mid-Caps (NYSE:MYY), Financials (SEF), S&P 500 (NYSEARCA:SH), Russell 2000 (TW).
GOOD LUCK!