Wall Street just keeps on moseying along as it has been since last February when the S&P benchmark 500 index stood and still stands around the 2100 level. But now the Moving-Average configuration of this index has turned bearish with the green line above the red line, the RSI strength indicator has slipped into bearish territory and the MACD momentum bars are sitting at dead neutral on the demarcation line.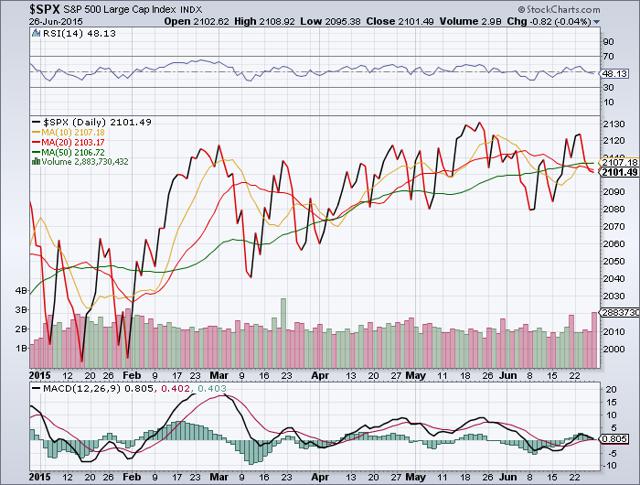 So the best that can be said about this market is that it stands at a ledge of a steep slope wondering if to climb higher, or just to slide down to a level where it can find some renewed traction again. All in all, this is a good time to stay in cash while taking an extended summer holiday.
As some market strategists have it, there is no reason to be in this market, except to just mosey along with the flow, and see where it ends up to.
The market's worry is that if Greece comes off the rails because it can't get a bailout agreement, then contagion will set in among the peripheral euro-zone nations, and that could spill volatility waves right up to Wall Street.
OK, that's a bit of a stretch, but it could make things uncomfortable for the North-American financial markets. This is especially the case since the Greek government called a sudden referendum for July 5th on whether Greece should accept the demands of the country's creditors. That has thrown into doubt any future financing for Greece, after its current bailout ends on June 30ed. So now the market is concerned over the ramifications this referendum could have on the global financial markets and that could make for some choppy sessions in the months ahead.
Check the Troika and note that the bull components [RSP] and [SPXL] are turning bearish. The respective Moving-Average lines configurations have turned negative with the green lines above the red lines. The two RSI strength indicators are slipping into bearish territories and so are the respective MACD momentum bars.
These are warning signals that the market is about to engage in a selloff, moderate or otherwise.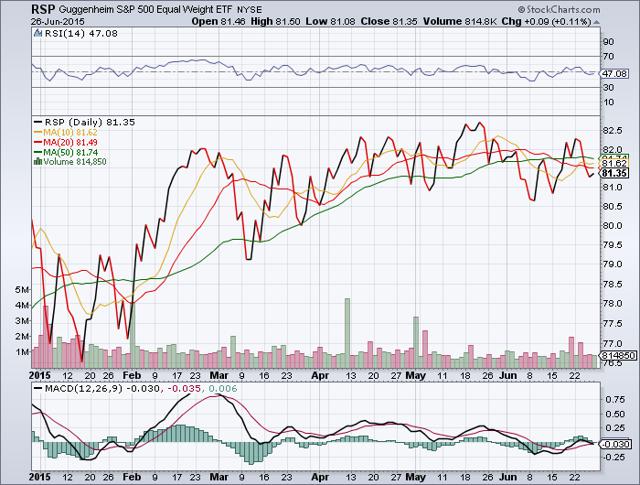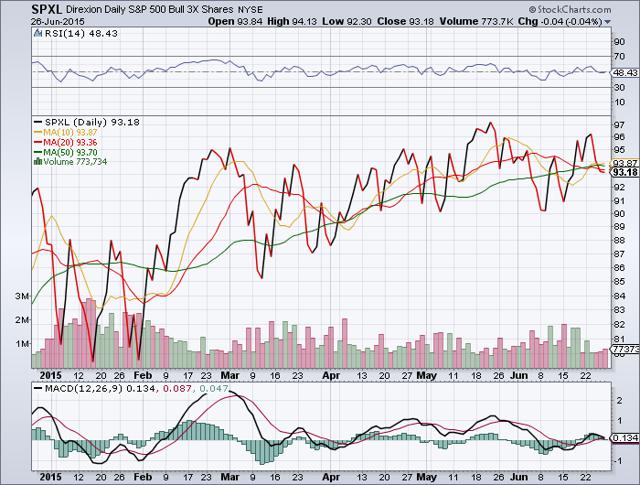 Note that the bear component of this Troika [SPXS] is trying to find some traction to the upside, but has a tough time doing so. Its MA lines configuration continues to be bearish for the bear [green line above the red.] The RSI strength indicator is at dead neutral, and so are the MACD momentum bars.
But with a Greek financial fiasco looming, chances are that the bear will find a good reason to rally, and take the market down. We'll see.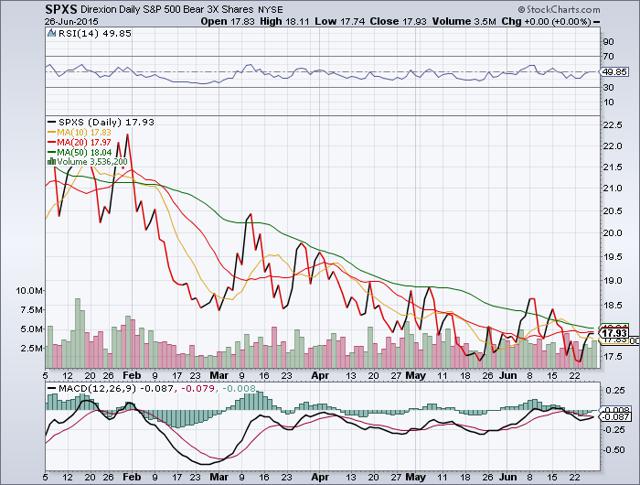 This percent index [SPXA] had a pretty good bounce off the bottom a couple of weeks ago, but this rally couldn't't last because the MA configuration remained extremely bearish [large gap between the green line above the red.] The RSI strength indicator and MACD momentum bars are both at dead neutral, so the market is not getting any support from these indicators.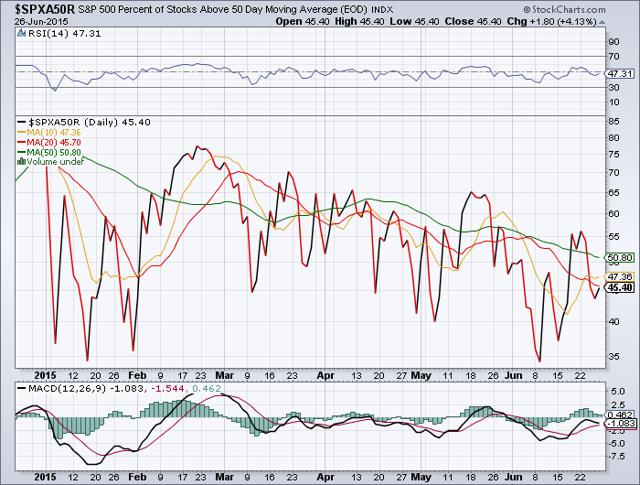 The NASDAQ [NDX] appears to be back in a holding pattern again. Even after rallying strongly a couple of weeks ago, this index was unable to break to new highs, and so it is back in a consolidation mode. This could prove to be bullish for NASDAQ in the months ahead.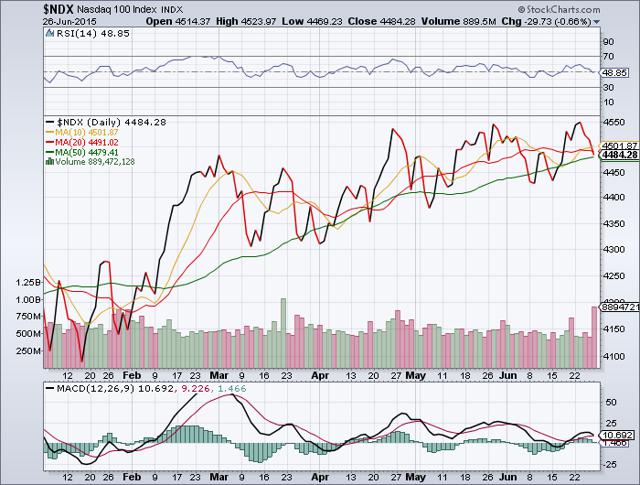 The commodity index [DBC] continues its bearish pattern with a large gap between the green MA line above the red MA line configuration. But this is also a sign that the commodity market is oversold and therefore could spark a bounce-back rally.
The RSI strength indicators as well as the MACD momentum bars are both at dead neutral along their respective demarcation lines, and that could cause the market to swing in either direction.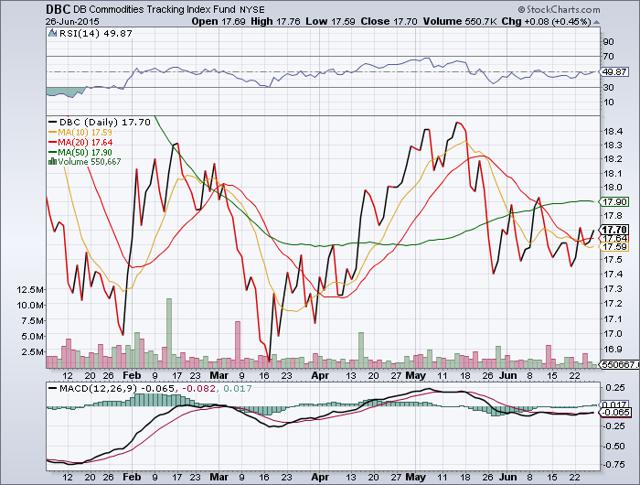 This insiders "smart-money" index [NFO] appears to have given up hope for a rally attempt and is back in a consolidation mode, neither bullish nor bearish. Just a wait and see attitude, which is another sign to stay at the sidelines for a while, and just watch how this thing unfolds.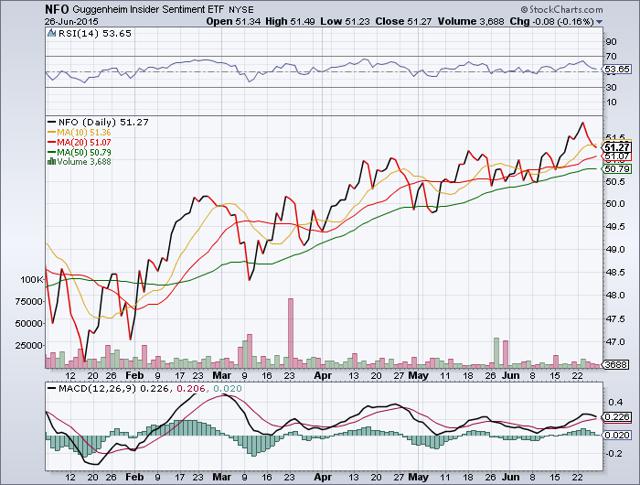 The small-caps [SML] recent outperformance is a sign that this sector is taking back its rightful leadership in the market. The small-cap sector relies more heavily on the North-American economies then overseas where the idiots are.
This is why large caps that operate over-there are having problems with their balance-sheets, whereas the small-caps are thriving. The recent small-cap rally was cut short for the simple reason that the small-cap index had shot up too far too fast, and so it became overbought and top-heavy. This is why the consequent pullback is bullish not only for the small-caps, but the overall market as well.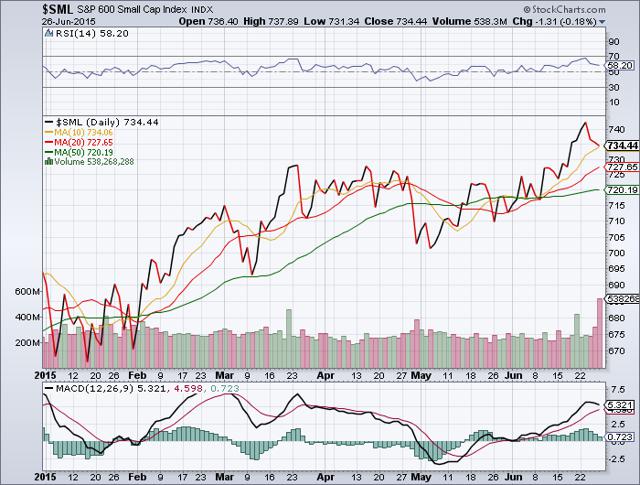 After consolidating since last April, the consumer-discretionary index [XLY] is set to rally despite the financial troubles in Europe. This is a sign that bullish sentiment in Wall Street is well entrenched and when this Greek shell-game has run its course, the rally can continue from a lower and more solid base.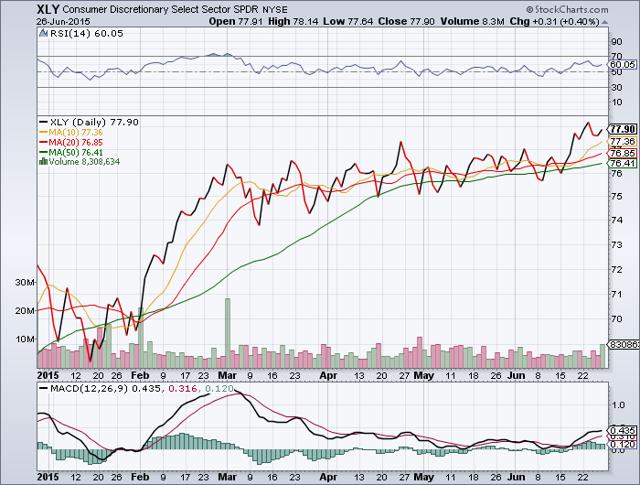 Even with the Greek tragedy unfolding [GOLD] "just ain't" what it used to be. This index keeps sliding deeper into a deep hole when in the past it would have been rallying strongly at times like this. The MA lines configuration is bearish for the yellow metal [green line above the red] the RSI strength indicator has slid into bearish territory and the MACD momentum bars are at dead neutral along the demarcation line.
These indicators do not augur well for the price of gold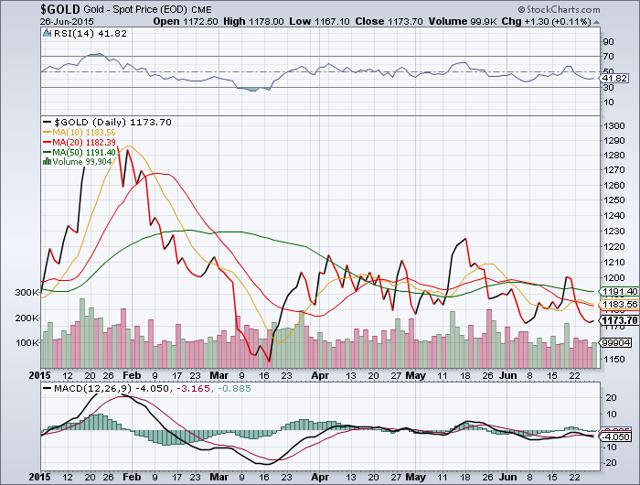 Oil [WTIC] seems to have something going for itself. This index appears to be stabilizing in a consolidation mode since early last May and while the RSI strength indicator and the MACD momentum bars remain at dead neutral, the MA lines configuration continues to be bullish with the green line below the red.
So, it could be that something positive out there is happening for the price of oil.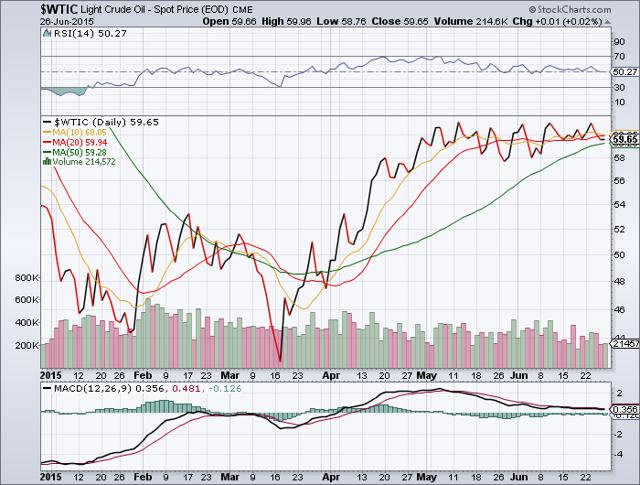 Depending how the Greek situation plays out this week, things could get a bit rocky for the markets. Just keep in mind that ETFs featured in these blogs are meant to be trading vehicles, and not for long-term holdings.
But just in case the market comes rocking your way, here are some favored ETFs to keep on tap.
ETF sectors:
Utilities, Biotech, Health-Care;
Leveraged Bull ETFs:
Healthcare 3x (NYSEARCA:CURE), Semis 3x (NYSEARCA:SOXL), Biotech 2x (NASDAQ:BIB), Retail 2x (NYSEARCA:RETL), NASDAQ 2x (NYSEARCA:QLD), S&P 500, 3x (NYSEARCA:SPXL), DOW 30, 3x (NYSEARCA:UDOW), Mid-Caps 2x (NYSEARCA:MVV), Small-Caps 3x (NYSEARCA:TNA);
Non-Leveraged Long ETFs:
Biotech (NYSEARCA:PBE), Pharma (NYSEARCA:XPH), Health-Care (NYSEARCA:RYH) Medical (NYSEARCA:IHI) NASDAQ (NASDAQ:QQQ), Russell 2000 (PXSG), Mid-Caps (NYSEARCA:IWP), Large Caps (PWP), Small-Caps ;
Leveraged Bear ETFs:
S&P 500, 2x (NYSEARCA:SDS) NASDAQ 2x , DOW 30, 2x (NYSEARCA:DXD), Russell 2000,2x (NYSEARCA:TWM), Emerging Markets 2x (NYSEARCA:EMSA), Commodities 2x (NYSEARCA:DEE), Financials 3x FAZ), Small-Caps 3x (NYSEARCA:TZA), Mid-Caps 3x (NYSEARCA:MIDZ), Energy 3x (NYSEARCA:ERY), Technology 3x (NYSEARCA:TECS);
Non-Leveraged Short ETFs:
S&P 500 (NYSEARCA:SH), Financials (NYSEARCA:FAZ), NASDAQ (NYSEARCA:QID), Base-Metals (NYSEARCA:BOS), Materials (SBU), DOW 30 (NYSEARCA:DOG), Equity Bear (NYSEARCA:HDGE),
GOOD LUCK!