The benchmark S&P 500 index posted a second quarter sales decline and the worst quarterly performance since 2009. At the same time, Wall Street got hit with the largest weekly drop since last March as slowing global economic growth kept dragging commodity related sectors down and slowing earnings downed the biotech and technology sectors.
Steep declines in the energy and material sectors reflected the weakening economic performance in China and in the Euro zone. This is why this week Wall Street worried more about global economic growth conditions, than headline news about Greece and China.
Last Friday, market participants got a taste of what it is like when reality catches up with their dreams. After a steep nosedive in June the market found renewed traction in July and the rally was back on again. But a shrinking number of companies took part in this latest parade which was led by three mega-caps, Google, Apple and Amazon. Add Gilead, Facebook and Netflix and you got a tiny group of heavy hitters who accounted for 80 percent gains during this latest rally. This shows that as troubles in this market become more obvious, money rotates toward size and perceived safety of these mega-caps.
This is a far cry from the first half of the year when the small and mid-caps in this market were the stars of the show. Now their shine has dimmed and unless these stars shine bright again soon, the market is doomed to spiral into a black hole and there is nothing the large caps can do about it, regardless how hard they rally.
But check this Troika, which tells the story.
Note that during the latest strong rally the main component of this Troika [RSP] sported an extremely bearish Moving Average lines configuration with a large gap between the green line above the red line. With a configuration like that, no rally has staying power.
But check the MACD momentum bars which during this rally were strong and solid on top of the demarcation line, and that gave a sharp lift and support to the market. Yet, between the bearish MA configuration and the bullish MACD momentum the market is caught in a cross-current it has a tough time overcoming.
Now it appears that the bullish momentum bars are fading and are about to turn bearish as well and that will put the kibosh on the bull. Not helping any is the RSI strength indicator which has slipped deep into bearish territory, which means that the bull just hasn't't got what it takes to lead the market into a sustained rally.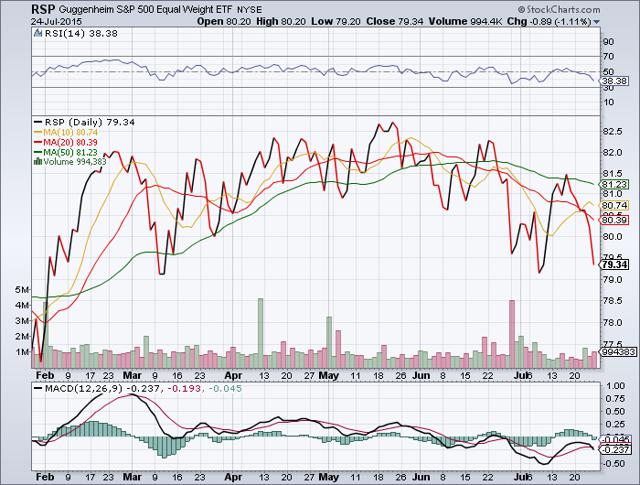 So while it is correct to say that according to these charts' projections the market is facing some pretty wicket selling-squalls, but they won't morph into a full-blown correction. Check the weekly RSP chart and note that here the MA lines configuration remains as solidly bullish as it has been since January 2009 with the green line below the red line, and that is not the kind of stuff that corrections are made of.
But with the RSP index slicing right through the red MA line and is poised to do the same with the green line, a sharp and probably deep but temporary selloff lies ahead. While the RSI strength indicator remains mainly neutral, the MACD momentum bars have slipped below the demarcation line, which add to the cross-currents of this market and a sharp bias to the downside.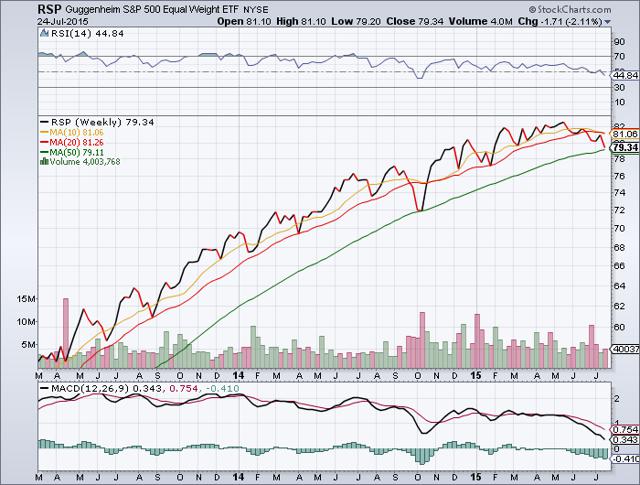 The daily and weekly bull-components of the Troika show the same configurations as the daily and weekly RSP charts, so the same comments apply.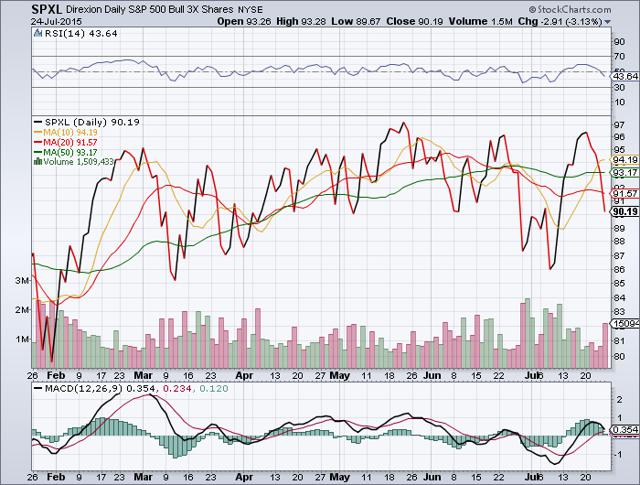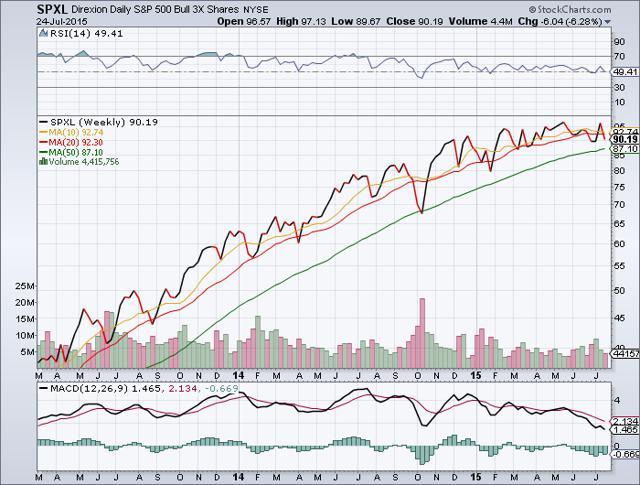 The bear-component of this Troika appears to finally come out of hibernation when the MA lines configuration turned bullish for the bear [green line below the red] for the first time since July 2010. The RSI strength indicator is also rising into bullish territory for the bear while the MACD momentum bars are taking a breather at the demarcation line.
So far it is only a beginning, but should this bear continue to gather strength it would be a major shift in market psychology from bullish to bearish.
But the weekly chart of this bear shows that it is still hibernating for the long-term, which rules out a correction anytime soon.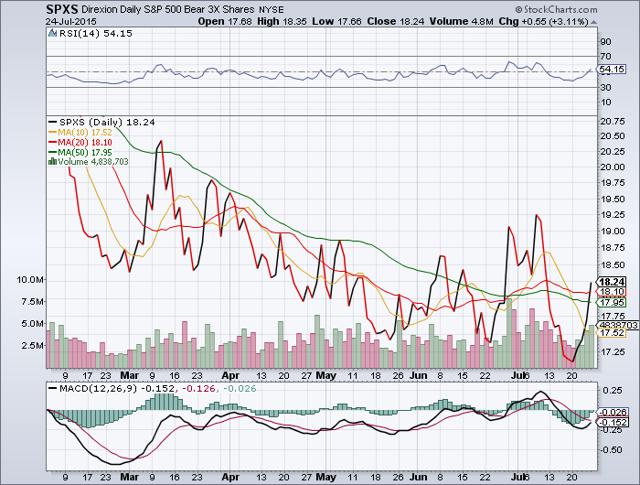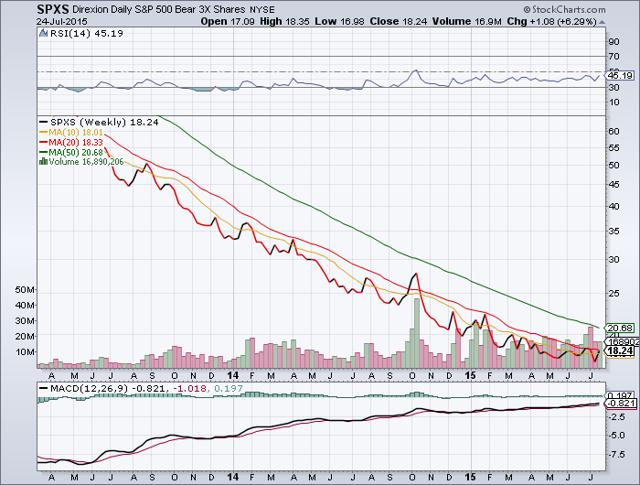 All in all, this Troika is setting up for a series of selling squalls that could be deep, but temporary and could become excellent buying opportunities. But for now, staying with cash at the sidelines is still the place to be.
Check the second Troika in this market, Cyclical [FCL] Small-Caps [SML] Mid-Caps [SCHM.] Note that these three charts have something in common that doesn't look good for the bulls. Yet, if this Troika does not perform well, neither will the market.
Note that these three charts have the same patterns. While these indexes are nose-diving they are accompanied by their respective extremely bearish MA lines configurations [green lines with large gaps above the red lines.] At the same time, the respective RSI strength indicators and MACD momentum bars have slipped into bearish territories.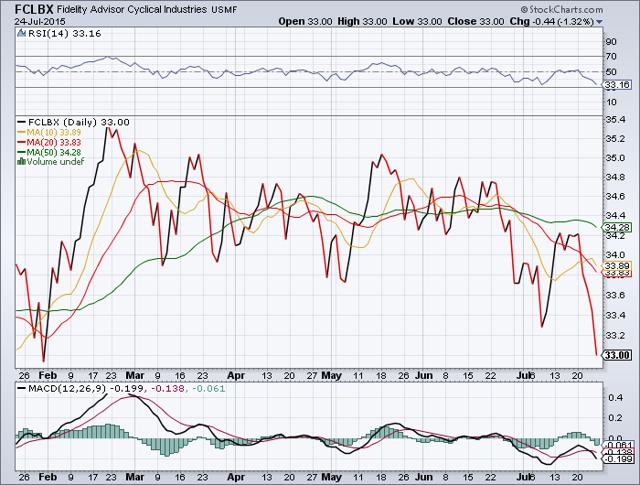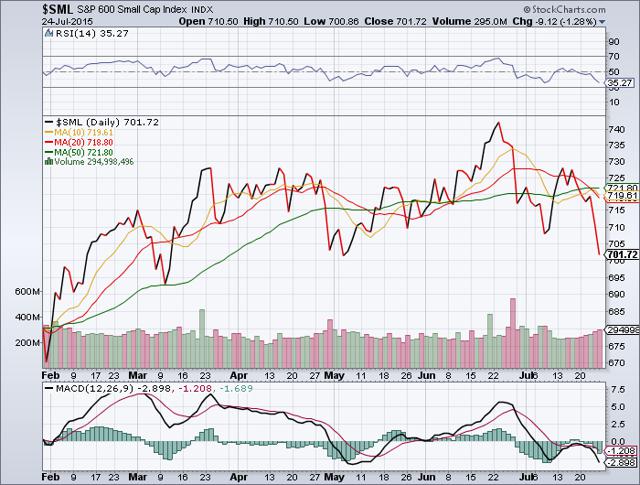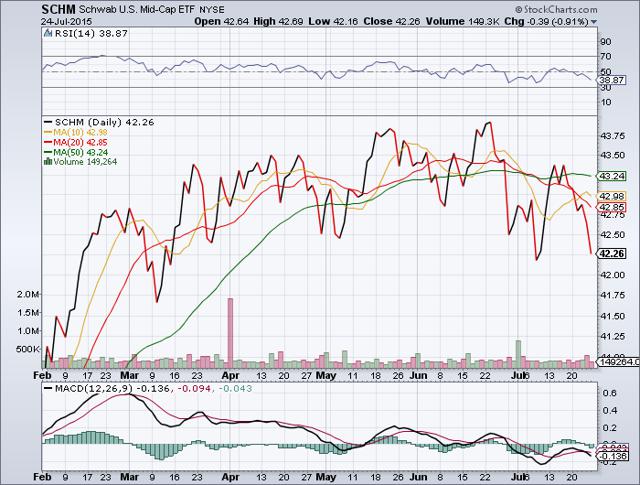 Not to be outdone, the market-forecasting junk-bond canary [JNK] keeps warbling a bearish tune that sounds shriller all the time. Note that this index is digging itself deeper into a deep hole at the bottom of a deep pit. The MA lines configuration is extremely bearish with a wide gap between the green line above the red line. Also, the RSI strength indicator and MACD momentum bars have slipped into their respective bearish territories, all of which looks dangerous for the bulls.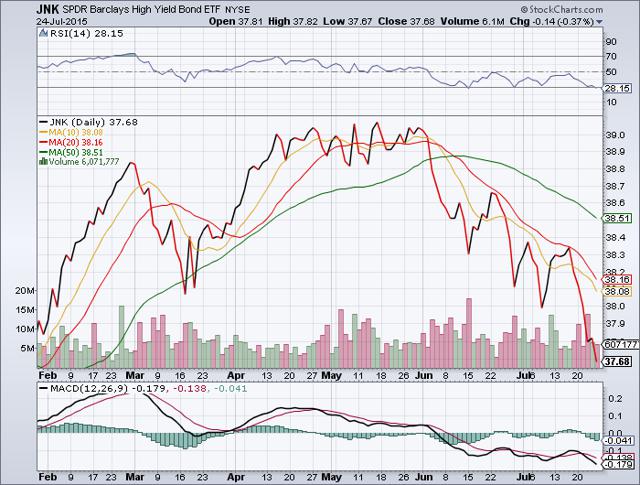 The commodity market is doing it just as the junk-bond does, so the same comments apply.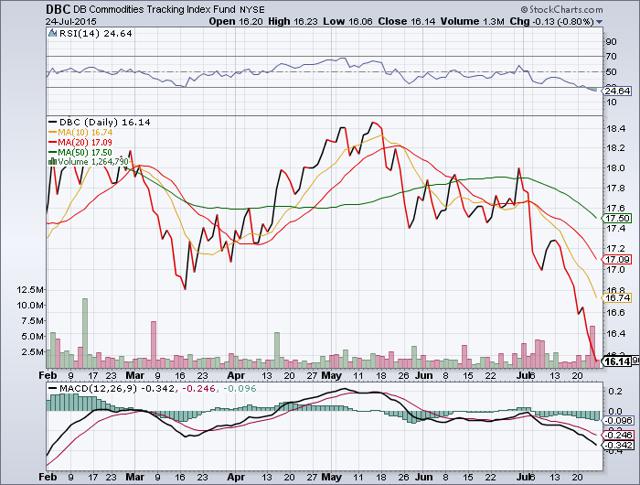 Now, the chart of the NASDAQ market [ONEQ] looks intensely interesting in that it does not show nearly the deterioration that the other major-market charts do.
Sure, this index got also whacked in last week's selling squall and that is a good thing. It just shot up too far too fast and got dizzy up there. But even with last week's sharp selloff the MA lines configuration is still neutral and so is the RSI strength indicator. Even the MACD momentum bars are still sitting on top of the demarcation line in positive territory.
These are bullish positioning for the market and not just for NASDAQ. This implies that after this impending sharp selloff, the market will present some terrific buying opportunities.
But first comes the selloff squall!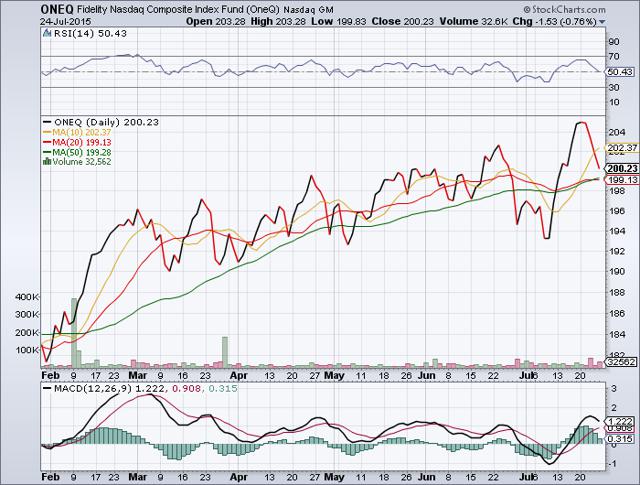 Corroborating this bullish scenario is NASDAQ's weekly chart [ONEQ.] Only the MACD momentum bars are looking a bit woozy while sticking close to the shady side of the demarcation line. So, what to make of this? Checking all these charts it appears that the market is setting up for a major shake-out that could lay the foundation for further bull-runs in the months or even years ahead.
But just in case, keep your fingers crossed.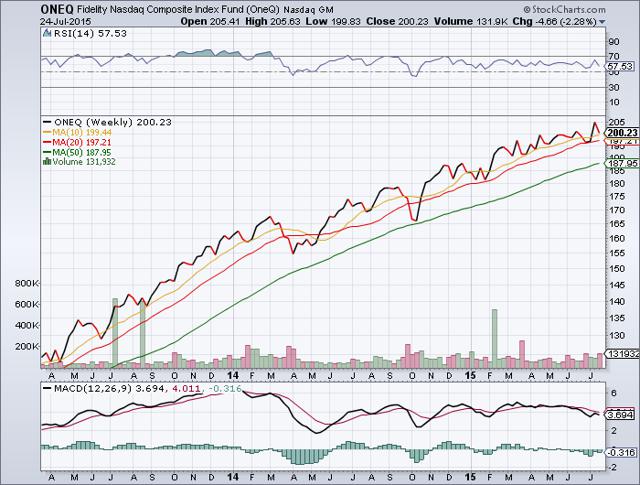 Meanwhile, here are some favored ETFs to keep on tap.
ETF Sectors:
Biotech, Cyber Security, Health Care, Pharma, Cons. Discretionary;
Leveraged Bull ETFs:
NASDAQ 2x (NYSEARCA:QLD), Financials 2x(NYSEARCA:UYG), Treasury 3x (NYSEARCA:TMF), Treasury 2x (NYSEARCA:UST), Retail 2x (NYSEARCA:RETL), Healthcare 3x (NYSEARCA:CURE), Financials 3x (NYSEARCA:FAS), Technology 3x (NYSEARCA:TECL), Small-Caps 3x (NYSEARCA:TNA), S&P 500 (NYSEARCA:SPXL), DOW 2x (NYSEARCA:DDM);
Non-Leveraged Long ETFs:
Biotech Products (NASDAQ:BBP), Biotech (NASDAQ:BBC), Cons. Discretionary (NYSEARCA:XLY), Cons. Staples (NYSEARCA:FSTA), Cons. Services (NYSEARCA:IYC), Financial Services (NYSEARCA:IYG), Financials (NASDAQ:PSCF), Regional Banking (NYSEARCA:KRE), Health-Care (NYSEARCA:FXH)), Retail (NYSEARCA:RTH);
Leveraged Bear ETFs:
S&P 500, 2x (NYSEARCA:SDS), NASDAQ 2x (QID), Financials 2x (NYSEARCA:SKF), DOW 2x (NYSE:DXD), Russell 2000, 2x (NYSEARCA:TWM), Gold Miners 2x (NYSEARCA:DUST), Emerging Markets 2x (NYSEARCA:EMSA), Euro 2x (NYSEARCA:DRR), Base Metals 2x (NYSEARCA:BOM), Commodities 2x (NYSEARCA:DEE), Oil 2x (NYSEARCA:DTO), Gold 2x (NYSEARCA:DZZ);
Non-Leveraged Short ETFs:
Commodity (NYSEARCA:DDP), Basic Materials (NYSEARCA:SBM), Oil&Gas (NYSEARCA:DDG), Financials (SEF), Gold (NYSEARCA:DGZ), Active Bear (NYSEARCA:HDGE), DOW (NYSE:DOG), S&P 500 (NYSEARCA:SH), Russell 2000, (NYSEARCA:RWM), NASDAQ (NYSEARCA:PSQ);
GOOD LUCK!
1