"this is also the worst economy in 83 years," reports CNBC.
The Economic Flywheel and Disposable Energy provide a metric that may help investors in the current environment of artificial markets.
Economic momentum is slowing. The economy is an artifact of energy applied by labor to create economic work. As economic work is added to the Economic Flywheel, momentum builds.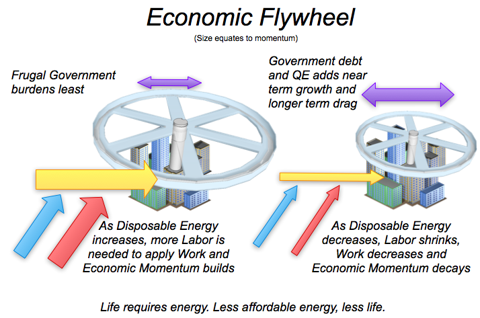 As energy cost increase, less energy is applied to generate work, the flywheel loses momentum and the economy slows.
GDP can be improved by artifical manipulations such as Quantitative Easing, spending of borrowed money, debt purchases of foreign oil, etc.... It is these powerful, yet artificial manipulations that complicate investing today. Fundamentals of profitability, market growth, low debt, etc... are subordinated to Fed and Federal policies.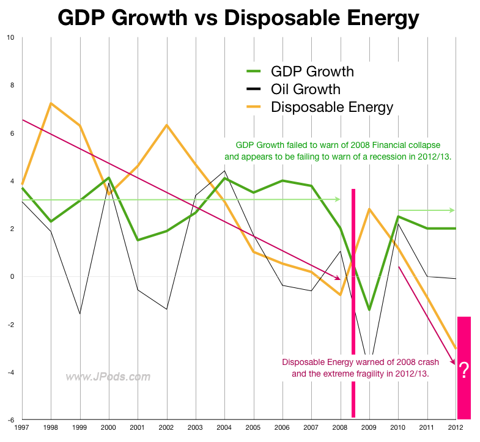 A better metric of economic health and long-term investments is Disposable Energy. Disposable Energy is peoples disposable income's ability to buy energy. Disposable Energy provided years of warning of the Sept 2008 crash while GDP gave no warning and growth of GDP gave only minor warnings and not until 2008.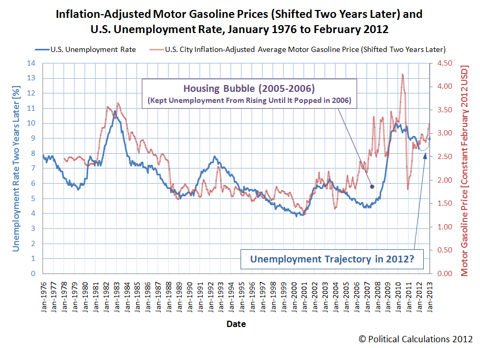 Simply measuring gasoline prices two years ago provides a better metric than GDP.
Disclosure: I have no positions in any stocks mentioned, and no plans to initiate any positions within the next 72 hours. I wrote this article myself, and it expresses my own opinions. I am not receiving compensation for it. I have no business relationship with any company whose stock is mentioned in this article.