Life requires energy.
The purpose of this article is to identify that:
Habit drives energy use.
Transportation is the catalyst for changing energy systems. Sailing ships shifted muscle to wind, railroads shifted wood to fossil fuels. I believe the 10x (10 times) energy savings of Personal Rapid Transit (NYSE:PRT), a Physical-Internet™ that integrates computer networks with ultra-light railroads, will be the catalyst for changing fossil fuels to solar (Disclosure: The author is the founder of JPods, Inc. a PRT industry company that is discussed later in this article).
As PRT networks expand from Morgantown, Uppsala, Heathrow and Masdar, solar collection systems integrated into rail systems will likely cause solar stocks to appreciate dramatically by 2015.
The 5 year histories of solar stock prices do not reflect the desperate need for sustainable, reliable energy: SunPower (NASDAQ:SPWR), SunTech (NYSE:STP), Yingli Green Energy (NYSE:YGE), Trina Solar (TSL), LDK Solar (NYSE:LDK), ReneSola, Ltd. (NYSE:SOL), JA Solar Company, Ltd. (NASDAQ:JASO), Jinkosolar Holding Co., Ltd. (NYSE:JKS), First Solar (NASDAQ:FSLR).
Why have solar stocks fallen into the basement as oil prices increased from $1.03 in 1998 to $4 in 2012; Iran threatens to close the Straights of Hormuz and oil supply shocks look ever more likely? So why are solar stocks flat after the nuclear disaster and central electrical grid problems following the tsunami in Japan?
Clinging to Habit:
Use of energy is primal in human behavior, so deeply ingrained in our habits that civilizations tend collapsed by exhausting traditional food/energy sources instead of transitioning to readily available alternatives. The book Collapse details this defect in human nature.
Federal institutions are even more rigid than people. The Federal government protects its unconstitutional highway monopoly like it protected the rotary telephone network from competition for a century; thousands of miles of railroads were lost despite that they average nearly 500 ton-miles per gallon. Facts indicating life based on oil is terminal:
Oil is finite.
US Peak Oil was in 1970.
Since 1970 US national debt and oil imports have increased in tandem as military and war costs to protect access to foreign oil were socialized into debt instead of capitalized into the price of oil.
In an effort to keep their jobs, as gasoline prices increased, more and more families diverted their mortgage payments into purchase ever more expensive gasoline needed for their commute. Foreclosures collapsed the banking system in Sept 2008 (Peak Debt).
The US faces Oil Famine: monolithic dependence on a depleting source of energy 60% outside our control that we must borrow to consume.
Solar: 10x Appreciation in Value by 2015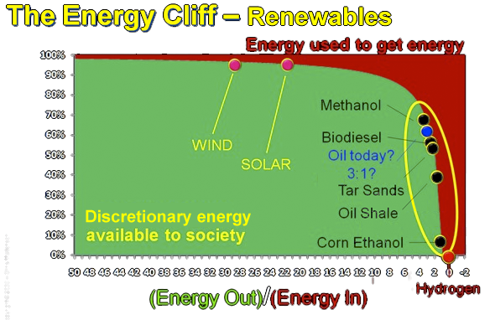 Net Energy is a metric of the economically useful energy relative to the energy required to get energy. In 1900 oil's Net Energy was about 100:1 but has depleted to below 10:1. Most of the government sponsored alternative fuels are below the 10:1.
With 20:1 Net Energy solar and wind are extremely viable as Thomas Edison noted in 1910:
"Sunshine is spread out thin and so is electricity. Perhaps they are the same, Sunshine is a form of energy, and the winds and the tides are manifestations of energy."

"Do we use them? Oh, no! We burn up wood and coal, as renters burn up the front fence for fuel. We live like squatters, not as if we owned the property.

"There must surely come a time when heat and power will be stored in unlimited quantities in every community, all gathered by natural forces. Electricity ought to be as cheap as oxygen...."
But solar's 2x improvement does not drive a paradigm shift, at 10x trigger is required.
Transportation, Catalyst for Changing Energy Systems
Oil and coal faced the same problem until the late 1800s as solar faces today. People's entrenched behaviors stayed with whale oil and wood even as those resources were dangerously depleting.
When the Transcontinental Railroad was started in 1865 the price of a ship ticket from New York to San Francisco cost $1,000. Four years later railroads crossed the nation and the price of a ticket dropped to $67. Railroad's 10x productivity gain supported purchasing very expensive coal and oil to offset depleting wood supplies. The large and stable railroad demand allowed the fossil fuel extraction industry to commercially scale and enter other markets.

Personal Rapid Transit (PRT or PodCars) provide the solar industry with a similar large, stable market so it can scale. Link to a presentation on PRT at Duke University for the Council on Competitiveness. SeekingAlpha article (2008). Since that article, JPods has two agreements to build in China.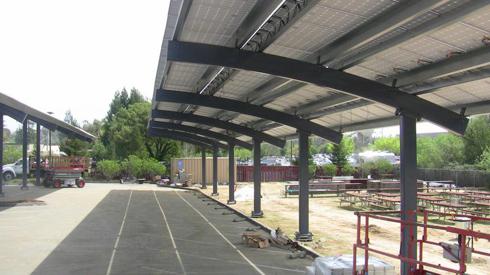 JPods version of PRT deploys solar and wind collectors over the rails to gather 5,000 to 30,000 vehicle-miles of power per mile of rail per day (image of system designed by Swenson Solar). Solar makes networks more durable against disasters, power outages and supports exports to developing areas without stable electrical grids.
Deploying solar collectors 4 to 6 meters wide over the half a million miles of PRT networks needed to power urban transportation with US oil resources provides the solar industry with a large and stable base to commercialized their 20:1 Net Energy, accomplishing Edison's forecast.
Summary
Oil powered transportation systems are collapsing. PRT networks are opening foreign markets. Oil supply shocks will break the US government highway monopoly. Solar collection systems integrated into PRT will consume the world's current yearly solar production every 12 days. I believe, solar companies' value, revenues and deliveries will rise with deployment of PRT networks.
Disclosure: I have no positions in any stocks mentioned, and no plans to initiate any positions within the next 72 hours.
Additional disclosure: Author is the founder of JPods, Inc. a PRT industry company.