"There is only one side to the stock market; and it is not the bull side or the bear side, but the right side." – Jesse Livermore, Reminisces of a Stock Operator
Over the past few years, I have been relatively bullish on RCI Hospitality (RICK). The company looked like it had turned a corner in terms of capital allocation, buying back stock and doing fewer dumb deals. I even held a long position on and off until 5/26/2018. Although the company has never been a large position in my portfolio, I've followed it closely for years.
Not long ago, a long-time RICK investor, who I have known casually for many years, contacted me with the key information below that outlines my new negative view on RCI Hospitality. Though this is my work, I have to admit that several of the key points of this article were uncovered by the long-time RICK investor, who prefers to remain anonymous.
Long time readers may recall my first article was titled: Rick's Cabaret: Terribly Managed, Great Business. I have authored additional articles like RCI Holdings: Destroying Shareholder Value One Deal At A Time, and I have mostly been critical of management's deals outside of clubs. That said, I was impressed with Langan's decision to buyback stock and stick to M&A for a while.
In full disclosure, I have not received any compensation (even from Seeking Alpha) for this post. I feel I did investors a great disservice by not going as deep on research as I could have. Hopefully you have made money on the way up. 
I have collaborated with this long-time RICK investor to detail the following. An unredacted version will be available as separate articles at: http://bigrickinvest.blogspot.com/?m=1
The below article demonstrates why I am now completely avoiding RCI from the long side, and why I am now bearish on the stock. I have removed some information out of respect for the privacy of some of the parties involved.
Executive Summary: Retail investors (your's truly, included) enamored with RCI's new capital allocation strategy have driven shares up over 300% to overvalued levels and shares now trade at more than double their historic multiples. RCI's roll up strategy uses new acquisitions to hide the fact that its base business is declining. Analysis of actual results from all 45 announced transactions since 2005 shows the average multiple paid is ~8x EBITDA, not the 3-4x that management claims. In addition, newly discovered related party transactions, SEC violations, conflicts of interest, and hidden purchases call into question the leadership of management and the board. Shares would need to fall more than 50% to trade in-line with historic multiples, even before a discount for mismanagement and poor stewardship.
Numerous governance red flags have been uncovered, including management's use of the company as a personal piggy bank: RCI has been known for poor corporate governance due to its fleet of corporate jets and excessive car allowances, but numerous new egregious actions have been uncovered, including:
RCI made loans to its CEO that were not disclosed in SEC filings.
CEO funneled RCI corporate business to a lawyer that he was personally indebted to.
One of RCI's Independent Directors is the brother of a senior executive, a violation of SEC requirements for independent director.
One of RCI's Independent Directors frequently takes on legal work for RCI, but RCI has never disclosed the related party transaction.
CEO's relative defaulted on a loan received from RCI.
RCI's failed Los Angeles club was partnered with a convicted criminal who had partied with RCI's CEO at the Super Bowl & Mardi Gras in months ahead of the formation of the JV. RCI's partner was already behind on rent before RCI joined the JV & the club was shut down within a year of opening.
RCI inexplicably owns 3 residential houses in Houston
RCI sent donations to CEO's children's private school through a shell company.
RCI owned (and may still own) a 338-acre ranch in Texas.
RCI Board allowed the CEO's employment contract to lapse until his divorce was finalized.
Business Analysis: RCI's roll up strategy masks its declining base business, and actual acquisition multiples are double management's claims.
Valuation – Shares are worth $13-17 and have 50%+ downside. The stock is currently trading at more than double its long-term historic average on a P/S, P/E, & P/B ratio.
M&A Strategy – A detailed analysis of all transactions since 2005 shows that RCI's pretax return on investment is less than 13%, no where near the 25-33% that management claims.
Bombshells –Management has previously attempted 10 non-strip club ventures. All have ended in dismal failure. After 3 years Bombshells has yet to land a single franchisee, Head of Franchising left after one year, & food sales are already declining.
History Repeats – Last time RCI drew this much retail attention the shares crashed from$28 to less than $4 within a year.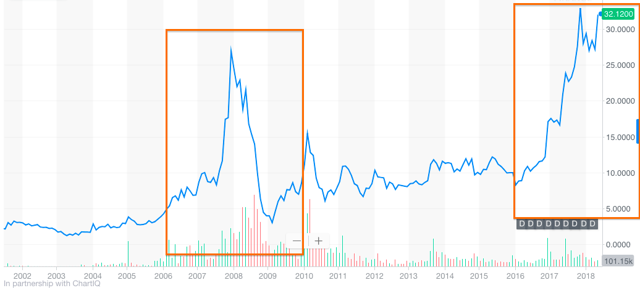 Full Disclosure: I am short shares of RCI. I have been following the company for more than a decade, including writing the last four years on Seeking Alpha and was a long for many years, previously believing many of the myths I will point out in Part 2. After years of following the company and finally grasping the shortcoming on the business and acquisition strategy (once spoon fed to me), I sold out. Recently, investors have driven the stock to unreasonable levels that make it a lay up short position. I believe RCI is an ideal short position and hedge to a portfolio because it is extremely overvalued, has no risk of a buyout (no legitimate financial institution will acquire or finance a buyout), has untrustworthy management/board, and is highly cyclical.
Part 1: Corporate Governance Issues: Numerous red flags
Board of Directors: At least one of RCI's "Independent" Directors violates SEC rules for an independent director, and two others have unreported related party transactions with RCI.
Divorce Case: CEO's divorce case brings to light corporate issues that were never disclosed
Failed Los Angeles Venture: Was the failed LA club really a bail out for the CEOs friend?
Self-Dealing: Loans to CEO's relatives
Real Estate Accumulations: Residential houses, a 338-acre ranch, and more.
RCI's Aircraft Obsession: An aviation club that also owns strip clubs
Part 2: Business Analysis: RCI's organically declining business is hidden by a constant flow of new acquisitions and restaurant/club openings.
RCI's base business is a declining asset – Most strip clubs have definitive life-spans, they are not perpetuity assets. I estimate the average lifespan of RCI's clubs is around 10 years.
3-4x Acquisition Myth: The bull case thesis for RCI ismanagement's claims that clubs are purchased at 3-4x EBITDA. Analysis of actual reported numbers in 45 disclosed acquisitions shows RCI's 13-year average has been 7.7-8.8x EBITDA.
Valuation: Shares are worth $14-17 before any discount for poor stewardship
Long-term Challenges: Highly cyclical industry in secular decline
Bombshells: RCI has attempted 10 failed non-strip club ventures, Bombshells is likely to be the latest. After 3 years, RCI has yet to land a single franchisee, RCI's Head of Franchising left after one year, & food sales are already declining
Board of Directors: At least one of RCI's Directors violates SEC rules for an independent director, and two others have unreported related party transactions with RCI.
RCI's Board of Directors deserves significant blame for overseeing some of the worst corporate governance of any publicly traded company. 3 out of 4 non-employee board members have owned zero shares for years and have no interest in the direction of the company.
Shares Owned by 'Independent' Directors (RCI Proxy)

FY2014

FY2015

FY2016

Robert Watters

0

0

0

Luke Lirot

0

517

518

Steve Jenkins*

0

0

0

Nour-Dean Anakar

0

0

0
*Has since stepped down
RCI reports that all four of its non-employee directors are independent and have no conflicts of interest or related party transactions to disclose. I believe that is inaccurate:
Nour-Dean Anakar: Nour-Dean is the brother of Ed Anakar, RCI's Director of Operations. At least one other Anakar family member also currently or previously worked for RCI. RCI has never disclosed the relationship between Nour-Dean and Ed.SEC rules specify that a board member is not independent if they or a family member receive compensation or payments totaling more than $60,000 in any of the last three fiscal years. Ed's compensation likely exceeds $60,000, so Nour-Dean should not qualify as an independent board member, despite RCI holding him out to be Independent since he joined the board in 2010.
Luke Lirot: Board member Luke Lirot is a lawyer that frequently represents RCI in legal cases (a quick Google search finds numerous cases: Kertesz v. Ricks Cabaret; Lusskin v. Ricks Cabaret; Saleh v. Miami Square Gardens (NYSE:RCI), etc). However, RCI has never disclosed the business as a related party transaction. It is less clear if Luke Lirot's total compensation for the RCI cases has exceeded the $60,000 threshold. Given that some of his cases went to trial, and that RCI has averaged more than $3 million annually in legal expenses in recent years, it seems likely that RCI paid him legal fees above the amount.
Robert Watters (Has since stepped down from the BoD): Robert Watters licenses the Rick's name for a strip club and sports bar in New Orleans. Terms of his license are not disclosed, but it would seem to be another related party transaction regardless of the amount of money (or lack there of) that he is paying to use the name.
Divorce Case: CEO's divorce case brings to light corporate issues that were never disclosed
In July 2014 an appeal was filed by Eric's ex-wife Jante Langan contesting parts of their 2012 divorce (Jante Langan v. Eric Langan 300th District Court Brazoria County). The document provided a number of new concerning details for shareholders, including potentially SEC violations. I encourage everyone to read it for themselves (here), but below are some of the relevant takeaways:
Disclosed a loan from RCI to Eric. At the time of the divorce the remaining balance was $59,000. This loan does not appear to be disclosed in any SEC documents.
Eric had taken out a loan of $90,000 from his direct report, Ed Anakar (Director of Operations).
Eric had taken out over $1.29 million of margin loans against his RCI shares.
Disclosed a loan from Eric to CTO Travis Reese of $6,000
Eric had a debt personal debt of $38,500 to Robert Axelrod. Robert is a lawyer that does legal work for RCI. Eric was personally borrowing from Robert while funneling RCI's corporate business to him.
A plane that was listed as Eric's property is registered to Cool Planes, LLC, which has a registered address of RCI's headquarters. Was it owned by RCI or by Eric? Were company resources used to purchase/manage it?
Jante accuses Eric (and the Board) of delaying the signing of his new employment contract until after the divorce was finalized in 2012. The dates from RCI's proxies validate Jante's claims, as the board allowed his contract to expire for a period of more than 3 months:
"On July 23, 2012, we entered into a new Employment Agreement with our Chief Executive Officer and President, Eric Langan. His previous employment agreement expired on April 1, 2012."
Interestingly, when the 2012 contract was due to expire in 2015, a new contract was put in place immediately on the day of the prior contract's expiration. Since he was not in the middle of a divorce, there was no expiration period. Another example showing that the board puts Eric's interests before shareholders.
"in July 24, 2015, we entered into a new Employment Agreement with our Chief Executive Officer and President, Eric Langan. His previous employment agreement expired on July 23, 2015."
Failed Los Angeles Venture: Was the failed LA club really a bail out for the CEOs friend?
In mid-2012, RCI partnered up with a west coast club operator to create a joint venture that would open a new club in Los Angeles County. RCI's JV partner was supposed to manage the club, but RCI ended up buying him out of his stake before the club even opened. Many things about the JV didn't appear to make strategic sense. Every other time RICK entered a new market it entered with an investment many multiples larger than the Los Angeles investment ($600k): Miami: $25 million, Las Vegas: $19 million, New York: $10+ million, Philadelphia: $8 million, etc. The story for LA never quite added up. The fact that it immediately failed and was shut down within months of opening, added to the suspicion.
The Real Story:
Rick's Partner – Rick's partner in the joint-venture was strip club operator Charles "Jerry" Westlund. Jerry was previously convicted for six counts of evading state income taxes and two counts of forgery related to embezzling $380,000 while he was a consultant to the Bicycle Club Casino (Card Club's Political Consultant Indicted in Theft of $380,000).
Even ignoring the obvious questionable judgment of partnering with someone convicted of embezzling money, it doesn't make sense to partner with a convicted criminal while seeking to apply for a brand new SOB license. Local commissions have rejected Jerry's license applications in the past due to his criminal record (Pony Liquor License Renewal Denied).
Timelines of Events:
December 20, 2011: An eviction case is filed against Jerry Westland's 1957 Del Amo LLC by the landlord. This was the building that would eventually become RCI's Los Angeles club. Jerry already had the property under lease and was apparently struggling to pay the rent on the building and needed someone to bail him out of his debt.
"On 12/20/2011 a Property - Commercial Eviction case was filed by Mha Prodigy Inc A California against 1957 Del Amo Llc A California in the jurisdiction of Los Angeles County Superior Courts, Governor George Deukmejian Courthouse located in Los Angeles, California." Link
Feb 2012: Eric and Jerry attend the Super Bowl together in Indianapolis (Feb 5) and Mardi Gras in New Orleans (Feb 20) (photos redacted).
July 2012: RCI announced it was creating a joint venture with Jerry Westlund for a Los Angeles club. RCI was to pay $600k for 50% of the club. However, the joint venture did not own the building and had not received a SOB license. Rather than paying for half of the construction/legal costs to build out the club, RCI apparently paid $600k up front for a 50% stake in the yet to be licensed club or opened club. RCI expected the club to be open in "September or October of 2012".
May 2013: Almost a year later RCI announced it was buying out Jerry's 50% stake for 100,000 shares of Rick's stock ($3m+ at current prices, $800k-900k at time of transaction). The club had still not yet opened and had not received its license. RCI now owned 100% of a small club in California that it had originally planned to have Jerry operate. RCI was supposed to benefit from Jerry's LA-area business and political expertise, but now they have allowed him to cash out completely before the club even opened.
Aug 2012 conference call:
Q: "the new Los Angeles joint venture. I'm wondering: what are your expectations?"
A: "I've talked with Jerry (Westlund) a lot on the deal. We believe the location probably will do around $50,000 a week or about $3 million a year….we will probably make our money back cash-on-cash return of 100%, in about 12 to 18 months"
Aug 2013: The LA club finally received its license and opened. Despite Jerry telling Eric the club should do $3m in revenue and have a 12-18 month payback, the club was unsuccessful and was closed down within a year of opening.
Oct 2014: RCI sold the business for $250,000, a little over a year after spending roughly $1.5 million to buy it from Jerry.
It's clear the Los Angeles venture was a massive failure. The question is, did management knowingly enter a bad deal to help bail out a friend, or did Jerry pull a fast one on RCI by wining and dining the CEO?
Self-Dealing: Why is RCI giving loans to the CEOs relatives and paying for his relatives' cars?
Loan to Relative of CEO: In 2005, RCI filed a debt collection case against [redacted], a relative of the CEO [link redacted]. Why is the company giving loans to relatives of the CEO? How many other loans are out there? It would be highly unlikely that the first and only loan to a relative ended in default and a legal case.
Car Allowances: RCI gives its executives car allowances, including an egregiously high $55,140 for its CEO last year. It was hard to fathom how the number could be so high until I came across this additional disclosure in the 2014 10-K: "Mr. Langan and his family also received the use of certain automobiles in each year." Apparently the CEO's relatives get company loans AND automobiles.
Donation: Citation Land LLC (one of RCI's shell companies) has been a donor to [redacted], a K-12 school in Houston, which the CEO's children attend. In the only Report on Giving that is available on the school's website (2015-2016), Citation Land LLC donated $5,000-$9,999 [link to school website redacted]. Corporate donations are not uncommon, but they are typically sent to a cause that helps the broader community, rather than directly to an executive's kids' private school. In addition, the free publicity and community goodwill corporations receive from donations justifies the expense. Donating through a shell company does not provide any benefit for the company and while immaterially financially, it is another use of the company piggy bank for personal benefits.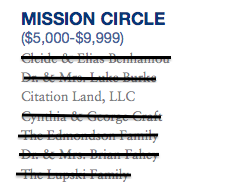 Real Estate Collections: Why is RCI paying for residential houses in Houston and who is living in them?
A search of Houston property held under RCI's name discloses a number of real estate assets that do not appear to have been previously disclosed to investors by RCI: residential houses, a warehouse, and plane hangers. This was from only a search of RCI within Houston; other undisclosed assets may exist in other cities or be owned by other RCI subsidiaries.

Residential Houses: RCI's Houston real estate includes three residential houses. Who lives in the houses (Eric? relatives? other employees?) and why does RCI own them?
The most recent (and nicest) house was 6003 Finland Ct, which appears to have been purchased in early 2018 (all photos from Google):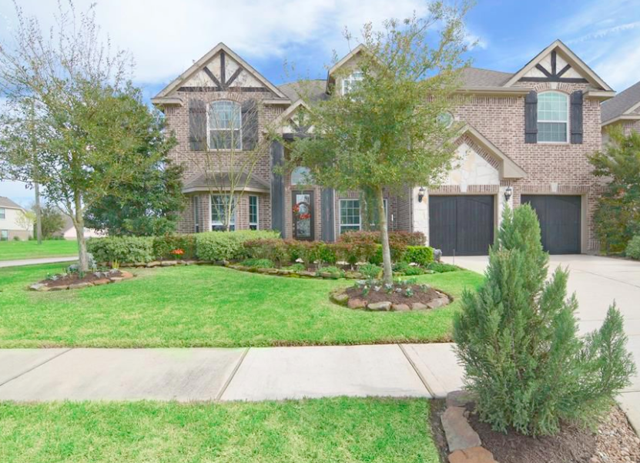 The other houses are 10106 Olentangy St and 13807 Naples Park Lane which both appear to have been purchased around 2006.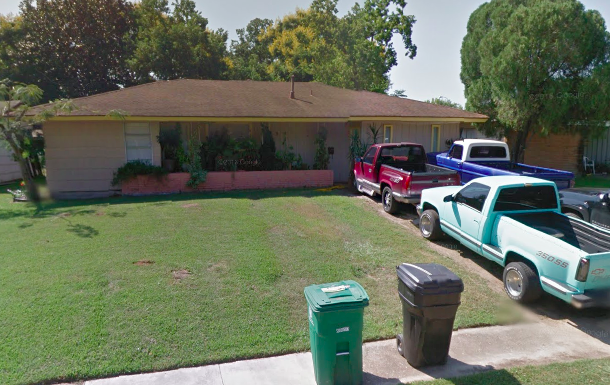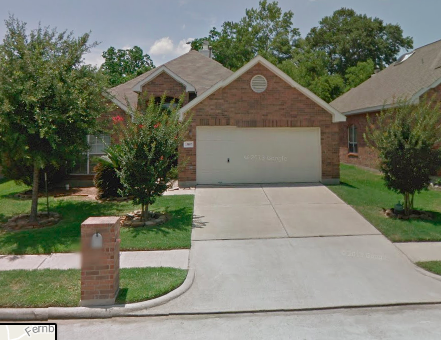 Warehouse: RCI also has a curious need for warehouse space. The firm just built a brand new 18,000 square foot warehouse as part of its new corporate headquarters, and here is an additional warehouse at 511 Kentucky St. This site seems to be used for boat parking. Food and liquor distributors deliver product direct to the clubs, so I do not believe the warehouses store food and liquor inventories.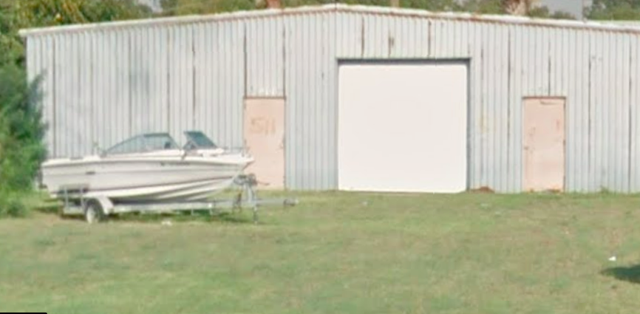 511 Kentucky St (Google) – 511 spray painted on left door.
338-Acre Ranch: In 2008 RCI disclosed that it owned a 338-acre ranch. At the time it was being held for sale, but the ranch was never mentioned again. RCI sold 11.9 acres of the original 350-acre ranch in March 2006 for approximately $3k per acre. At that price, the remaining 338 acres would be valued at ~$1 million, which would have likely been significant enough to disclose (or would be noticed on the cash flow statement) if it had actually been sold.

RCI's Aircraft Obsession: An aviation club that also owns strip clubs
I don't want to spend much time on management's airplane obsession since they have previously taken heat on a conference call for having two jets, but shareholders should understand the extent of it. As one investor told me: "RCI is basically an aviation club that happens to own some strip clubs".
In the last 10 years the company has purchased at least six planes ('08, '10, Feb '12, Dec '13, Apr '17, Dec '17). Management continuously trades in their planes to upgrade to the latest models to fulfill their flying hobby. RCI's number 2 executive for nearly 20 years has been its Chief Technology Officer, it's not clear how a technology position could be the second most important position at a strip club business (ahead of a general counsel, COO, CMO, etc), until you see that he was previously a commercial pilot, so he is able to fly the planes and likely helped the CEO get his own pilots license. The CTO was originally justified as a hire to manage the Internet division, which failed and produces less than 1% of revenue, but he has maintained his top role at the company.
The flight records on one of the jets from the last few months alone show that despite their $30-54k car allowances, management routinely takes 15-20 minute flights to and from airports within different parts of Houston. Given the time spent driving to and from the hangers, preparing/taxing/parking the plane, pre-flight check lists, etc, it can't possibly save a material amount of time versus driving the already paid for automobiles. The list also includes a mid-day on a Tuesday 70 min joy ride taking off and landing at the same airport (KAXH).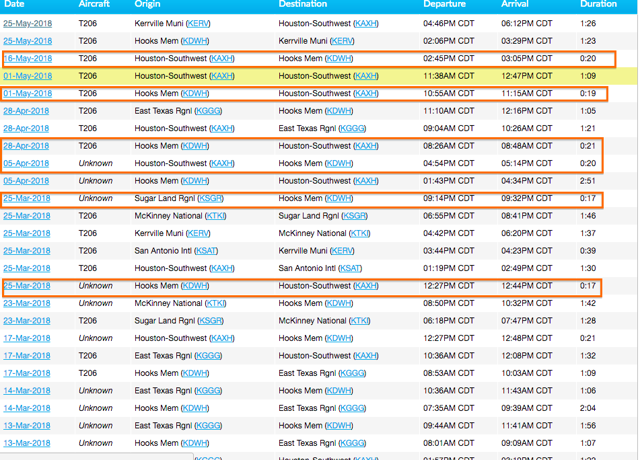 Facebook profiles of both executives are filled with joy rides and family vacations on the corporate jets. [I have redacted photographs included in the original report].
Part 2: Business Analysis: RCI's organically declining business is hidden by a constant flow of new acquisitions and restaurant/club openings.
RCI's base business is a declining asset – Most strip clubs have definitive lifespans, they are not perpetuity assets. I estimate the average lifespan of RCI's clubs is around 10 years.
3-4x Acquisition Myth: The bull case thesis for RCI ismanagement's claims that clubs are purchased at 3-4x EBITDA. Analysis of actual reported numbers in 45 disclosed acquisitions shows RCI's 13-year average has been 7.7-8.8x EBITDA
Long-term Challenges: Highly cyclical industry in secular decline
Bombshells: RCI has attempted 10 non-strip club ventures, all of them failed and Bombshells is likely to be the next. After 3 years, RCI has yet to land a single franchisee, RCI's Head of Franchising left after one year, & food sales are already declining
Valuation: Shares are worth $13-17 before any discount for poor stewardship
RCI's base business is a declining asset
One of the biggest misconceptions among new investors that have bid up the stock is the mistaken belief that strip clubs are durable businesses with perpetuity value that deserves the current 10x EBITDA multiple (or more). These new bulls would lead you to believe that RCI acquires clubs at 3-4x EBITDA and then magically when they are added to the RCI portfolio the earnings are worth 10x+ EBTIDA. The reality is that strip clubs are priced with a mid-single digit EBITDA multiple for a number of valid reasons, the most significant of which is that clubs are not perpetuity businesses.
Those following the stock closely for an extended period of time understand that every year RCI is shutting down clubs(see the impairments). A few key clubs have lasted 10-15+ years, such as the flagship Manhattan location, but many others have shorter life spans and are frequently being rebranded or closed. A large portion of clubs will eventually shut down and have their value fall to 0. RCI does not press release the closure of clubs, so it is hard to follow the closure rate and life span of their clubs unless you are actively looking for it.
RCI is essentially a leaking bathtub and should be valued as such. A club or two is being shut down every year, but RCI keeps adding more new locations every year (more water), so investors from the outside don't realize that it is a declining business. If RCI halted all new acquisitions/developments and paid all earnings out to shareholders, earnings would decline as the natural course of business (leases expiring, brands getting stale, new competitors opening, politicians shutting down clubs, industry declines, etc.) leads to clubs shutting down over time.
If RCI pays 4x EBITDA for a club, investors and management are excited after year 1 and think they are earning a 25% ROI, however, when that club dies off and closes after year three you actually lost money and the 25% return was a mirage.
Vegas, Los Angeles, etc. were all one-year life spans before going to zero or near zero. The Texas clubs are much harder to keep track of, but you can pull acquisition press releases from 5-10 years ago and see how many of them have been reconcepted and then shut down. A few other examples from a quick search:
Platinum's Club Acquisition (<8 year life span): RCI paid $7.5m for the club in June 2008. RCI originally reopened it as a Club Onyx, but after just 7 months in Jan 2009 it was converted to a XTC Cabaret. The club was rebranded again at least once in 2016 when it was converted to a Foxy's, before ultimately being shut down.
Cabaret North (<5 year life span) – Acquired in Sept 2009 for $2.3m. Expected to produce EBITDA of $800k-$1M. Ultimately was shut down by 2014.
Some clubs will last 30 years, some will last 1 year, but as a whole, I do not believe the average lifespan of the clubs is more than 10 years, which makes itoutrageous for investors to be willing to pay 10 years worth of earnings (or more) for an earnings stream that has an average life of 10 years or less.
RCI did not acquire any clubs in late FY2015 or during FY2016, and as a result, the segment's revenue declined in FY2016. In FY2017, the segment benefited from the opening of Hoops, plus the acquisition of Scarlett's and Hollywood Showclub, so the segment showed growth again.

The fact that clubs are NOT indefinite life assets can also be proven without tracking individual clubs, but by looking at the consistency of RCI's impairment charges. If clubs were indefinite life assets there wouldn't be constant impairments. These are not one-time charges, but impairments that hit 7+ clubs over the last three years alone during a strong economy. During a recession the pace of closure and impairment is even higher.
2017: $7.6 million ($4.7m of goodwill impairment on 3 operating clubs and one property held for sale; $0.4m of PP&E impairment on an operating club; $1.4m in license impairments in two clubs; $1.2m impairment on cost method investment in Robust)
2016: $3.5 million ($1.4m on property held for sale; $2.1m on license impairment on one club)
2015: $1.7 million ($1.7m impairment on license of two operating clubs)
Over 30% of RCI's clubs are leased, so they will definitely not have perpetuity value. At the end of the lease the landlord can redevelop the land into a higher value use, significantly increase rents, lease the club to a new tenant, or force the tenant to buyout the real estate at an inflated price.
The clubs with real estate involved could collect partial return of investment upon closing, but it is likely a significant discount to the purchase price of the real estate and all payment for the operating business will have been lost. Once a club falls out of favor and a rebrand doesn't revive it, there's no value to other club operators. Why would they want to buy a club that has already failed twice under different brands? The real estate is also typically unattractive for non-club uses because it would require extensive renovations and due to SOB license regulations, clubs are often located in remote or industrial areas, which are less attractive to non-club buyers. As a result, you are typically dumping the real estate for a significant discount to the purchase price as you can see from the consistent real estate impairments. Book values are likely inflated from RCI overpaying, for instance the Tootsie's real estate in Miami sold for $12.3 million in 2014 but RCI bought it in July 2015 for $15.3 million. Giving the sellers a 24% return in a year. Having been the largest tenant in the building for many years, should have pulled the trigger on the first sale in 2014 and saved the company $3 million.
Financial implications on ROI's: The lack of perpetuity value can have a huge impact on the actual ROI of acquisitions. For example, assume you are buying a club for $100 at 5x EBITDA. If the club holds its $100 value into perpetuity you will receive the 20% return that management is quick to point out. However, if this is one of the many clubs that does not have an indefinite life, your returns will be much lower. If the club only last 4 years your IRR is negative 8% per year. If it last 8 years the IRR is ~12%.

3-4x Acquisition Myth: Actual reported results show 7.7-8.8x EBITDA multiples over 13 years
The bull thesis for RCI is that management makes lay up acquisitions of clubs at 3-4x EBITDA. Management selectively discloses the purchase multiple of clubs when it fits into the 3-4x range, but is under no obligation to disclose when it does not. While some acquisitions likely fall within this range, it is clear based on reported results, the average multiple is significantly higher.
Management often highlights how low of a multiple they paid for the operating business but doesn't disclose the valuation on the real estate component of the package deal, which is often the larger investment (frequently multiples of the amount paid for the club).
For example, if you buy a club for $1 million at 4x ($250k of EBITDA) but you also have to buy the real estate for $2 million at a 5% cap rate ($100k of EBITDA), you are really paying $3 million for $350k of EBITDA, implying an 8.5x EBITDA purchase price. In the most recent club + RE purchase, RCI paid $1m for the Hollywood Showclub and paid $3.2 million for associated real estate.
Investors also underestimate the risk associated with purchasing strip clubs. As cash businesses often run by small operators, RCI is not exactly buying public companies with financial statements audited by big 4 accounting firms. You need to trust the numbers the seller is providing you with, or try to estimate your own financials based on a few due diligence visits. Numerous times RCI has acquired a club expecting it to do millions in EBITDA only to be shut down a year or two later. There is only so much due diligence you can do to try to verify the accuracy of the numbers a seller is providing you with.
To estimate what multiple RCI is actually paying for its acquisitions, I analyzed all 45 publicly disclosed purchases since 2005. While we will never be able to pin down exact returns on each investment, I believe this analysis is as good as you can do with the public information available and will give us a ball park of the company's track record based on actual reported results, not cherry-picked anecdotes or management projection.
All Publicly Disclosed Acquisitions Since 2005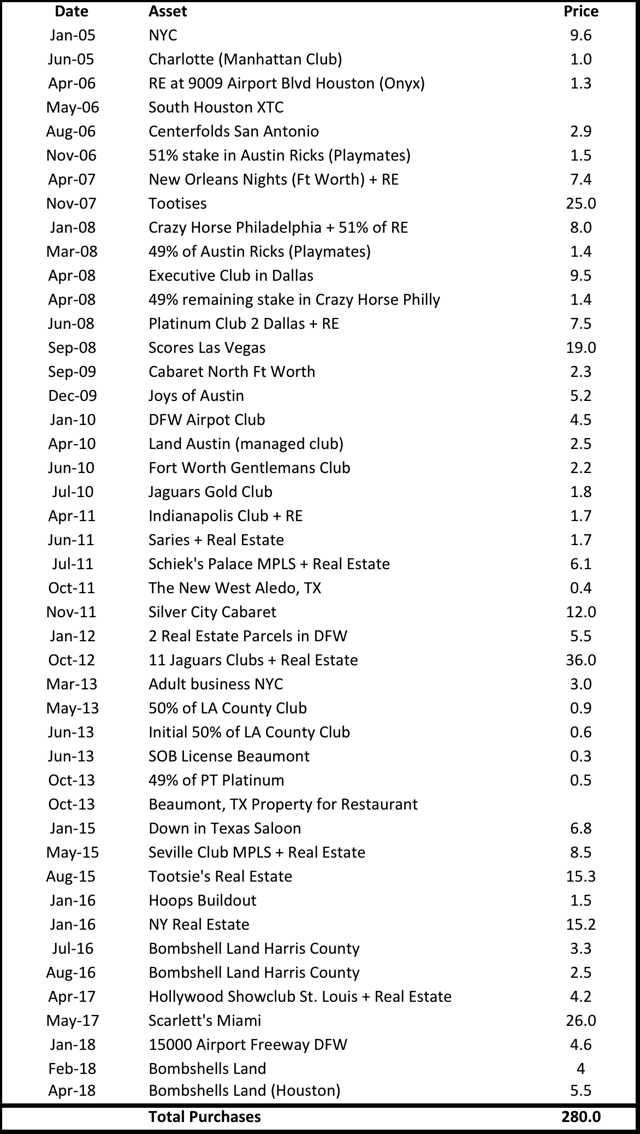 Note: Stock deals calculated based on share price at time of transaction
Since 2005, RCI has publicly disclosed $280 million of acquisitions. At least a few acquisitions were disclosed without giving purchase prices; so this number underestimates the actual spend. During that period, EBITDA increased by $39 million from $4 million in 2005 to $43 million in the trailing twelve months.
If you assume 100% of the incremental earnings came from acquired clubs (and none from organic growth, improvements at acquired clubs, or from clubs/restaurants built from scratch) his would imply an actual purchase multiple of 7.2x EBITDA. This of course overestimates the actual return on investment because RCI has spent tens of millions on building new clubs and remodeling or rebranding acquired clubs. Capex specifically allocated to new clubs was over $15 million in the last three years alone, so I will use a conservative estimate of $20 million of additional investments over that thirteen-year period to arrive at an adjusted investment amount of $300 million. This adjusted investment amount leads to an implied multiple of 7.7xstill assuming no organic growth or operational improvements were achieved during that time.
Management frequently states that new clubs see increased EBITDA after RCI's purchase. If we believe that to be the case, that would mean that the actual multiple paid of sellers' earnings was even higher. If we estimate management improvements/organic growth has led to an average of even just a 15% increase in total earnings over the 13 year period, then $34 million of EBITDA would be acquired and $5 million would be from improvements/growth. Under this scenario, RCI on average acquired clubs at an 8.8x multiple during the period
Acquisition Track Record

Reported

Adjusted

Adj w/ Improvements

Total Acquisitions 2005-2018 (mil)

$280

$300

$300

Incremental EBITDA (mil)

$39

$39

$34

EBITDA Multiple Paid

7.2x

7.7x

8.8x
Acquiring strip clubs will always be a high volatility strategy, some clubs will produce great returns others will lose money. While management can point to some big winners, there were equally as many big losers and the actual numbers don't lie. RCI has invested $300+ million over 13 years for incremental EBITDA of $34-39 million. If RCI was really making acquisitions at 3-4x, company EBITDA would be between $79 and $104 million.
If we take the middle number of 7.7x, that would imply a yield of 13.0%. If every club maintained is value into perpetuity, this data would suggest RCI is earning a maximum of 13% pre-tax return on its acquisitions over the last thirteen years. However, based on the impairment charges and closure rates, we know that not all clubs will maintain their value into perpetuity, so RCI's actual realized return on investment for 45 acquisitions over thirteen years is meaningfully less than 13% pre-tax.
Remember that for the majority of this period RCI was borrowing at rates of 10-14%. While the new mortgage debt has helped lower rates, RCI still has a very high cost of capital and issued unsecured debt at 12% interest in May of 2017.
Industry-wide issues poise additional long-term challenges
Industry in secular decline - Even management has admitted on calls that the younger generation does not visit strip clubs in the same way that previous generations did due to a combination of technology and different social habits. Corporate trips to the strip club were already on the decline, but the Me Too movement will likely be the final nail in the coffin for any business-related trips to clubs. While there is no good source for industry-wide data on the actual rate of declines, there are many quantitative anecdotes that show the market is declining:
Exit Stage Left: The Decline of Strip Clubs in Canada: "The number of strip clubs in Toronto has declined from 47 in 1998 to 15 in 2016"
Strip clubs fade in booming Nashville: "The adult entertainment business has been on a slow decline, even as the city's tourism industry has exploded. Today, only four licensed strip clubs operate in Music City. That's down from nearly a dozen a decade ago, according to Metro records."
RCI Same Store Sales - Even with the economy growing strongly and unemployment at historic lows, SSS the last five years have been +4.9%, -1.3%, -1.5%, +2.8%, -1.2%. For a cyclical industry during a booming economy, those numbers are not impressive and signal the challenges facing the industry. Declining SSS in 3 of 5 years of a strong economy, and a compounded annual growth rate of 0.7% over the last five years (less than the rate of CPI inflation). Again, these numbers even exclude poorly performing clubs that were shut down/sold or rebranded, so the actual organic growth of the business would be lower (negative).

Source: RICK FY17 10-K
Highly cyclical business with high fixed costs, doesn't hold up well in a recession. Last recession shares fell from nearly $30 to under $4. For an idea of how quickly things can turn, look at the Vegas club. The club was doing $6m in annual EBITDA before the recession, and within a year it was losing $2 million dollars per year.
Easy target for politicians to tax or shut down. Especially with the current Me Too movement, strip clubs are an easy target for politicians looking to score points with constituents. For example, Texas instituted a $5 per patron pole tax in 2008. After more than 5 years of legal challenges from clubs, the tax was upheld and cost RCI millions. With states and city budgets looking for revenue and public perception largely against clubs, they are an easy target for additional revenue.
Strip clubs are frequently permanently shut down or have their license suspended for infractions. Very few other industries have as high of a risk of being permanently shut down overnight. While some clubs that are shut down are led by criminal management teams, many others are shut down due to one or two bad actors that may not even be employees, it could be customers that come into the club and deal drugs, solicit other customers, or cause shootings. Earlier this year New Orleans suspended nearly all the clubs in the French Quarters, some of which did not reopen.
RCI's Houston advantage could soon end. In 2013 as the city of Houston was attempting to enforce SOB regulations, it came to a settlement with 16 clubs (RCI's clubs included) where the clubs would collectively donate $1 million annually and in exchange be exempt from the old SOB regulations (allowing topless dancing and dancers to be within 3 feet of customers). The other clubs in Houston (NY Times estimates there are nearly 100 clubs) were not allowed this leeway and were forced to adhere to the old stricter regulations. The city has recently been sued for this settlement by clubs that were not included, and the local press has been very negative on the settlement. This settlement may be over turned (or the other clubs will be allowed to play by the same rules), which would take away a key advantage that has been benefiting RCI since 2013.
"Two Houston strip clubs sue city, claiming 2013 sex business settlement amounts to extortion""NY Times: Houston and Its Strip Clubs Call a Truce"
Bombshells: RCI has attempted nearly a dozen non-strip club ventures. ALL have failed, why would Bombshells be different? Bombshells food sales are already declining and the head of franchising left the company after just one year
In addition to the 3-4x EBITDA acquisitions, the other component of the RCI thesis is that the strip club business is a high-barrier industry that creates high returns, and Rick has less than 2% market share so it has a huge runway for growth. If that is true, why has management spent so much time and capital over the last twenty years trying to diversify the business into new industries, such as the commoditized restaurant business?
Before we get into the details about Bombshells, it is important to review management's track record in non-strip club business endeavors. Many new investors have been scratching their heads at management's Robust energy drink blunder, and wrote it off as a one-time mistake. However, those who have followed the stock for a while know that it was just the latest in an endless string of non-strip club ventures that always end in failure. Here is a sample of some of the company's failed ventures:
xxxpasswords.com – Adult website Rick's launched in 1999 and ran in the 2000's. Eventually shut down.
CouplesTouch.com – Online dating site for couples launched in 2002. Technically appears to still be in existence but is not successful.
Couplesclick.net – Rival online dating site for couples. Rick's acquired from Shane Dodson in July 2005. Shane joined RCI as Marketing Director for Online Services. In Dec 2005, Shane was arrested for forgery and tampering with government records. ("Couple accused of selling fake diplomas headed to court")
Naugthybids.com – Adult auction site for adult videos, apparel, and paraphernalia.
ED Publications / Adult Bookstore Buyer – RCI purchased a publisher of magazines on adult book stores and strip clubs in 2008. The purchase price was $1.2M plus an earn out of up to $2m and the publications president became a RCI employee at a salary of $250k per year. In the acquisition press release, RCI predicted the publication would throw off annual EBITDA of $670,000 and revenue of more than $2 million. For FY 2008 through 2010 this new media segment produced revenue of $801k, $1.4m, and $1.4m. More than 30% below the revenue RCI predicted when justifying the acquisition. Operating income for the segment was negative in all three years, ranging from a loss of $38k to a loss of $241.
Encounters Club – A non-strip club night club for swingers. Has been closed.
Hummers Sports Bar – The first Bombshell's type concept for a sports bar in Houston. Bar was closed.
Vee's Lounge – Tapas restaurant and night club opened in 2013. Closed down shortly after.
Ricky Bobby's – One of my personal favorite blunders - shortly after Will Ferrell's NASCAR themed movie Talladega Nights: The Ballad of Ricky Bobby was released, RCI management decided to open a NASCAR themed restaurant called Ricky Bobby's in 2014. The restaurant décor and menu included lines from the movie. Somehow management thought this was a good idea. An analyst even asked on a conference call why they thought they wouldn't get sued for this. Management brushed it off as not a risk, but of course, shortly after the restaurant opened, Sony filed a lawsuit against the company. Fortunately, Sony settled for only a small payment from RCI and a shut down of the restaurant, but RCI had clearly invested significant capital and time in building out and launching the brand, which it had planned to expand to multiple locations. While this wasn't a huge financial hit, this always stood out as an indicator of managements' decision-making ability, their understanding of risk and their blatant disregard to the law. [I wrote in March of 2014]: "Even worse, the Rick Bobby naming is already causing Rick's some trouble. You may recognize the Ricky Bobby name from Sony's (NYSE:SNE) 2006 flick "Talladega Nights: The Ballad of Ricky Bobby." Not surprisingly, Sony and Columbia Pictures are claiming that Rick's usage of Rick Bobby and related phrases and intellectual property are illegal infringements. This lawsuit was easily predictable and should have been avoided. I'd venture as far as to say management showed a stunning amount of arrogance in thinking they could avoid any legal action."]
Robust Energy Drink – This one most new investors are familiar with, but it is worth summarizing. In Nov 2014, RCI acquired 51% of Robust Energy Drink for $200k cash, a $750k cash infusion into the business, and 200,000 shares of stock (currently worth over $6 million). Unsurprisingly, the business did not perform was expected and RCI has written down its investment to $0. RCI has now repurchased the brand and hopes to revive it. 
Bombshells: Bombshells is a military-themed breastaurant that RCI plan to grow into a 80-100 unit franchise. While it is currently profitable, I have little doubt that it will go the way of the last 10 non-strip club ventures and be shut down after the novelty of the new concept wears off in a couple years.
Management launched the Bombshells franchising program in October 2015 (PR Here) and still has yet to sell its first franchise nearly three years later. However, management continues to plow capital into the brand and still expects to grow to 80-100 units. Any non-Texan I have talked to shares my skepticism about how well the guns/ammunition/military theme will play outside of Texas.
To advance the franchising strategy, RCI hired Shannon Glaser as VP of Franchising in 2016. Shannon had previously spent seven years at Twin Peaks, one of the nations largest breastaurants, and sold 120 franchise commitments. Twin Peaks success is what Bombshells hopes to replicate, so if anyone was going to be able to franchise Bombshells, it would be Shannon. Shannon barely lasted a year before leaving RCI and was not able to land any franchise commitments. Given her long tenure and success at Twin Peaks, I would guess the corporate dysfunction at RCI and weak concept led her to realize she had an impossible task.
Management originally pitched the concept as a lunch, dinner and night restaurant with families coming in for meals plus crowds staying around later into the night for drinks. The sales data the last three years shows that the restaurant concept isn't catching on and Bombshells has been shifting towards the bar spectrum. While this is good for margins short term, this further highlights why franchising will not catch on. Franchising is prevalent among restaurants but rare among bars. A Bud Light and a Jack and coke are the same everywhere, providing little reason to pay to franchise a name. For example, Buffalo Wild Wings disclosed 20% of sales from alcohol versus more than 60% at Bombshells.
| | | | |
| --- | --- | --- | --- |
| Bombshells Sales | 2015 | 2016 | 2017 |
| Alcohol | $9,970 | $11,539 | $11,784 |
| Growth | | 16% | 2% |
| Food | $7,630 | $7,133 | $6,910 |
| Growth | | -7% | -3% |
Remember that the second Bombshells location lasted only two years before closing. Management cited it being a bad location as the reason for the closure, but it wasn't deemed to be a bad location 24-36 months earlier when millions were being invested in the location.
Bombshells made up just over 10% of revenue in 2017 and even less of operating income, so it was an interesting hobby project, but its success or failure would not be material to RCI as a whole. However, management is doubling-down (or triple/quadrupling down) and is taking it to a level where the ultimate collapse of Bombshells will have a meaningful impact on RCI.
In Q2 2018 alone, Bombshells related cap ex was over $5 million and management spent an additional $5.5 million on a single parcel of land for a future location. The segment's total assets have nearly doubled in six months from $18.8 million in Sept 2017 to $32.5 million in March 2018. The massive investment in Bombshells is being fueled by debt, creating the potential for more disastrous consequences to the business if (or when) it fails. The Bombshells segment has margins about half of the strip club segment, providing significantly less margin of safety if revenue falls or if a recession strikes. The best case scenario for shareholders is that the brand dies off quickly before RCI sinks too much capital into the brand, but at the current pace it looks like RCI will reach nearly $50m invested in the brand by the end of 2018.
Valuation: The hype driven run up in stock price has sent shares to a significantly overvalued level, historic multiples show shares are worth $13-17 even before any discount for poor stewardship.
RCI's stock is up over 300% in the last 18 months. While there has been some fundamental improvements and earnings growth, the majority of the gains have come from multiple expansion as retail investors enamored with the new capital allocation discussions have flooded into the stock believing Eric is the next Singleton of Buffett. New investors are drastically overestimating the prospects for RCI, having never seen the business through a whole economic cycle.

Source: Morningstar
From 2008 to 2015 (before the capital allocation hype started in 2016), the stock traded at an average Price/Sales ratio of 0.88x, a P/E ratio of 9.5x, and Price/Book ratio of 0.99. Based on these historic multiples and Q2 2018 TTM financials, RCI shares are worth between $14.32 and $17.41, or roughly 50% below the current level.
RCI Current Multiple

2008 - 2015 Median

Stock Price If Trading at Historic Average Multiple

Downside from Current Price

P/S

1.96

0.88

$14.32

55%

P/E

17.39

9.46

$17.41

46%

P/B

2.06

0.99

$15.38

52%

Based on TTM Financials as of Q2 2018
On a justified P/E basis, shares deserve to trade at a 7.1x P/E ratio ($13.14 per share), which is even lower than historic multiples. This assumes a generous 0% growth rate (as stated, I believe it is clear RCI is a negative organic growth business) and a 14% cost of equity (the company recently issued unsecured debt at a 12% interest rate, so a fair cost of equity would be at least 14%, potentially even higher).

These valuations are using management's overly optimistic "adjusted" earnings numbers, which ignore the costs of legal settlements. A combination of industry risk and management's bad decisions have led to numerous legal cases that create a never ending legal liability for RCI that should be accounted for as ongoing expense, not a one-time charge. RCI's settlement of lawsuits expense the last four years has been $300k, $1.8m, $11.7m, and $3.7m, for an average of $4.4 million. Investors should deduct this amount to get a true approximation of the earnings run rate of this business.
Disclosure: I am/we are short RICK.