As mentioned yesterday, we've built 32 different algorithms to predict the direction of gold prices over the next 15 trading sessions (using the GLD fund as a proxy).
By following the majority vote of all the algorithms described below, Contextuall's system of algorithms would have achieved an accuracy rate of 87.68% since 6/13/2011.
In other words, by simply following the directional signal of the majority of our algorithms since 6/13/2011, Contextuall would have correctly predicted 87.32% of the up/down directions of the GLD fund over the next 15 trading sessions. (More detailed backtesting is included below in an embedded spreadsheet)
Based on Monday evening's closing prices, all signals remain unchanged from the signals generated on Friday's close.
Only 43.75% of our 32 algorithms are projecting "Up" for the GLD exchange traded fund over the next 15 trading sessions.
It should, however, be pointed out that 6 out of the top 10 performing algorithms are currently projecting "Up".
Here is a graphic summary of our GLD(n+10) algorithms. A complete backtesting analysis can be accessed here.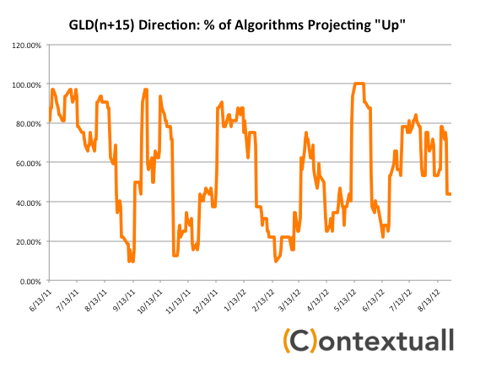 Disclosure: I have no positions in any stocks mentioned, and no plans to initiate any positions within the next 72 hours.