On Thursday, July 6 2017 Liberty Media tendered for the remaining shares of Home Shopping Network. The stock symbol for Home Shopping Network is HSNI. At Home stock, a non related company to HSNI, gapped up on large volume on absolutely no other news. It doesn't take much volume to move At Home (NASDAQ:HOME) stock.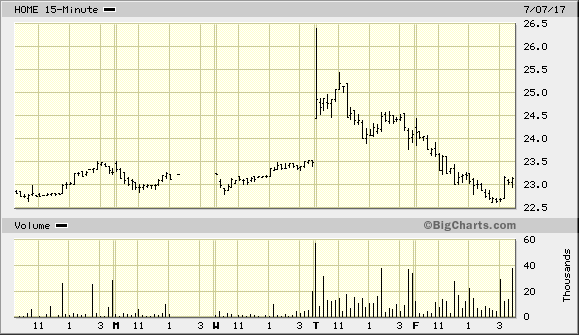 The stock opened over 26!! Believe it or not, this does happen and people can be confused thinking they were buying Home Shopping Network (NASDAQ:HSNI). I have seen this happen on ticker confusion in the past where people have bought (NYSE:WF) Woori Finance instead of (NYSE:WFC) Wells Fargo. 
Long story short - stock moved right back to where it was before the confusion. Strange things in a strange market indeed. But if you're wondering what happened to the stock on Thursday/Friday - this is the culprit. 
Disclosure: I am/we are long HOME.