Momentum Highlights
Stock rating = Strong Buy (DVAX) 
Stock target price = $25
Current stock price = $10
52-week price range = $3.20 - $17.50

Outstanding shares = 42M shares as of May 8, 2017
Market Capital = $420M
Cash reserves = $85.4M as of March 31, 2017

Cash Burn = $25M / quarter

Debt = $0
About Dynavax
Dynavax is a clinical-stage immunology company focused on leveraging the power of the body's innate and adaptive immune responses through toll-like receptor (TLR) stimulation. Dynavax is developing product candidates for use in multiple cancer indications, as a vaccine for the prevention of hepatitis B and as a disease modifying therapy for asthma. Dynavax's lead product candidates are SD-101, an investigational cancer immunotherapeutic currently in Phase 1/2 studies, and HEPLISAV-B, a Phase 3 investigational adult hepatitis B vaccine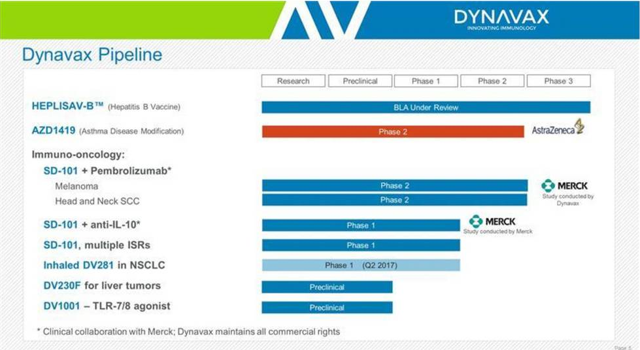 About SD-101
SD-101 is Dynavax's proprietary, second-generation, Toll-like receptor 9 (TLR9) agonist CpG-C class oligodeoxynucleotide. SD-101 is being studied for its multiple anti-tumor activities in innate immune cells and activation of plasmacytoid dendritic cells to stimulate T cells specific for antigens released from dying tumor cells. TLR9 agonists such as SD-101 enhance T and B cell responses and provide potent Type 1 interferon induction and maturation of plasmacytoid dendritic cells to antigen-presenting cells. SD-101 is being evaluated in several Phase 1/2 oncology studies to assess its safety and activity. DVAX's SD-101 has recently demonstrated promising results in Melanoma when combined with Merck's (NYSE:MRK) Keytruda, achieving objective response rates in 7 out of 7 evaluable PD/PDL-1 naive patients
Merck's Keytruda = Pembrolizumab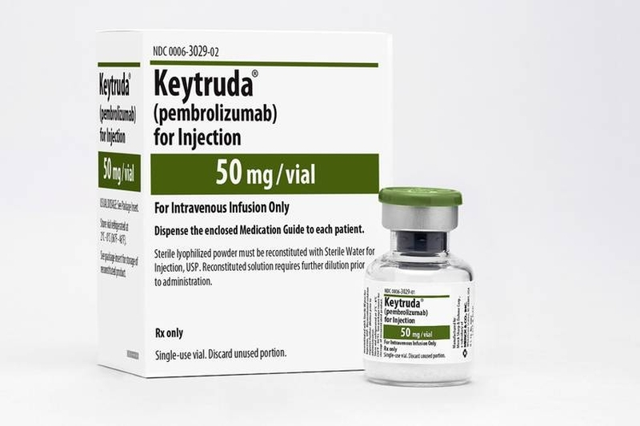 Keytruda has proved to be complete success story across multiple indications. Sales of its hit immuno-oncology drug Keytruda skyrocketed 134% to $584 million for Q1-2017. Assuming sales remain flat for rest of the year 2017 Q1+Q2+Q3+Q4 ($584M + $600M + $600M + $600M), estimated total sales for Keytruda would be around $2.4 Billion vs $1.6Billion for 2016. Keytruda is also picking up indications, like a recent FDA approval in front line lung cancer treatment. The drug is also being explored in around 430 clinical trials, either as monotherapy or as combination regimens, in multiple other indications. KEYTRUDA is the Only Anti-PD-1 Therapy to demonstrate Superior Overall Survival Rate over competitors:
Three-year data from a Phase 3 clinical trial, KEYNOTE-006, showed the superiority of Merck's KEYTRUDA  over Bristol-Myers Squibb's (NYSE:BMY) YERVOY (ipilimumab) in patients with advanced melanoma. The results will be presented on Sunday, June 4 at ASCO (Abstract #9504).

A pooled analysis of two KEYTRUDA doses showed 50% of patients were alive almost three years (33.9 months) after starting treatment compared to 39% in the YERVOY group. Progression-free survival (PFS) also favored KEYTRUDA, with 31% of patients alive at 33.9 months compared to 14% with YERVOY. KEYTRUDA came out ahead in terms of overall response rate (ORR), 42% vs. 16%.
SD-101 + Keytruda
The result from Phase 1b/2 trial of SD-101 (the MEL-01 trial) in combination with Keytruda was outstanding compared to an earlier trial of Keytruda monotherapy in patients with advanced melanoma.
Results evaluating 17 patients for efficacy and 22 patients for safety were reported. In patients naïve to anti-PD-1 treatment, responses were observed in six out of seven patients, for an Overall Response Rate (ORR) of 86%. This includes two (29%) complete responses (CR) and four (57%) partial responses (PR). Target tumor shrinkage was observed in all 7 evaluable patients. In 10 patients with progressive disease who initiated Keytruda anti-PD-1 monotherapy prior to enrollment, one PR was observed and five patients had stable disease (NYSE:SD) while receiving Keytruda and SD-101, with four of the 10 patients experiencing target tumor shrinkage.
In another clinical trial where 277 patients with advanced melanoma were treated with Keytruda monotherapy, the results were as follows: The ORR was 33%. CR rate was 6% in 17 patients. PR rate was 27% in 74 patients. According to Dynavax Pharmacodynamic (NYSE:PD) changes confirm the mechanism of action mediating SD-101 efficacy, in combination with Keytruda, in a phase 1b/2 study in metastatic melanoma (MEL-01).
| | | | |
| --- | --- | --- | --- |
| Treatment | ORR | CR | PR |
| SD-101+ Keytruda | 86% | 29% | 57% |
| Keytruda | 33% | 6% | 27% |
Data Source: Press release
Keytruda (Pembrolizumab) is being paired with various other investigational trials. 
| | | | | |
| --- | --- | --- | --- | --- |
| Company | Treatment | ORR | CR | PR |
| Dynavax | SD-101+ Keytruda | 86% | 29% | 57% |
| Merck  | Keytruda | 33% | 6% | 27% |
| Incyte (NASDAQ:INCY) | Epacadostat+ Keytruda | 58% | 28% | 30% |
| Agmen (NASDAQ:AMGN) | Talimogene Laherparepvec (T-VEC) + Keytruda | 57.1% | 23.8% | 33.3% |
| GlaxoSmithKline (NYSE:GSK) | Trametinib and Dabrafenib+ Keytruda | 60% | 0 | 60% |
Source: Link
About HEPLISAV-B
HEPLISAV-B™ [Hepatitis B Vaccine, (Recombinant) Adjuvanted] is an investigational adult hepatitis B vaccine that combines hepatitis B surface antigen with a proprietary Toll-like Receptor 9 agonist to enhance the immune response. In Phase 3 trials, HEPLISAV-B showed higher and earlier protection with fewer doses than a currently licensed hepatitis B vaccine. The most frequently reported local reaction was injection site pain. The most common systemic reactions were fatigue, headache and malaise, all of which were similar to an existing vaccine.
HEPLISAV-B is administered in two doses over one-month. Currently marketed hepatitis B vaccines are administered in three doses over a six-month schedule. Results of a published Vaccine Safety Datalink study showed that only 54 percent of adults completed the three-dose hepatitis B vaccine series in one year. Those who do not complete the series may not be adequately protected against hepatitis B.
Dynavax has worldwide commercial rights to HEPLISAV-B.
Heplisav-B's impressive efficacy could be an improvement over the current medical standard and will be the standard of care. (Heplisav-B VS GSK's Engenerix-B head to head, it was shown that Heplisav-B had a higher peak seroprotection rate at 95.4% versus Engerix-B's 81.3%)

It also beat Engerix-B in a vulnerable patient population. In patients with Type II diabetes, in the recent HBV-23 trial, Heplisav-B showed a 90% response rate versus Engerix-B's 65.1%. Having people with diabetes receive protection from Hepatitis B is important, as the CDC has shown that patients with type I and type II diabetes have a higher incident rate of Hepatitis B than the general population. This means that doctors are particularly concerned about making sure that these patients have protection from Hepatitis B, and Heplisav-B appears to provide a higher chance of responding to the vaccine and gaining protection from the Hepatitis B virus versus Engerix-B.
The company finally seems to be well poised to gain FDA approval, and recent studies indicate that it may actually be a best in class drug.
Various analysts have different estimates for the peak annual sales of $650M to $900M for Heplisav-B in the US. 
GSK's Engerix-B makes around $1B / year in sales
Heplisav-B's advantage is its effectiveness in people with type 2 diabetes. This group is particularly vulnerable to hepatitis B infections, but doesn't always have an adequate immune response to vaccination. In a Phase 3 study, Heplisav-B was seroprotective in 90% of people with diabetes, compared with 65% with GlaxoSmithKline's Engerix-B. The diabetic population in the US should be the target for Heplisav-B asa more restricted label, in diabetic patients may be approved by the FDA. CDC estimates that there are about 29M million diabetic patients in the US. At $100 for vaccination (in line with Engerix B, 3 injections) and 30% penetration, that would translate as $870M
Conclusion: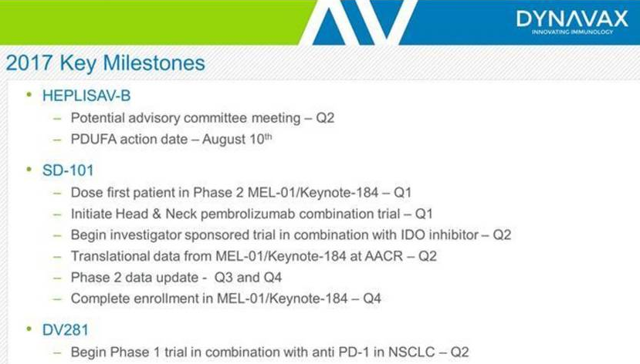 FDA Approval for Heplisav-B, Market Cap $800M ~ $1.1B
Positive Phase 2 Data for SD-101, Market Cap $1.2B ~ $1.5B
DVAX target: pps $25 x 42M Shares = $1B Market Cap

Potential Buyout Candidate
Disclosure: I am/we are long DVAX.