Management
April 27, 2017 (ADMS) taps infamous Richard King who was CEO of (ACRX)
Adamas Pharmaceuticals  has tapped Richard King as the chief operating officer it wants to lead commercialization of Parkinson's disease treatment ADS-5102.
Most recently, King was COO at the Scripps Research Institute, and he previously served as president and CEO of AcelRx Pharmaceuticals.

Check out the performance of Mr. Richard King while he was CEO of ACRX and dozen of class action lawsuits against him [here], [here] and [here]

The investigation focuses on whether the Company and its executives violated federal securities laws by making materially false and misleading statements regarding the Company's business, operations, and prospects.

On March 9, 2015, AcelRx announced that it has received correspondence from the United States Food and Drug Administration advising that, in addition to the bench testing and Human Factor studies it has performed for its drug Zalviso, the New Drug Application for Zalviso will require a new clinical study to assess the risk of inadvertent dispensing and the overall risk of dispensing failures.

Following this news, AcelRx stock declined by $3.23 per share, or nearly 37%, to close on March 9, 2015 at $5.51 per share. [Source]

Amantadine-HCl (Symmetrel) in the Management of Parkinson's Disease: A Double-Blind Cross-Over Study [Here]

A double-blind cross-over study was carried out in 54 patients with Parkinson's disease to evaluate the efficacy of amantadine hydrochloride as compared to a lactose placebo in the management of this illness. Amantadine proved to be a useful and safe addition to the armamentarium when given in daily doses of 200 mg. Forty-eight per cent of patients experienced moderate to good results while 31% showed no measurable improvement. The quality of the improvement was inferior to that obtained with levodopa, but the side effects were fewer. The study could not demonstrate a useful synergistic action between the two drugs, nor could the response to amantadine be used to predict that with levodopa. On the other hand, the addition of amantadine was useful in a few instances where optimal therapeutic doses of levodopa could not be given because of side effects. The mechanism of action of amantadine is still conjectural, but there is strong evidence to indicate some interaction with central dopamine metabolism.
ADS-5102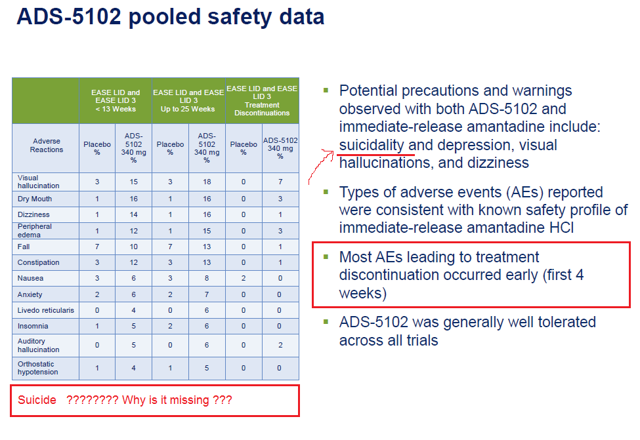 Patients treated with ADS-5102 showed a statistically significant 23% reduction in LID at week 12 compared to placebo (p=0.0009) as measured by the Unified Dyskinesia Rating Scale. The reduction was maintained at week 24 (p=0.0008), a key secondary endpoint. In addition, all four secondary endpoints based on patient diary data reached statistical significance
Nice Pooled data ADMS. Let's read more on: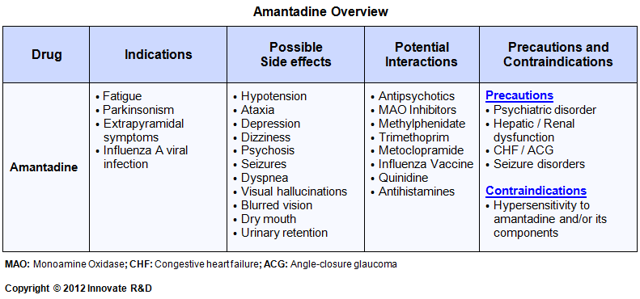 Amantadine (Amantadine Hydrochloride)
WARNINGS

Deaths

Deaths have been reported from overdose with amantadine. The lowest reported acute lethal dose was 1 gram. Acute toxicity may be attributable to the anticholinergic effects of amantadine. Drug overdose has resulted in cardiac, respiratory, renal or central nervous system toxicity. Cardiac dysfunction includes arrhythmia, tachycardia and hypertension (see OVERDOSAGE).

Suicide Attempts

Suicide attempts, some of which have been fatal, have been reported in patients treated with amantadine, many of whom received short courses for influenza treatment or prophylaxis. The incidence of suicide attempts is not known and the pathophysiologic mechanism is not understood. Suicide attempts and suicidal ideation have been reported in patients with and without prior history of psychiatric illness. Amantadine can exacerbate mental problems in patients with a history of psychiatric disorders or substance abuse. Patients who attempt suicide may exhibit abnormal mental states which include disorientation, confusion, depression, personality changes, agitation, aggressive behavior, hallucinations, paranoia, other psychotic reactions and somnolence or insomnia. Because of the possibility of serious adverse effects, caution should be observed when prescribing amantadine hydrochloride capsules to patients being treated with drugs having CNS effects, or for whom the potential risks outweigh the benefit of treatment.

CNS Effects

Patients with a history of epilepsy or other "seizures" should be observed closely for possible increased seizure activity.

Patients receiving amantadine hydrochloride capsules who note central nervous system effects or blurring of vision should be cautioned against driving or working in situations where alertness and adequate motor coordination are important.

Other

Patients with a history of congestive heart failure or peripheral edema should be followed closely as there are patients who developed congestive heart failure while receiving amantadine hydrochloride capsules.

Patients with Parkinson's disease improving on amantadine hydrochloride capsules should resume normal activities gradually and cautiously, consistent with other medical considerations, such as the presence of osteoporosis or phlebothrombosis.

Because Amantadine Hydrochloride Capsules, USP has anticholinergic effects and may cause mydriasis, it should not be given to patients with untreated angle closure glaucoma.

PRECAUTIONS

Amantadine should not be discontinued abruptly in patients with Parkinson's disease since a few patients have experienced a parkinsonian crisis, i.e., a sudden marked clinical deterioration, when this medication was suddenly stopped. The dose of anticholinergic drugs or of amantadine should be reduced if atropine-like effects appear when these drugs are used concurrently. Abrupt discontinuation may also precipitate delirium, agitation, delusions, hallucinations, paranoid reaction, stupor, anxiety, depression and slurred speech.

Neuroleptic Malignant Syndrome (NMS)

Sporadic cases of possible Neuroleptic Malignant Syndrome (NMS) have been reported in association with dose reduction or withdrawal of amantadine therapy. Therefore, patients should be observed carefully when the dosage of amantadine is reduced abruptly or discontinued, especially if the patient is receiving neuroleptics.

NMS is an uncommon but life-threatening syndrome characterized by fever or hyperthermia; neurologic findings including muscle rigidity, involuntary movements, altered consciousness; mental status changes; other disturbances such as autonomic dysfunction, tachycardia, tachypnea, hyper- or hypotension; laboratory findings such as creatine phosphokinase elevation, leukocytosis, myoglobinuria, and increased serum myoglobin.

The early diagnosis of this condition is important for the appropriate management of these patients. Considering NMS as a possible diagnosis and ruling out other acute illnesses (e.g., pneumonia, systemic infection, etc.) is essential. This may be especially complex if the clinical presentation includes both serious medical illness and untreated or inadequately treated extrapyramidal signs and symptoms (EPS). Other important considerations in the differential diagnosis include central anticholinergic toxicity, heat stroke, drug fever and primary central nervous system (CNS) pathology.

The management of NMS should include: 1) intensive symptomatic treatment and medical monitoring, and 2) treatment of any concomitant serious medical problems for which specific treatments are available. Dopamine agonists, such as bromocriptine, and muscle relaxants, such as dantrolene are often used in the treatment of NMS, however, their effectiveness has not been demonstrated in controlled studies.

Renal Disease

Because amantadine is mainly excreted in the urine, it accumulates in the plasma and in the body when renal function declines. Thus, the dose of amantadine should be reduced in patients with renal impairment and in individuals who are 65 years of age or older (see DOSAGE AND ADMINISTRATION: Dosage for Impaired Renal Function).

Liver Disease

Care should be exercised when administering amantadine to patients with liver disease. Rare instances of reversible elevation of liver enzymes have been reported in patients receiving amantadine, though a specific relationship between the drug and such changes has not been established.

Melanoma

Epidemiological studies have shown that patients with Parkinson's disease have a higher risk (2- to approximately 6-fold higher) of developing melanoma than the general population. Whether the increased risk observed was due to Parkinson's disease or other factors, such as drugs used to treat Parkinson's disease, is unclear.

For the reasons stated above, patients and providers are advised to monitor for melanomas frequently and on a regular basis when using amantadine for any indication. Ideally, periodic skin examinations should be performed by appropriately qualified individuals (e.g., dermatologists).

Other

The dose of amantadine may need careful adjustment in patients with congestive heart failure, peripheral edema, or orthostatic hypotension. Care should be exercised when administering amantadine to patients with a history of recurrent eczematoid rash, or to patients with psychosis or severe psychoneurosis not controlled by chemotherapeutic agents.

Serious bacterial infections may begin with influenza-like symptoms or may coexist with or occur as complications during the course of influenza. Amantadine has not been shown to prevent such complications.

Information for Patients

Patients should be advised of the following information:

Blurry vision and/or impaired mental acuity may occur.

Gradually increase physical activity as the symptoms of Parkinson's disease improve.

Avoid excessive alcohol usage, since it may increase the potential for CNS effects such as dizziness, confusion, light-headedness and orthostatic hypotension.

Avoid getting up suddenly from a sitting or lying position. If dizziness or lightheadedness occurs, notify physician.

Notify physician if mood/mental changes, swelling of extremities, difficulty urinating and/or shortness of breath occur.

Do not take more medication than prescribed because of the risk of overdose. If there is no improvement in a few days, or if medication appears less effective after a few weeks, discuss with a physician.

Consult physician before discontinuing medication.

Seek medical attention immediately if it is suspected that an overdose of medication has been taken.

There have been reports of patients experiencing intense urges to gamble, increased sexual urges, and other intense urges, and the inability to control these urges while taking one or more of the medications that increase central dopaminergic tone and that are generally used for the treatment of Parkinson's disease, including amantadine. Although it is not proven that the medications caused these events, these urges were reported to have stopped in some cases when the dose was reduced or the medication was stopped. Prescribers should ask patients about the development of new or increased gambling urges, sexual urges or other urges while being treated with amantadine. Patients should inform their physician if they experience new or increased gambling urges, increased sexual urges or other intense urges while taking amantadine. Physicians should consider dose reduction or stopping the medication if a patient develops such urges while taking amantadine.

Drug Interactions

Careful observation is required when amantadine is administered concurrently with central nervous system stimulants. Agents with anticholinergic properties may potentiate the anticholinergic-like side effects of amantadine.

Coadministration of thioridazine has been reported to worsen the tremor in elderly patients with Parkinson's disease, however, it is not known if other phenothiazines produce a similar response. Coadministration of triamterene and hydrochlorothiazide capsules resulted in a higher plasma amantadine concentration in a 61-year-old man receiving amantadine (hydrochloride capsules) 100 mg t.i.d. for Parkinson's disease.1 It is not known which of the components of triamterene and hydrochlorothiazide capsules contributed to the observation or if related drugs produce a similar response.

Coadministration of quinine or quinidine with amantadine was shown to reduce the renal clearance of amantadine by about 30%.

The concurrent use of amantadine with live attenuated influenza vaccine (LAIV) intranasal has not been evaluated. However, because of the potential for interference between these products, LAIV should not be administered within 2 weeks before or 48 hours after administration of amantadine, unless medically indicated. The concern about possible interference arises from the potential for antiviral drugs to inhibit replication of live vaccine virus. Trivalent inactivated influenza vaccine can be administered at any time relative to use of amantadine.

Carcinogenesis and Mutagenesis

Long-term in vivo animal studies designed to evaluate the carcinogenic potential of amantadine have not been performed. In several in vitro assays for gene mutation, amantadine did not increase the number of spontaneously observed mutations in four strains of Salmonella typhimurium (Ames Test) or in a mammalian cell line (Chinese Hamster Ovary cells) when incubations were performed either with or without a liver metabolic activation extract. Further, there was no evidence of chromosome damage observed in an in vitro test using freshly derived and stimulated human peripheral blood lymphocytes (with and without metabolic activation) or in an in vivo mouse bone marrow micronucleus test (140 to 550 mg/kg; estimated human equivalent doses of 11.7 to 45.8 mg/kg based on body surface area conversion).

Impairment of Fertility

The effect of amantadine on fertility has not been adequately tested, that is, in a study conducted under Good Laboratory Practice (GLP) and according to current recommended methodology. In a three litter, non-GLP, reproduction study in rats, amantadine at a dose of 32 mg/kg/day (equal to the maximum recommended human dose on a mg/m2 basis) administered to both males and females slightly impaired fertility. There were no effects on fertility at a dose level of 10 mg/kg/day (or 0.3 times the maximum recommended human dose on a mg/m2 basis); intermediate doses were not tested.

Failed fertility has been reported during human in vitro fertilization (IVF) when the sperm donor ingested amantadine 2 weeks prior to, and during the IVF cycle.

Pregnancy

Pregnancy Category C

The effect of amantadine on embryofetal and peri-postnatal development has not been adequately tested, that is, in studies conducted under Good Laboratory Practice (GLP) and according to current recommended methodology. However, in two non-GLP studies in rats in which females were dosed from 5 days prior to mating to Day 6 of gestation or on Days 7 to 14 of gestation, amantadine produced increases in embryonic death at an oral dose of 100 mg/kg (or 3 times the maximum recommended human dose on a mg/m2 basis). In the non-GLP rat study in which females were dosed on Days 7 to 14 of gestation, there was a marked increase in severe visceral and skeletal malformations at oral doses of 50 and 100 mg/kg (or 1.5 and 3 times, respectively, the maximum recommended human dose on a mg/m2 basis). The no-effect dose for teratogenicity was 37 mg/kg (equal to the maximum recommended human dose on a mg/m2 basis). The safety margins reported may not accurately reflect the risk considering the questionable quality of the study on which they are based. There are no adequate and well-controlled studies in pregnant women. Human data regarding teratogenicity after maternal use of amantadine is scarce. Tetralogy of Fallot and tibial hemimelia (normal karyotype) occurred in an infant exposed to amantadine during the first trimester of pregnancy (100 mg P.O. for 7 days during the 6th and 7th week of gestation). Cardiovascular maldevelopment (single ventricle with pulmonary atresia) was associated with maternal exposure to amantadine (100 mg/d) administered during the first 2 weeks of pregnancy.

Amantadine should be used during pregnancy only if the potential benefit justifies the potential risk to the embryo or fetus.

Nursing Mothers

Amantadine is excreted in human milk. Use is not recommended in nursing mothers.

Pediatric Use

The safety and efficacy of amantadine in newborn infants and infants below the age of 1 year have not been established.

Usage in the Elderly

Because amantadine is primarily excreted in the urine, it accumulates in the plasma and in the body when renal function declines. Thus, the dose of amantadine should be reduced in patients with renal impairment and in individuals who are 65 years of age or older. The dose of amantadine hydrochloride capsules may need reduction in patients with congestive heart failure, peripheral edema, or orthostatic hypotension (see DOSAGE AND ADMINISTRATION).
Suicide and Parkinson's Disease

SUICIDE IS FIVE TIMES MORE LIKELY IN PARKINSON'S DISEASE

Journal of Neurological Science [2009] Sep 7 [Epub ahead of print] (Kostic VS, Pekmezovic T, Tomic A, Jecmenica-Lukic M, Stojkovic T, Spica V, Svetel M, Stefanova E, Petrovic I, Džoljic E.) Complete abstract

People with Parkinson's Disease have been found to be five times more likely to commit suicide. In some people with Parkinson's Disease, this tendency increases far beyond that. Current thoughts of death or suicide were found in nearly a quarter of people with Parkinson's Disease. This tendency was related to mood, especially depression, rather than the severity of  Parkinson's Disease symptoms. The primary cause of Parkinson's Disease is insufficient dopamine. Although insufficient dopamine causes the excessive muscle contraction that is characteristic of Parkinson's Disease, insufficient dopamine also affects the emotions, tending to make people more prone to depression. This is why depression is common in many, but certainly not all people with Parkinson's Disease. So the increased likelihood of suicide and suicidal thoughts in Parkinson's Disease is largely caused due to a biochemical deficiency of dopamine rather than by the practical problems and circumstances that Parkinson's Disease can lead to. For more current news go to Parkinson's Disease News.
You can read more here
Dad's Parkinson's drove him to suicide - but I won't let mine destroy my life. Sky presenter Dave Clark bravely goes public with his devastating diagnosis

When Dave's father Alan got his illness, all he wanted to do was hide it

Dave is certain that this added to the depression that caused Alan's suicide

Which is why Dave feels he must talk about the disease he suffers from
Lackluster sales for Amantadine 

PHILADELPHIA, June 16, 2017 /PRNewswire/ -- Lannett Company, Inc. (NYSE: LCI) today announced that it received approval from the U.S. Food and Drug Administration (FDA) of its Abbreviated New Drug Application (ANDA) for Amantadine Hydrochloride Capsules USP, 100 mg, the therapeutic equivalent to the reference standard drug, Amantadine Hydrochloride Capsules USP, 100 mg, of Sandoz Pharmaceuticals.  Previously, the branded version of the product was marketed as Symmetrel® Capsules, 100 mg.  For the 12 months ended April 2017, total U.S. sales of Amantadine Hydrochloride Capsules USP, 100 mg, at Average Wholesale Price (AWP) were approximately $25 million, according to IMS.