So, now we have a close over 1100.  Time for celebration?  I'm not so sure.  But, the action in certain stocks is quite telling that buyers are out there...dipbuyers, the ones who put a floor under the market.  But what truly is that floor?  I think it is Ben Bernanke, who came out with as gloomy an assessment of the economy as you could possibly imagine.  Is he willing to give up and let deflation take hold, or will he once again try and re-inflate the economy?  I think the latter rather than the former, and we know what the markets did when Ben started dropping bags of money from helicopters last year.  It seems however that we're in some kind of quick boom/bust cycle, pushed/pulled around by the liquidity provided/taken away by the Fed.  It'll be awhile before the economy is back to normal, Bernanke said as much last week...at least 5-6 years.  Alot of time between now and then. The market reacts to news, and we see emotional responses to such each day.  Relief seems apparent with the VIX dropping, less fear so needless to buy insurance.  Seems about right, huh?  One can never be so sure, and if the market is offering a chance to buy cheap insurance, it's probably the best option.
Breakouts Vs Fakeouts
This challenging market has been tough to read, and as on options trader one needs to see a very clear road, rather than one slinging mud on the windshield.  Patience is a virtue not often seen in this profession, which is why more times than I can count traders are tossed to the side after getting wiped out.  How do you avoid this?  Since we know the main difference between options and stocks would be time and leverage, it's understandable that we need to be accurate in time to be successful.  Markets are filled with fake moves and strong, sustainable moves.  But if you buy some calls on a 'fake' move, volatility may enter in and you get slammed.  Conversely if you time it right on a breakout with followthrough, your chances of success rise.  Last week was a great study in this.  Chairman Bernanke was on the 'Hill talking about the economy, his twice-annual testimony.  The market was moving along nicely until he dropped a few bombs, mostly saying what he did a week prior.  The bulls panic and a big whoosh...down 23 handles on the SPX by days end.  Who could by anything with a potential rout being on?  Further, the Chairman had one more day to testify:  could he possibly do more damage?  Thursday saw the markets gap much higher, regaining what was lost on Wednesday and then some.  The VIX (see hourly chart below) did not flinch much, and then Friday the markets ran to resistance at 1100 when the Euro bank stress test results were unveiled.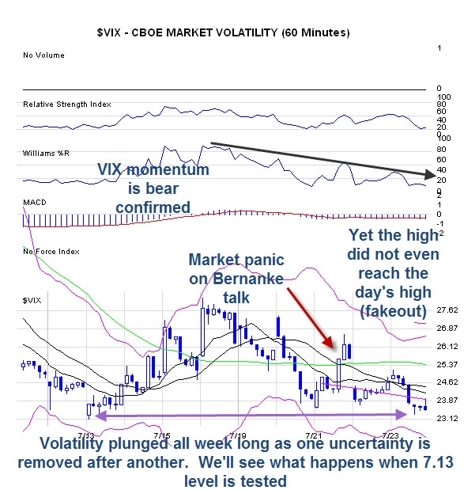 Charts Are Looking Better
I don't try and pick bottoms or tops to trade.  I want to get on a trend, especially a strong acceleration.  This is ideal for an options player;  ride the trend and exit before it's over.  However, we don't want to buy when stocks are in no man's land, nor do we like low volume situations, which leaves us vulnerable to reversals (and squashing our premium).  It's far from an exact science but following strong chart trends can put you on the road to profits.  A month ago you would be hard pressed to find good patterns to buy into. Today, we're seeing some excellent patterns to fit the bill.  We'll wait for confirmation of course and then find the best low risk entry, but things are certainly taking shape
Disclosure:
No positions