Reading columns in Marketwatch.com by Paul Farrell can be depressing. One of his pet subjects is the unsustainability of human population on planet Earth. Though pessimistic, he makes important points and it made me wonder if the human population is like the stock markets and is in a bubble. I took a look at Nasdaq to make the comparison. After starting small, Nasdaq took 30 years to peak. Around 1995, it lost it's slow and steady climb and went into overdrive. In 1995, IXIC was around 800. In 2000, it was 4572. The increase in those 5 years was 570%.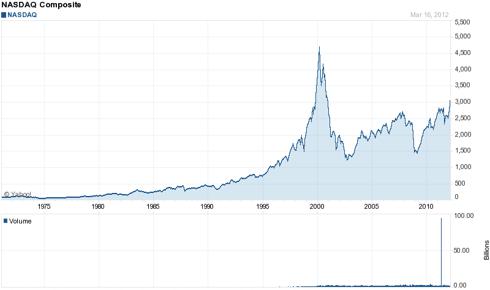 Take a look at the number of humans on this planet.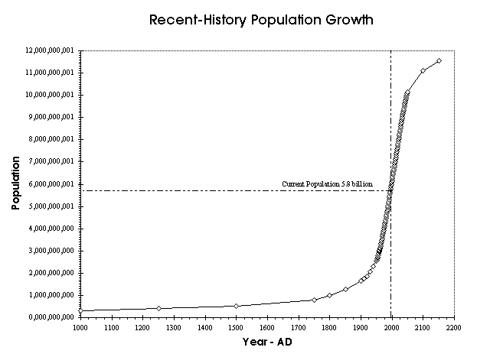 Till 1900, human population was growing slowly and steadily. Then, the growth rate lost its linear characteristics and went into a lograthmic phase, much like the Nasdaq or the Tokyo stock exchange. In 1900, the number of humans totaled about 1.4 billion. We are already at 7 billion, projected to reach 8 billion by 2025. As Paul Farrell points out, we are facing water shortages, land shortage, resistant bugs, dwindling natural resources, and maybe nuclear wars. What are the chances that the human growth will mimic stock market bubbles and crash? Several civilizations have already experienced this phenomenon including the Anasazi in North America and the Mayans in Central America. Can this happen on a global scale? Apart from existential issues, how would one invest in a collapsing world? Buy water, guns, and stock food? Back to Paul Farrell.
Disclosure: I have no positions in any stocks mentioned, and no plans to initiate any positions within the next 72 hours.