Northwest Biotherapeutics Inc. Market Observation. The promise of a "cure for cancer" always attracts interested parties.
In reviewing the market pricing action on Northwest Biotherapeutics Inc. (NWBO) for the last month, I decided to examine the sequence of events transpiring with this compelling company, linking it with market price observations. I was intrigued by the discussion of various persons posting comments on the stock. You might want to take a look at Alberto Savrieno's article.
2 Lessons Northwest Biotherapeutics' Price Move Can Teach Us: Price Discovery And Google Alerts
Northwest Biotherapeutics Inc has an underlying compelling innovative therapeutic approach to cancer and a good story to tell. The company publishes their own patient's stories on their website.
"DC-Vax saved my life, gave me the ability to continue to be a husband, father, coach and a friend. Eight years ago I never thought that was possible, but here I am."
"With Northwest Bio's DC-Vax, its simple. I go in, have a couple pin pricks, and I really don't have any side effects from it. I feel very fortunate to have the quality of life that I have right now. I'm able to go outside, coach baseball and enjoy activities with my family." NWBO home page
A closer look at the recent price history along with corresponding events on NWBO is interesting and informative for the market observer.
Let's look at the trading that went on coinciding with the selected key dates surrounding the following events:
1. Fox News on TV covered NWBO on November 8th. You Tube Interview with Linda Powers, Chief Executive Officer and related Press Releases from Northwest Therapeutics The price moves from 3.39 to 3.50 on double volume.
2. Capital Ventures Inc. files a 13 G purchase of 3.1 million shares with a note that the intention is a passive investment on November 20th. This is quite exciting, especially following up the November 8th public relations coverage by Fox News.
There is no disclosure as to where the shares were purchased. We can assume Oppenheimer, NWBO's investment banker is involved. Examination of the 13G filing of Capital Ventures Inc. discloses that they completed a purchase of 3,124,999 shares representing a 7% of total shares outstanding were purchased by Capital Ventures. The Schedule 13G files do not disclose prices at which acquisitions are made (nor is it required). Anyone purchasing more than 5% of a firm must file a 13 G with the SEC within 10 days of completion of the acquisition. See Filing 13 G by Capital Ventures Inc.
The stock moved from 4.60 to close at 5.71 on over 5 million shares volume on Monday the 18th. This is over 31 times the average 159,000 shares per day traded the previous 3 months. The next day on Tuesday the 19th, 4.1 million shares were traded. This time achieving 25 times normal volume. Excited market tweets ring out over the financial internet sites to accompany the stock to a peak high price of 6.89, a swing over 40% in 2 days before it closes at 6.66.
My thought is that a lot of the newly issued shares were already finding their way back into the market in the cascading volume very quickly, for a nice payday, before the 13G filing date.
3. Northwest Therapeutics Inc. announces the issue of 4.8 additional million shares handled by Oppenheimer, their investment banker, at $4.80 along with .5 Warrants attached to each share. It is disclosed that these warrants can be immediately exercised at $6.00.
The company release focuses on the benefits of raising $23,500,000 additional cash to assist in completing its phrase trials of its key product, DC-Vax , their non-toxic personalized immune therapy for solid tumor cancers. Public Offering announcement. On November 20, the day of the disclosure, NWBO closes at 4.68 with a low of 4.51 on 1.9 million shares.
4. On December 5th, an item at Yahoo finance website appears at the NWBO quote site.
Alpha Street Research downgrades NWBO.
The market closes at 4.14 on 1.4 million shares after establishing a new low of 4.12 for the day.
Here is actual market action on the days coinciding with these announcements.
Date Open High Low Close Volume
Thu 11-07-2013 3.15 3.47 3.10 3.38 559138
Fri 11-08-2013 3.48 3.84 3.40 3.50 1733671
Fri 11-15-2013 4.75 4.75 4.45 4.60 575135
Mon 11-18-2013 4.64 6.26 4.60 5.71 5602528
Tue 11-19-2013 5.97 6.89 5.85 6.66 4114018
Wed 11-20-2013 5.19 5.20 4.85 4.97 6579341
Thu 11-21-2013 5.12 5.12 4.51 4.68 1920687
Wed 12-04-2013 4.41 4.44 4.12 4.14 1415557
Least we forget our nursery rhymes where we learned to count
toes. Hopefully we all still have 5 to count.
This little piggy went to market,
This little piggy stayed at home,
This little piggy had roast beef,
This little piggy had none.
And this little piggy went...
"Wee wee wee" all the way home...
This Little Piggy poem
Tracking the fortunes of smaller capitalized firms is a full-time job for the professional and amateur market sleuths. We can all learn by looking more deeply as these commonplace situations unfold. Below is the chart covering the period of time I examined.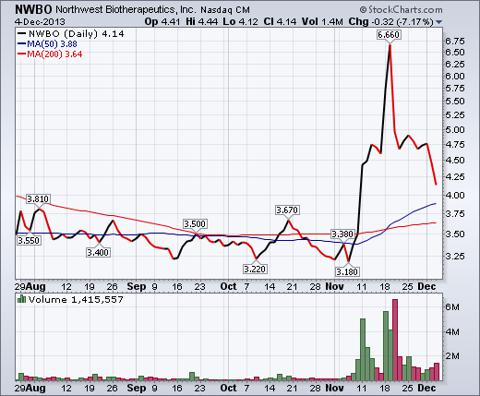 Disclosure: I have no positions in any stocks mentioned, and no plans to initiate any positions within the next 72 hours. I wrote this article myself, and it expresses my own opinions. I am not receiving compensation for it (other than from Seeking Alpha). I have no business relationship with any company whose stock is mentioned in this article.