Hey, all, Dr. Carr here! Merry Christmas, Happy Holidays and New Year to all our trading friends! Blessings to all for a prosperous and healthy 2014!
Apologies for this self-serving promotion, but I wanted to let my readers know that our new book, Market Neutral Trading (McGraw-Hill) is now available from Amazon.com for purchase. The initial print run will go fast, so I'd hurry to get your copy. If you order today, you can read it by Christmas!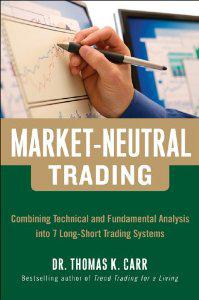 From McGraw-Hill:
STOCK TRADING DOESN'T GET ANY EASIER THAN THIS!THE PROVEN TWOFOLD METHOD OF STOCK TRADING THAT HAS EVERYBODY TALKING
Believe it or not, anyone can be a successful trader, even if you have no MBA, no financial background, and no interest in business. Bestselling author Thomas Carr (a.k.a. Dr. Stoxx) has developed a trading system so easy to use that virtually anybody can achieve steady growth whether the market is up, down, or sideways. How is this possible? By integrating the two most popular trading approaches-technical and fundamental analysis-into one easy-to use market-neutral system. Learn how to:
Manage your stocks with one simple weekly routine
Create a portfolio that reduces risk while increasing returns
Maximize profit potential using a multi-strategic approach
Generate steady trading income over both short and long terms
Build a million-dollar account that just keeps on growing
Based on 12 years of historical testing and real money experimentation, this proven approach to successful stock trading provides seven strategic methods that anyone can master. You'll learn how to use the best available information to find the best possible stocks, positioning your money for growth no matter what happens in the market. You'll discover the easiest automated tools to build and adjust your stock portfolio-without wasting hours scanning through endless charts and financial reports. With Dr. Carr's system in place, you can show out-sized returns in both bull and bear markets. Forget worrying about future market direction! With "market-neutral trading," you can profit like a pro whether the markets skyrocket or collapse. All you need is a little persistence to make these market-neutral systems work in any economy.
Stock trading doesn't have to be complicated. Dr. Carr's Market-Neutral Trading is the simplest, smartest way to get more bang for your buck.
PRAISE FOR MARKET-NEUTRAL TRADING:
"From the first quote to the final words, Market-Neutral Trading is as highly inspirational as it is brilliantly educational. A phenomenal synthesis of all existing and often conflicting trading wisdom. Drink it in, follow its lead, and this book will help you to soar to the promised land of profitable trading, virtually guaranteed!"
- Garry Gladstone, U.S. Investing Championship Winner"I read many books regarding trading, but when I read [Dr. Carr's] Trend Trading for a Living, it became a must reference on my trading bookshelf. Market-Neutral Trading is another must-have book for the serious trader. Dr. Carr is again revealing new trading tools to navigate the ever-changing world of trading markets."
- Sam Chab, Financial Analyst, Defense Industry"Full of practical advice, Market-Neutral Trading is an easy-to-understand explanation of how technical analysis works for your living financially."
- Senuadi Tandun, MBA, CFP, QWP, AEPP, a member of the Financial Planning Advisory Board of Indonesia, practicing financial planner, and active investor"Market-Neutral Trading is a low-risk hedging strategy with strong consistent returns in volatile markets. The best part is that it only takes a little time each week with little monitoring."
- Randy Russell, CFP, Senior Financial Advisor, Metro Atlanta District, VALIC Financial Advisors, Inc."I love Dr. Carr's unique take on the marketplace. His ability to blend technical and fundamental analysis in ways that work is simply unmatched."
- Jeffrey Gibby, Senior Vice President, New Business Development, Metastock