Our shares of ETRM, selected as a recommendation in our "Cheap Stocks Letter" on October 23rd, are rallying sharply on news that their VBLOC obesity treatment, following an 18-month study, is both safe and effective:
EnteroMedics announces 18 month ReCharge study results; VBLOC therapy continues to demonstrate durable and safe weight loss (ETRM) : Co announced 18 month efficacy and safety results from its 5 year ReCharge Pivotal Trial of VBLOC vagal blocking therapy for the treatment of obesity. Patients in the VBLOC group (n=117), achieved excess weight loss (EWL) of 25%, or 10% total body weight loss (TBL), compared to 12% EWL, or 4% TBL for sham control group patients (n=42). The 13% difference in EWL demonstrated statistical superiority over sham control (p < 0.001).
In total, 54% of patients in the VBLOC group achieved at least 20% EWL and 41% achieved at least 25% EWL, compared to 26% and 17%, respectively, for the sham control group at the 18-month interval. Significantly, approximately 78% of the patients who reported for their 18-month visit remained under the clinical trial's randomized blind. The rate of device-related serious adverse events at 18 months was 4.3% for the VBLOC group, meaningfully lower than the 12 month threshold of 15% (p < 0.0001). The safety results continued to confirm VBLOC Therapy had no adverse cardiovascular effects. Overall, a reduction in blood pressure and heart rate was observed.
[source: Briefing.com]
The chart below shows a bullish pattern breakout which targets the $2.50 area. Analyst target is $3.00.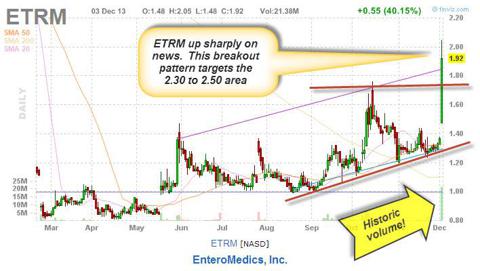 Disclosure: I am long ETRM.
Additional disclosure: We also hold a position in ETRM in "The 8:18 Fund".